It Takes Time to Build Up & Bring Down the Pressure
If you think you will have rice or soup cooked in 15 minutes and voila, hold the horses. I thought so too but am glad I didn't know because otherwise I wouldn't have bought this "magic" appliance. Once you add all ingredients and close the lid, Instant Pot will begin to boil then build up pressure. Usually 10-45 minutes depending how much liquid is inside. Soups take the longest!
Bigger Size Takes Longer to Cook
I bought 8 quart IP-DUO because we love leftovers and my philosophy is "you can never have too many healthy freezer meals".  I like that I can cook more food and have no regrets about buying bigger pressure cooker, but sometimes I wish a had a 6 quart one, so food cooks faster. So, if you are a family of 4, I think 6 quart IP-DUO will do.
Add Hot Water to Speed Things Up
Turn on kettle at same time you start getting recipe's ingredients ready. Use boiled water when recipe calls for water. This step will cut back time it takes Instant Pot to build up pressure, especially in soup recipes.
Instant Pot Is Convenient for "Walking Away"
Despite its smart name, Instant Pot is not nearly as instant but rather convenient for throwing everything together and walking away. I would say not hovering over food waiting for it to boil, stir or turn off is the best feature of an electric pressure cooker. It is not recommended by the manufacturer but that's what everyone does. However, when I test recipes without knowing what's gonna happen, I stay near the appliance.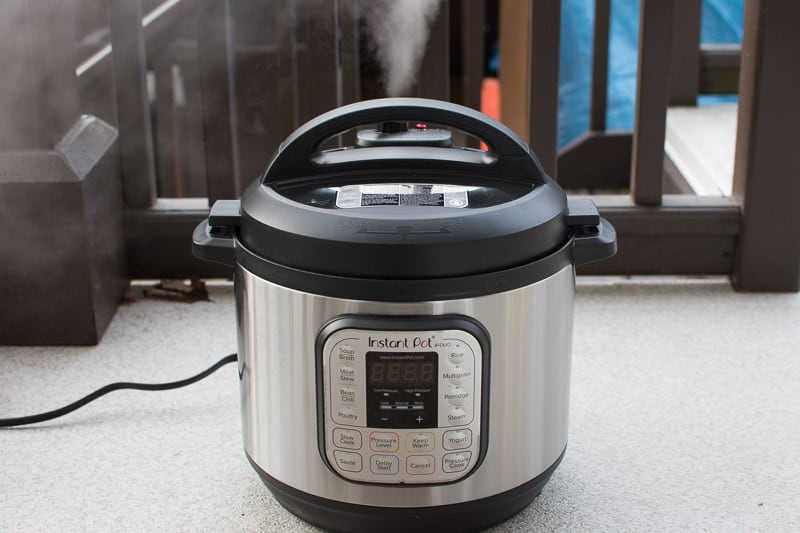 Release Pressure Outside
If you are doing Quick Release (letting pressure out) I recommend to unplug Instant Pot and take it outside. This step prevents your house smelling like food for days, dirty countertops and cupboards.
Buy 2 Silicone Sealing Rings
There is a silicone sealing ring inside the lid that absorbs smell of food you cook, especially spices. I highly recommend to buy second sealing ring for sweet recipes like instant pot steel cut oats, yogurt and especially desserts (not that I'm planning on making any in a pressure cooker but maybe you are).
Don't Fill It Up More than 2/3 When Pressure Cooking
In order for pressure cooking method to work, the pot of your electric pressure cooker should never be more than 2/3 full when making soup, stew, chili etc., or 1/2 full for expanding foods like rice. Pressure needs room to build up.
If your inner pot doesn't have 2/3 full marking (characteristic of older Instant Pot models and other brands), do your math and calculate your own 2/3 mark. Ignore the cups, L and near the edge Max ticks – they actually are quite inaccurate. Read more.
You Don't Need to Sauté or Pre-Brown Most Foods
Before you rush to convert all your tried and true favourite recipes to electric pressure cooker versions, know many won't turn out the same. The best part with Instant Pot is that you won't need to brown or sauté for most recipes you would have to using a stovetop method. That is because food releases more flavours under pressure.
Other 6 Quart Electric Pressure Cookers (4.5 Stars Reviews)
Cosori, $79 (stainless steel pot, glass lid included)
Crock-Pot, $59 (non-stick coating pot)
Housmile, $99 (stainless steel pot)
Cuisinart, $75 (non-stick coating pot)
Black & Decker, $99 (non-stick coating pot)
You  Need to Add Water, Always
In order for pressure to build up inside the pot, it has to be created. From what? From steam. From water. There is a minimum amount of liquid that has to be added even when "roasting" a whole chicken. Note, tomato sauce or juice don't count because more likely sugars start caramelize and "burn" warning will go off. Not the best experience – happened to me with Instant Pot chili.
It Is Easy to Clean
I was skeptical about cleaning an appliance with so many nooks and crannies but it's quite easy. I clean outside with an all-purpose spray, lid can go in a dishwasher, and to get rid of stainless steel inner pot's discoloration I use baking soda or Pink Solution paste.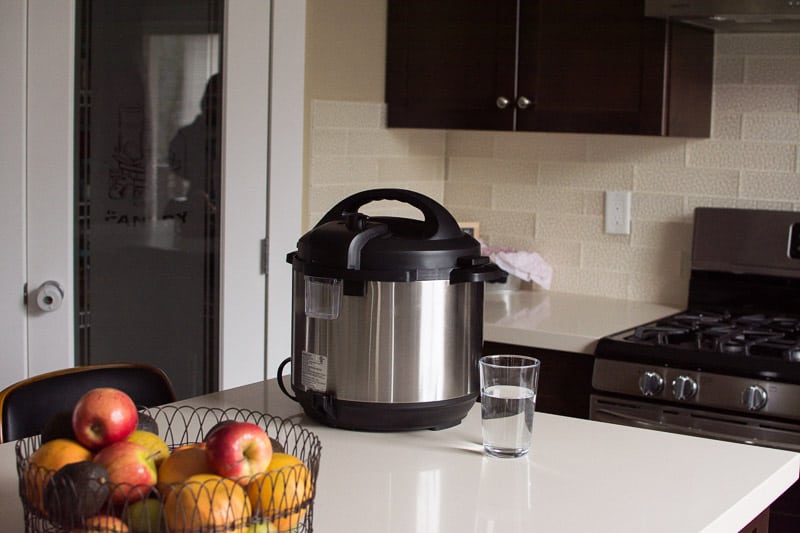 Keep It Away from Kitchen Cabinets
Steam coming out from release valve during pressure build-up and quick release can (will) damage your kitchen cabinet doors. Even when cooking and not releasing pressure, keep electric pressure cooker distance away from cabinets because there is enough steam coming out during pressure build-up to do the damage.
You Can Use Inner Pot on the Stove
To reheat food. Cover inner pot with any 9″ glass lid, refrigerate (cold garage in winter works), then reheat. Saves time transferring food, washing extra containers and pots. Especially, if you don't own a microwave like me.
"Manual" Is the Most Used Mode
There are many pre-programmed modes on Instant Pot like porridge, stew, bean, rice etc. but you will find yourself using "pressure cook" with customizable time for the most part. Because ingredients in various recipes differ. Having said that, there is barely any need to buy 9-in-1 electric pressure cooker.
Instant Pot Is Bulky
If your kitchen is small and you don't like cluttered countertops like me, you will have to make room in the kitchen cabinet for your Instant Pot. For me, it meant donating 2 slow cookers. Instant Pot does replace a slow cooker and a big pot.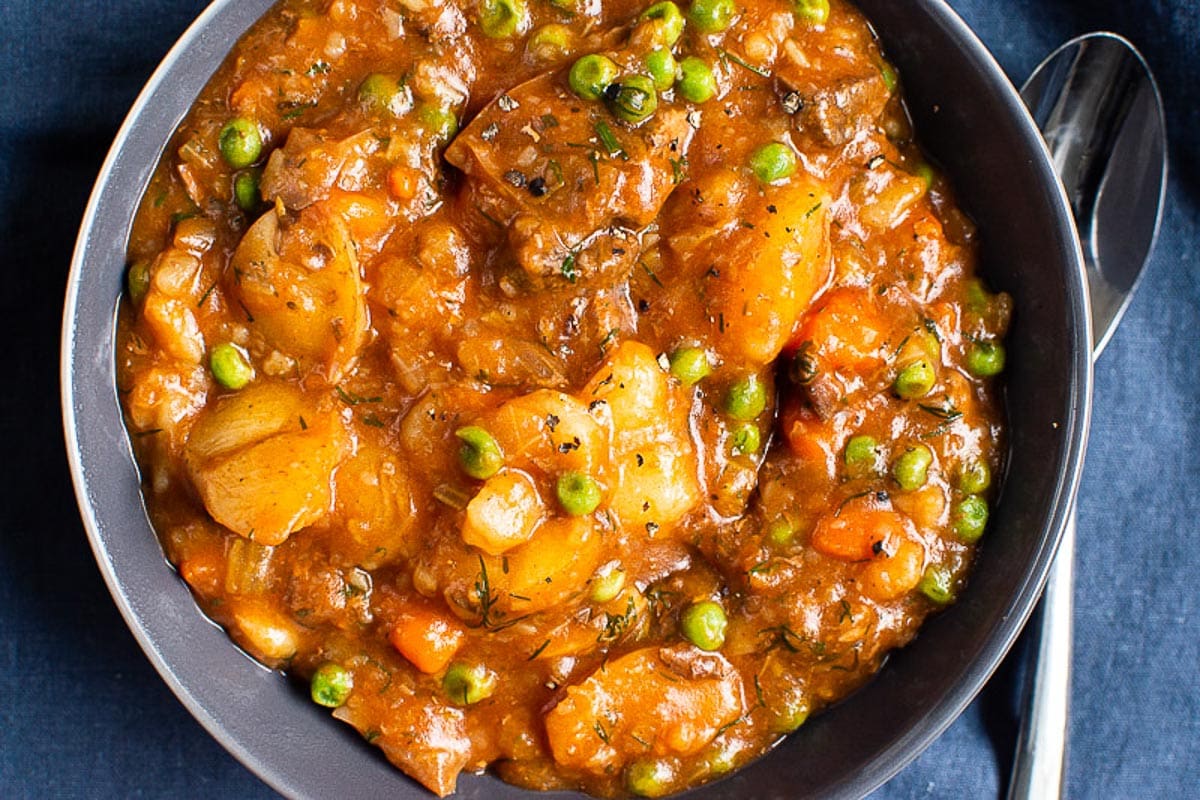 Instant Pot Replaces Slow Cooker
If you own a slow cooker, 99% you will stop using it once you get the Instant Pot. And if you are thinking about buying a slow cooker, you should buy the Instant Pot because it can slow cook too. From my own experience, I truly believe slow cookers will become "extinct" in a few years.
Instant Pot Will Grow on You
I have to say I was VERY skeptical about this appliance back in Fall. I was super against it but it is slowly growing on me. The fact that I can wake up to Instant Pot steel cut oats, cook Instant Pot frozen chicken for dinner in 35 minutes and simply "throw and forget" concept made me fall in love over the heels with an electric pressure cooker.
Would I recommend Instant Pot? ABSOLUTELY.
P.S. Did You Know Instant Pot Is "Canadian"?:)