I clean out my fridge on a regular basis. Growing up in Ukraine made me a super frugal housewife. I rarely throw out anything, my fridge is pretty clean and I like to keep fresh ingredients on hand. No who-knows-when-we-opened-that-jar-of-jam at the back or a bazillion of condiments on a door in my fridge. I do not do well with surprises when I open that jar.
This routine is a norm for me and if you adopt it as well, you will save money, time and have a clean fridge. I recorded this process on video and you can watch it in my Instagram profile.
1. Set and Forget Soup in Your Instant Pot
I am on a quest to come up with most perfect Instant Pot black beans. Thus lots of mushy beans and no perfect ones yet. When life gives you mushy black beans, you make black bean soup. I used this recipe as a base, we enjoyed some for a few days and the rest went to a freezer.
What's nice about cooking a soup in your Instant Pot during a meal prep is that you set it first and then forget about it. It is doing its job while you are doing your meal prep. I love my Instant Pot (8 quart for large batches of soup) to death now! If you are thinking about buying one, I recommend to read 15 things you should know about an Instant Pot.
2. Roast Firm Vegetables
I go through the veggie drawers and take out all vegetables near the end of their life.
Wash, chop and place on a large baking sheet (s) without overcrowding. I drizzle each tray with 3 tbsp olive oil, 1 tsp garlic powder, 1/4 tsp salt and pepper to taste. Bake at 425 for 25-30 minutes.
Use as a big side for dinner/lunch or breakfast + eggs.
I have to say that I roasted zucchini separately using Parmesan zucchini sticks recipe because they cook faster than a sweet potato.
3. Chop Lettuce/Prep Greens
Main reason why your veggies go bad is because they are not prepped for easy grab-and-go. If you wash, dry, chop and pack in gallon size Ziploc bags that lettuce, I can guarantee you will eat more salads. Good salad spinner definitely helps to save money not buying pricier pre-washed greens and prep your greens (many are not available pre-washed).
Meal Prep Tools I Use Every Week
4. Cook Protein and Grain Side
I cooked more quinoa and chicken breasts than required for chicken burrito bowls recipe (see below) I was working on that day. Doubling foods like these makes more food. You are already cooking anyways.
I sliced leftover chicken and placed it in a container to use in salads during the week.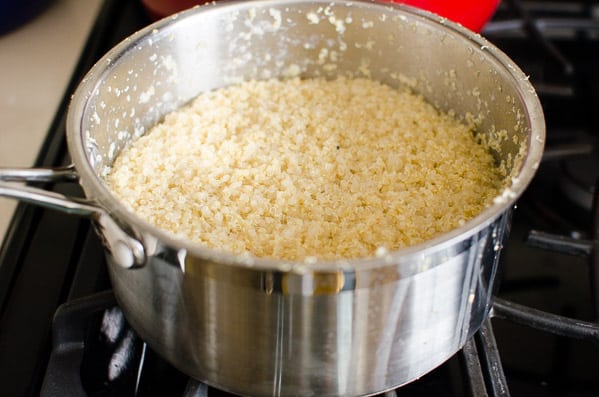 5. Assemble Meal Prep Lunches
These are chicken burrito bowls. Having even 2 lunches waiting in the fridge is a big game changer for me and Alex. Even when working from home, nothing compares to grabbing a quick lunch and getting as much done as possible before kids get back from school.
I also sliced cantaloupe that was already over ripe for easy snacks and breakfast.
What's your fridge clean out routine?