A collection of top rated 45 quick healthy dinner recipes. From chicken tostadas to baked chicken breast, and from beef stir fry to shrimp tacos, be sure you will find an answer to "What's for dinner tonight?" among these easy healthy dinner ideas. I hate that question too!
As a busy mom of 2, I know your struggle. I can help you! During 7 years of running this blog, I have put a lot of effort to create a variety of healthy dinners you can feed your family. Be sure all my recipes are ready in 30 minutes or less, use simple ingredients and are tasty. Bookmark this link for "[email protected], what's for dinner?" moments. And be healthy!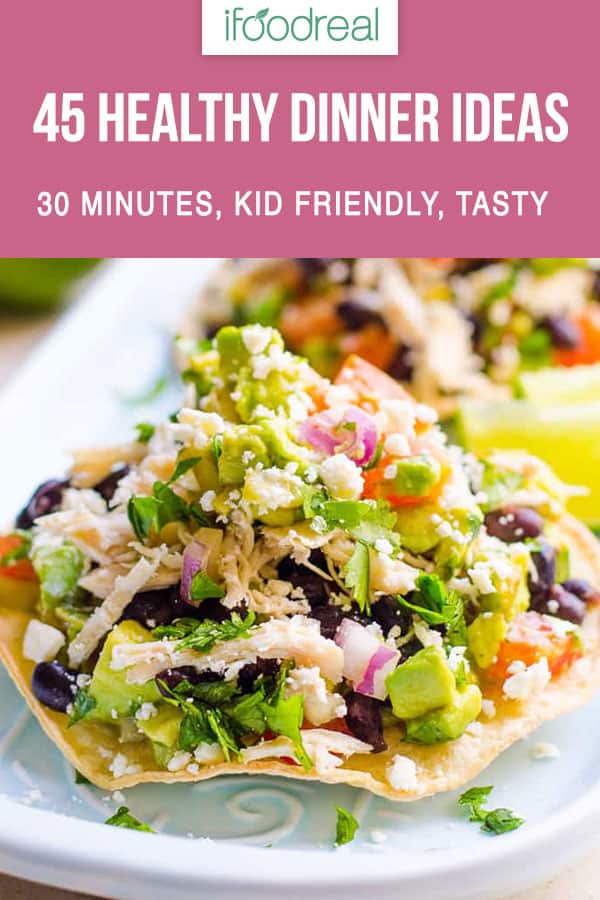 45 Easy Healthy Dinner Recipes Are:
In my world, easy healthy dinner recipes are:
Simple, wholesome, real food ingredients
Quick and easy – 30 minutes or less
Kid and entire family friendly
Tasty
"What's to Make for Dinner" Is Everyone's Struggle
I'm a great cook. Yes, I will own it and will not be shy. And a girlfriend of mine is a fabulous one too. Just a few days ago, we had a conversation how each weeknight dinner is a full-blown strategy.
To make it:
Fast
Light enough for a mom
Filling enough for dad and
The one that kids will like. And…
Preferably with some leftovers.
I'm happy we figured out there is nothing wrong with you because you are out of dinner ideas on busy nights.
Now let's help you to put an easy dinner on the table!
45 Easy Healthy Dinner Recipes – Quick Links
I think it's the best collection of easy dinner recipes on the web.
More Healthy Food Recipes to Try
Please don't be shy to share! The more people eat healthy, the lower our medical bill. I'm serious. YOU CAN make a difference. So, share away, share away.
Clean Eating Chicken Recipes
Left to right.
Left to right.
Left to right.
While chicken breast is baking, cook quinoa or whole grain pasta and make quick cucumber and tomato salad.
To make a complete meal, start with cooking quick cooking grain like quinoa or buckwheat. It takes only 15 minutes. In the meanwhile, prepare chicken breast with tomatoes. Then serve together.
You do not have to meal prep it. Just serve on plates.
Serving suggestion: healthy mashed potatoes or cauliflower mashed potatoes for a low carb alternative.
Clean Eating Instant Pot Recipes
Left to right.
Start with cooking quinoa or brown rice. Then proceed to making stir fry. Both will be ready at same time.
Clean Eating Ground Turkey Recipes
Left to right.
Cook brown rice for a side dish.
Quickly mash avocado with a few favourite spices or just slice avocado. Or make salsa guacamole.
Buy low sodium salsa or pico de gallo.
Serve with quick cooking brown rice vermicelli, quinoa or brown rice.
Clean Eating Beef Recipes
Left to right.
Clean Eating Salmon and Shrimp Recipes
Left to right.
Clean Eating Pasta Recipes
 Left to right.
Left to right.
Clean Eating Vegetarian Recipes
Left to right.
You can add chicken for a full meal.
Don't worry about meal prepping these. Just serve on plates.