Yesterday, when I made these easy braised short ribs, was the most stupidest day of the year. Given the fact we are only 13 days into the year, probably not the worst day yet. I started my morning with looking at a 3rd kitchen island's countertop replacement because 2 previous ones were defective. Mid day I was looking for a different hosting provider because iFOODreal's traffic has skyrocketed after January 1st. And then were these legendary Tuesday Olena's short ribs…
If you are thinking why I'm making beef short ribs when all magazines are offering us smoothies, here is my answer: I do not make New Year resolutions and can't live off of smoothies. I eat balanced through the year and am super done with skinny fooding. And by the way, there wasn't that much fat from these ribs.
Anyways, I bought these short ribs at a place where I get my chicken – local, grass-fed, almost organic blah-blah-blah. And true, the ribs smelled sweet, like fresh milk from childhood. Totally different smell than ribs from the store. Even the colour of meat. So, all in all great ribs.
I bought them because they were cheap and who doesn't like ribs?! Fall off the bone, with burnt spots if lucky, and just simply delicious. I haven't cooked ribs probably never…I could never find them organic lately, so no ribs. So, I happily brought my beef short ribs home some time before Christmas and tucked them away in a freezer until now.
My plan was to make a one pot, 30 minute, meat and pasta dinner. We had a hockey game that night and I thought how great would be an easy dinner for a busy night?! I had to take the skates to sharpen first, then pick up little one from daycare and Alex from the train station, and we would have dinner at the rink's cafeteria. Our quick and easy homemade ribs dinner.
My plan sounded great only until I started cooking ribs. You probably know where this is going because I think I'm the only dumb-dumb who doesn't know how long ribs take to cook!!! Apparently, according to many recipes Google spitted out, about 3 hours in the oven! I sadly looked at my dutch oven full of ribs simmering for 15 minutes on a stove. And I was debating whether to add elbow macaroni with the ribs or let ribs cook for 20 minutes first. Funny, right?!
But I am a strong believer that there is always something good coming out of something bad. Or however you say it. I knew my ribs were high end and the sauce was top-notch. And I was smart enough to buy a convection oven which cooks food faster. So I stuck my dutch oven full of ribs in the oven for 1.5 hours and waited. See, my ribs are proof that anyone can be a great cook with a bit of common sense and a cleaned up taste palette.
At that point I also changed my mind cooking elbow macaroni because I was planning another pasta dish for Thursday. So, I cooked some red rice. Just a rice but a different colour. 50 shades of rice in my house haha.
A little pause from my easy braised short ribs. Since I took out my favourite organic wine for pictures, I thought I would share. This is the best organic wine for $15 I ever found. By the way, Alex found it and my husband never shops. Like you send him to a store with a 5 item shopping list and expect 5 phone calls within 10 minutes. But when he buys or cooks something new it is usually super good! So, that is Canadian $15, so I assume it is even cheaper in the US. Everyone who has tried this wine, asks me what it is. It has won many ladies wine tasting parties.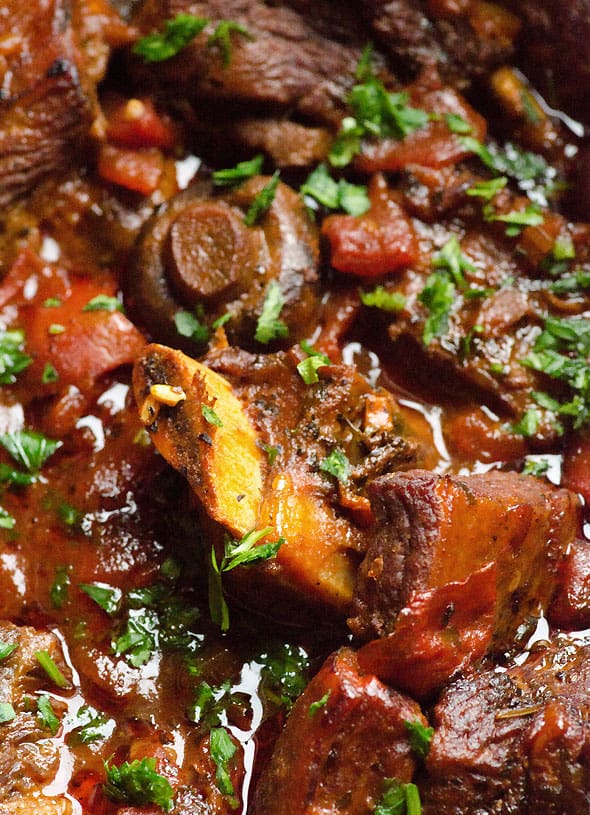 The verdict…drumroll. My easy braised short ribs were fall off the bone, in a rich red sauce, with plump whole mushrooms and a house smelling like the most exquisite restaurant. And so did my clothes too.
I didn't get to sharpen the skates because of pictures, crashing website, stupid short winter day with not enough light. But we had a fancy steamy dinner at the ice rink. A dinner I wouldn't make on a regular weeknight but definitely on a special occasion, with a glass of wine or punch. Trust me you do not need to spend $100 for a romantic meal for 2. Just $20 on ribs and $15 on a bottle of wine. Enjoy!
Easy Braised Short Ribs
Easy Braised Short Ribs with whole brown mushrooms, diced tomatoes and honey soy glazed fall of the bone meat.
Print
Rate
Instructions
In a large bowl, add ribs, honey and soy cause. Mix with hands to coat evenly. Let marinate for 10-15 minutes while getting other ingredients ready.

Preheat

dutch oven

on medium heat and swirl 2 tsp oil to coat. Working in batches, brown ribs for 3 minutes per side. Reserve marinade in the bowl and transfer browned ribs to it.

Add mushrooms and let them brown a bit, cooking for about 5 minutes and stirring occasionally. They will get a nice flavour from previous sauce in the pot. Transfer mushrooms to a bowl with ribs.

Swirl remaining 1 tsp oil and add onion and garlic. Sauce until translucent, stirring occasionally. Add previously cooked ribs, mushrooms, reserved marinade, diced tomatoes, chicken stock, basil, salt and pepper; stir to combine. Cover and let cook for 15 minutes.

In the meanwhile, preheat oven to 375 degrees F. Place dutch oven in the oven and cook for 2.5 - 3 hours. Ribs should be tender and fall of the bone. Sprinkle with parsley and serve hot with your side of choice like brown rice, quinoa, mashed potatoes or

mashed cauliflower

.
Store: Refrigerate in an airtight container for up to 5 days or freeze for up to 3 months.
Notes
*Choose ribs with least amount of fat. Mine had barely any.
**You might need to add less salt if using not low sodium diced tomatoes and chicken stock.
Nutrition
Serving:
1
cup
|
Calories:
371
kcal
|
Carbohydrates:
20
g
|
Protein:
33
g
|
Fat:
17
g
|
Saturated Fat:
8
g
|
Cholesterol:
86
mg
|
Sodium:
789
mg
|
Potassium:
1252
mg
|
Fiber:
2
g
|
Sugar:
12
g
|
Vitamin A:
244
IU
|
Vitamin C:
4
mg
|
Calcium:
53
mg
|
Iron:
4
mg
Join today and start saving your favorite recipes
Recipes and images are a copyright of ifoodreal.com. It is against the law to republish recipes anywhere including social media, print and all world wide web. Nutritional info is provided for informational purposes only and to the best knowledge.
***Nutritional Info may not be accurate – amount of fat in ribs varies. The ribs I purchased had barely any fat and I recommend to choose the same. Enjoy your ribs in moderation.:)