Healthy Banana Cream Pie is made with a gluten free cornflake crust layered with sliced bananas in a sweet healthy syrup, then topped with a coconut whipped topping and a chocolate drizzle. Serve chilled and enjoy a slice or three!
Add these other no bake desserts to your summer menus! No bake peanut butter pie or healthy key lime pie bars.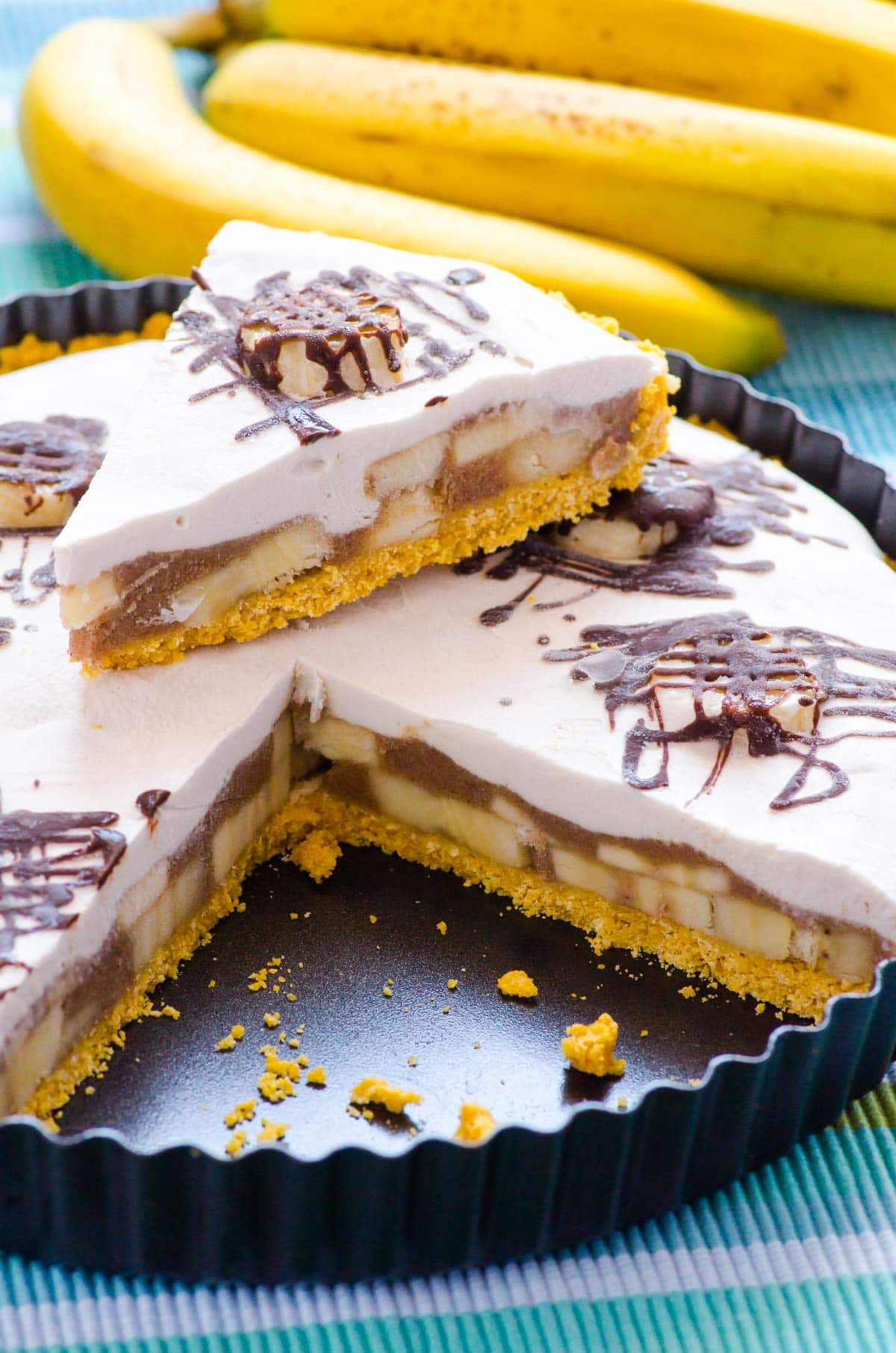 The retro dessert is timeless and a family favorite but that doesn't mean we can't adapt it to suit our current health goals!
Healthy banana cream pie puts a healthy twist on the classic recipe and you're going to love it!
It's gluten free, refined sugar free, and dairy free and made with layers of creamy, refreshing, and amazing banana flavors!
I used cornflakes for a delicious gluten free crust, a sweet creamy syrup made from dates and almond milk with sweet ripe bananas, and creamy coconut whipped topping.
It's the same creamy, tasty, banana dessert we love but with a few ingredient swaps.
The best part is you don't have to be on a quest for healthy desserts to enjoy this one. Everyone loves it and will be asking for seconds!
So, the next time you need a quick and easy no bake dessert that you can make ahead of time, this is the recipe to keep on hand for potlucks, barbecues, pool parties, and 4th of July parties!
Ingredients You Will Need
Check out what we use to make this healthy banana cream pie just as incredible as the original!
Cornflake crust: Using cornflakes is a cheap and easy alternative to working with pie dough, or even making your own. I use Nature's Path fruit juice sweetened cereal. You can use any brand.
Milk: You can use any milk you like. To keep it dairy free, I use unsweetened almond milk. If you want to intensify the coconut flavor, you can use coconut milk. Or dairy milk works too.
Medjool dates: Medjool dates have a spectacular caramel flavor which I love, so I'll pick those over any other type of dates for this recipe.
Full fat coconut milk: It's actually the cream on top that you want to use. It's what makes the filling so creamy.
Maple syrup: I generally love the taste of maple syrup over honey, especially for certain things. This banana cream pie is one of them! It lends to a caramelized flavor which pairs well with the dates but it also adds a slightly beige color that we love! It doesn't look like the artificial yellow that sometimes comes in processed banana ingredients.
Vanilla: You may notice a theme here. Vanilla is found in the crust, the syrup, and the filling. So you'll want to use a good pure vanilla extract.
Ripe bananas: You want them ripe enough that they're soft and sweet, but not overly ripe that they look unappealing and mushy. This goes double for the ones that are sitting on top for presentation.
Chocolate chips: Yeah yeah, it's chocolate. However, a drizzle of melted chocolate chips does bring it up a level!
How to Make Healthy Banana Cream Pie
Just wait until you see how easy this is to make. Grab your pie pan and let's get started!
Make the Crust
We start by making the crust which is the base of this entire healthy banana cream pie. It should be sturdy enough to hold everything without getting soggy. For this, we're not using a pastry or pie dough but we'll make a crumb crust.
In a food processor pulse the cornflakes until finely ground and transfer them to a bowl. Add the melted coconut oil, maple syrup, and vanilla, and mix to combine. It should appear like a wet sand that forms a clump when pressed together.
Pour the mixture into a non-stick pie dish or tart pan and use your hands to compact the crust, pushing it towards the edges. Pack it down tightly using the bottom of a glass and put it in the freezer while you prepare the rest.
Make the Filling
With only 3 ingredients, you can make a delicious syrup that coats the bananas and forms almost a custard consistency.
Once you've blended all the dates, milk, and vanilla until smooth, you'll cook it down on the stove for about 30-40 minutes until it thickens. Once it cools completely, it is the perfect way to smother the first layer of bananas.
Make the Coconut Whipped Cream
To be successful you want to make sure you have these two things in place.
First, you want to make sure the cream at the top of the can has separated from the liquid portion of the coconut milk. This happens as it spends time in the fridge overnight. The other is that you want to make sure the mixing bowl and mixers are cold.
You're just going to beat the cream, not the liquid, although it's ok if you accidentally get some of the liquid in there. Other than that, you decide whether you want to discard the liquid or put it to good use in tomorrow's breakfast smoothie.
Mix the cream until nice and whipped. Don't expect it to be the light and fluffy consistency as real whipped cream, but it should still be nice and creamy. Add remaining maple syrup and vanilla and mix until fully blended.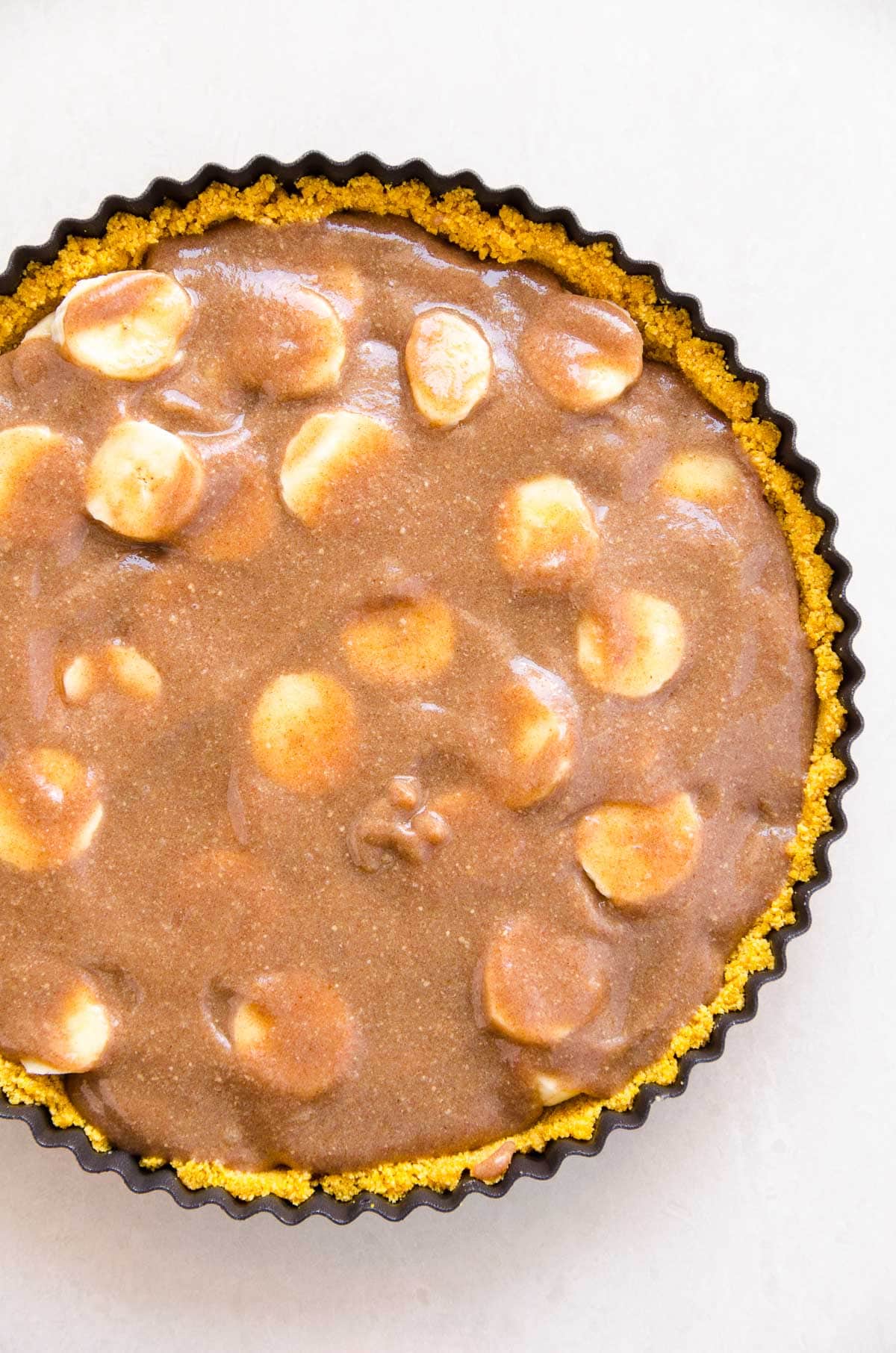 Assemble Your Pie
By the time you've made the syrup and whipped the topping, the crust should be nice and solid. Take it out of the freezer and place a layer of sliced bananas on the bottom. It's ok if they overlap.
Pour thick caramel syrup made from the dates over top, allowing it to smother the bananas evenly. Spread whipped topping across the top and garnish with extra banana slices and a drizzle of melted chocolate, if desired.
Freeze the banana cream pie for 2-3 hours and then slice and serve immediately.
Substitution Tips
Any milk: I keep mine dairy free which is why I used almond milk in the syrup. If you're not concerned about that, use any milk you like. Just remember, nondairy milk can take on a strong flavor, especially when unsweetened. This may alter the taste of the sauce.
Coconut cream: Since you're only using the cream on top of the coconut milk anyway, buying coconut cream and using that instead can also work.
Butter: Use it instead of coconut oil. They both solidify at room temperature, so they will both help to form the crust. Butter in a crust always adds a delicious buttery flavor, so you can't go wrong there!
Liquid sweetener: Honey and maple syrup are usually my go-to liquid sweetener. They are filled with antioxidants, vitamins, and minerals, but they also taste really really good! You can substitute with any liquid sweetener you choose.
Cornflakes: I use Nature's Path because I know from experience they are gluten free and sweetened with juice instead of sugar. Use whatever cornflakes you've got in your cupboard.
What Makes this Recipe Healthier?
There is no heavy cream, refined sugar, egg yolks, or instant pudding that can be used in the shortcut versions.
What there are, are whole ingredients like dates, maple syrup, honey, coconut oil, almond milk, and coconut cream that offer not only amazing tastes and texture very similar to the classic version but also health benefits. Good healthy fats, antioxidants, anti-inflammatory properties, vitamins, and minerals!
More FAQs
Can I use a store bought crust?
Sure you can! You can buy one that is baked or bake it at home and allow it to cool completely.
Why is my banana cream pie runny?
This is most likely because you haven't cooked down the sauce enough. You need it to thicken and reduce to about half, which takes about 30 to 40 minutes.

If you still find it's not quite thick enough, add a cornstarch slurry, which is a mixture of cornstarch and water, to the syrup. This will ensure your sauce is thick enough.
Can I prep this pie ahead of time?
Absolutely. Since it's kept frozen anyway, you can make it, freeze it, and allow it to thaw a bit before serving. Or you can prep the individual components the day before and then assemble them when you're ready.
How long will this pie last and how do I store it?
If you wrap it tightly with plastic wrap, it will last in the freezer for up to 3 months. You have to keep it frozen and not refrigerated. So keep in the freezer at all times.
More Healthy Recipes to Try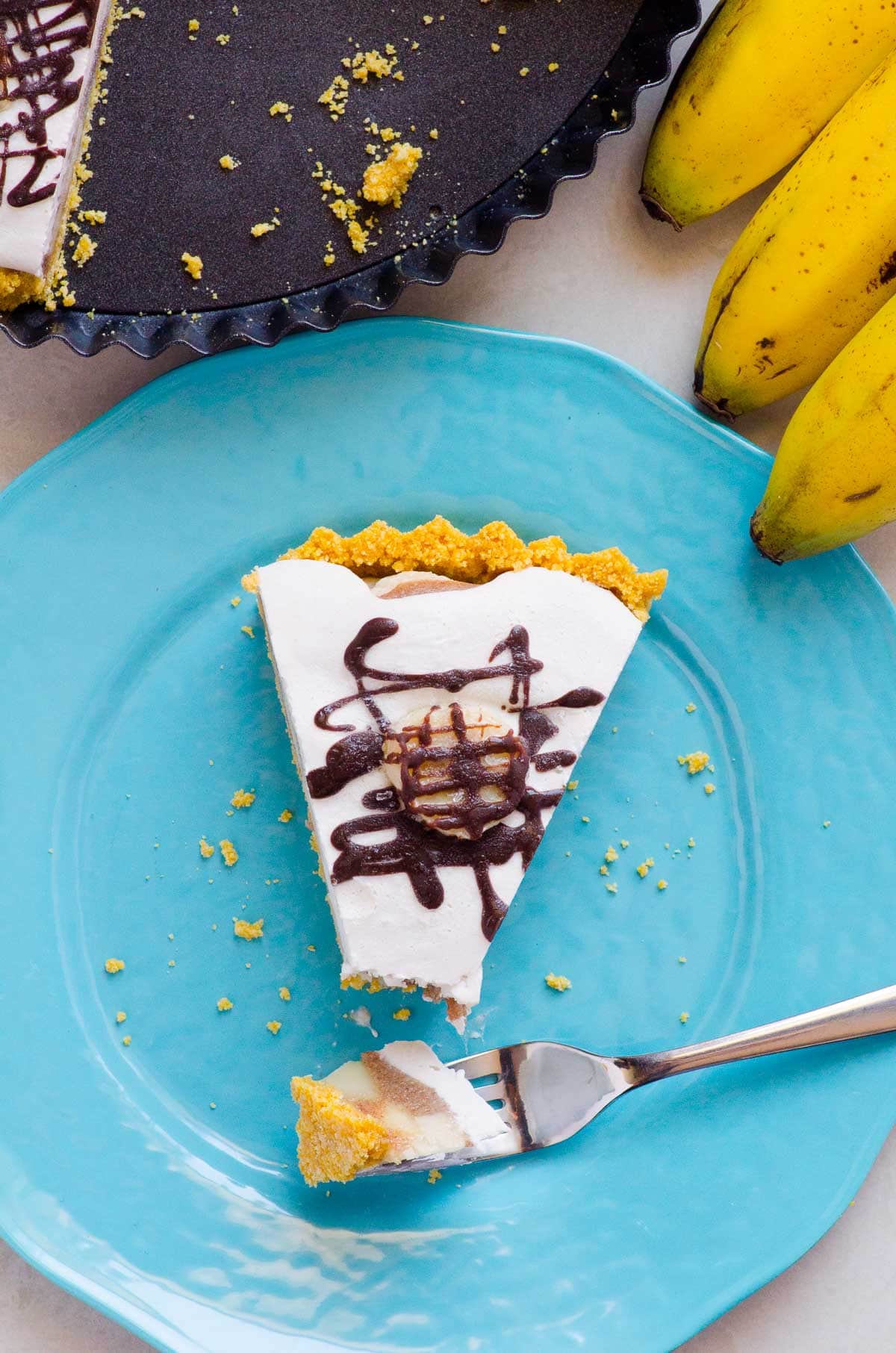 Healthy Banana Cream Pie
Healthy Banana Cream Pie with gluten free cornflake crust layered with sliced bananas in a sweet healthy syrup, then topped with a coconut whipped topping and a chocolate drizzle.
Instructions
Place can of coconut milk in the fridge overnight.
For the Crust:
In a small food processor or blender, process corn flakes until finely ground. Transfer to a medium bowl along with coconut oil, honey, vanilla extract, and thoroughly mix with spatula until well combined. Mixture should be crumbly sticking together into big lumps.

Transfer to a non-stick tart pan or pie dish and level evenly with spatula making sure to cover the edges. With a bottom of a glass, press crust down and on the edges to pack tightly. Place in the freezer while you are making the syrup and toppings.
For the Syrup:
In a food processor or powerful blender, add dates, milk, vanilla extract and process until very smooth. Transfer to a small saucepan, bring to a boil and cook on low until syrup has thickened and reduced by half (30 – 40 minutes), whisking occasionally. Cool completely by placing the saucepan in a bowl with ice.
For the Toppings:
Place glass bowl and mixer beaters in the freezer for about 10 minutes.

Open can of refrigerated coconut milk – it should have separated into white cream and clear liquid. Scoop out white cream into previously chilled bowl and refrigerate clear liquid for smoothies or discard. It doesn't matter if some clear liquid got mixed with cream a bit.

Beat coconut cream with a hand mixer for a few minutes. It doesn't have to get thick and fluffy as a whipped cream, and thickness will depend on how well coconut cream separated from clear liquid. Add maple syrup and vanilla, beat until well mixed.
Assembly:
Layer banana slices inside the crust, poor syrup over and spread whipped coconut cream on top. Decorate with banana slices and drizzle with melted chocolate chips, if you wish.

Freeze for 2 – 3 hours, cut into 8 slices and serve immediately. To serve from frozen, allow to thaw for about an hour.
Notes
Store: Freeze tightly covered with plastic for about 3 months.
I recommend using Thai Kitchen, Trader Joe's Coconut Cream or Compliments canned coconut milk with creamy consistency. I wouldn't use any other or international brand, as coconut milk is grainy and does not mix well.
Nutrition
Serving:
1
slice
|
Calories:
382
kcal
|
Carbohydrates:
55
g
|
Protein:
3
g
|
Fat:
19
g
|
Saturated Fat:
16
g
|
Sodium:
172
mg
|
Fiber:
4
g
|
Sugar:
36
g