We are back from Mexico and it feels so good to be home. What feels even better is my own kitchen where knives are sharp, pots are stainless steel and stove is gas. Oh, how I have missed my kitchen! No place like home, even without an ocean view my home is so clean, new and beautiful. Now that 10 loads of laundry are done and put away, fridge is stocked and everyone is back into a routine, I can finally cook creatively again.
As I was staring at gorgeous purple colour while stirring this healthy brown rice pudding I realized how I have missed cooking and posting recipes, when I'm home by myself and my creativity is at its peak. Welcome back to me! Home, sweet home!
I wasn't sure what to cook today but sure thing I knew I got so tired of oats for breakfast and quinoa for dinner in Mexico, and vanilla chia pudding and overnight oats don't seem so exciting as they used to be, I thought of rice. Why not make this pillowy soft healthy rice pudding with almond milk, a bit of butter, vanilla, and then loaded with superfoods like chia seeds, raisins, frozen fruit and maple syrup?! I envisioned the texture to be soupy and rice grains separate but melt in your mouth, not a mush but rather this sweet delicious soup of everything good for us. All of this envisioning happened last night on a walk and I was worried if my creative juices would flow like before, but I guess they did.
I am not sure what was happening for breakfast in the 80s in North America but in Ukraine we ate all sorts of porridge, our rice pudding was called "rice kasha". After some digging on Internet (gosh, do people still use this word?!) I understood that rice pudding in America is eaten mostly for dessert but can be a breakfast too. I definitely wanted to make something for a week of easy breakfasts, and even as an after school snack.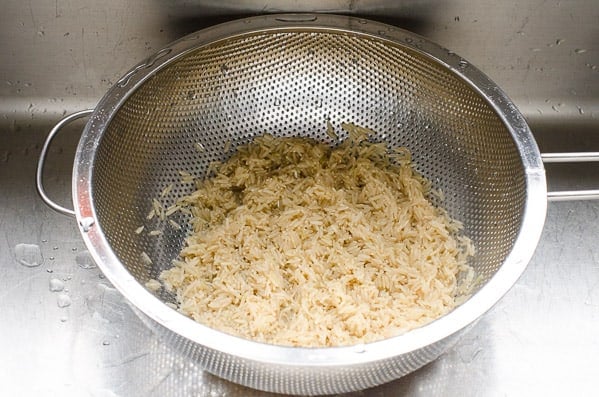 I found this recipe that I used as a base. I used organic brown jasmine rice because I wanted not a mushy consistency but rather each grain to be separate, that is why you have to wash rice really well. I'm sure any type of brown rice will work, like basmati, long grain or short. Then I added unsweetened almond milk (any milk from a carton would work, I think coconut, rice or cashew milk would be amazing), pure vanilla extract I got at a duty free on the way home (Mexico is known for its vanilla), and butter – it has to be butter in a rice pudding for me because that is how I remember my dad making it and it was to die for (you can use vegan buttery spread or coconut oil).
Then you bring everything to a boil and cook covered on low.
Halfway brown rice pudding will look like this. This is so easy and can be vegan easily too.
And when it's done – like this.
Then I added chia seeds, more almond milk, raisins and let the pudding sit for about 15 minutes so chia seeds get a chance to soak up some milk. Coconut flakes or cacao nibs would be great too but my kids wouldn't like that. I did all of this right in the pot, off the heat.
But then I transferred everything to a baking dish, topped with 2% organic Greek yogurt, 2 tbsp maple syrup (honey would be awesome), frozen cherries from my Costco shopping list and frozen blueberries from a local farm. Stir and voila – the BEST healthy brown rice pudding I ever had and oh so refreshing after all quinoa and oatmeal breakfasts years.
Kids came home and it hit me that brown rice pudding will be their after school snack – they loved it! After I covered it with plastic, placed in a fridge and this is a miracle one second ready healthy rice pudding for breakfast or snack. You can transfer whatever amount you need in a jar and off to work you go.
I guess my creative juices are still perfectly fine as these baked oatmeal breakfast bars with carrots came out fantastic as well. Enjoy!
Print
Healthy Brown Rice Pudding For a Week
Tired of quinoa and oats for breakfast? Try this Healthy Brown Rice Pudding Recipe for a week of easy breakfasts made with brown rice, almond milk, chia seeds, raisins, frozen fruit, maple syrup and Greek yogurt.
Author:
Prep Time:

8 minutes

Cook Time:

40 minutes

Total Time:

48 minutes

Yield:

8 servings
Ingredients
1 cup jasmine brown rice*
6 cups unsweetened almond milk, divided**
2 tbsp butter, salted***
1 tsp pure vanilla extract
1 cup raisins
1/4 cup chia seeds
3 cups frozen berries (cherries, blueberries, chopped strawberries, raspberries)
1/2 cup Greek yogurt (2% or higher)
2 tbsp maple syrup or raw honey
Instructions
Rinse rice with cold water really well, until water is clear; drain. In a medium pot, combine rice, 4 cups of milk, butter and vanilla extract. Cover and bring to a boil (don't walk away so milk doesn't run away). Reduce heat to low and cook covered for 40 minutes or until rice is soft and tender, stirring a few times and making sure rice is not burning (good pots really help).
Remove form heat and add 2 cups of milk, raisins and chia seeds. Stir and let the pudding set for 15 minutes.
Transfer to a large baking dish and add berries, Greek yogurt and maple syrup, stir gently. Adjust anything to taste and enjoy this best healthy brown rice pudding for breakfast or a snack.
Store: Refrigerate covered for up to 5 days.
Notes
Adapted from this recipe. *I used jasmine but basmati or long grain brown rice would work. You can use short grain but consistency will be more mushy. **Any milk from a carton would work. I think coconut, rice or cashew milk would be amazing. ***If using unsalted butter add a pinch of salt.
★ Did you make this recipe? Please give it a star rating in the comments.