Healthy Burger Recipes are lightened up with ground turkey, chicken, salmon, and black beans. Pan fry, grill, or bake in the oven for year round healthy dinner ideas!
Homemade burgers get only better when paired with air fryer sweet potato fries, a spinach salad, or any of these healthy sides!
Year round healthy burgers while may be light and lean, they do not lack in the flavor department.
And best, top your burger how you like it or even enjoy it 'naked' on top of a favorite healthy salad recipe.
Whether you serve them at a summer cookout with a side of healthy mac and cheese or for a fast weeknight dinner, your family is sure to love the variety of these healthy burgers!
What Makes These Burger Recipes Healthy?
First, let me just say that there is nothing unhealthy about eating a burger!
Secondly, by making homemade healthy burgers in your own kitchen it allows you to completely be in control of the ingredients used resulting in lean burgers that contain plenty of flavor.
These burgers contain no saturated fat, lower in calories and fat, and contain no 'extra fillers' like sugary sauces. Vegetables like zucchini and onion or legumes like red lentils add both flavor and nutrition to the patties.
Most importantly, homemade healthy burgers are versatile in not only how you cook them but how you top them, too!
Tips for the Best Burgers
Cook up perfectly healthy burgers every time with these pro tips!
Follow the recipe: Seems like a no brainer, but each of these healthy burger recipes has been tested over and over again and adding extra ingredients could result in less than desirable results.
Form even sized burger patties: This will help all burgers cook at the same time.
Do not press on burgers: While it may be tempting to flatten them especially when you are pan frying, do not do this. All the juices that keep it moist and flavorful will flow out.
Avoid dry burgers: By not overcooking your burgers. Each recipe goes over in detail optimal cooking time.
FAQs
What is the healthiest way to eat a burger?
Really it depends on your healthy eating goals! To save a few calories, skip the bun and try it naked over lettuce. Look for low sugar condiments, or make your own like this healthy BBQ sauce.

Top it with vegetables like crisp lettuce, savory red onion, or even grilled romaine lettuce!
Best Healthy Burger Recipes
Healthy Turkey Burgers
Never dry, always moist for a lighter burger with rave reviews. You might also love making these in a miniature appetizer size, by following my turkey sliders recipe. Serve with creamy cucumber tomato salad for a light summer meal!
Healthy Turkey Burgers with Zucchini
Juicy healthy turkey burgers made with lean ground turkey and zucchini. These flavorful burgers are made with simple ingredients, no unnecessary fillers, and will disappear right off the stovetop or grill!
Healthy Ground Chicken Burgers
The whole family will love these ground chicken patties with delicious taste. Serve with zucchini tomato bake for a summertime meal that satisfies!
Healthy Ground Chicken Burgers
Healthy ground chicken burgers gets its flavor from pureed onion! These lean, low sodium burgers hold together without falling apart and can be pan fried or grilled.
Healthy Salmon Burgers
A fresh take on seafood, these patties are topped with crunchy mango slaw and taste amazing.
Healthy Salmon Burgers with Mango Slaw
Packed with fresh salmon, red lentils and savory taste these healthy salmon burgers will be new favorite! Top with fruity mango slaw for a delicious summertime dinner idea.
Healthy Black Bean Burgers
Easy and meat free veggie burger the whole family will love! Try it topped with easy guacamole recipe!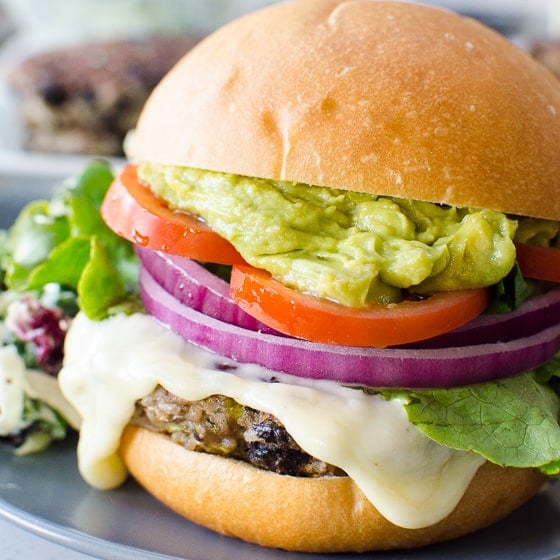 Healthy Black Bean Burgers
Enjoy a meatless dinner with reader favorite healthy black bean burgers! These black bean and veggie patties hold together well and can be baked, pan fried or grilled.
More Healthy Recipes You'll Love