Knowing How to Eat Healthy with an Instant Pot will help you keep your body fit and feeling strong. Ultimately, it will also help you look your best.
My hope is that the Instant Pot tips in this article will give you inspiration to create delicious and nutritious recipes in your electric pressure cooker!
The information in this article will explain how to eat healthy using an Instant Pot, or any other brand of electric pressure cooker.
Basic Instant Pot Information
Before we get into specifics on eating healthy using an Instant Pot, it's important to know how an Instant Pot works!
My Instant Pot guide is a fantastic resource for anyone who has yet to use an electric pressure cooker. Perhaps you are still doing research to determine which model you want. Or, maybe you have one, but haven't taken it out of the box yet.
The Instant Pot guide covers everything you could ever want to know about how to use your Instant Pot. All of the basic information and how-to's, in one convenient place!
You will learn great tips for things such as:
Even if you are already a pro at using a pressure cooker, there are likely to be helpful tips in the Instant Pot guide that you haven't learned about yet! Having trouble with your Instant Pot and need to troubleshoot? Read 16 common tips and how to fix them.
Now, if you don't own an Instant Pot yet (or wonder how it is different than a slow cooker), start by reading my article on which Instant Pot to buy. You can view side-by-side comparisons of Instant Pot models. As a result, it will help you to determine what features are important for you to have.
How to eat healthy using an Instant Pot
Whether you are using an Instant Pot or another type of electric pressure cooker, learning how to eat healthy is 80 percent mindset. It involves making healthier choices for the ingredients you will cook with. Also important is knowing which cooking methods will help to retain the most nutritional value of the ingredients.
By the way, we have an entire Youtube channel dedicated to healthy Instant Pot recipes and tips. My goal is to help you become confident with your Instant Pot. Using videos, I accomplish this by demonstrating each Instant Pot recipe for you, step-by-step.
What are the healthiest cooking options for the Instant Pot?
Below, you will find some information on cooking options available on almost all of the Instant Pot models. As you will see, many of the Instant Pot options are geared specifically for healthy cooking!
Steam
Steaming food requires boiling water continuously, until it vaporizes into steam. The vaporized water (steam) carries heat to your ingredients. Ultimately, the heat is what actually cooks the food.
In an Instant Pot, you will need to place the water inside the liner of the IP. Then, the food you want to cook is placed on a trivet or in a steamer basket a few inches above the water. By keeping the food above the water, the steam will rise and cook it.
Steaming is one of the best ways to ensure that foods retain as much of their nutritional value as possible. This is especially true for vegetables and seafood.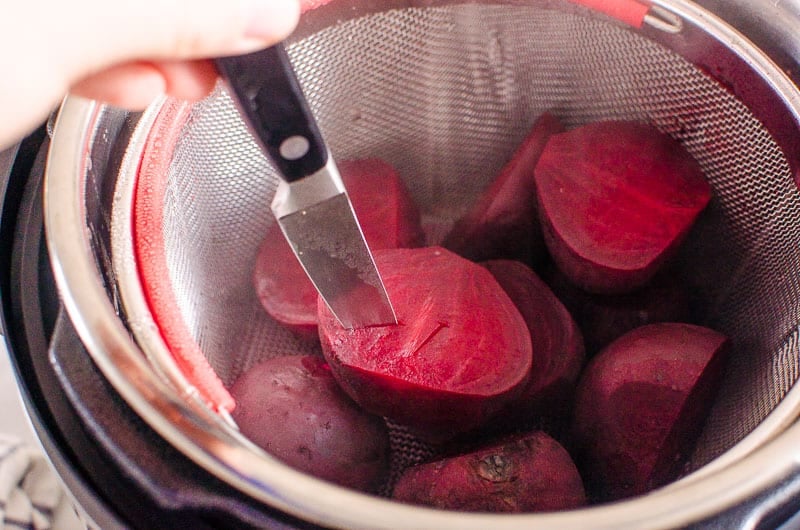 Want to try steaming in your Instant Pot? Cook a batch of Instant Pot beets! They are tender, flavourful, and packed with vitamins, minerals, and antioxidants.
Sauté
As we discussed earlier, an important part of eating healthy requires selecting nutritious ingredients. However, if those healthy foods are cooked in an unhealthy way, it defeats the purpose of eating them.
Sautéeing food in an Instant Pot is a healthy option because unlike cooking in a pan, the Instant Pot doesn't require using as much oil. Of course, you also want to make sure that you are using a healthy fat option. You can use any type of cooking oil in an Instant Pot. Healthy options include:
Coconut oil
Avocado oil
Extra virgin olive oil
Grapeseed oil
Sunflower oil
However, the benefits of sautéeing go above and beyond nutrition. The flavours of foods such as carrots, squash, garlic, onions, shrimp, and chicken become even better when they are sauteed.
Using an Instant Pot to saute food is a great way to keep the dirty dishes to a minimum, too! Another benefit is, an Instant Pot is so much easier to clean!
Hungry for a quick side dish? Eat healthy Sautéed Garlic Broccoli with Tomatoes. Although this isn't an Instant Pot recipe, there is no reason you can't make it in one!
Rice
The rice cooking option of an Instant Pot is the perfect method for preparing perfect fluffy rice. As you may know, eating healthy carbohydrates such as brown rice, wild rice, and black rice are better options than white rice.
The trouble is, cooking whole grain rice on the stove top takes a long time; depending on the variety, up to 45 minutes. Plus, it is difficult to cook whole grain rice perfectly on the stove top. Very often, the cooking liquid evaporates too quickly, leaving you with half-cooked rice. Or worse, over cooking rice can leave you with grains of sticky, gluey rice.
By using the Instant Pot rice option, you can make whole grain rice in just 15 to 20 minutes. Even better, the temperature and time settings are pre-selected for you. So, say hello to nutritious, whole grain rice that is perfectly fluffy every time!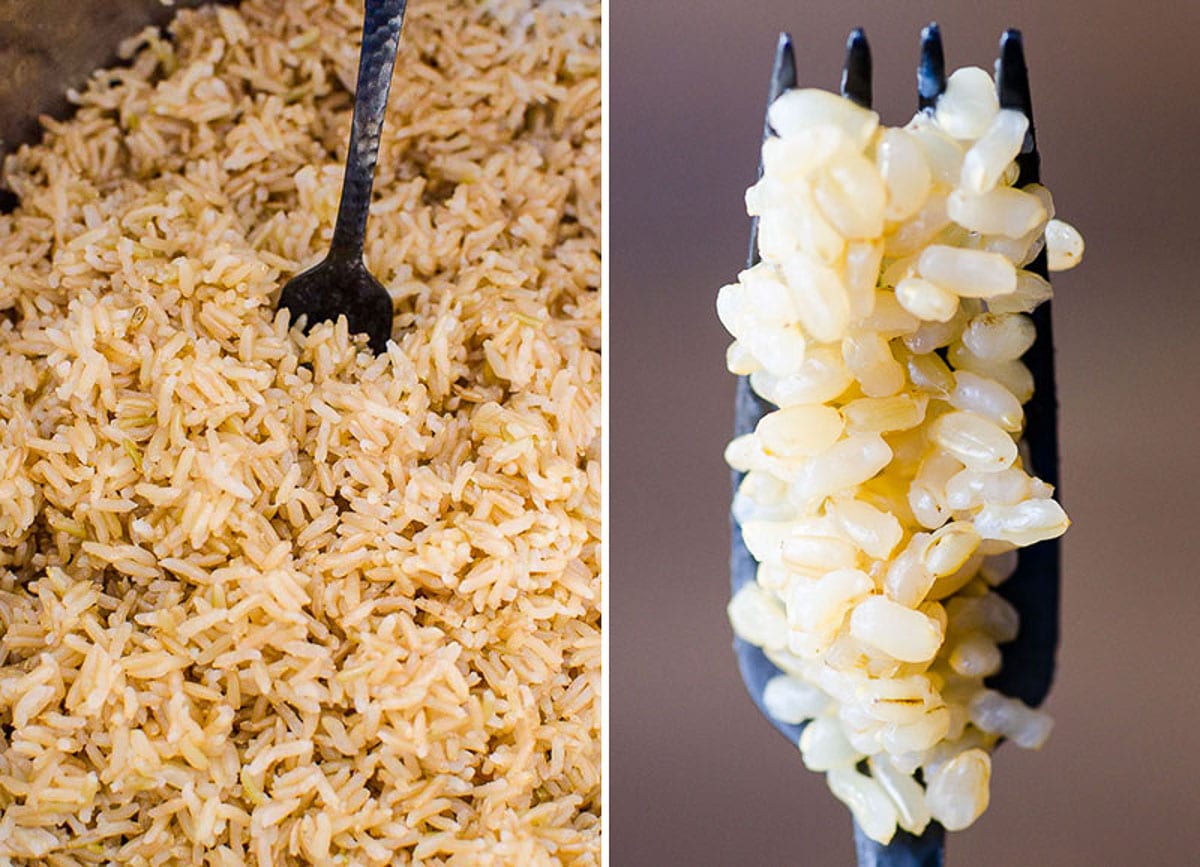 Looking for a delicious, nutritious way to eat healthy for dinner? Try this recipe for Instant Pot Chicken and Rice. Whole grain brown rice will cook up perfectly right alongside of the chicken. It's one of my favourite one-pot meals!
Other ways to eat healthy with an Instant Pot
You can eat healthy with some of the other cooking methods on an Instant Pot, too. To find other delicious and nutritious Instant Pot recipes to try, check out all of my healthy Instant Pot recipes and if you are new to Instant Pot cooking start with these beginner recipes.
Or, make a few of these 45 healthy Instant Pot recipes. If you love chicken, be sure to check out these 15 healthy Instant Pot chicken recipes, too!