15 Instant Pot Chicken Recipes for busy weeknights. Tried and true, healthy and easy recipes with chicken breast, thighs and whole chicken to make in your beloved Instant Pot (pressure cooker).
These recipes along with my article how to eat healthy using an Instant Pot are a great place to start!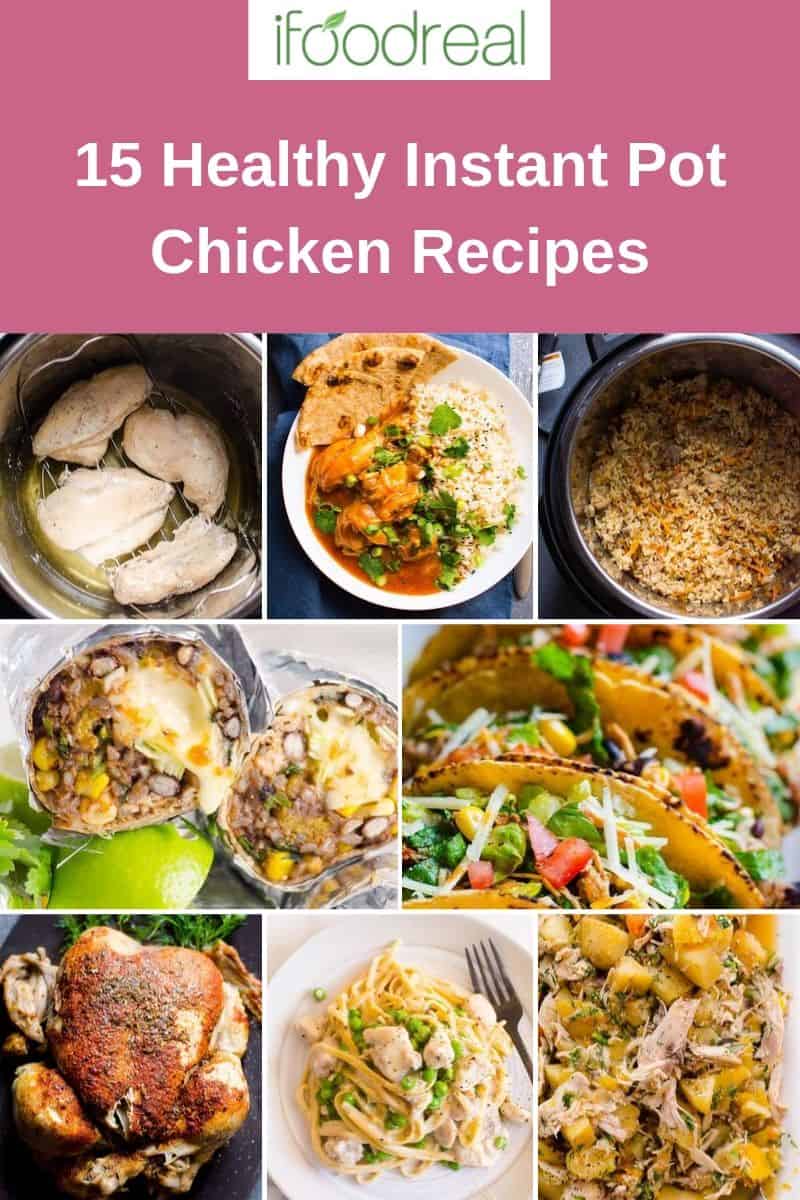 With the kids back in school, healthy Instant Pot chicken recipes are the easiest on busy school nights.
You just add all of the ingredients to the Instant Pot, set the timer and let it do the work! Dinner is ready in a flash, and you can spend more time with your family instead of the kitchen.
If You are New to Instant Pot:
Did you know we have entire Youtube channel dedicated to healthy Instant Pot recipes and tips? My goal is to help you become confident with your Instant Pot by demonstrating each delicious foolproof recipe in step-by-step videos.
Make sure to subscribe and hit the Bell icon not to miss new videos.
Here are some of my favorite meals to cook in electric pressure cooker on busy weeknights.
Looking for more dinner ideas? Check out my most popular collection of 30 healthy Instant Pot recipes.
Instant Pot Frozen Chicken (Rotisserie Style)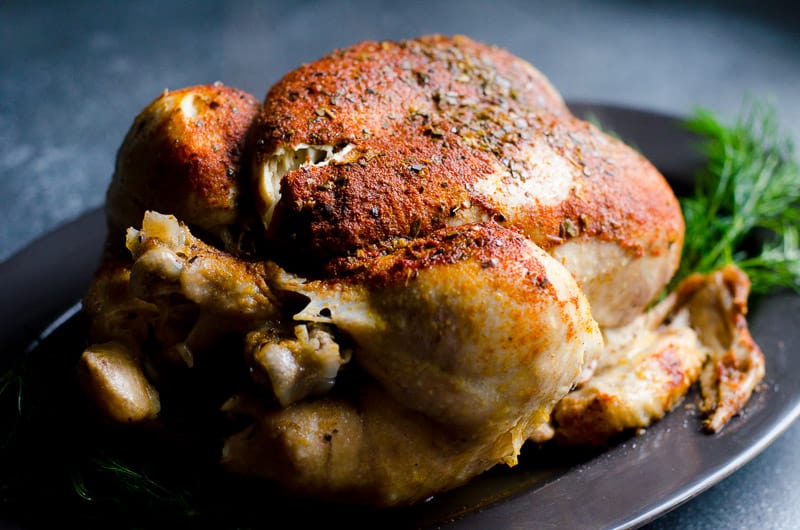 Make an Instant Pot Rotisserie Chicken in one hour? Sounds too good to be true!
With this whole chicken recipe, you can have a delicious, juicy meal with plenty of leftovers for the week. Use leftovers in tacos, sandwiches and salads. It's the perfect meal prep and dinner all in one!
Got fresh chicken??? Then make Instant Pot Whole Chicken in under an hour from start to finish.
Instant Pot Chicken Tortilla Soup
This recipe is from Gina's Skinnytaste One and Done cookbook. I love all of her recipes because they are healthy and full of flavor!
Instant Pot Tortilla Soup is perfect for weeknights and picky eaters. You can add different toppings like plain yogurt, cheese, green onion, tortilla chips…or leave them out depending on your preference and dietary restrictions. Soups are very forgiving, so feel free to omit or substitute ingredients as needed.
You can also make this on the stove top or slow cooker if you do not have a pressure cooker.
Instant Pot Chicken Breast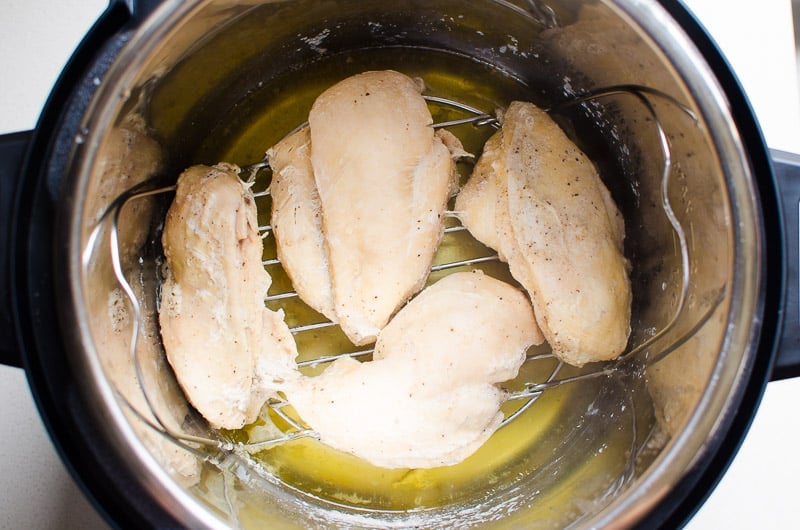 It's probably one of the first recipes you will ever make in the Instant Pot but also one of the most convenient. Starting with fresh or frozen chicken breasts, you can serve Instant Pot Chicken Breast in under 25 minutes.
Use the chicken to top salads, leftovers, make soups, the list is never ending. Cook from fresh or frozen. This recipe is a staple!
Instant Pot Chicken and Rice
This Instant Pot Chicken and Rice is a spin off of a traditional Russian/Ukrainian Recipe called "plov". Plov is usually made with rice and beef and is very time consuming to make. I still wanted to enjoy the flavors of this recipe but make it more healthy and quick!
With a few basic ingredients like chicken breast or thighs, rice and veggies, you can enjoy this delicious meal in under 30 minutes!
Instant Pot Stroganoff

Stroganoff is a traditional Russian dish made with ground beef, pasta and a delicious (and fattening) cream sauce. To make this recipe a little more healthy, we swap out the sour cream for plain Greek or regular yogurt.
To make this even healthier, use ground chicken (or ground turkey) instead of ground beef. This meal is delicious, easy and the kids love it!
Instant Pot Healthy White Chicken Chili
In just 30 minutes, you can have a delicious and healthy stew on the table. This Instant Pot White Chicken Chili is perfect for chilly fall nights and when you need dinner done in a hurry!
This chili can also be done on the stovetop and the slow cooker if you have more time.
Instant Pot Chicken Alfredo
Make Chicken Alfredo a little healthier and faster in the Instant Pot! This is a great weeknight meal that the kids will love and you can whip it up in a hurry.
We make our own sauce for the Instant Pot Chicken Alfredo. Simply use milk, Parmesan cheese and cornstarch to make a thick and creamy but healthy sauce.
Instant Pot Chicken and Potatoes
The first time I made Instant Pot Chicken and Potatoes, we were coming in from a hockey tournament on a Sunday night. I needed something quick and delicious! I whipped this up in 30 minutes, including prep time!
While the Instant Pot was doing its thing, I painted the kids bathroom. I promise, Instant Pot is a miracle worker! This recipe is delicious, easy and has lots of veggies for the kids.
Healthy Chicken Wild Rice Soup
Chicken and wild rice soup is traditionally made with heavy cream, butter and flour, but you can make this a little healthier by using milk and leaving out all the butter and flour.
I also make this Chicken and Wild Rice Soup on the stovetop or slow cooker. You can also make this as a freezer meal and make ahead and turn on the slow cooker the next day.
Instant Pot Chicken Burritos
Meal preppers will love this recipe! You can make 17 Instant Pot Chicken Burritos at one time. That's a lot of burritos, but with a husband and two boys, these burritos disappear fast in our home!
You can also substitute ingredients for picky eaters or dietary restrictions.
Instant Pot Chicken Noodle Soup
Comforting, healthy and delicious! This Instant Pot Chicken Noodle Soup is just like my grandma's. I have a lot of other chicken soups in rotation, too. Try my chicken noodle vegetable soup, chicken and lentil soup and even healthy chicken wild rice soup.
Soup is an easy meal for time and budget!
Authentic Instant Pot Butter Chicken

This Instant Pot Butter Chicken is an authentic recipe that is better for the wallet and for you! Make this restaurant favorite at home in the pressure cooker in under 30 minutes.
This recipe is made with full fat coconut milk, and our favorite brand is made without preservatives!
Instant Pot Chicken Tacos

This Instant Pot Chicken Taco recipe is made in one pot with all of the toppings included! We love this recipe because it's fast, healthy and calls for less chopping and prepping than your average taco.
This recipe is packed with tons of veggies, fiber and vitamins!
Instant Pot Teriyaki Chicken

Better than takeout! This Instant Pot Teriyaki Chicken is lower in sodium that the stuff from the restaurant. No mirin, brown sugar or oyster sauce! Just chicken, maple syrup, soy sauce and rice vinegar.
Make this in under 30 minutes for your favorite takeout meal!
Instant Pot Stir Fry
Instant Pot Stir Fry is a great way to get kids to eat their veggies in a fun way! This meal is a one-pot wonder made with frozen chicken, frozen vegetables and a delicious sauce. No need for planning and defrosting!
I like to make this on busy nights when things are hectic. Let the pressure cooker do the work for you!
These recipes are some of our favorite one-pot family meals for those busy weeknights! Check out more of our healthy Instant Pot one pot meals we make over and over again.
And don't forget to subscribe to my YouTube Channel for weekly cooking videos!