The best collection of 20 Instant Pot Chicken Recipes that are tried and true, healthy and easy to make on busy weeknights. From chicken breast, to whole chicken, to soup and stew recipes to make in your new or "old" electric pressure cooker.
These 20 Instant Pot chicken recipes are a must-have in your back pocket because chicken is America's most sold type of meat. We cook chicken a lot! It is the easiest meal on busy weeknights, hello Instant Pot frozen chicken breast.
I do have a whole category of healthy Instant Pot chicken recipes here on iFOODreal. Today I am bringing to the forefront the most popular Instant Pot chicken recipes among the readers.
Tips for Cooking Chicken in Instant Pot
Even chicken breasts come out juicy: Because food is cooked under pressure in extremely moist environment, I find even lean meat like chicken breast comes out juicy. Even if you cook it with brown rice for 22 minutes, chicken will still be juicy. Natural release helps as well.
Buy fresh and organic chicken breasts, if you can: We buy organic chicken breasts at Costco and I never had issues with dry meat. Also conventional fresh breasts come out great! Where I think people run into a problem is low quality meat brands and frozen breasts (again, lower quality meat goes for those, hence the price). Try fresh and a different brand next time.
You can cook frozen chicken but know this: You must use separated chicken pieces. Line any fresh pieces with parchment paper before freezing. If you add a blob of frozen chicken breasts, you will end up with raw meat inside and overcooked chicken outside. Sometimes I add a few minutes to cooking time "just in case" but 99% of times it is not needed because Instant Pot will take a bit longer to come to pressure with frozen meat. Because water has to be heated and steam created and we prolong this process with frozen meat.
Remove giblets from whole chicken before freezing: If you buy fresh whole chickens, just remove giblets before freezing. Unless they are in a paper bag, then you can cook them.
No crispy skin: Instant Pot is essentially like a steamer. You cannot achieve crispy skin with it. That is when oven broiler comes in.
Add creamy sauce after cooking: Instant Pot needs clear liquid like water, broth or vegetables' juices in order to come to pressure. You can add tomato based sauce before cooking but make sure not to stir. Anything creamy like alfredo sauce is best to add after to avoid dairy scorching and causing Burn.
Don't cook vegetables at same time with chicken: Tender vegetables like cauliflower, zucchini, broccoli, bell peppers etc. need less than 0 minutes cook time under pressure. It is because they are cooking while pressure cooker is coming to pressure. I prefer to add veggies after cooking chicken and always include instructions on how to do so in my recipes.
It's probably one of the first recipes you will ever make in the Instant Pot, but also one of the most convenient. Starting with fresh or frozen chicken breasts, you can serve Instant Pot Chicken Breast in under 25 minutes.
Use the chicken to top salads, transform into teriyaki chicken meal prep, make soups, the list is never ending. Cook from fresh or frozen. This recipe is a staple!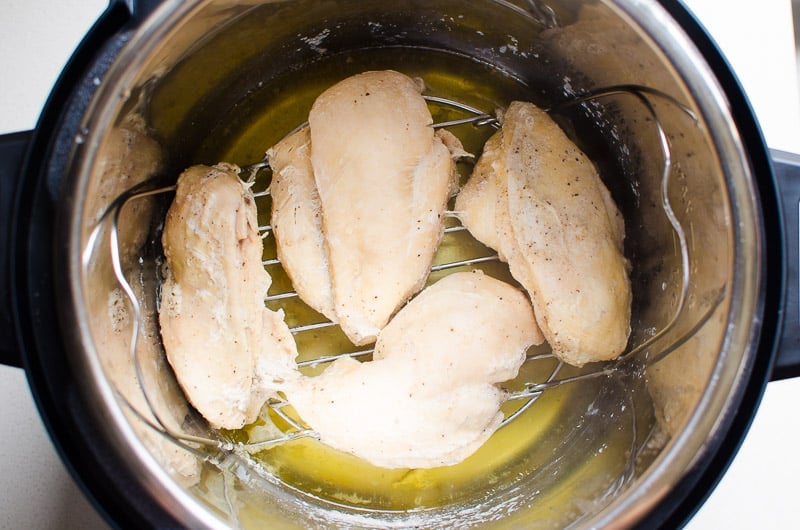 Make an Instant Pot Frozen Chicken in one hour? Sounds too good to be true!
With this whole chicken recipe, you can have a delicious, juicy meal with plenty of leftovers for the week. Use leftovers in tacos, sandwiches and salads. It's the perfect meal prep and dinner all in one!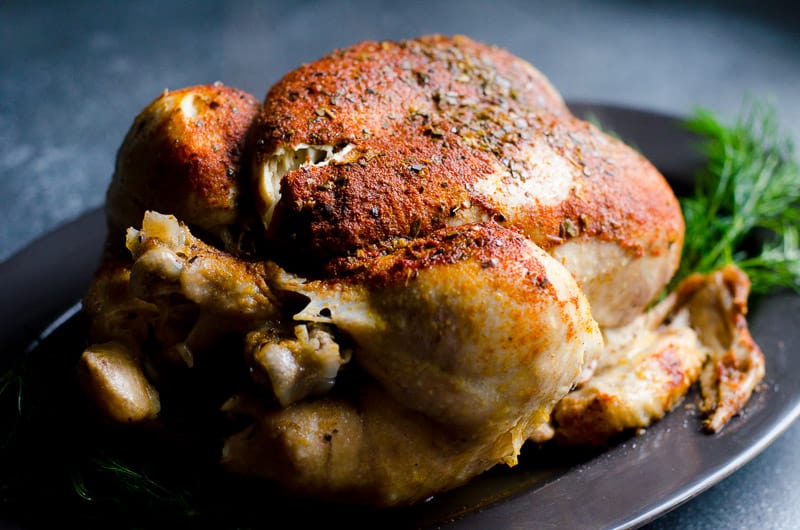 Got fresh chicken??? Then make Instant Pot Whole Chicken in under an hour from start to finish.
Instant Pot Whole Chicken comes out juicy, flavorful, crispy and so tender, even the breast. It is the most easy rotisserie chicken you will ever make with 5 minutes prep in your pressure cooker.
This recipe is from Gina's Skinnytaste One and Done cookbook. I love all of her recipes because they are healthy and full of flavor!
Instant Pot Chicken Tortilla Soup is perfect for weeknights and picky eaters. You can add different toppings like plain yogurt, cheese, green onion, tortilla chips…or leave them out depending on your preference and dietary restrictions. Soups are very forgiving, so feel free to omit or substitute ingredients as needed.
You can also make this on the stove top or slow cooker if you do not have a pressure cooker.

This Instant Pot Chicken and Rice is a spin off of a traditional Russian/Ukrainian Recipe called "plov". Plov is usually made with rice and beef and is very time consuming to make. I still wanted to enjoy the flavors of this recipe, but make it more healthy and quick!
With a few basic ingredients like chicken breast or thighs, rice and veggies, you can enjoy this delicious meal in under 30 minutes!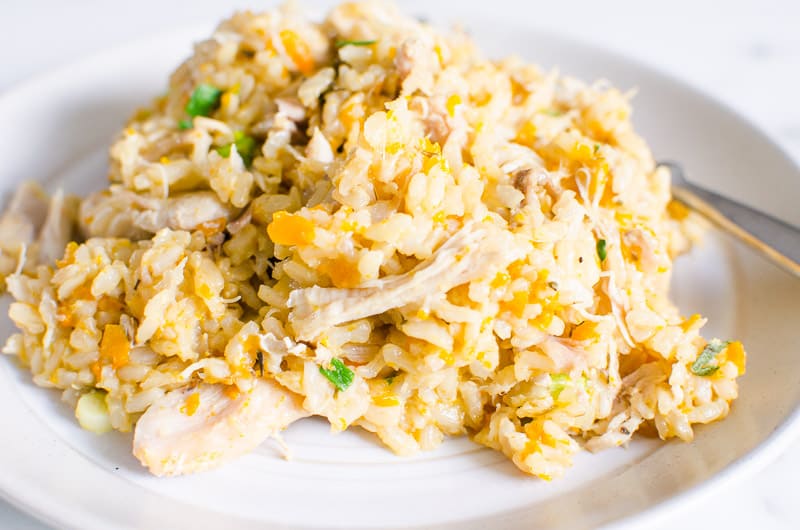 This Instant Pot White Chicken Chili is perfect for chilly fall nights and when you need dinner done in a hurry! In just 30 minutes, you can have a delicious and healthy stew on the table.
This chili can also be done on the stovetop and the slow cooker if you have more time.
Instant Pot BBQ Chicken makes flavourful and healthy pulled chicken in 30 minutes total. Serve with rice, salad or make wraps and freeze for busy nights. Also perfect for summer and feeding crowds, just like these other summer Instant Pot recipes.
Instant Pot Chicken and Rice Soup with chicken, veggies, rice, herbs, and spices in a delicious broth. This soup is healing, healthy, and tasty!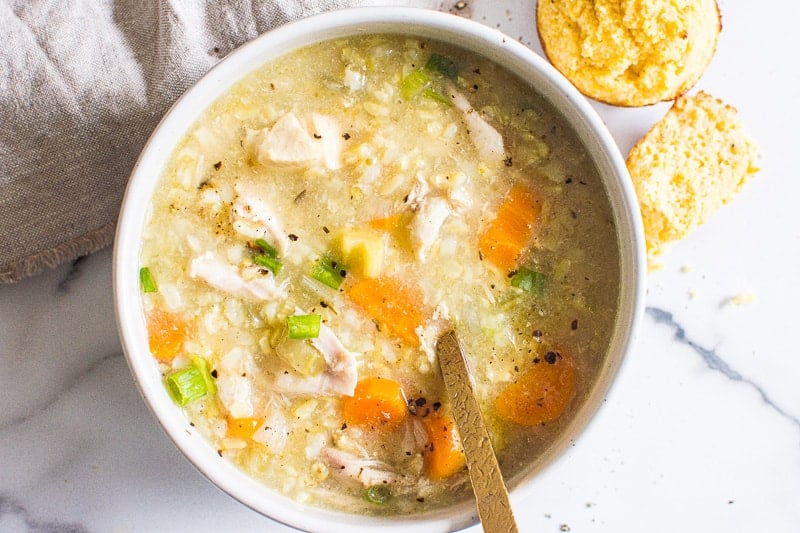 Instant Pot Parmesan Chicken Pasta is a 30ish minute one pot meal with tomato sauce, chicken breasts and gooey cheese on top. Full of staples, kids' favorite and so easy!
Easy and creamy Instant Pot Thai Chicken Soup with coconut milk, peanuts, cilantro, lime and full of hidden veggies. Make on the stove, slow cooker or turn into a freezer meal.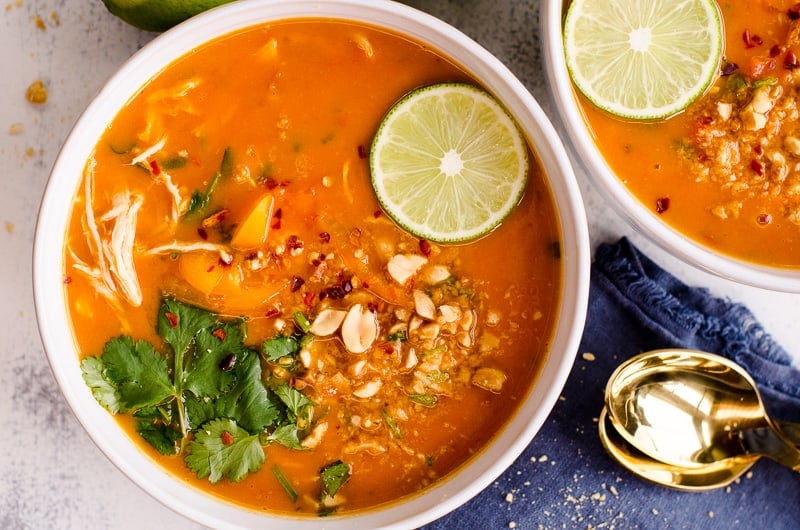 Make Chicken Alfredo a little healthier and faster in the Instant Pot! This is a great weeknight meal that the kids will love and you can whip it up in a hurry.
We make our own sauce for the Instant Pot Chicken Alfredo. Simply use milk, Parmesan cheese and cornstarch to make a thick and creamy, but healthy sauce.
The first time I made Instant Pot Chicken and Potatoes, we were coming in from a hockey tournament on a Sunday night. I needed something quick and delicious! I whipped this up in 30 minutes, including prep time!
This recipe is delicious, easy and has lots of veggies for the kids.
This easy Instant Pot Chicken Wild Rice Soup is made with chicken breast, wild rice, mushrooms, and veggies in a seasoned creamy broth. It is incredibly nutritious and just as delicious!
I also make this Chicken and Wild Rice Soup on the stovetop or slow cooker. You can also make this as a freezer meal and make ahead and turn on the slow cooker the next day.
Meal preppers will love this recipe! You can make 17 Instant Pot Chicken Burritos at one time. That's a lot of burritos, but with a husband and two boys, these burritos disappear fast in our home!
You can also substitute ingredients for picky eaters or dietary restrictions.
Comforting, healthy and delicious! This Instant Pot Chicken Noodle Soup is just like my grandma's. I have a lot of other chicken soups in rotation, too. Soup is an easy meal for time and budget!
This Instant Pot Butter Chicken is an authentic recipe that is better for the wallet and for you! Make this restaurant favorite at home in the pressure cooker in under 30 minutes.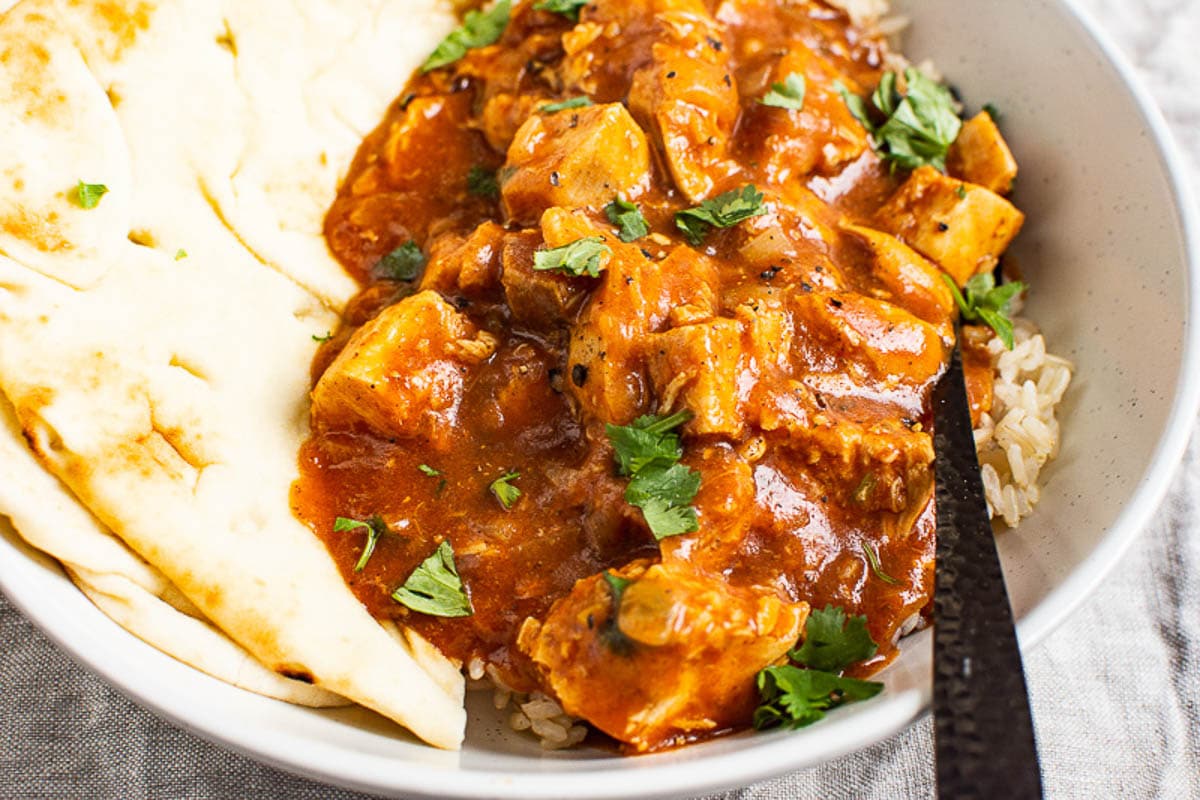 This Instant Pot Chicken Taco recipe is made in one pot with all of the toppings included! We love this recipe because it's fast, healthy and calls for less chopping and prepping than your average taco.
This recipe is packed with tons of veggies, fiber and vitamins!
Better than takeout! This Instant Pot Teriyaki Chicken is lower in sodium that the stuff from the restaurant. No mirin, brown sugar or oyster sauce! Just chicken, maple syrup, soy sauce and rice vinegar.
Make this in under 30 minutes for your favorite takeout meal!
Instant Pot Stir Fry is a great way to get kids to eat their veggies in a fun way! This meal is a one-pot wonder made with frozen chicken, frozen vegetables and a delicious sauce. No need for planning and defrosting!
I like to make this on busy nights when things are hectic. Let the pressure cooker do the work for you!
These recipes are some of our favorite one-pot family meals for those busy weeknights!
More Healthy Recipes to Try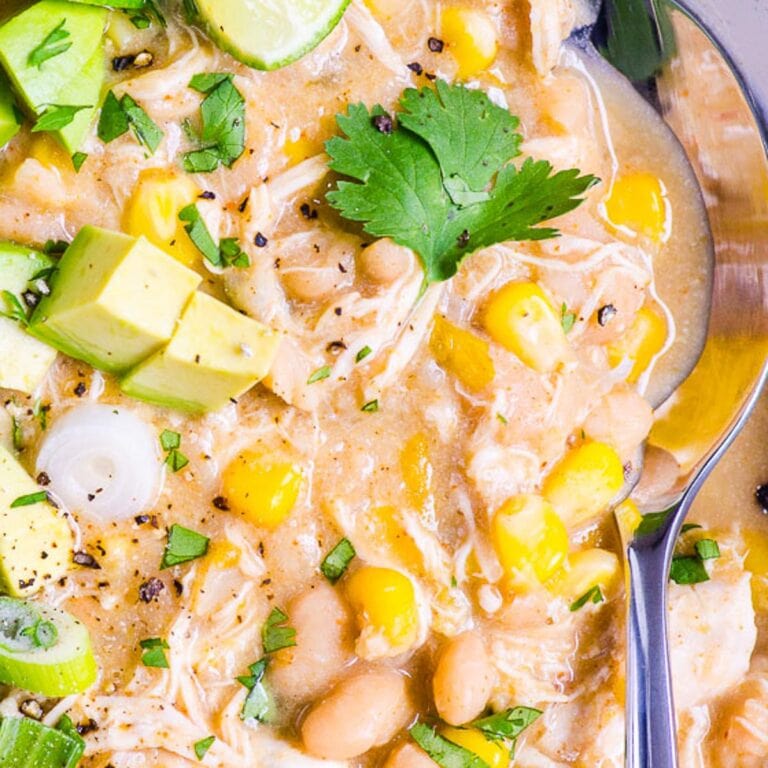 20 Best Instant Pot Chicken Recipes: Instant Pot White Chicken Chili
You can make this Instant Pot White Chicken Chili in as little as 30 minutes in a pressure cooker. This recipe is deliciously hearty and creamy with chicken, beans and the perfect blend of chili spices.
Ingredients
1

small onion

diced

2

x 15 oz cans cannellini beans

low sodium

2

cups

corn

fresh or frozen

1

cup

chicken broth

low sodium

4

oz

can diced green chiles

1

tsp

cumin

2

tsp

chili powder

1

tsp

garlic powder

3/4

tsp

salt
Ground black pepper

to taste

1

lb

or 2 large chicken breasts, boneless and skinless

Small bunch of cilantro

finely chopped

1/2

cup

plain Greek yogurt

fat 2%+ (or sour cream)

2

oz

cream cheese

1

lime

juice of

Tortilla chips

avocado, more yogurt, limes, for serving
Instructions
In a 6 or 8 quart instant pot, add ingredients in this order: onion, beans, corn, broth, green chiles, cumin, chili powder, garlic powder, salt, pepper. Do not stir. Place chicken breast on top.

Close the lid, set pressure vent to Sealing and press Pressure Cook on High or Manual for 20 minutes.

After allow pressure to come down naturally for 10 minutes. Release any remaining pressure using Quick Release method by turning pressure valve to Venting position, which takes 2 minutes.

Open the lid, remove chicken and shred with 2 forks. Or shred the chicken right in the pot.

Add cilantro, 1/2 cup yogurt, cream cheese, lime juice and shredded chicken to the pot, stirring well.

Serve hot with your favourite toppings like tortilla chips, diced jalapenos, avocado, sour cream or yogurt or hot sauce.
Notes
Store: Refrigerate in an airtight container for up to 5 days or freeze for up to 3 months. Thaw in the fridge overnight, then reheat on low on a stovetop.
Dried beans: Combine 1 cup

dried (and rinsed)

white

beans with 2 cups of stock. Increase

chili cook time to 35 minutes.
Frozen chicken breasts: Add frozen chicken breast right into the pot. No need to thaw, but make sure they are separated. Cook time remains the same.
For 3 Quart Instant Pot: Cut the ingredient amounts in half, but keep the same cook time.
Make chili dairy free by omitting yogurt and cream cheese. Just puree 1 cup of beans with a bit of chili liquid. Add it back to the pot, stir and your chili will be so creamy.
No diced green chiles? Mince a whole jalapeno, leave seeds in for spiciness or remove for a more mild version.
Don't add dairy before cooking: Dairy separates under pressure. It is best to add it after cooking. 
Nutrition
Serving:
1
cup
|
Calories:
249
kcal
|
Carbohydrates:
30
g
|
Protein:
22
g
|
Fat:
5
g
|
Saturated Fat:
2
g
|
Cholesterol:
45
mg
|
Sodium:
495
mg
|
Fiber:
7
g
|
Sugar:
4
g