15 Slow Cooker Vegetable Soup Recipes – Healthy
This post contains affiliate links. Please see our disclosure policy.
Slow cooker is an excellent appliance for making cheap and healthy meals all year round (in summer, I just place it outside). Check out my 8 healthy slow cooker soup recipes growing collection. Over the years, here are a few tricks I learnt about making slow cooker vegetable soup recipes healthy:
Whole grains and legumes like lentils, hulled barley, farro, quinoa, wild rice and brown rice are excellent contenders for slow cooking.
Dry beans have to be soaked, although I know there are many sources ignoring this step nowadays. However, soaking beans not only shortens their cooking time, but also helps to get rid of phytic acid that causes gas, heartburn and reflux. It's really not a big deal to soak beans in cold water overnight.
Add pasta at the every end; as well as tender and delicate greens like spinach.
There are rumours that onions make slow cooker meals bitter but I personally haven't found that.
A can of full-fat coconut milk really boosts nutrition content of any vegetarian soup, and can be easily substituted for cream in many recipes.
Garlic powder is more flavourful than fresh garlic, so I add both.
Mushrooms and bell peppers taste better when sauteed first, but sometimes there is no time and soup still will be delicious.
Tender vegetable based soups (with carrots, tomatoes, celery, corn, peas, potatoes) do not need long cooking time, and can be ready in as little as 4 hours.
To make any soup creamy without cream, I like to use starchy potatoes or brown rice, that later on can be given a few pulses. Starch really breaks down well in a slow cooker!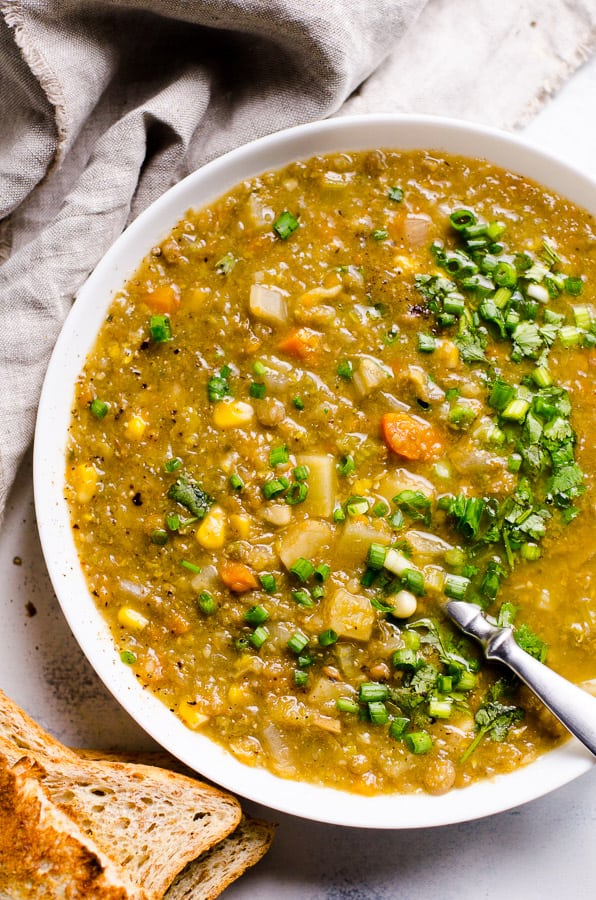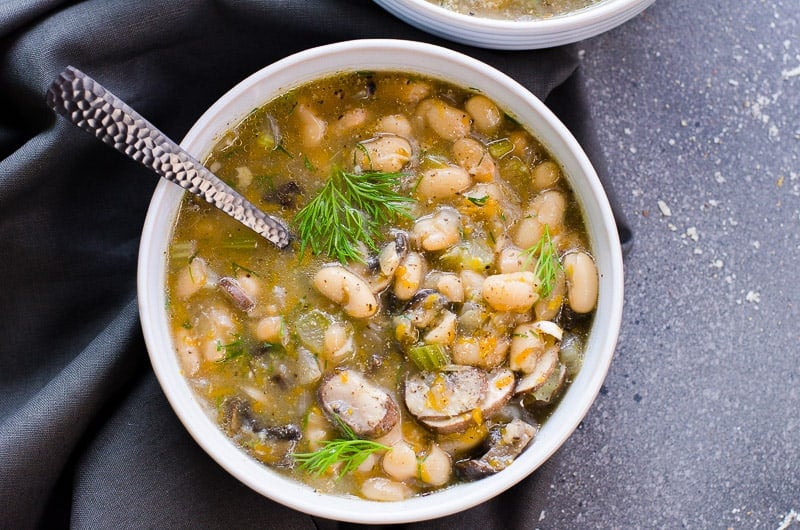 Smoky Sweet Potato Soup from My Whole Food Life
Black Bean Soup from Making Thyme for Health
Hearty White Bean Soup from My Whole Food Life
Corn and Red Pepper Chowder from Oh My Veggies
Minestrone Soup from Yummy Healthy Easy
Vegan Lasagna Soup from Connoisseurus Vegan
Thai Pumpkin Coconut Soup from Salu Salo
Lentil Wild Rice Mushroom Soup from The Pretty Bee
Vegetarian Soup from Flour on My Face
Mediterranean Lentil Soup with Spinach from Genius Kitchen
Mushroom Barley Soup from Wilderness Wife