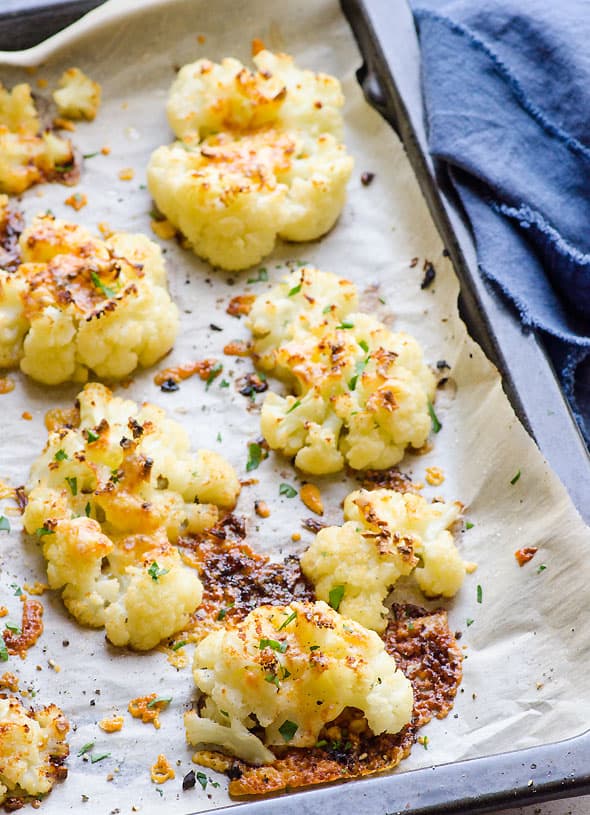 I find March to June the worst months to shop for quality produce. I am already tired of squash, kale and citrus. Asparagus – I made broiled asparagus with garlic and vegan asparagus soup. I had enough of fragrant bathroom trips. For almost 3 weeks I couldn't find organic apples and now that I did they cost an arm and a leg. As I glance through magazines and blogs mentioning spring's produce bounty I am honestly puzzled where do those people live?! Or are they talking about new greenhouse's crops?
So, I am done with plastic wrapped cucumbers, cardboard tomatoes and Mexican zucchini. Can't wait for my local farmers market to open in May. To me fresh produce is local, grown without pesticides and oddly shaped. I love it, I crave it! I can't wait for fresh organic berries!!!
On Monday, as I was frantically looking through produce shelves for affordable, filling and pesticide free vegetables, I saw a head of organic cauliflower for $4.88. I grabbed 2 with no actual plan in mind. This is why meal planning doesn't work for me. I plan my meals based on what I was able to find at the store which in turn yields a constant stream of new recipes for iFOODreal. I cook what we eat. I barely have an editorial calendar for my blog because I cook depending on what I feel like. To me, cooking is a creative process which needs inspiration. If I wake up and feel like rolling some coconut balls or smothering salmon in cheese, I want to do only that. The day I wake up and drag myself into the kitchen to cook something I have to to someone else's liking, this blog becomes a job, and I stop it right there.
For quite a while I have had an idea to make roasted smashed cauliflower just like small potatoes but with cauliflower instead. I knew if I sprinkled cheese on top it would melt and create this burnt thin crust I remember as a kid when mom made her meat a la French style.
Thinly sliced and pounded beef cutlets coated in salt, pepper and garlic (of course). Placed in a layer on a baking sheet and topped with a shit load of mayo and Ukrainian soft cheese (which I suspect was kind of processed just less chemicals than US one). Nothing healthy but super tasty…
Back to our smashed cauliflower bites. So, I thought cauliflower would be super cool in place of potatoes because it is so much lighter in calories. And I thought if I boiled it a bit, cauliflower would smash. Yipee yep.
Honestly, I am surprised there is nothing like this out there. So, I am the pioneer of roasted smashed cauliflower!
The cauliflower in a photo above doesn't look very smashed but it is. Its florets still perch up and I found the masher, not the back of the spoon, being the best tool to smash. Masher doesn't flatten cauliflower too much making it separate into pieces – we don't want that.
I topped my smashed cauliflower with a generous amount of olive oil. It helps to make cauliflower more roasted plus cauliflower really is just water so extra fat to make it more filling is spot on. Then I sprinkled some himalayan pink salt and freshly cracked black pepper on top. And then cheese. You could totally skip cheese, no problem.
Now, listen carefully to me – DOUBLE THE RECIPE. Cauliflower doesn't yield much food and this is to die for! Just like with my cauliflower pizza crust recipe – many had regrets they didn't double. Enjoy!
Print
Smashed Cauliflower Bites
Smashed cauliflower bites with garlic and cheese, and then roasted. Delicious comfort finger food without the guilt. Double the recipe!
Author:
Prep Time:

5 minutes

Cook Time:

28 minutes

Total Time:

33 minutes

Yield:

5

servings

1

x
Scale
Instructions
Fill a medium pot with water and bring to a boil. In the meanwhile, remove leaves from cauliflower and rinse with cold water. Using a paring knife, cut off large florets from a stem. When water is boiling, add 1/4 tsp salt and cauliflower. Cover and bring to a boil. Cook for 3-4 minutes or until cauliflower is a bit firmer than al dente. Check with a knife. Drain.
Preheat oven to 450 degrees F and line large baking sheet with unbleached parchment paper. Drizzle 1 tbsp of oil and spread all over with a brush. Place cauliflower florets on a sheet and gently smash each with a masher (not the back of a spoon – I tried, doesn't work!!!) until a bit flattened but not separated .
Drizzle with 2 tbsp of oil, sprinkle with 1/4 tsp salt and garlic, top with cheese. Bake for 15 minutes and then broil for 10 minutes or until cheese is golden brown, rotating once.
Store: Refrigerate in an airtight container for up to 3 days.
★ Did you make this recipe? Please give it a star rating in the comments.