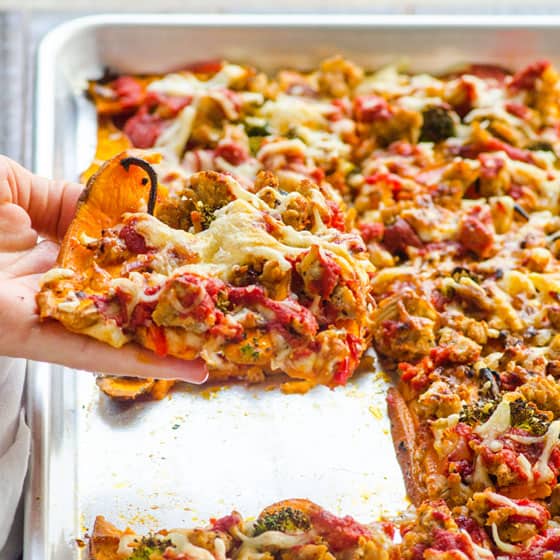 Sweet Potato Pizza Crust Recipe made gluten free with whole foods and requires no food processor. No flour mess either and you can actually hold the slice.
Author:
Prep Time:

15 minutes

Cook Time:

38 minutes

Total Time:

53 minutes

Yield:

12

servings

1

x
Scale
Ingredients
Crust:
7

medium (4 oz each) sweet potatoes

1 tbsp

olive oil, extra virgin

1

large garlic clove, crushed

1/2 tsp

smoked paprika

1/2 tsp

salt

1/2 tsp

ground black pepper

2.5 oz

low fat mozzarella cheese, shredded
Toppings:
1/2

red onion, sliced

1/2

bell pepper, sliced

1 cup

small broccoli florets

1

lb ground turkey, extra lean

1 tsp

oregano, dried

1/2 tsp

salt

1/2 tsp

ground black pepper

3/4 cup

tomato sauce

2.5 oz

low fat mozzarella cheese, shredded
Cooking spray (I use Misto)
Instructions
Preheat oven at 450 degrees F and spray half sheet baking tray (I use this one) with cooking spray.
Wash and pat dry sweet potatoes. Cut off the ends. I didn't peel mine to keep the nutrients in the skin but you can if you want to. Using sharp knife (my choice) or a mandoline, cut each sweet potato lengthwise into 1/8 of an inch thick slices. Add to a large bowl. Drizzle with olive oil and add garlic, smoked paprika, salt and pepper. Toss gently to coat. Lay potato slices in a single layer lengthwise, making sure they overlap by 1/8 of an inch. Like this.
Now time to add your veggies, nothing else. If you add too many toppings now, they will either burn or steam the potatoes. Veggies go in now to roast along with potatoes. I used red onion, bell pepper and broccoli. Use what you like and have. Spread the veggies on top of sweet potatoes and spray with cooking spray, and sprinkle with a pinch of salt and black pepper. Bake on the middle oven rack for 20 minutes and then broil on High for 10 more minutes, turning the sheet half way through broiling.
In the meanwhile, preheat large non-stick skillet on medium heat and add turkey, oregano, salt and pepper. Cook for 10 minutes or until golden brown and crispy, stirring occasionally and breaking into pieces. Chicken or sausage would be great too. Any or no protein works.
Remove from the oven and sprinkle with 2.5 oz cheese, making sure majority of cheese shreds covers the seams. This way cheese will act as a glue and help form "the crust". Drizzle tomato sauce on top. Sprinkle turkey pieces and cover with remaining 2.5 oz cheese. Return pizza to the oven and broil on High for 8 – 10 minutes or until cheese is bubbly and golden, turning the sheet half way. Cut into 12 slices and serve hot or cold. I like cold pizza and it holds together even better.
Store: Refrigerate covered for up to 3 – 4 days.
Notes
The toppings are just an idea. You can create your favourite pizza by using the crust recipe and top as you wish. I could actually hold the pizza by the slice but you can eat it with a knife and fork too. The second day, pizza retained some moisture from sitting overnight in an airtight container, so it held up best cold and a bit less warmed up. But still I was impressed. You can store it in a container with holes in a lid or leave the lid a bit open.
★ Did you make this recipe? Please give it a star rating in the comments.