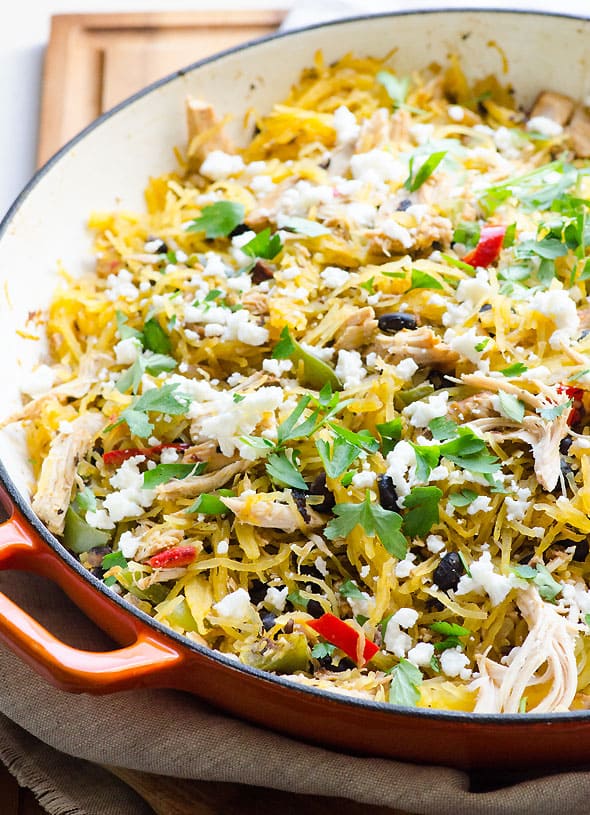 Do you know that Thanksgiving in Canada happens mid-October?! I always wonder, if you are American how it feels to eat turkey end of November and then a month later?! Does it still feel exciting?! We always can't wait for a Thanksgiving turkey and then Christmas come…we are still pumped to spend $80 on turkey. Yes! That is how much I paid for my special, local and free range bird this year. My hand was shaking as I was passing my debit card to a cashier and I promised myself right there and right then that I will make 3 dinners with leftover meat and boil soup bones twice. And you bet I did – the stock is frozen for future 5 batches of borscht and grease is saved for…Not sure if I should use it in cooking a little bit at a time…my grandma always did but then her health wasn't the best…I don't know.
One of the dinners was this leftover spaghetti squash with onions, peppers and cheese. I like to bake lots of spaghetti squash at once and save leftovers for easy dinners throughout the week. If my boys are eating pancakes, I will have squash with eggs and veggies. Think this way: your oven is already going, why not save time and money and cook a big batch?!
I clearly grabbed 2 different squashes: one light yellow and tender and the other one bright yellow with a thicker skin. Just different squashes, it's all the same with except one difference…
The yellow one's skin was so thick I had to use a mallet to cut through it. And here is a HUGE TIP on how to cut spaghetti squash without chopping off a finger: use bread knife and just work it like a saw. If that doesn't work, hammer carefully on a knife with a mallet. Sometimes a girl gotta do what a girl gotta do to get her veggies.
This leftover spaghetti squash idea came from Christine, a girl who was grouting my tiles last week. So, thank you, Christine! And I love my backsplash and fireplace. -:) She makes spaghetti squash with ground meat and you can do that too but since I had a container of leftover Thanksgiving dinner turkey breast meat (who doesn't) I went for it.
Now, cheese…I tired something new and I loved it – Bulgarian feta cheese! I spent a few summers in Moldova where my dad was from and I remember him buying this kind of feta, it was called "brynza". It tastes different than North American feta cheese, is less salty and more creamy. My kids loved it so much, I served it on a cheese platter among other cheeses for a Thanksgiving dinner. Everyone loved it!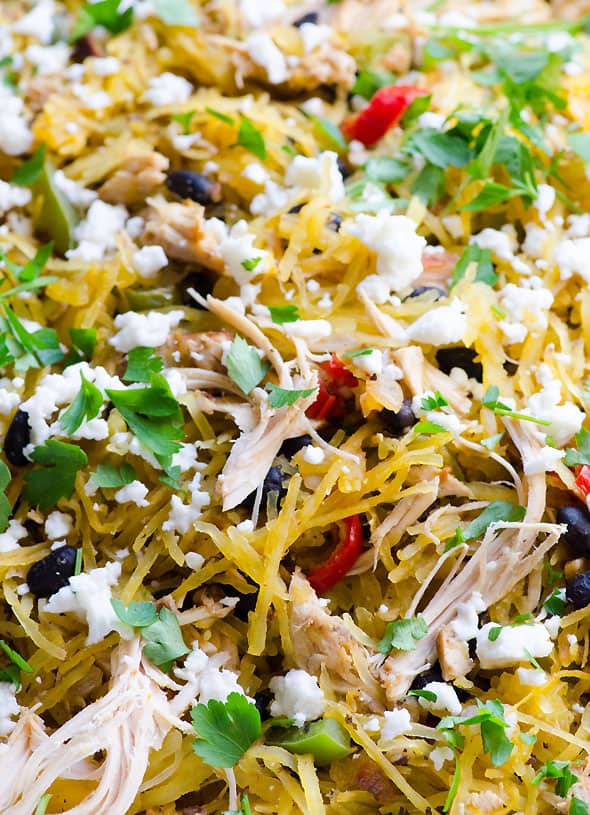 And that is what I used here in place of more commonly used in Mexican cooking queso fresco and it was delicious! I also didn't have cilantro but rather parsley from the garden. Adjust taste with lime juice and taco seasoning to your own taste as you wish.
Enjoy this leftover spaghetti squash on a hectic weeknight!
Print
Tex Mex Leftover Turkey Spaghetti Squash
Tex Mex Leftover Turkey Spaghetti Squash is 15 minute healthy dinner idea for a hectic weeknight. Healthy way to use up leftover spaghetti squash or turkey.
Author:
Prep Time:

15 minutes

Cook Time:

60 minutes

Total Time:

1 hour 15 minutes

Yield:

6

servings

1

x
Scale
Ingredients
1

large spaghetti squash (

4

lbs)

2

medium onions, chopped

2

large garlic cloves, minced

2

large bell peppers, chopped

1 tbsp

coconut or avocado oil

1

lb leftover turkey, sliced or shredded

14 oz

can black beans, rinsed & drained (I cook my own)

1 tsp

cumin

1 tsp

taco seasoning (more to taste)

1 tsp

salt*

1/4 cup

feta cheese or queso fresco, crumbled

3 tbsp

cilantro, chopped
Lime, juice of (optional)
Instructions
Preheat oven to 375 F degrees F. Wash squash, cut in half lengthwise and remove seeds with a spoon. Punch randomly with a fork, place cut side down on a baking sheet lined with unbleached parchment paper and bake for 50-60 minutes. Remove squash from the oven, let cool until it's safe to the touch and separate into strands with a fork. Set aside.
In the meanwhile, preheat large non-stick skillet or dutch oven on low-medium heat and swirl oil to coat. Add onions, garlic and bell peppers; cook for 5 minutes, stirring occasionally.
Add squash, turkey, beans, cumin, taco seasoning and salt. Stir gently to mix, cover and simmer for 5 minutes. Remove from heat, sprinkle with cheese, cilantro and squeeze lime juice on top. Taste and adjust any seasonings to taste. Serve hot.
Store: Refrigerate in an airtight container for up to 3-4 days. Do not freeze.
★ Did you make this recipe? Please give it a star rating in the comments.