Today, as part of our healthy meal prep monthly series, I want to share with you how I do our family's weekly meal prep. Running a recipes website with so much recipe testing doesn't exactly call for a full week of prepared meals, however once a week I meal prep for a few days and IT HELPS A LOT. If you work 9-5 and have a kid or two, I don't think I have to explain you that weekly meal prep saves time, money and stress. Great!
I want you to know that my meal prep is a family friendly meal prep. When you think "meal prep", guys with big muscles who eat mostly protein, "live" in a gym, and pack 21 meals in tupperware containers might come to your mind, but that's not what I'm sharing here. Rather how I do it for a family of 4.
Usual Weekly Meal Prep Menu
1. Big pot of soup or stew
2. Meal prep lunch
3. Chopped fruit and veggies (with dip or roasted)
4. Snack for kids (muffins)
5. Snack for adults (protein bites)
1. Big Pot of Stew or Soup
If you don't want to cook every night or live off of takeout, you gotta start cooking pots of hearty stew or soup that keep well in the fridge. There is nothing more comforting after a long work day, with a few hungry tired kids on hand than having healthy dinner on the table in 5 minutes. Soups are cheap and filling (all that liquid).
If you have an issue feeding your kids healthy, here is how I make my 2 kids eat healthy. It's an Eastern European approach that has worked for many generations, however many North Americans will consider it "mean".:) But I don't care because it's for kids' own good they will be grateful for later. When it comes to nutrition parents know better, and giving a child too much freedom to choose their food is going to have consequences for life. So no, I don't let my kids eat what they want. Instead, I cook tasty food they learn to like because it's tasty. End of story.
Good Leftover Soup & Stew Recipes

2. Meal Prep Lunch
This is where you pull off "gym muscle guy" thing with containers. You want to have a few meals in the fridge for grab and go, at least for yourself and your husband. Kids can have sandwiches or Annie's mac and cheese. But you gotta think of yourself, so you don't eat crap.
Meal Prep Lunch Ideas

3. Chopped Fruit and Veggies
This is a fast process and will cover more snacks. Chopped veggies are great for beefing up kids lunchboxes' nutrition and reducing your guilt. I also place a container on the table while I'm warming up and prepping dinner – healthy snack for kids while TV watching. Fruit that needs to be cut up, like melons and pineapple, is best to be done once for a week – you are already making that fruit cutting board dirty. Batch cooking rules, my friends!
4. Snack for Kids
All kids love muffins. If you bake your own muffins make a wholesome healthy snack. I highly recommend to always double the recipe or bake two kinds. Often adults eat muffins too because there is nothing wrong with homemade healthy muffins!
Our Favourite Healthy Muffins Recipes
We also stock up on healthy bars, see my Costco shopping list.
5. Snack for Adults
Print
Peanut Butter Protein Balls
I recently came up with this simple Peanut Butter Protein Balls Recipe. You can roll these beauties by hand, no food processor required.
Author:
Prep Time:

15 minutes

Cook Time:

0 minutes

Total Time:

15 minutes

Yield:

24

balls

1

x
Scale
Ingredients
1 cup

peanut butter

2

scoops (60 grams) of plant-based protein powder

1/4 cup

+

1/3 cup

almond milk

1/2 cup

rolled oats

1/2 tsp

cinnamon
Handful of dark chocolate chips
Instructions
Add all ingredients to a medium mixing bowl and mix .
Using a small scoop, form the balls, making sure to pack the scoop tightly.
Store: Refrigerate in an airtight container for up to 1 week or freeze for up to 3 months.
★ Did you make this recipe? Please give it a star rating in the comments.
6. Green Smoothie Ingredients Stocked Up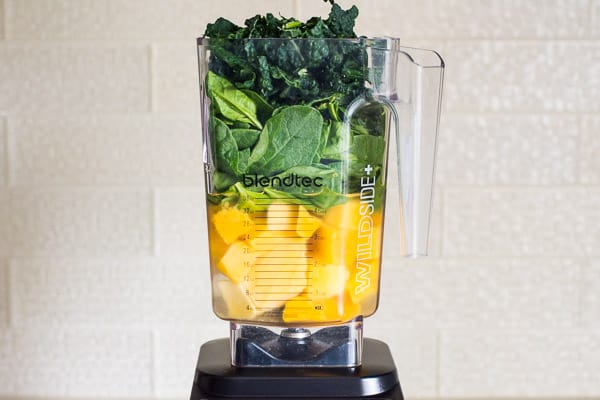 I don't prepare smoothie ingredients bags because all there is to my green smoothie recipe is what you see – water, frozen mango, spinach and kale. The only thing I do with kale (because I buy it in bunches) is wash, chop and bag it. There is no need to freeze any bags, save your time.
Just make sure you have a bag of frozen mango (Costco helps with the cost and size), 2 big containers of washed baby spinach and a few bunches of kale. This supply lasts 4 of us a week considering we drink a green smoothie every other day.
Green smoothie is not a meal replacement! It's rather a salad replacement and "eat your greens" thing.
That's all there is to my weekly meal prep, my friends. Of course it takes time. Of course you will have dirty dishes. But what did you expect? Showhome kitchen comes with McDonald's meals. You pick.
I would like to share my tips on how to run weekly meal prep smoother.
Weekly Meal Prep Tips
Start your meal prep in a clean kitchen – Unload the dishwasher, wipe countertops, sweep the floor. While it might sound silly because you will be making a mess again, cooking in clean kitchen is more enjoyable and faster. Chances are you won't have to sweep the floor after the meal prep.
Clean up during the meal prep – Don't wait for dishes in your sink to stand higher than countertops. Whenever you have a second while waiting for some recipe to finish cooking, load up the dishwasher.
Re-use – You can rinse off a bowl from a muffin batter and use it to mix protein balls. Same with spatula.
Start meal prep with recipes/ingredients that take longest time to cook – In my case, I always start with soup/stew. Then I make muffin batter. While muffins are baking, I roll the balls. Then I meal prep lunches. And last, I chop veggies and fruit.

Breakfast
I haven't included breakfast meal prep because I think it's too much cooking in one shot. Breakfast is simple in our house and is a complete free fall. Kids eat organic lower in sugar cereal, adults eat toast, drink protein or whatever.
I highly recommend you check out my 25 breakfast meal prep ideas and go from there. Do whatever you feel like and whenever you have time for it. I know it completely contradicts all health gurus' advice but I figured I can't cook 3 meals every day from scratch. It's not that bad here at all, it's just everyone eats whatever, healthy or healthier.:)