If your kids like all this canned pasta in tomato sauce "nonsense", they will love this homemade alphagetti recipe. I never bought a single can of Heinz Alphagetti but I bought organic Trader Joe's O's, and my kids love it! Not sure why and I'm not even sure is it a soup or a even part of healthy pasta dishes?! I have no idea. The whole idea of my lunch or dinner coming from a can sounds unappealing to me.
I remember first seeing Alphagetti in kids' lunch bags and thinking that I would never wanna have that lunch, especially cold. Unfortunately, reality today is that many children don't even know what real food looks and tastes like. For many kids, "food" comes from a pretty can or box featuring their favourite cartoon/movie character. Even fruit is in a plastic cup. Let's stop supporting marketing inventions of big corps, buy fruit in season and cut it up. Easy-peasy, right?!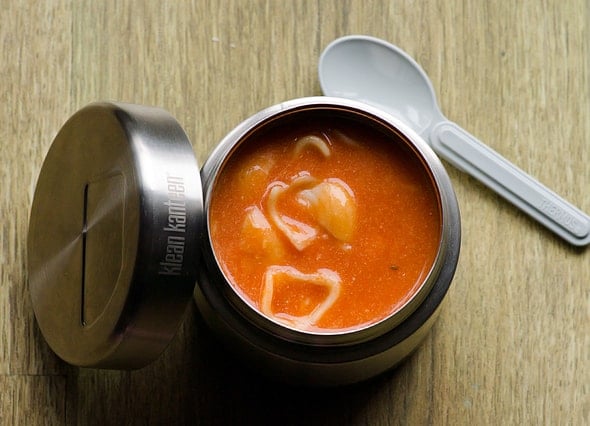 A few weeks ago, I got new thermos for my kids' lunches and right away thought of making my own healthy alphaghetti (or whatever it's called in your neck of the woods). There was a point in time, when my kids were bringing their hot lunch back uneaten and it's not like them. Then I figured out their thermos (cheap no name) wasn't retaining heat long enough. Issue solved with good quality thermos. Also the trick is to pour boiling water in a thermos for 5 minutes before adding hot food. BIG difference!
Back to the recipe. Alphagetti thickens with time as pasta keeps cooking in a hot sauce. So, don't worry if it's too thin first thing off the heat. Photo above shows you before and after an hour or two sitting on a counter. It can be refrigerated for days and even frozen. My boys had it for lunch 3 days straight and I had nothing to freeze. In fact, both kids had it some days twice, for lunch and dinner. You can easily freeze the leftovers as soon as your kids get tired of it. In fact, I have made this pot mainly for freezing.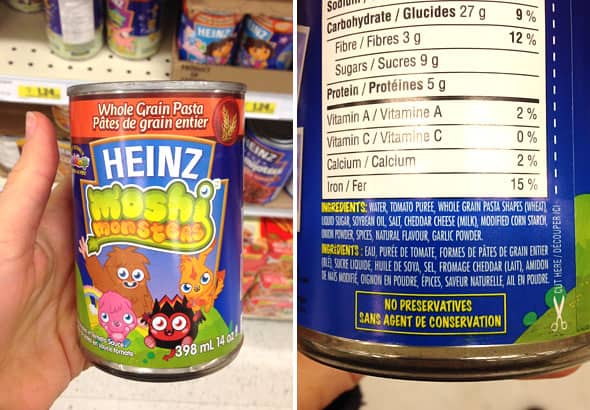 A few days ago, I went to the store and couldn't find Alphagetti. Instead, I found Moshi Monsters. True, there are monster ingredients inside the can. Heinz played smart and removed preservatives but kept all GMO ingredients. Thank you very much, I'm not feeding that to my kids.
Make this homemade alphagetti for your kids for healthy lunch ideas, they will love it!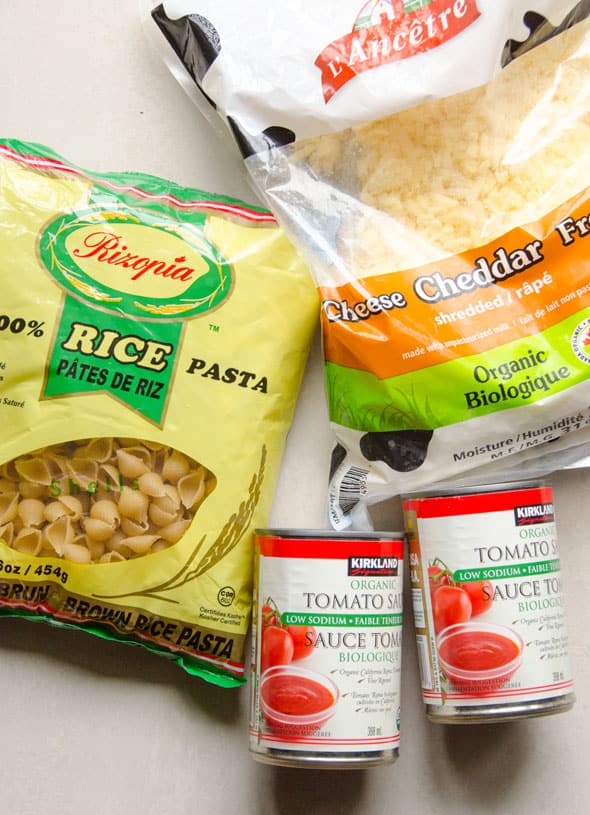 More One Pot Healthy Pasta Recipes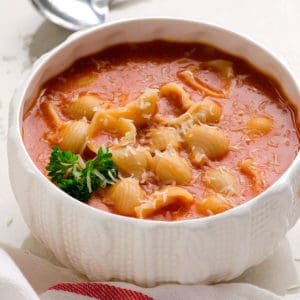 Alphagetti
Homemade Alphagetti Recipe made healthy with a few simple ingredients in one pot super fast. Make once, send in a thermos for lunch all week.
Instructions
In a large pot, add tomato sauce, 7 cups water, honey, garlic powder, salt, oregano and coriander; bring to a boil. Add 1 cup water and cornstarch into a small bowl and whisk until dissolved. Pour into a boiling pot.

Add pasta and cook uncovered on low – medium heat for about 7 – 10 minutes or until pasta is al dente, stirring occasionally. Do not over cook pasta as it will continue cooking off the heat. Add cheese and stir until melted; remove from heat. Cover and let sit for at least 30 minutes to thicken and flavours merry each other although it's OK to eat right away. After an hour or two it will be even thicker. Serve hot.
Notes
Store: Refrigerate in an airtight container for up to 5 days.
Freeze: Fully cook, cool completely and freeze in an airtight container for up to 3 months. Thaw on a stovetop covered on low.
*Feel free to use not low sodium tomato sauce (that's what I had) and adjust salt to taste.
Nutrition
Serving:
1.75
cups
|
Calories:
280
kcal
|
Carbohydrates:
43
g
|
Protein:
12
g
|
Fat:
7
g
|
Saturated Fat:
4
g
|
Cholesterol:
20
mg
|
Sodium:
930
mg
|
Fiber:
3
g
|
Sugar:
11
g