65 Healthy Lunch Ideas; whether you want a homemade lunch that's meal-preppable, low-carb, in under 20 minutes, meat-free, or child friendly, there's something here for everyone! Among meatballs, stir-fries, pasta dishes, and fritters/cakes, you're sure to find some healthy lunch recipes to add to your rotation!
Looking for even more healthy meal inspiration? Why not browse through my entire list of healthy muffin recipes, Instant Pot healthy recipes, healthy salads, or healthy grill recipes?
What Are Healthy Lunch Ideas?
We all have those days when we struggle to plan meals or put together something healthy, instead, we rely on unhealthy food choices and snacks. Well, with this list of 65 healthy lunch ideas, you can minimize that as much as possible!
These 65 healthy lunch recipes range from light appetizers to hearty dishes, yet all healthy for yourself and your family. I create recipes focusing on easy-to-find ingredients, simple processes, and I even have slow-cooker, Instant Pot, and meal prep/ freezer-friendly options.
Along with healthy lunch ideas you can whip up in under 20 minutes, I've also included meat-free and meal-prep-friendly homemade lunch options. More so, these healthy lunch recipes are all child-approved, but I've even included a special kid-friendly section at the bottom of the page for my family's favorite options!
Top Tips for a Homemade Lunch that is Healthy
There are several ways to ensure that you're eating a healthy homemade lunch; the first of which is focusing on creating well-balanced meals.
A well-balanced meal contains:
¼ Protein: Protein is essential for body health, including muscle health, red blood cells, and general growth and repair. Proteins include meat, seafood, eggs, dairy, tofu, nuts/seeds, beans and pulses, and meat alternatives. Healthy fats are also often in this category. For example, seafood contains omega-fatty acids. Nuts and ingredients like avocado are also good examples of heart-healthy fats.
¼ Carbohydrates: these are important to provide your body with energy and, as high-carb foods are also usually high-fiber, they're great for your digestive system and bowel health. More so, carbs and fiber keep us fuller for longer, which is great to avoid snacking (although see my healthy snack recipes if you do get hungry!). Carbs include most grains (pasta, quinoa, rice, couscous, bread, oats) and potatoes. It's best to consume whole grains over processed options like white pasta and bread.
½ Vegetables (and fruits): vegetables provide tons of vitamins, minerals, and antioxidants – which are essential for metabolism and overall heart, brain, and body health including repairing tissue damage. More so, they're often high water and low calorie, meaning you can pack them on your plate. Just try to consume a rainbow of colors as each tends to contain different main vitamins and minerals.
I rarely ever measure out or 'split up' my healthy lunch recipe elements. However, I do try to include all three in each homemade lunch, though, even if the ratio changes (for example low-carb meals tend to have more fat/protein). 
Other tips for healthy lunch ideas:
Choose good carbs: Whole grains are best, including whole-wheat healthy pasta recipes, brown rice, quinoa, oats, and potatoes (with their skins). While I've included an entire section of low-carb lunch options below, I also like to make sure I choose healthy carbs for carb-heavy meals, ones that are packed with fiber to keep from snacking too much are ideal.
Limit unhealthy fats: It's best to limit saturated fats and avoid trans fats while eating more healthy fats such as fish, nuts, avocado.
Fiber is fabulous: Fiber is great for our digestive system and for keeping us fuller for longer. Whole grains, veggies, and fruits are all packed with fiber!
Eat the rainbow: With fruits and veggies, different colors usually mean different vitamins, minerals, and antioxidants. So try to get a good variety in your meals. I.e., leafy greens like spinach and kale are particularly nutrient-dense with other greens like peas, asparagus, and zucchini added lots of nutrients to your meals, reds like tomatoes and bell peppers, purples like eggplant and cabbage, yellow like corn and summer squash, etc.
Reduce salt: Salt isn't good for blood pressure or heart health. Instead of relying on too much salt, boost the flavor of meals with fresh herbs. Not only do they taste great, but they even contain micronutrients and are practically 0-calorie.
Top tip: Limit the amount of processed foods and 'empty calories' you eat for healthy homemade lunch (and in general)!
For more information about a balanced diet – check out this article on Healthline.
Healthy Lunch Recipes FAQs
What is better, a cold lunch or warm lunch?

I'm all for mixing and matching based on the weather, what I'm in the mood for, and digesting raw vs. cooked ingredients. There are pros and cons to both. For example, warmer foods are easier on our digestive system as it doesn't have to work as hard to digest the food. On the other hand, lunches with lots of raw veggies and ingredients usually (though not all the time) mean increased nutrients. For that reason, I try to have a varied diet of hot and cold healthy lunch ideas like healthy salads and pasta salads for cold options and one-pan dishes and stir-fries mentioned below!
What is a good lunch to lose weight?

When it comes to losing weight, I always recommend choosing high protein and/or fiber meals. Both help keep you fuller for longer, so you can avoid making unhealthy snacking choices while nourishing your body.

Meals with quinoa, for example, are usually great as it's high in protein and fiber (more so than most grains) – such as Mediterranean quinoa salad, Instant Pot quinoa chicken, and quinoa falafels. However, I have tons of options below, too!
What should a healthy lunch consist of?

The healthiest meal will be a well-balanced meal, meaning one that contains all the six main essential nutrients; carbohydrates, proteins, lipids (healthy fats), vitamins, minerals, and water. Though most people focus on the three main categories of protein, carbs, and healthy fats. Read the section above for more info on what constitutes a well-balanced meal.

Quick Lunch Ideas
These healthy lunch ideas are perfect for those lacking time. The below list is packed with recipes you can pull together in just 15 or 20 minutes (and a single option in under 30)!
This lemon dill Shrimp and Zucchini with peas is light and flavorful with a subtle garlicky addition and juicy protein from the shrimp. Best of all, it's ready in just 15 minutes! Serve alone or alongside rice or quinoa for a quick and simple meal to impress!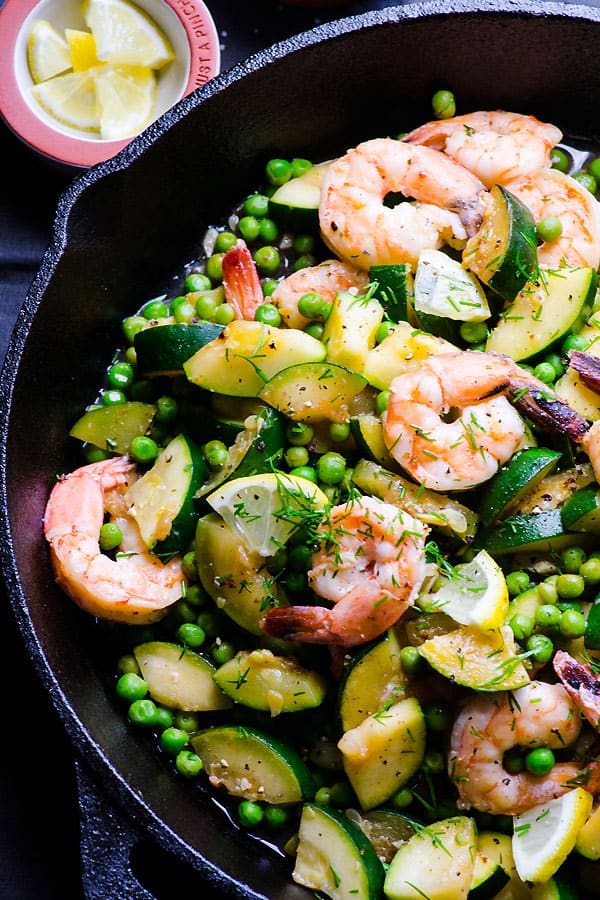 This Healthy Tuna Melt is ready in just 10 minutes and turns a classic 'quick lunch' into a healthier treat. Combine wild tuna with cream cheese (no mayo!), and serve it on a whole-grain English muffin alongside a quick healthy cucumber salad for a fresh and simple healthy lunch idea!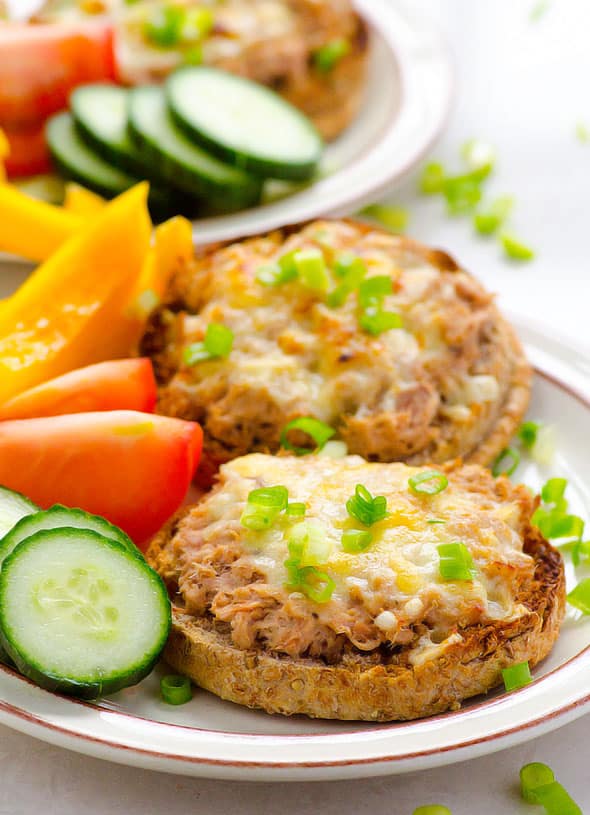 These Shrimp Tacos combine spicy shrimp with a creamy slaw. and simple (yummy) taco sauce, all served up in warm corn tortillas and ready on your table in just 15 minutes! Serve up with some lime wedges for a fresh, hearty, healthy, quick lunch idea!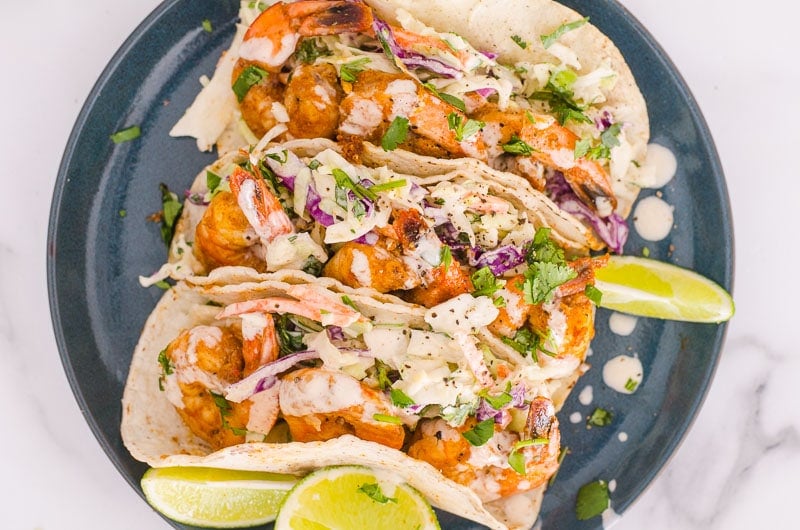 Delicious spaghetti in just 10 minutes?! Yes, please! This 10-minute Spaghetti Recipe combines spaghetti, tomato sauce, garlic, and a sprinkling of parmesan for a super quick, yet surprisingly delicious Restaurant-style lunch! Want more protein? This spaghetti is perfect for using up leftover meats, too!
This Italian Chopped Salad is packed with tons of delicious ingredients, including veggies, salami, cheese, beans, and a fresh, flavorful Italian dressing. No one will get bored with salads when served this healthy lunch idea! Even better, it takes just 20 minutes to prepare (less if you have a kitchen helper -child or partner- for chopping!)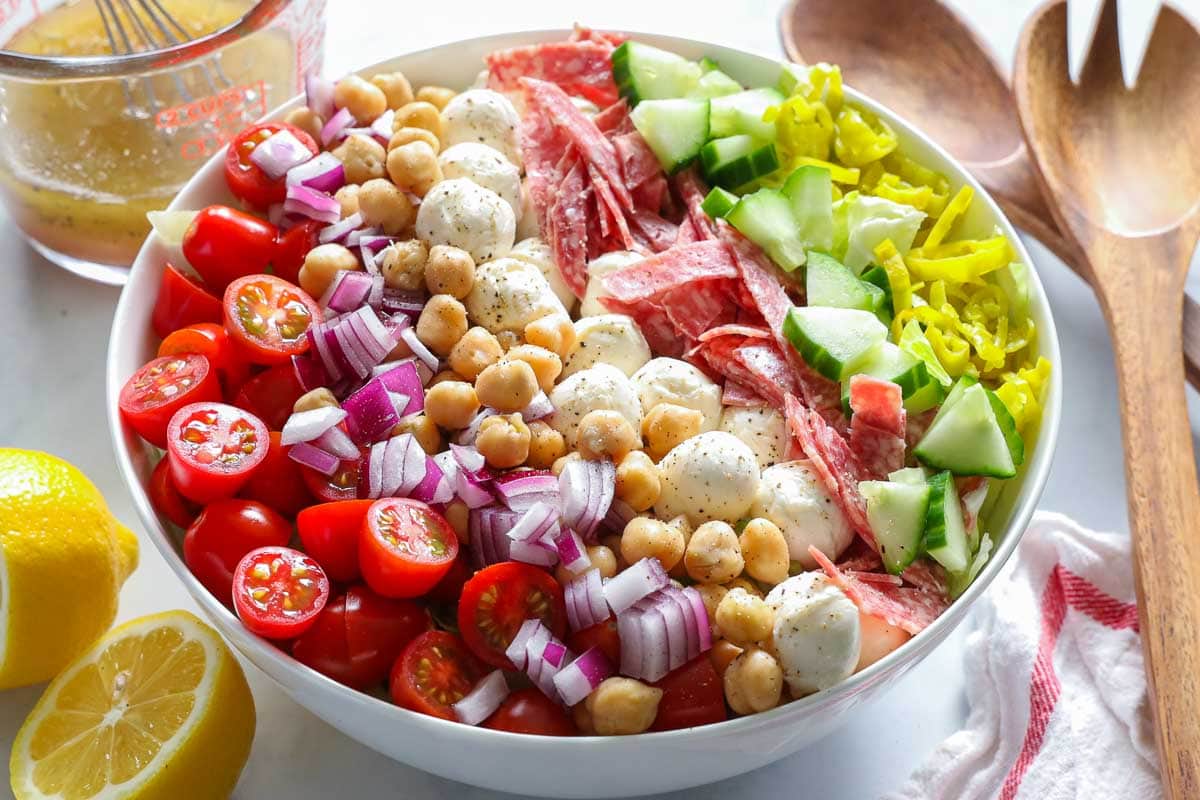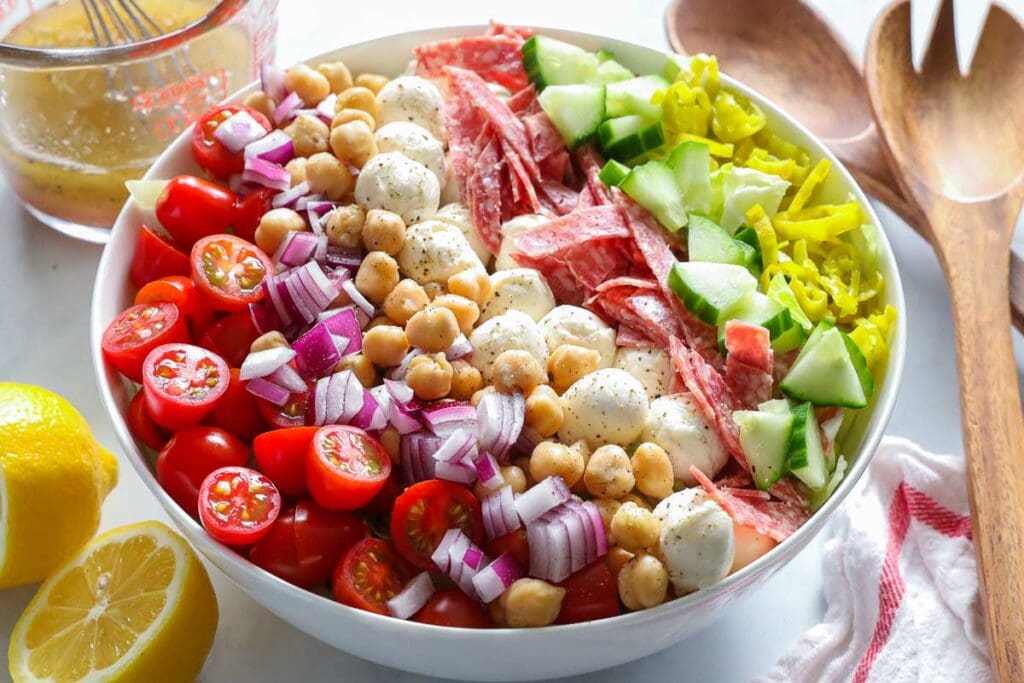 This Garlic Zucchini, Chicken, and Corn skillet not only requires just one pan, but it's perfect for using up the summer bounty of zucchini in a fun, healthy, and super quick way. All you need is 20 minutes to enjoy this delicious low-carb chicken meal!
I love whipping up a large batch of this Healthy Tuna Salad at the beginning of the week – perfect for serving over sandwiches and salads! Best of all, though, unlike traditional tuna salad, this recipe contains less mayo, less fat, and fewer calories- all without compromising on flavor!
This Healthy Chicken Salad saves on fat and calories but definitely not on flavor or texture. Combine chicken with celery, red onion, and a healthy yogurt-based sauce for a creamy, fresh, chicken salad in just 15 minutes. Use the extra time to make healthy frappuccino recipe to sip on!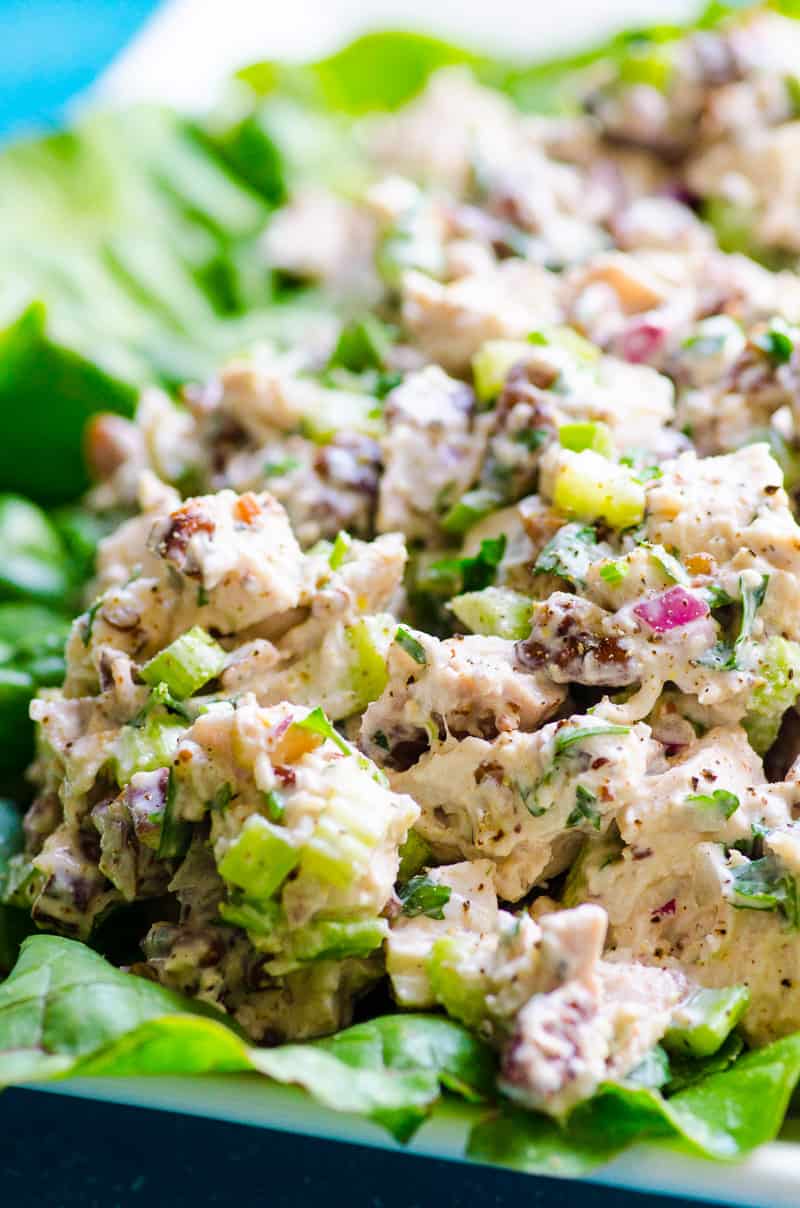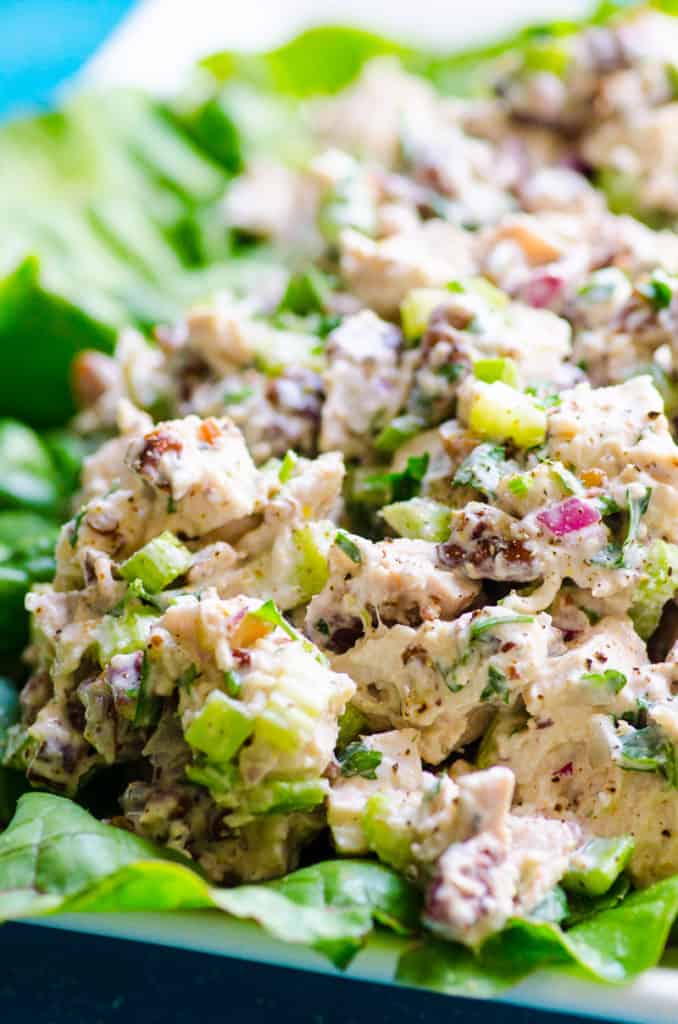 Healthy shrimp salad ready in only 30 minutes and half that time is chilling time! This low fat lunch idea is easy and healthy and perfect for the lunchbox! Serve on lettuce or in a wrap and lunch is ready.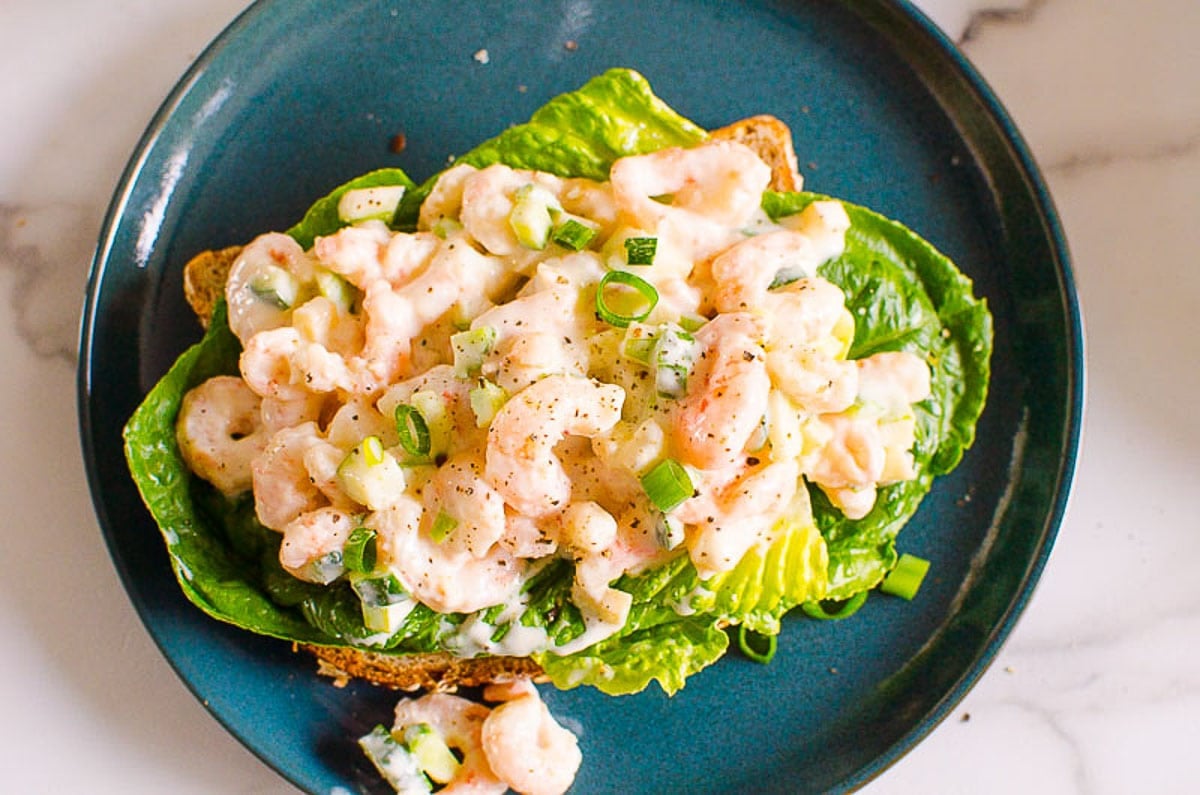 High protein Tuna Egg Salad comes together quickly as well as can be made ahead and stored in the fridge for days! Creamy with a lower calorie Greek yogurt dressing with just a touch of mayo, this tuna fish salad with eggs is a lunch winner.
Yes, you read right. Canned food isn't always bad! In fact, this Canned Salmon Salad combines tender salmon (preservative-free!), crunchy peppers and carrots, soft avocado, tangy capers, and a creamy Greek yogurt and mayo sauce, for a healthy lunch idea packed with protein, healthy fats, omega-3 fatty acids, and several vitamins and minerals. Best of all, this quick lunch idea takes just 10 minutes to prepare!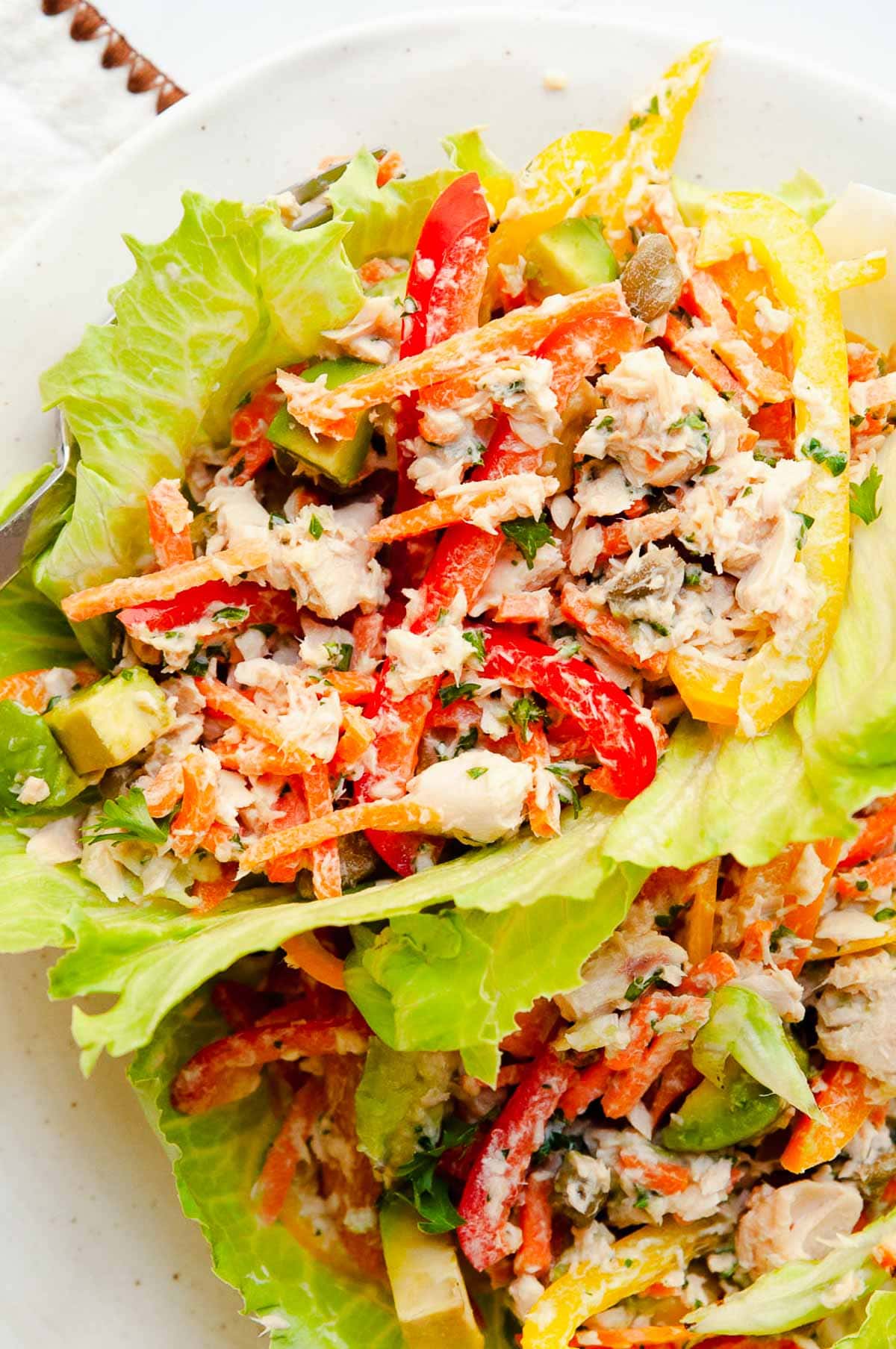 These healthy Tuna Zucchini Fritters combine tuna, zucchini, parmesan, and just a touch of mayo for the most delicious child-friendly fritters that are packed with nutrition and flavor! Serve them up as an appetizer to your lunch or alongside creamy cucumber tomato salad for a delicious 20-25-minute healthy lunch idea!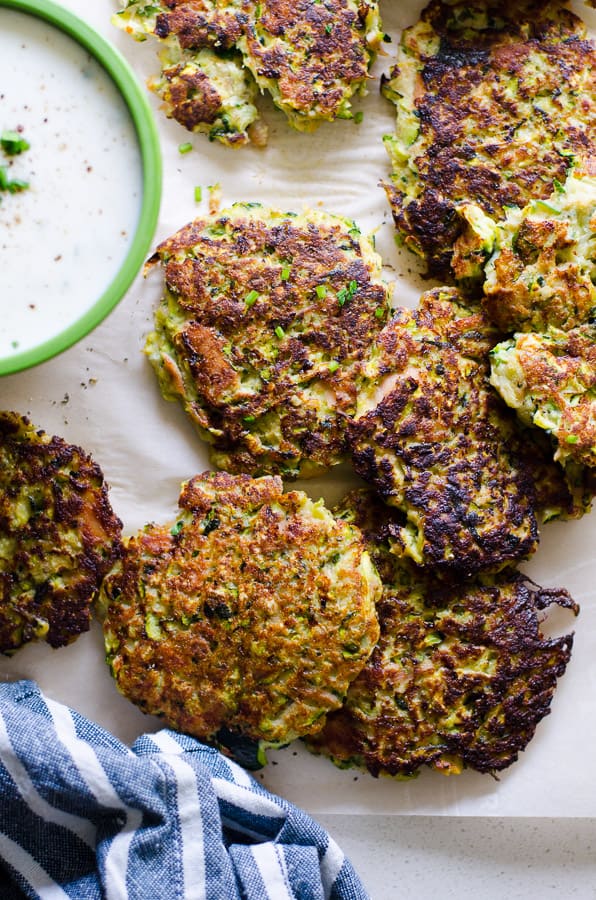 This Traditional Greek Salad Recipe is crunchy and hearty from raw vegetables, Kalamata olives, feta cheese, and a fresh and flavorful Greek salad dressing. The result is a salad with the perfect combination of salty, savory, creamy, crunchy, and fresh for a filling homemade lunch in just 15 minutes!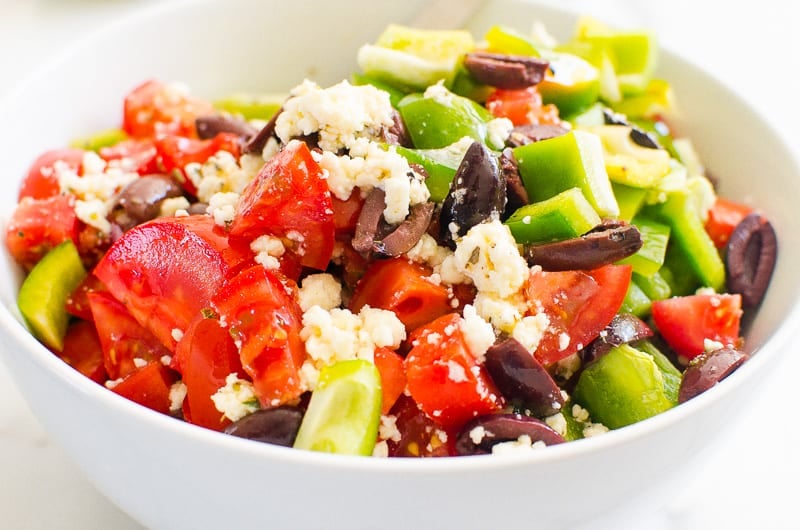 These healthy Chicken Tostadas look (and taste) like a treat and labor of love. Surprisingly, they take just 10 minutes to make, piled up high with fresh and delicious toppings like shredded chicken, beans, avocado, crumbled cheese, and veggies. The result is a quick, healthy homemade lunch or dinner!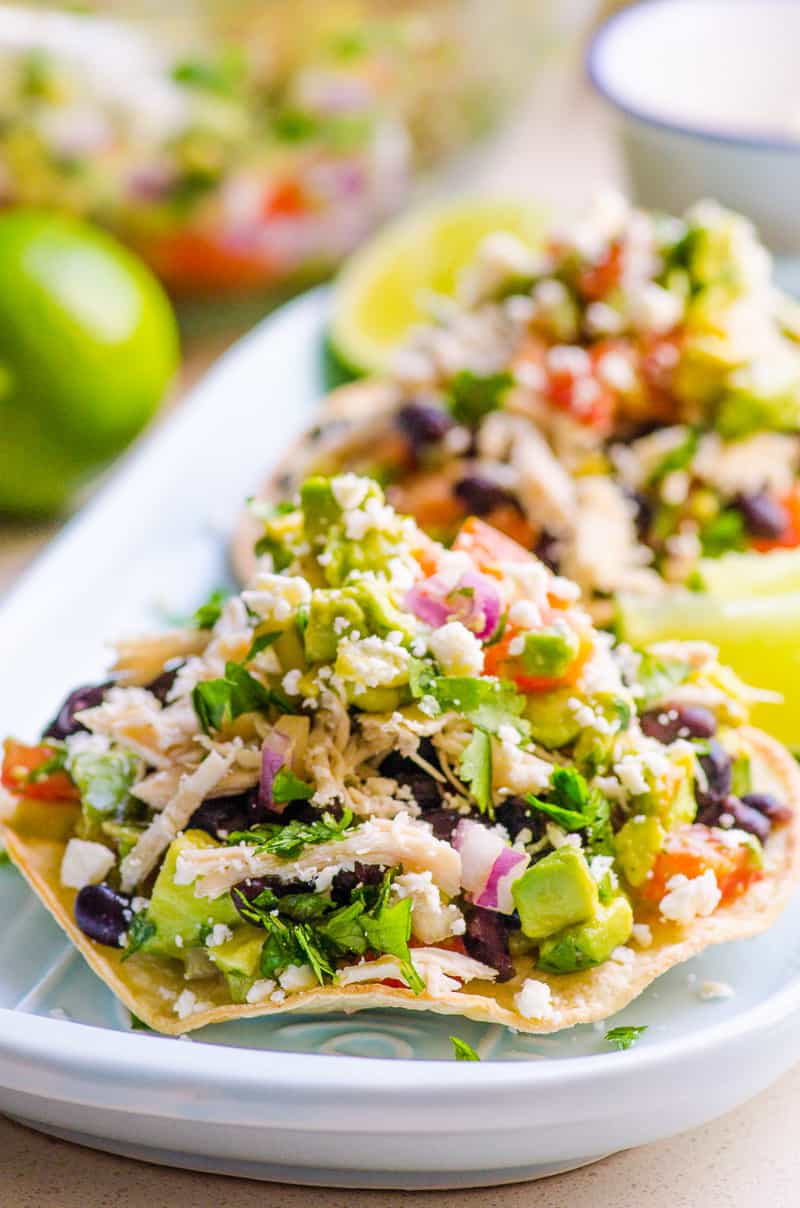 Stir-fried noodles like these Peanut Chicken Soba Noodles are hearty, wholesome, and comforting – yet nutrient-dense! Combine the chicken with antioxidant-rich bell pepper and kale in a protein-dense peanut butter sauce for a 30-minute healthy lunch recipe your entire family will love!
Perfect for a light lunch or healthy side to a grilled protein, this 20 minute healthy tuna pasta salad is both easy and delicious.
Healthy Caesar salad is a lightened up version of a classic! With a Greek yogurt healthy Caesar dressing and homemade sourdough croutons, this salad is a lunch time winner!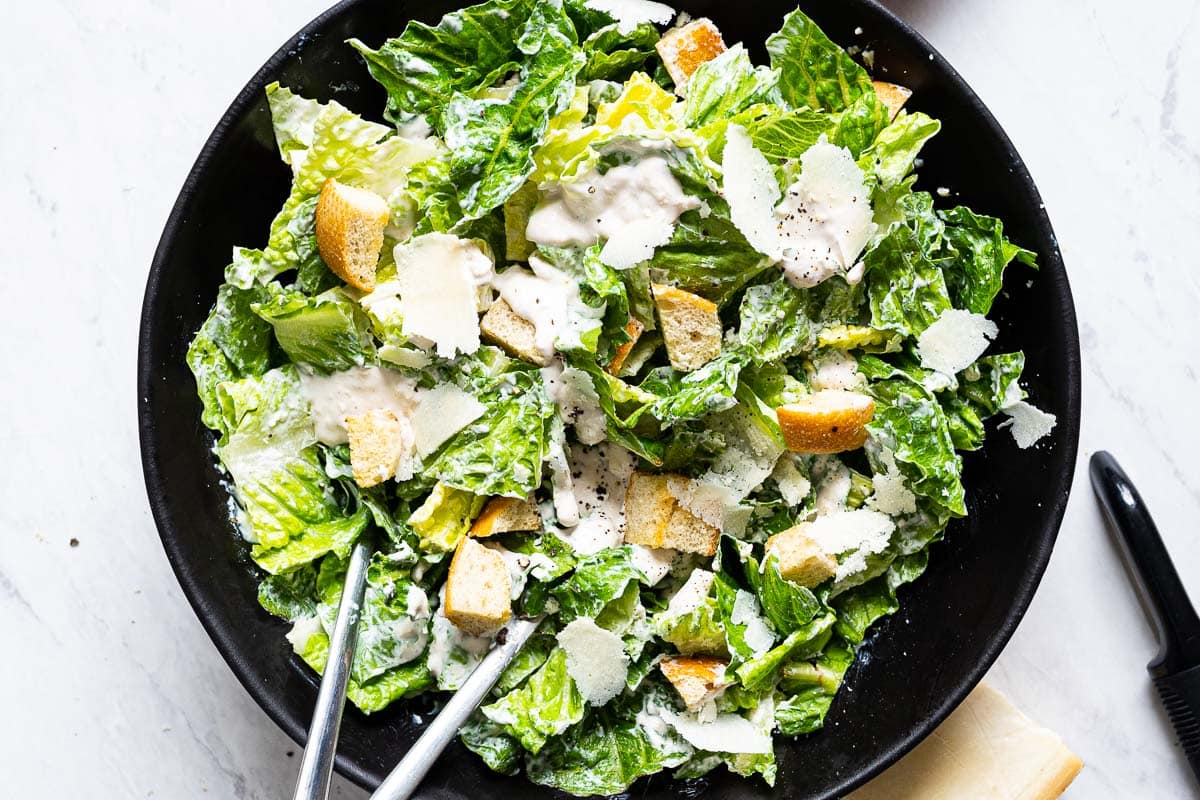 Low Carb Lunch Ideas
For those on a low-carb diet, don't worry I've got you covered. Below is a list of carb-alternative, and low-carb dishes, perfect for keeping you going until your next meal!
Whether you're looking for a quick or healthy lunch idea, this Cauliflower Fried Rice is both. Taking just 15 minutes to prepare, this homemade lunch combines cauliflower rice with several fresh veggies, eggs, and aromatics (like soy and maple) – all the flavor or regular fried rice but just a fraction of the calories, and your kids won't even be able to tell!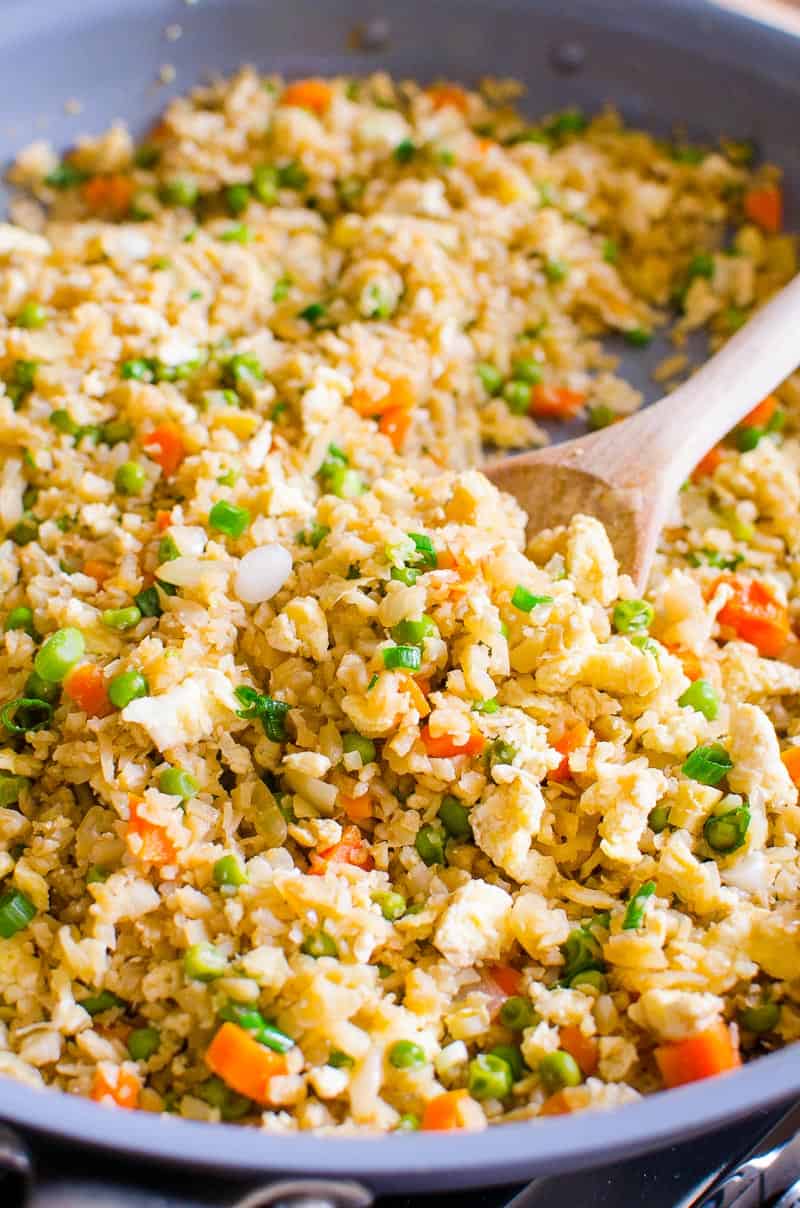 In the mood for something a little more cheesy? Why not try this Cheesy Cauliflower Rice?! This healthy lunch recipe combines cauliflower and zucchini with just enough cheese to feel decadent. Best of all, it's an easy way to pack in tons of fresh veggies!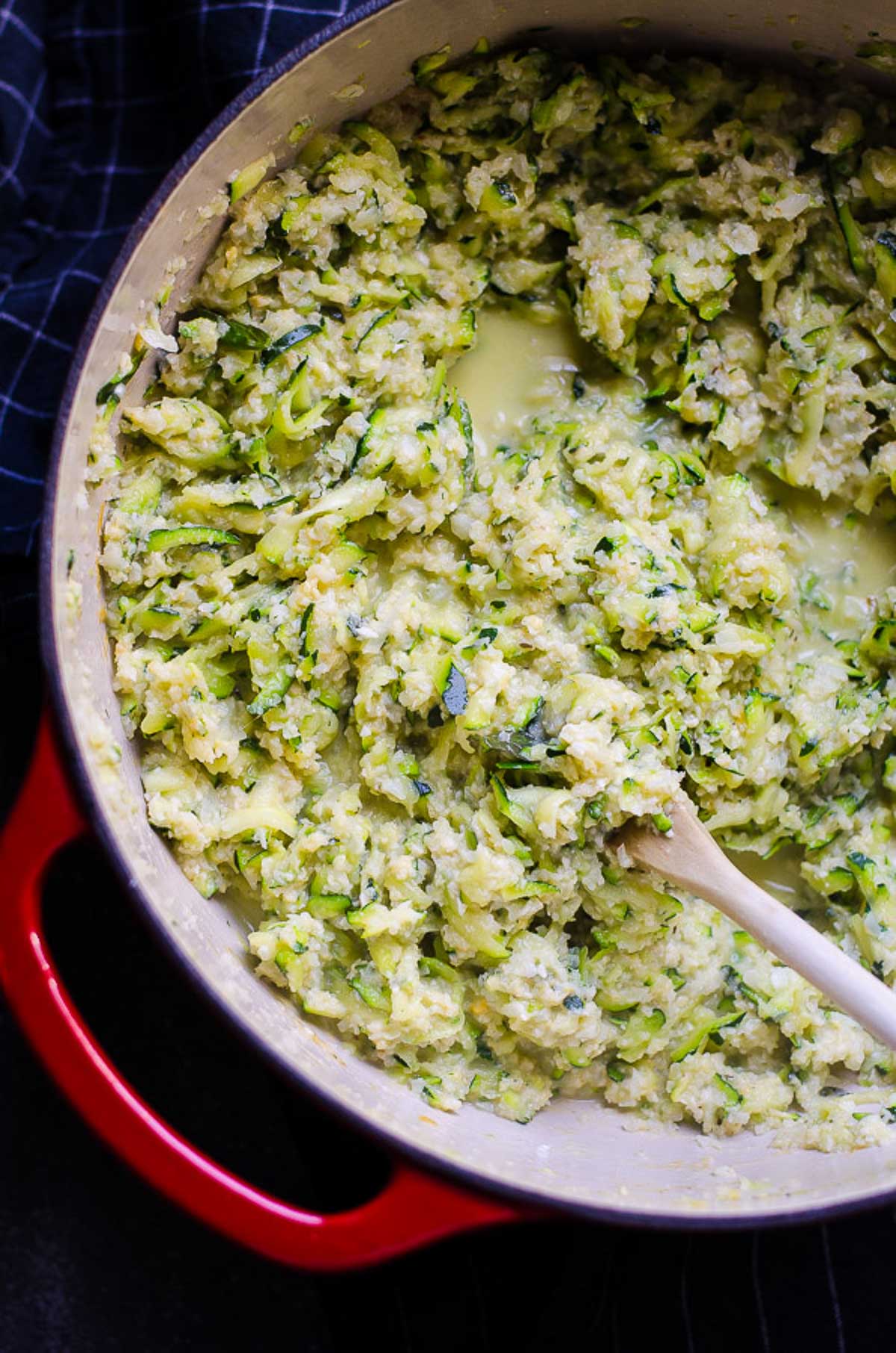 Love a bit of spice and Mexican flavor but not the carb-heavy meals like tacos, tostadas, and quesadillas?! Then try this Mexican Cauliflower Rice! It combines low-carb cauliflower rice with ground turkey, lots of veggies, and several spices for a quick, healthy, skillet lunch recipe! Check out these ground turkey recipes to discover a few more lean protein meals your family will love.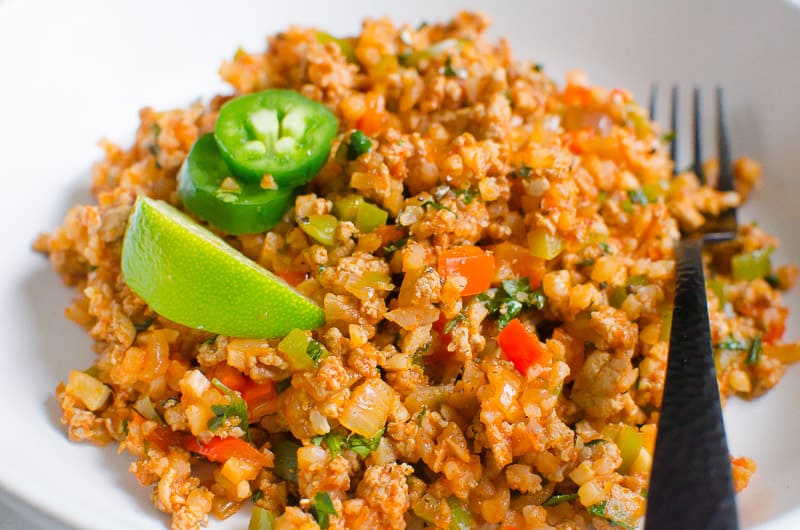 Healthy lunch recipes and burgers don't usually go together but that's because you haven't tried this Turkey Burger! Made tender and juicy with the addition of zucchini, these turkey burgers are perfect for serving bun-less with the addition of fun toppings and a quick leafy side salad!
This Salmon Stir-Fry combines tender, juicy salmon with crisp green beans and umami-rich mushrooms all combined with a lemon, ginger, garlic, and soy sauce coating for a flavor-packed, nutrient-dense 20-minute healthy lunch idea!
This Thai Cauliflower Rice is simple to prepare, and packed with Thai flavors including coconut milk, red curry paste, peanuts, and cilantro. The result is a veggie-packed, healthy low-carb homemade lunch!
This healthy Teriyaki Chicken and Cauliflower stir-fry combines juicy, tender chicken with slightly crispy pan-fried cauliflower, and a sweet sticky healthy teriyaki sauce for restaurant-quality flavors but less sugar (and only unrefined sugars!), salt, and fat! Serve alone for a light low-carb healthy lunch idea or alongside cauliflower rice or rice for a heartier option!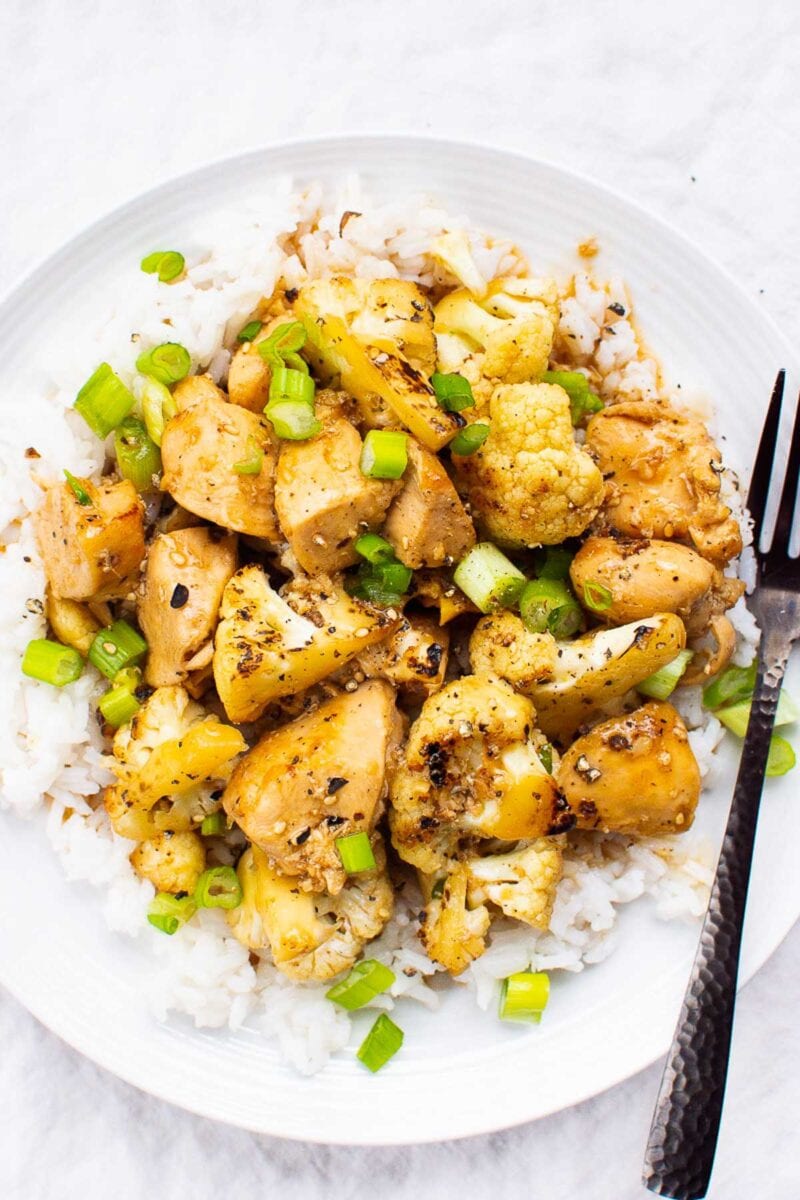 Prefer seafood to chicken? Then this Shrimp and Vegetable Stir Fry could be your next favorite health lunch recipe! This quick stir-fry combined juicy shrimp with lots of fresh veggies with a simple soy and maple-based sauce. Serve alone or over cauliflower rice for a hearty low-carb homemade lunch!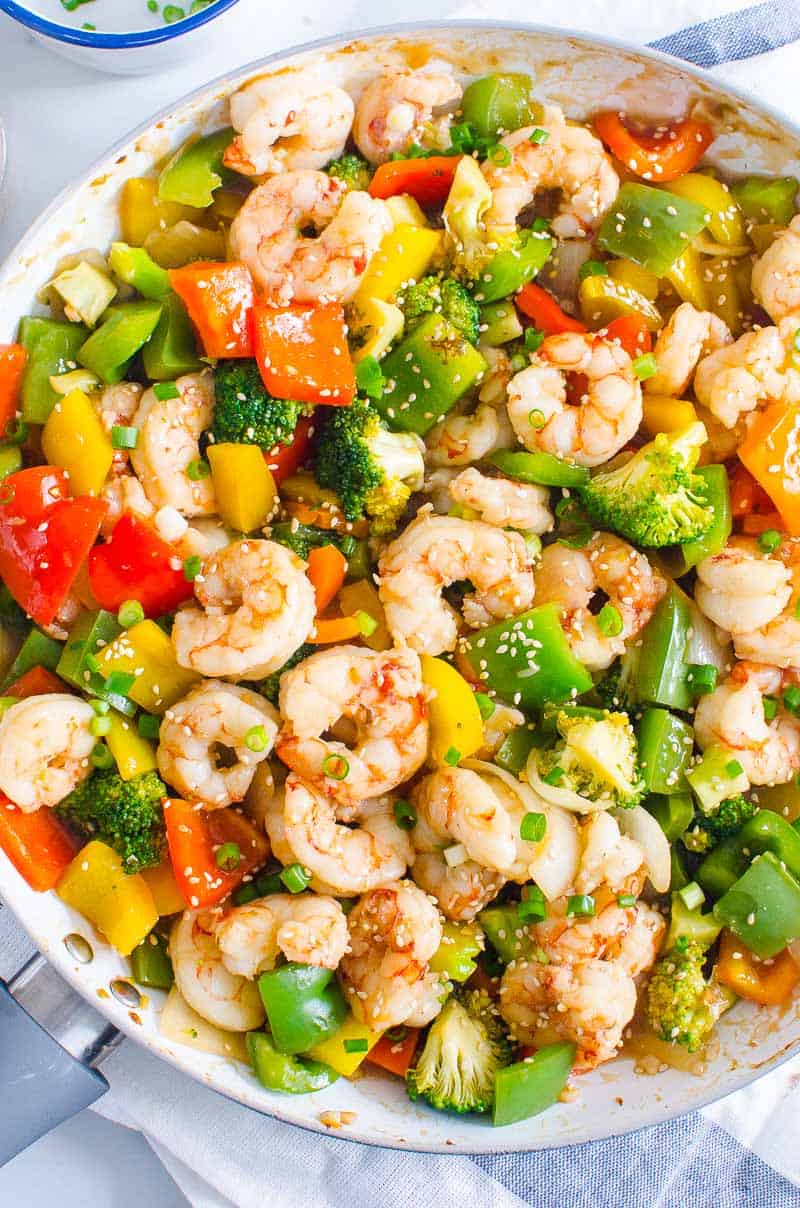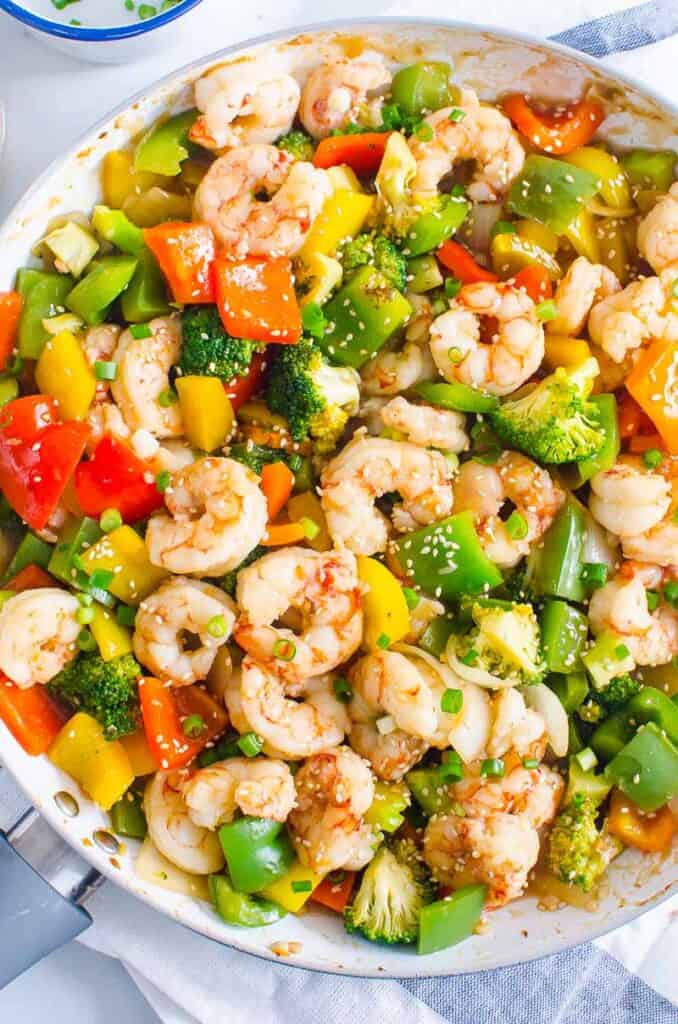 All you need is 15 minutes to prepare these Butternut Squash Noodles. This child-friendly dish combines spiralized butternut squash with taco seasoning, corn, black beans, and cheese. Serve alongside salsa and yogurt for a filling yet low-carb quick lunch idea!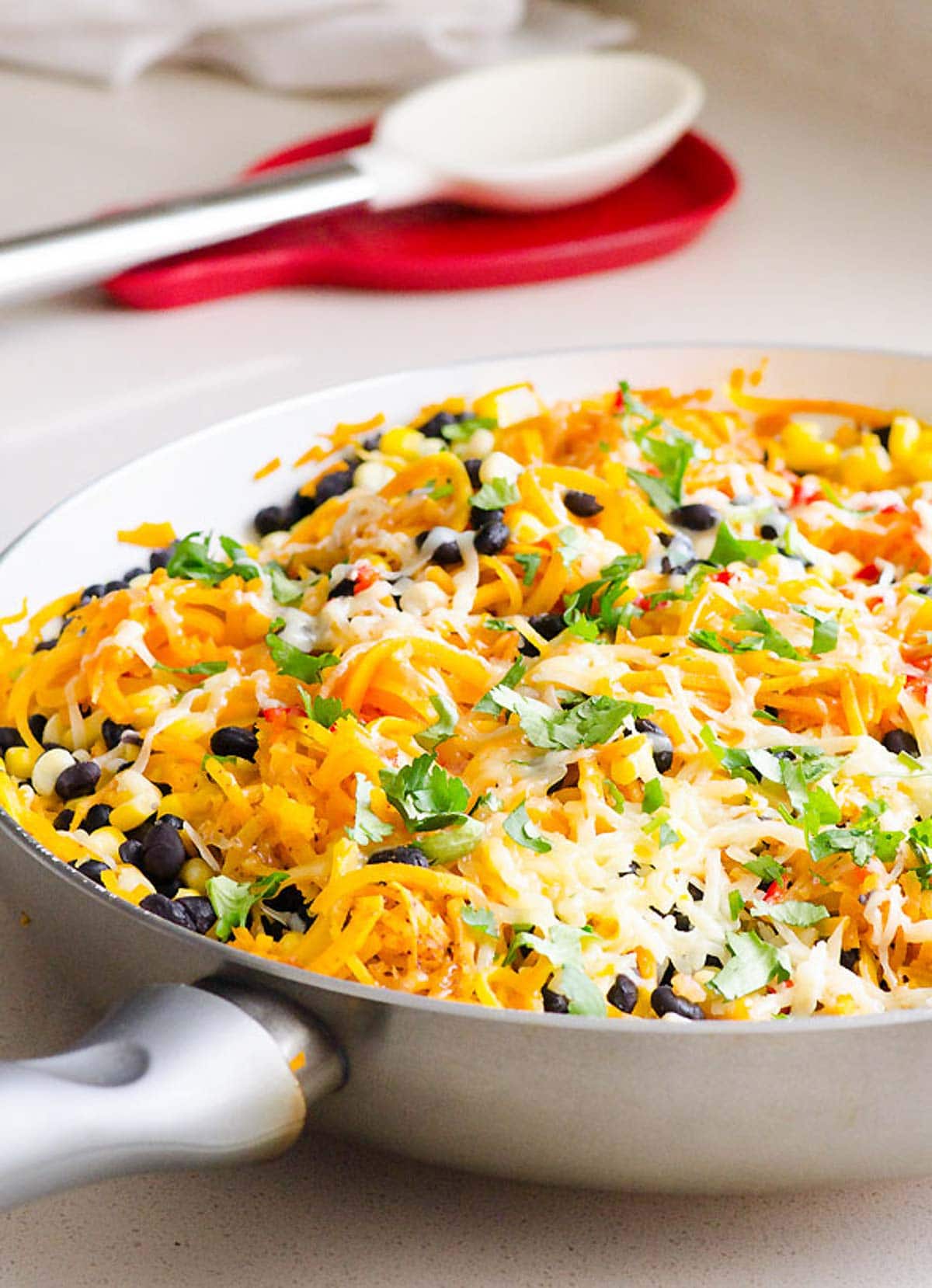 This Healthy Chicken Stir-Fry is one of my favorite go-to healthy lunch recipes; all you need is one pan, chicken, a mixture of vegetables, and savory umami-rich stir-fry sauce made from pantry staples. The result is a hearty yet healthy low-carb lunch to be eaten alone or served with cauliflower rice (or the grain of your choice), ready in under 30 minutes.
Like the chicken version above but with a beefy twist, this Beef Stir Fry combines tender beef pieces with many crunchy veggies and a beefy flavorful sauce. The result is a high-protein, low-carb homemade lunch/dinner perfect for enjoying alone or with cauliflower rice (to remain low carb).
Make restaurant-quality Healthy Beef and Broccoli stir-fry in 30 minutes at home and avoid the MSG and extra oils/fats from your local Chinese takeout! This simple beef and broccoli dish combines those with crisp white onions and a sweet and savory teriyaki sauce. Enjoy it alone as a low-carb lunch or with the side of your choice!
This Ground Turkey Skillet combines maximum flavor with minimum effort, that's my kind of dish! I combine ground turkey with juicy tomatoes, slightly crunchy zucchini, savory pesto, and salty parmesan cheese for a healthy yet hearty low-carb healthy lunch recipe.
Inspired by my black bean quinoa casserole, this Tex-Mex Chicken and Zucchini combined black beans, corn, and tomato with added chicken for a protein boost and swaps out the quinoa for zucchini, for a hearty, nutrient-dense, low-carb homemade lunch/dinner. Top off the dish with melted cheese for a new family favorite!
Craving a delicious wrap but not all the carbs in a tortilla? Why not try these Healthy Chicken Lettuce Wraps, which combine the protein of your choice with a simple savory sauce and cashew nuts all wrapped up in fresh crunchy lettuce leaves. They're even more delicious than restaurant version, but so much healthier!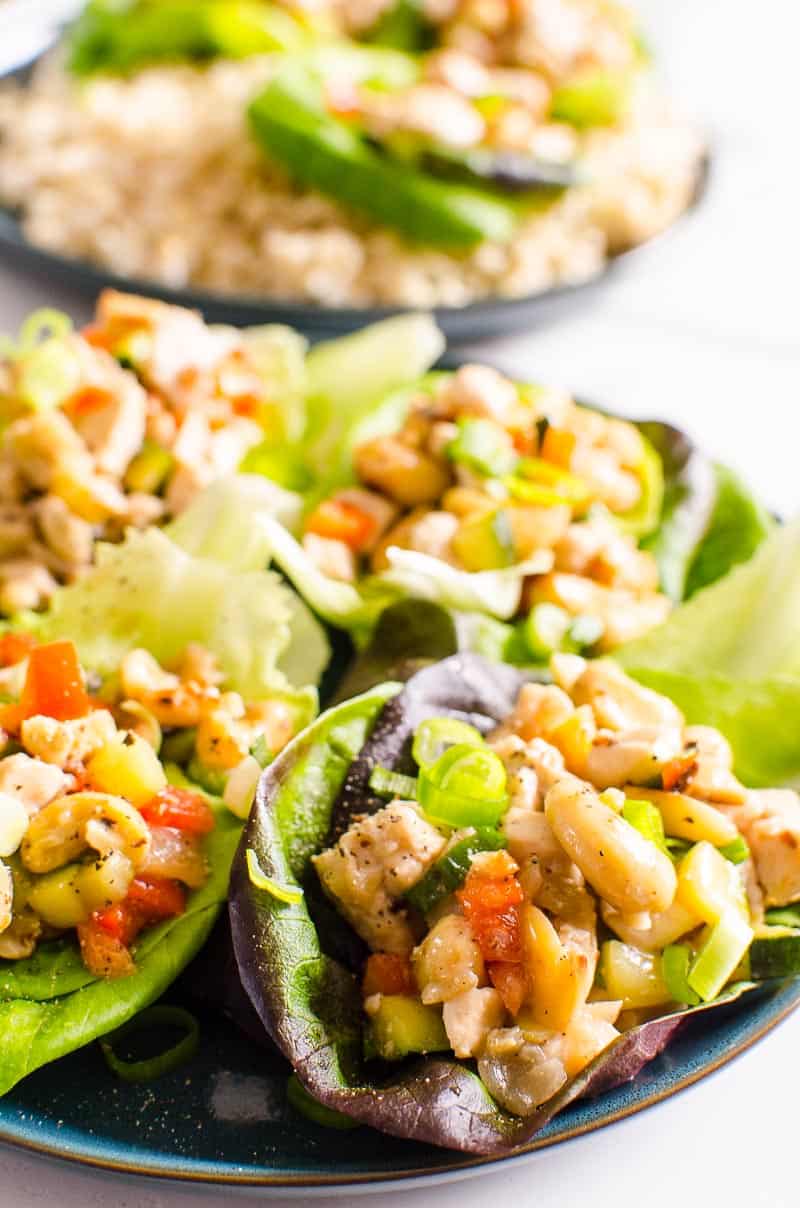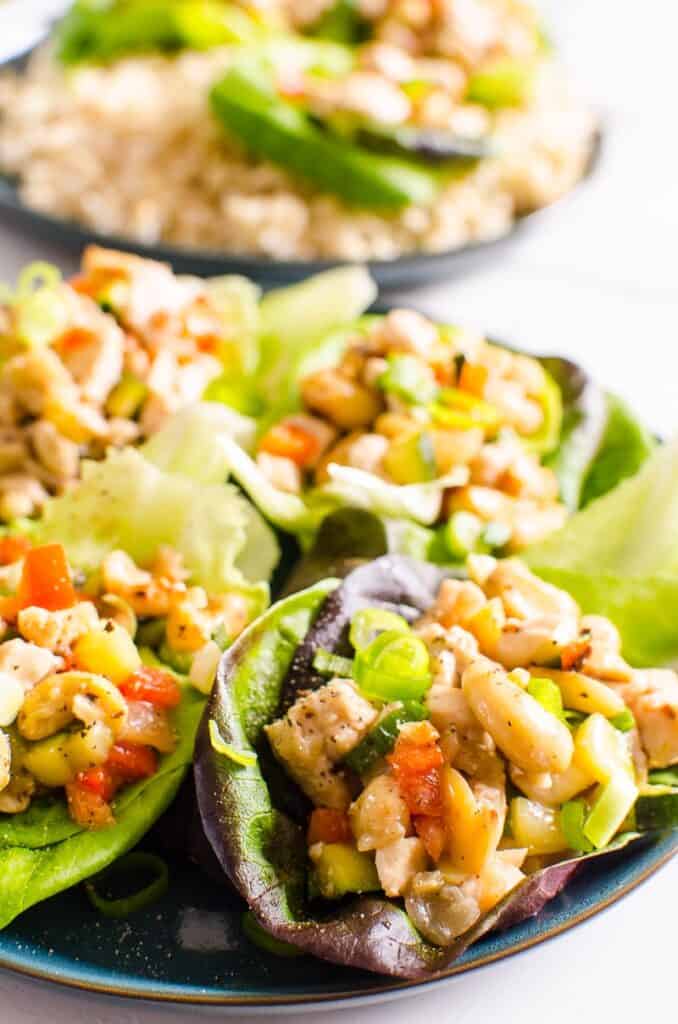 Meal Prep Lunch Ideas
For busy individuals, these meal-preppable healthy lunch ideas are perfect for keeping you and your family sustained through the week without being stuck in the kitchen every single day!
These Turkey Meatballs make for a great meal-prep option for quick and healthy lunch recipes. The meatballs combine turkey with zucchini for tender, juicy results. Store in the fridge for 5 days or the freezer for months then serve up with spaghetti, mashed potato, salads, etc.
I love a good one-pan meal, like this Sheet Pan Chicken and Veggies! This pan combines tons of fresh veggies like sprouts, mushrooms, sweet potato, red onion, etc., with sliced chicken breast. Chop, season, and bake to perfection in a simple, hands-off homemade make ahead lunch!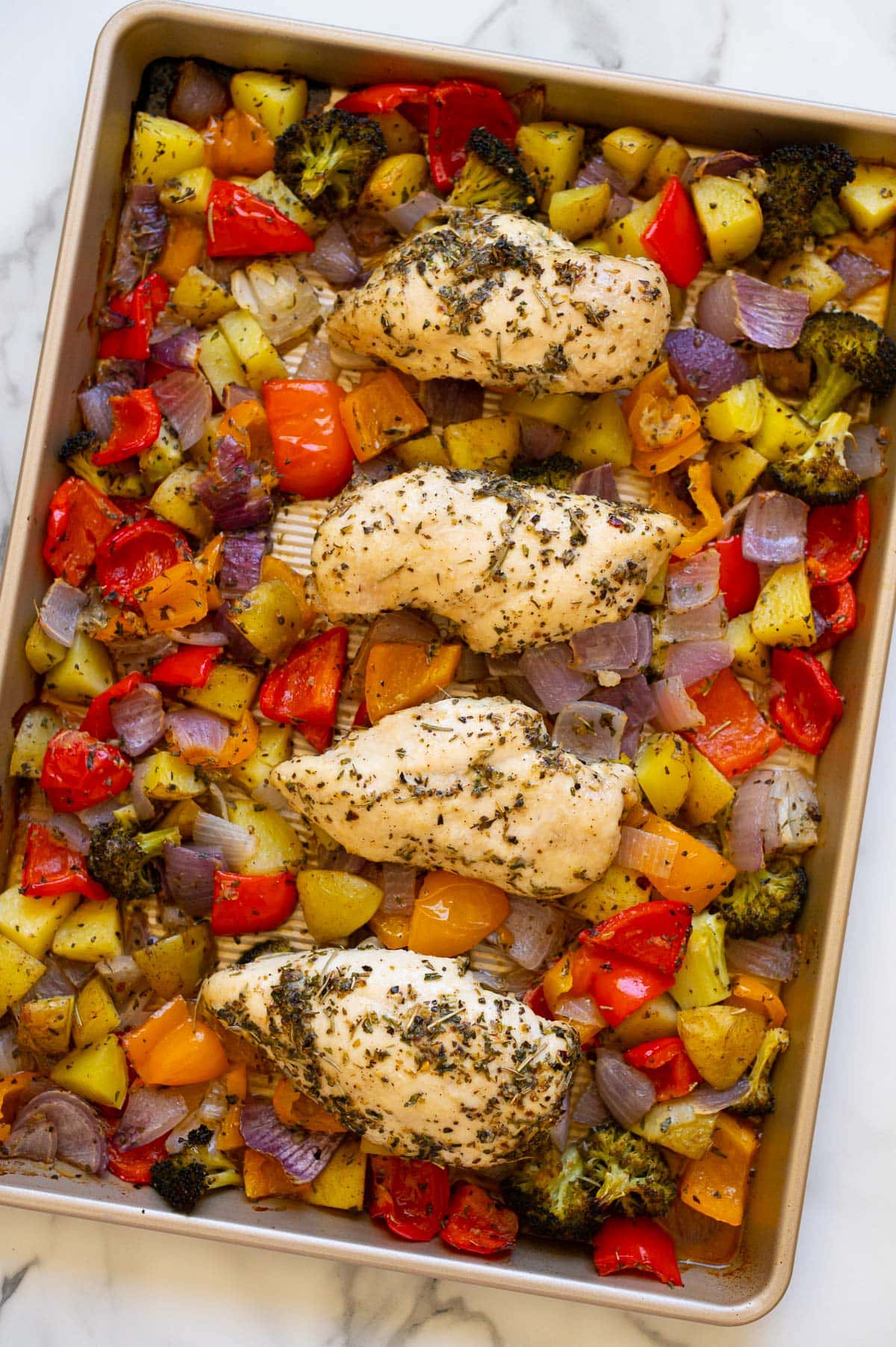 We can make these Mexican Meatballs with chicken or turkey and a special selection of spices for tender bites of Mexican flavor. Serve with grains, salads, pico de gallo, and/or easy guacamole for a healthy homemade lunch. Best of all, you can prep these meatballs in advance for days of delicious healthy lunch recipes!
Prefer Thai flavors over Mexican? Then why not try these Thai Meatballs instead! These delicious meatballs and creamy Thai sauce combine Thai flavors like coconut milk, red curry paste, fish sauce, ginger, and scallions. Serve up with a little crust bread or a side of rice for a simple meal-preppable healthy lunch!
There's basically no time when I don't have some Instant Pot Shredded Chicken in my kitchen. It's easy to add to quick pasta dishes, fried rice, salads, tostadas, wraps, quesadillas, etc. What a simple way to cut down on kitchen time during the week! Best of all, you can make this moist shredded chicken with breasts or thighs and pressure cook from fresh or frozen in around 20 minutes!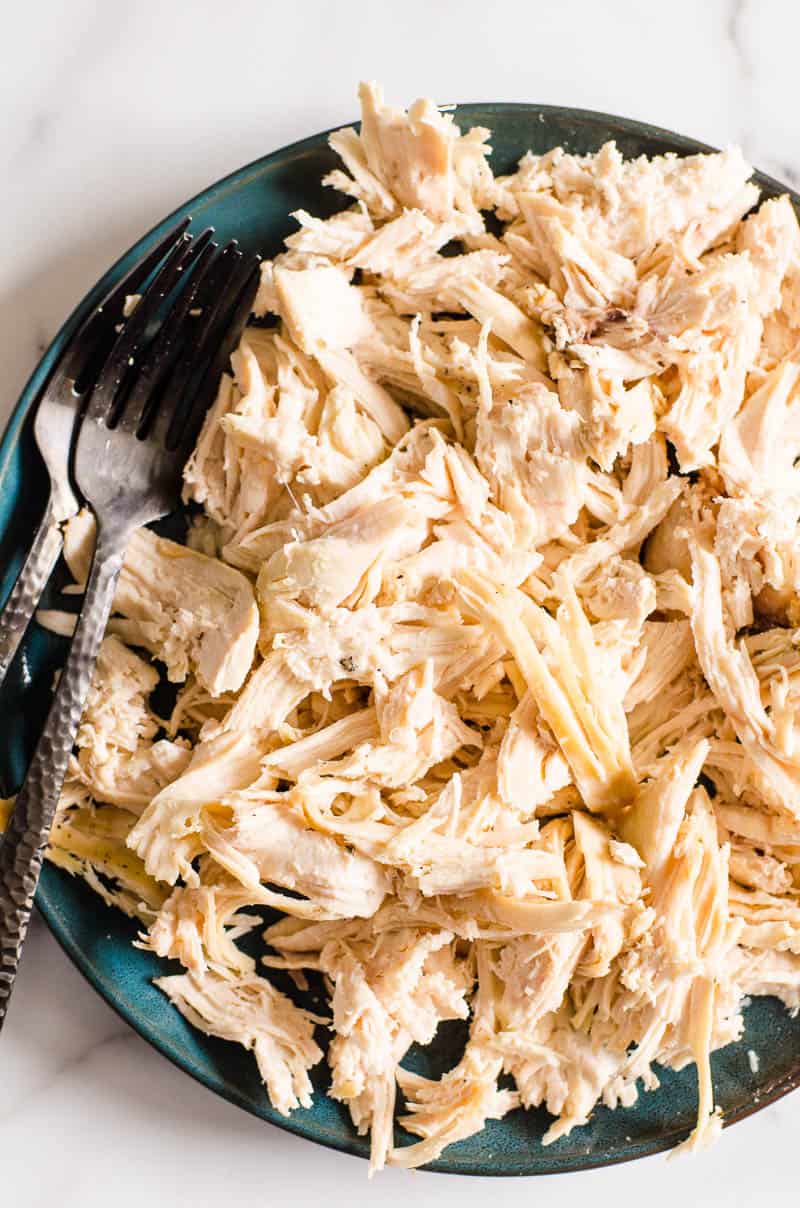 Make use of your Instant Pot or stovetop to make a massive batch of Chicken Burritos (17!) in one hour; turn into a burrito bowl or wrapped burritos then freeze for later! This burrito mix combined brown rice with black beans, corn, chicken, veggies, cheese, and several spices for a simple but flavor-packed healthy lunch idea!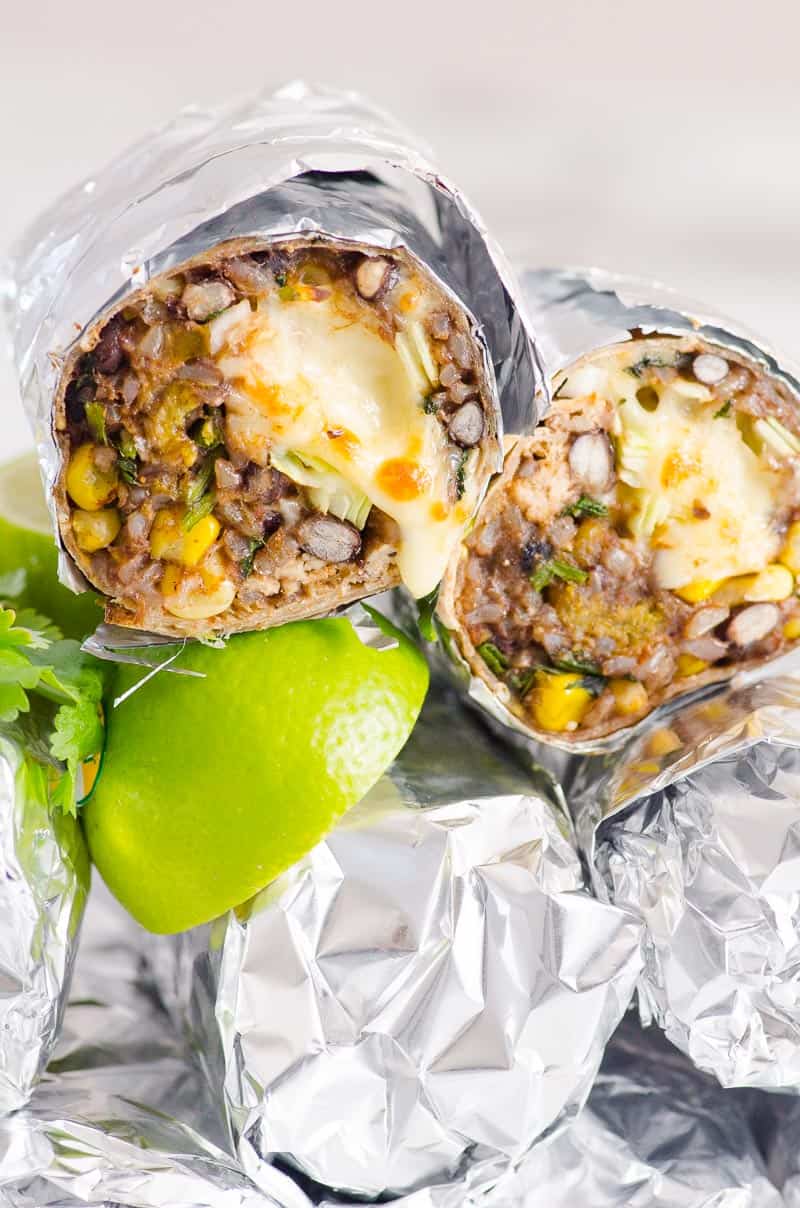 These Korean Ground Beef and Rice Bowls combine tender beef with fresh veggies and a Korean-inspired sauce served over a bed of brown rice for a hearty, wholesome, healthy lunch recipe the entire family will love.
Make freezer chicken wraps (10!) using Instant Pot BBQ chicken. Tender fall apart chicken, healthy BBQ sauce, cabbage, avocado and green onion are wrapped in a tortilla, frozen and perfect for meal prep. Thaw, reheat in oven and ready for lunch in 15 minutes or less.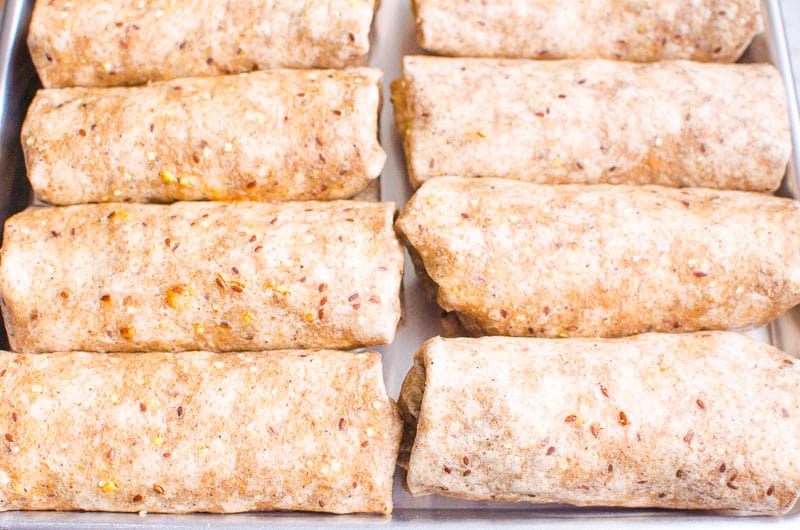 This Chicken Quinoa Bowl combines sweet and savory with mango, black beans, avocado, and chicken over a bed of greens and quinoa then served with a healthy cilantro avocado dressing. Plus, these salad bowls are super easy to meal prep; chop and lay all the ingredients on a large platter and keep covered, allowing your family to pick and choose what they want for their salad bowl!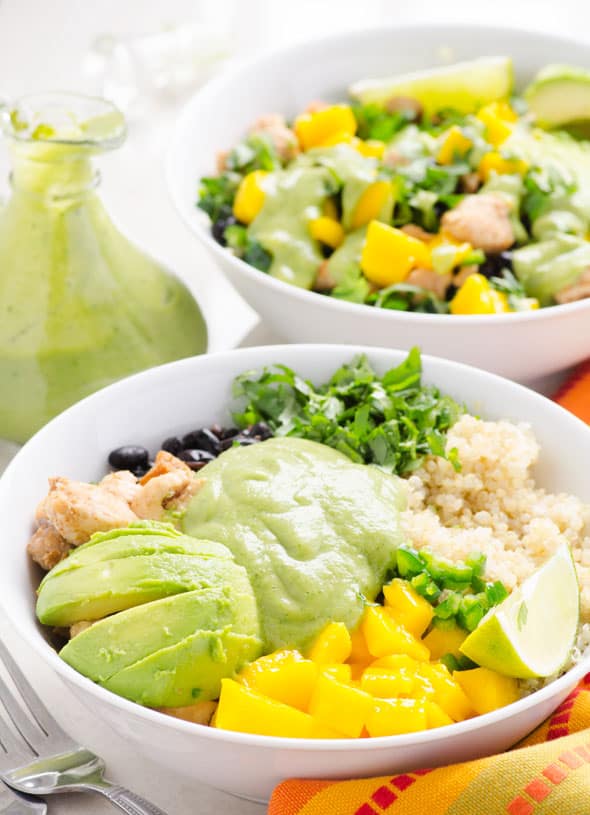 These Instant Pot Ground Turkey Quinoa Bowls combine ground meat with quinoa, veggies, and a teriyaki inspired sauce in an Instant Pot for a fairly hands-off, hearty, healthy meal-prep healthy lunch idea!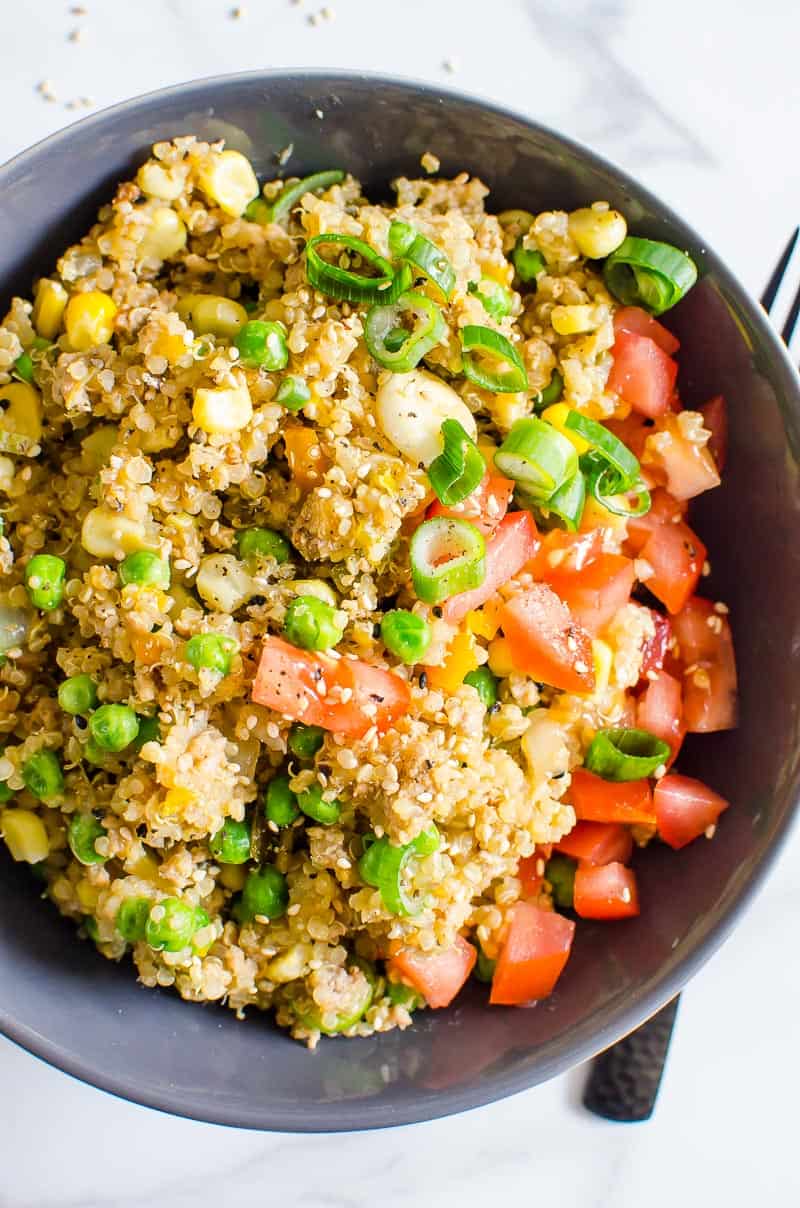 This Quinoa Falafel Recipe is gluten-free, naturally vegan, and most importantly, are wonderfully crisp on the outside with a tender, moist middle that is packed with flavor and protein for a delicious homemade lunch. Make these as baked or air fryer falafels, cooked to perfection, then serve immediately or store/freeze for healthy lunch and dinner throughout the week; pita, salad bowls, as part of an appetizer board, etc.
Chicken Burrito Bowl Meal Prep
Specifically designed for meal prep, this Chicken Burrito Bowl meal prep combines protein-dense quinoa with sweet corn and beans, leafy greens, and lightly spiced chicken breast. Tons of flavor packed with protein, fiber, vitamins, and minerals!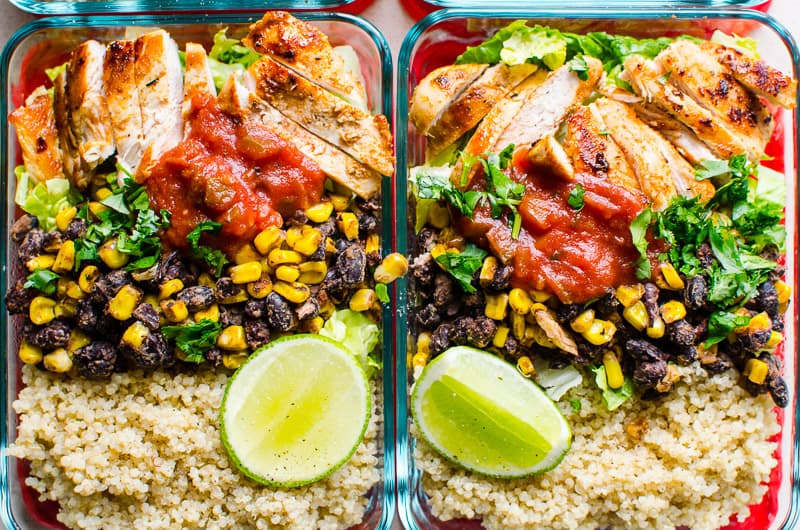 Pad Thai Sweet Potato Meal Prep
Another healthy lunch recipe specifically designed for meal prep, this Sweet Potato Pad Thai swaps out the noodle base for sweet potato noodles to pack in even more vegetables and tons of flavor! Leave the meal meat-free or pair with chicken for a delicious healthy lunch idea!
The last of my 'meal prep' specific meals, this Teriyaki Chicken Meal Prep combines hearty rice with wholesome sweet and savory teriyaki chicken, fresh, and crunchy sugar snap peas for a meal that's filling but healthy.
Vegetarian Lunch Ideas
This One Pot Chili Mac flips traditional mac on its head with the addition of beer, beans, olives, and several spices. Ready in around 30 minutes, this vegetarian pasta dish is super hearty and comforting yet healthy, even with the ooey-gooey cheesy sauce!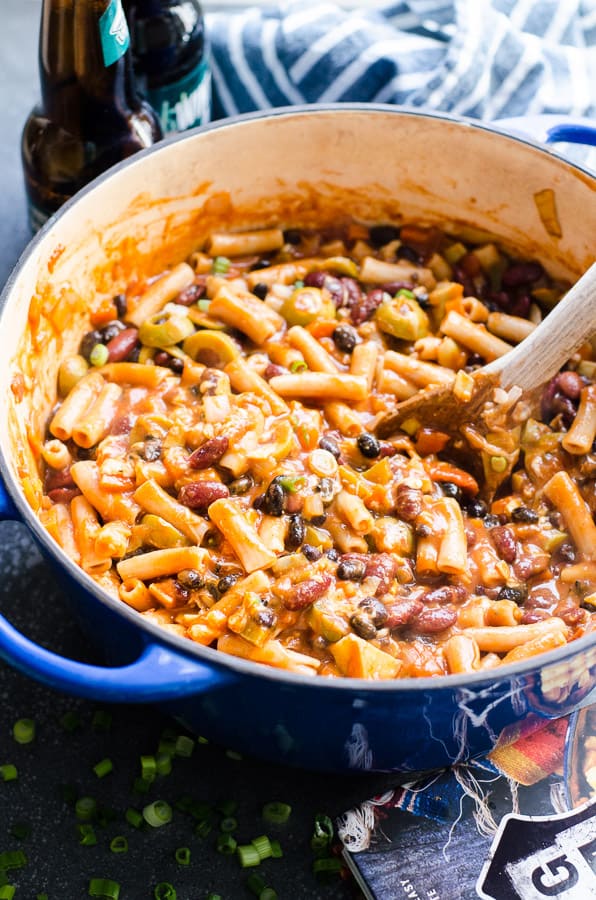 Pesto pasta is one of my all-time favorite quick and simple healthy lunch ideas to turn to in a pinch, and this Healthy Pasta with Pesto and Broccoli elevates the simple pasta dish with the addition of broccoli, sun-dried tomatoes, and parmesan cheese. This quick, easy pasta dish is quick to create and easy to save leftovers for meal-prep to enjoy warm or cold!
If you're looking for quick, simple, and super budget-friendly, healthy lunch ideas, then this Cabbage Stir Fry is for you. With a combination of inexpensive cabbage, carrots, and noodles as the base, this easy cabbage lo mein style dish is easy on the wallet, ready in 20 minutes, and packed with nutrients!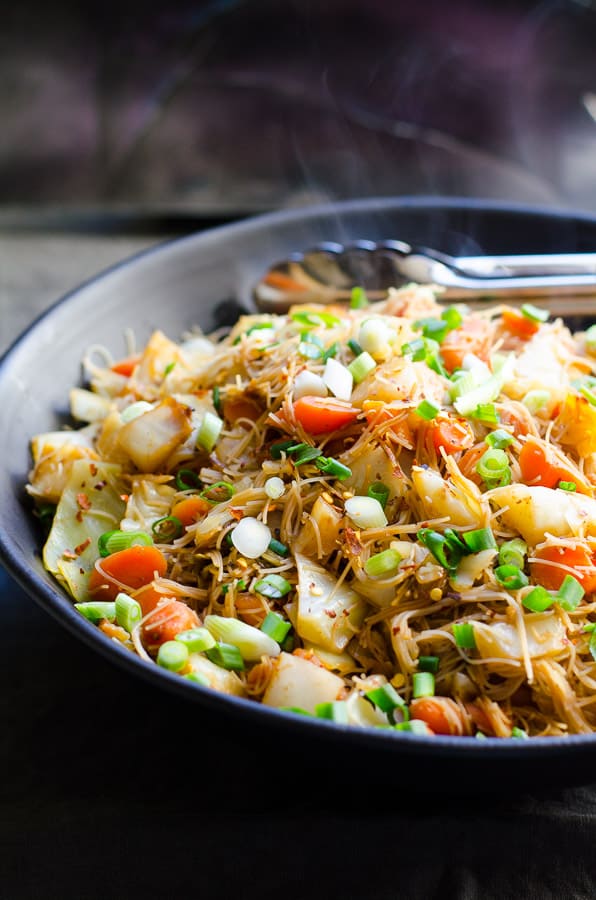 Ready in just 20 minutes, this Crispy Pan-Fried Tofu is perfect for adding to pasta, salads, grain salads, wraps, and anywhere you want this flavorful meat-free protein! It's the perfect addition to healthy lunch ideas to pack in extra protein!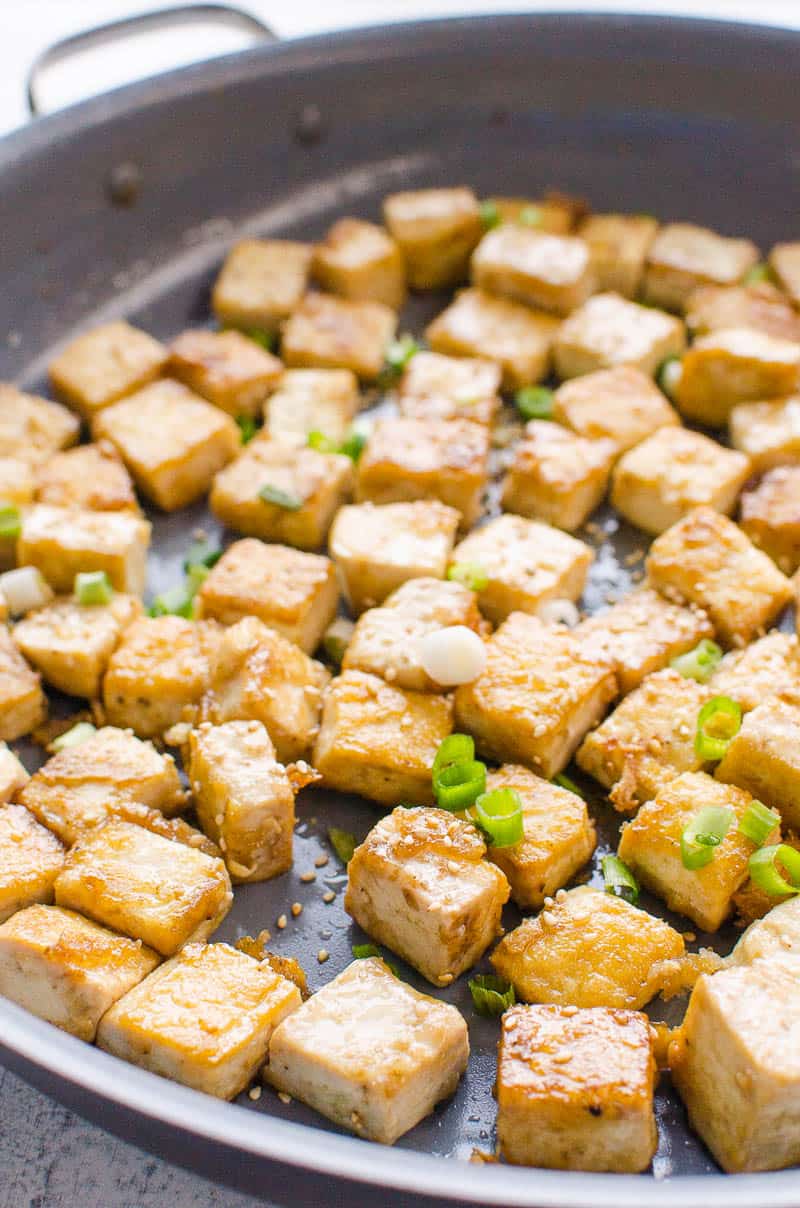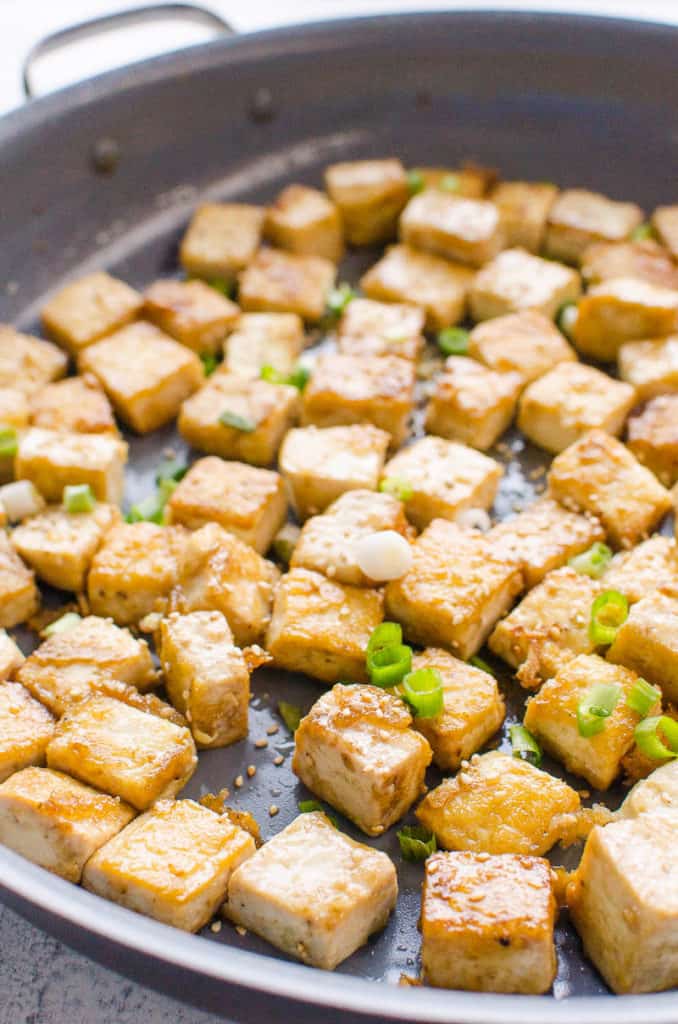 These Vegetarian Quesadillas are baked rather than pan-fried for a healthy alternative to a family favorite. Loaded with beans, veggies, and 'just enough' cheese, this whole wheat tortilla quesadilla makes for a quick and simple meal-prep friendly healthy lunch recipe!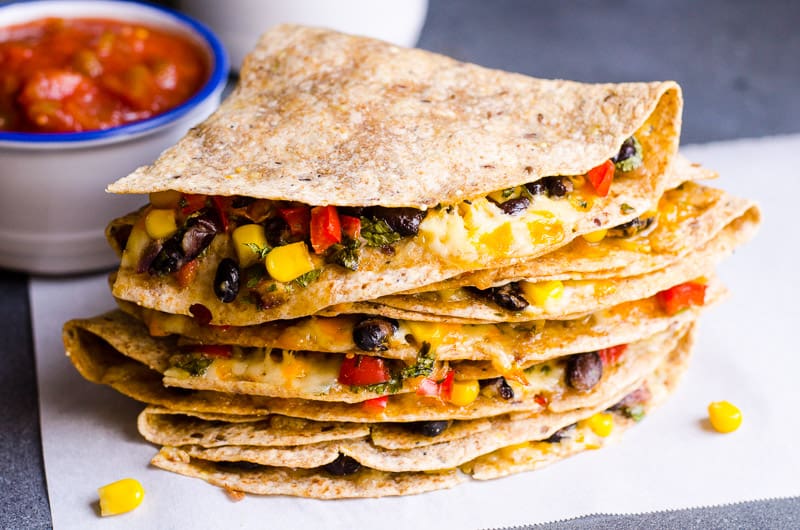 This Pasta with Zucchini and Tomatoes is perfect for your summer-time bounty of zucchini, summer squash, and tomatoes. The result is a fresh, flavorful, meat-free pasta dish packed with flavor and sprinkled with parmesan cheese. Plus, enjoy the leftovers warm or cold for several days of healthy lunch ideas!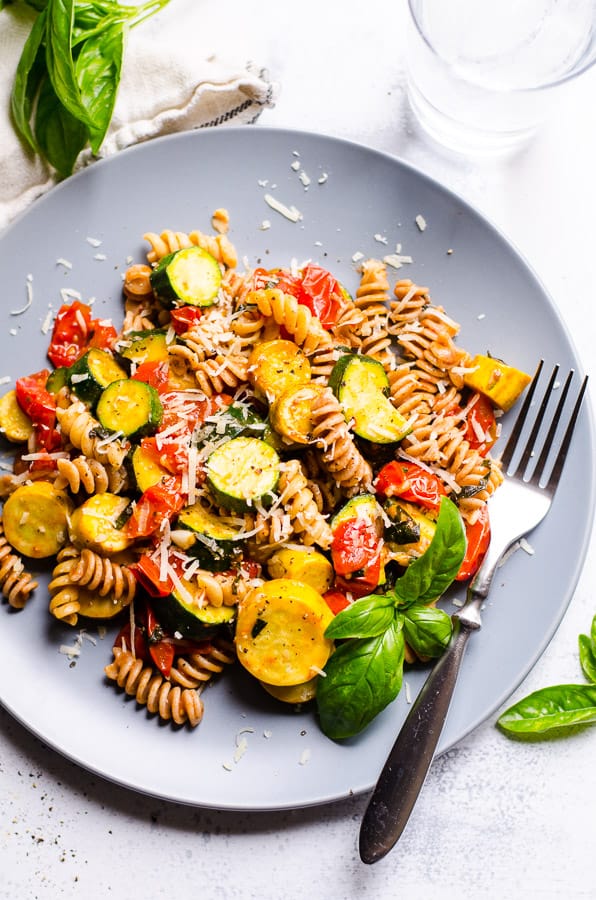 This Tex-Mex Skillet Sweet Potatoes dish combines beans, corn, sweet potatoes, and several spices, pan-fried in one-pot and topped off with cheese, avocado, and cilantro. The result is a dish packed with flavor and super hearty – no meat necessary! Eat alone or with a quick leafy salad for a delicious homemade lunch!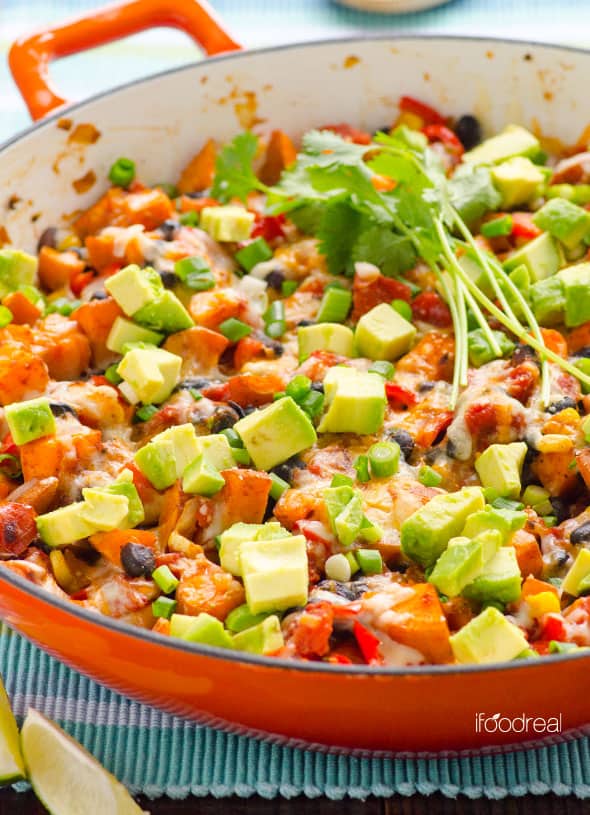 Buckwheat is a delicious gluten-free alternative to Quinoa – also packed with nutrients and takes just 15 minutes to cook. Combined with kale, peppers, and artichokes, this Buckwheat Stir Fry is a nutrient-dense, super hearty meat-free healthy lunch or dinner!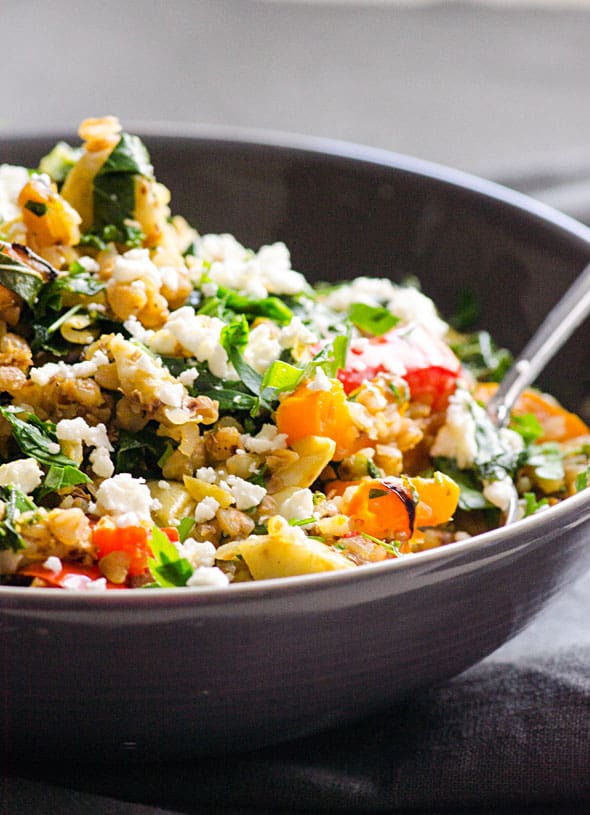 If you're looking for a super hearty meat-free healthy lunch idea, perfect for the colder months – then this Mushroom Stroganoff is perfect! It's creamy and rich, yet with a healthy yogurt-based sauce. Serve up alone with a sprinkling of parmesan or alongside crusty bread, pasta, quinoa, or even a baked potato!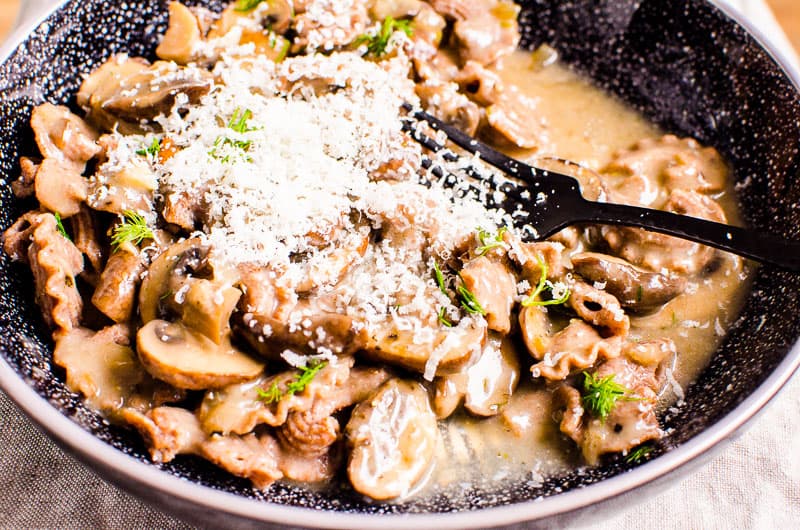 This Broccoli and Mushroom Stir-Fry is combined with brown rice, walnuts, peas, and a selection of pantry spices. Serve up with a sprinkle of cheese (or not, for a vegan lunch!), some cilantro, scallions, and a squeeze of lime for a super delicious, healthy lunch idea packed with nutrients!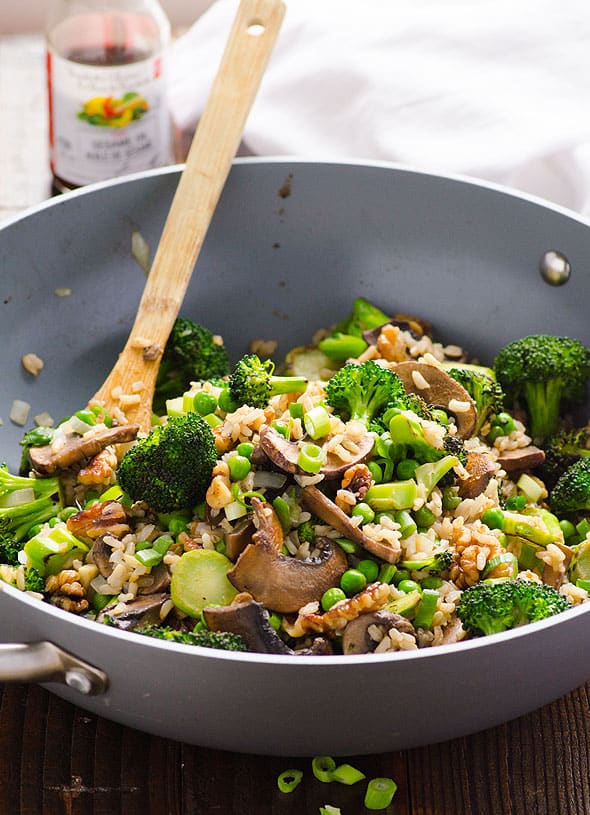 Healthy Black Bean Burgers are a wholesome, hearty, filling veggie burger that combines black beans, rice, and several veggies – no sauteing required! in fact, you can bake, fry, or grill the burgers and serve in a bun, using lettuce leaves (for a low-carb option), or 'naked' alongside various sides like a leafy salad or as part of a burrito bowl!
Healthy Lunch Ideas for Kids (That Adults Love, Too!)
A family classic; this Healthy Mac and Cheese will satisfy all your mac n' cheese cravings but in a healthier way. By combining whole wheat macaroni with a moderate amount of cheese, cooked in a flavorful broth, this healthy lunch idea will be loved by the entire family!
Baked instead of fried healthy chicken nuggets are easy to make and naturally gluten free with almond flour! Your whole family will love these.
This homemade Alphaghetti mimics the flavors of the regular store-bought alphaghetti/spaghetti hoops, etc., but in a healthier, 'real ingredient' way- no chemicals or preservatives in sight! Instead, this recipe combines tomato sauce with unrefined maple or honey, several spices, and cheese! You'll never need to buy the junk in tins again!
Chicken Quesadillas are super simple to prepare, can be baked in large batches for healthy lunch meal-prep, and are much healthier than traditional pan-fried and cheese-loaded quesadillas! In fact, all you need is just 5 ingredients for these flavorful chicken quesadillas including chicken, cheese, and mixed peppers!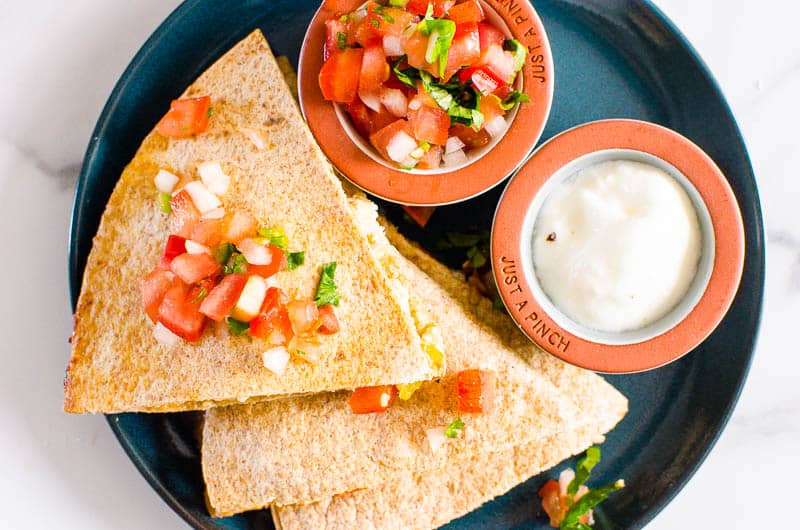 Unlike the tuna zucchini patties mentioned above, these Zucchini Fritters are meat and fish-free, combining tons of fresh zucchini with a simple egg-based batter for crispy, addictive veggie fritters that contain only 50 calories per fritter! Enjoy alongside the protein of your choice, a salad, or simply with a dollop of yogurt and enjoy them cold or warm!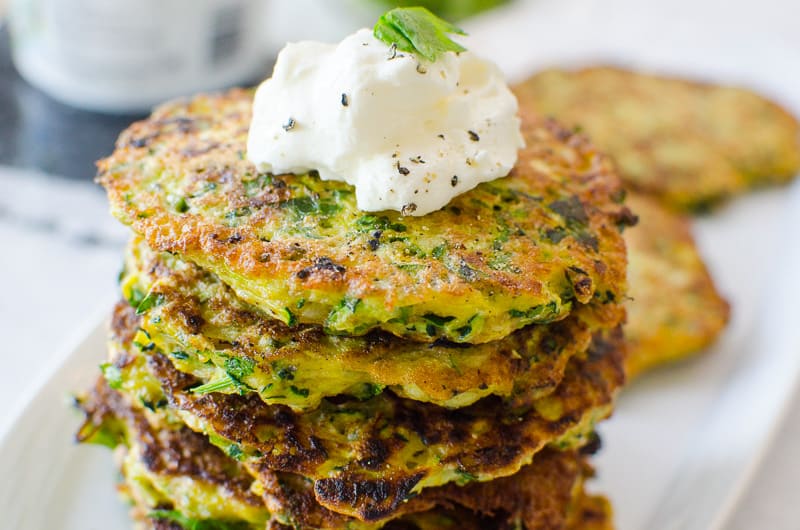 Veggie Mac and Cheese Muffins Recipe
These bite-sized Veggie Mac and Cheese Muffins combine the delicious cheesiness of traditional mac n' cheese with healthy, fresh peas and edamame, baked into a slightly crispy grab n' go muffin- perfect for kids' lunchboxes and traveling!
Replace chemical-filled chicken nuggets/strips with these healthy, homemade Almond Chicken strips. By coating chicken strips in ground almonds and spices then baking to crispy perfection, these chicken strips are far healthier than store-bought and restaurant versions, packed with heart-healthy fats and extra protein from the almonds. Meal prep in advance and enjoy with the sides of your choice for a quick and healthy lunch idea!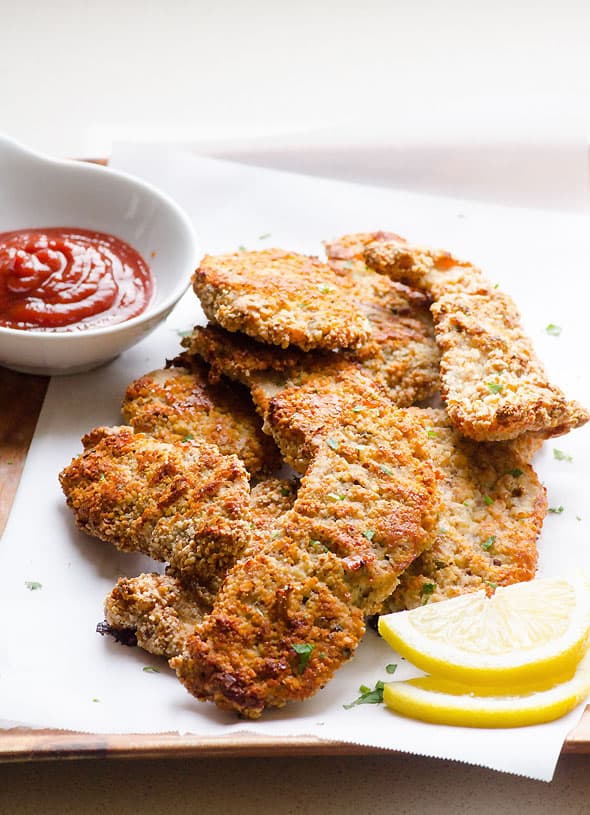 These Canned Salmon Cakes use wild tinned salmon to create flavorful patties that have a crusty exterior with a juicy, flaky, salmon interior. Whip up a large batch for a simple meal prep option and serve alongside a salad or in a bun for a healthy lunch idea!
Baked Parmesan Zucchini is big on flavor, low calorie and outrageously tasty. The slices of zucchini are topped with cheese and a simple selection of spices and then baked until crispy. For a light, healthy lunch you can serve them dipped into salsa or the dip of your choice. You can also serve these zucchini sticks with a salad or as a side to the protein of your choice.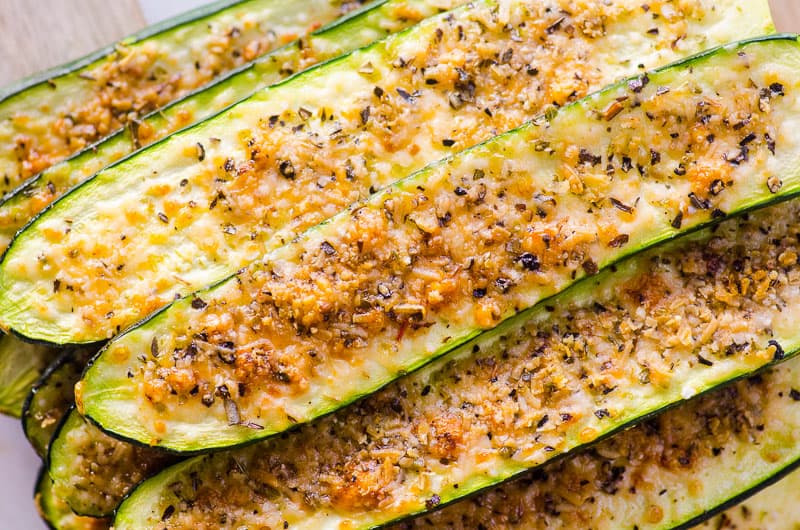 Last but definitely not least on this list of healthy lunch ideas is this healthy Taco Skillet. Combining all your favorite elements of a taco in a simple one-pan dish, this taco skillet is juicy, tender, crunchy, savory, cheesy, and delicious when served up wit freshly chopped tomatoes, avocados, and even some jalapenos for the spice lovers out there!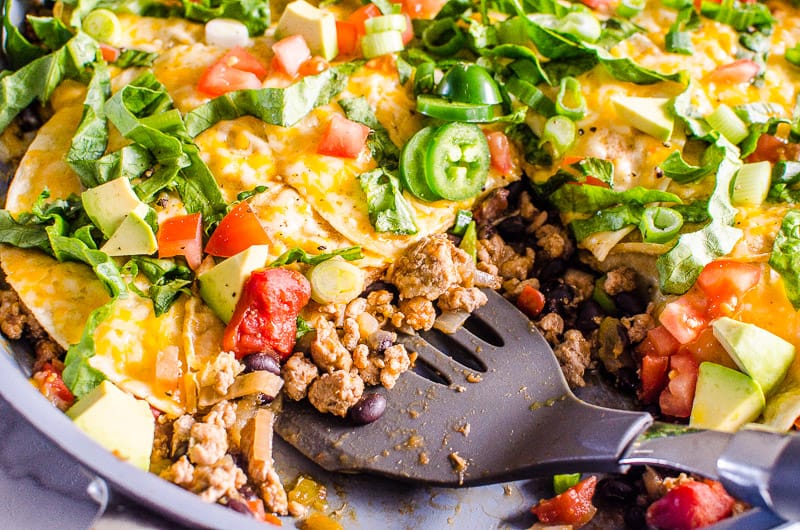 More Healthy Recipes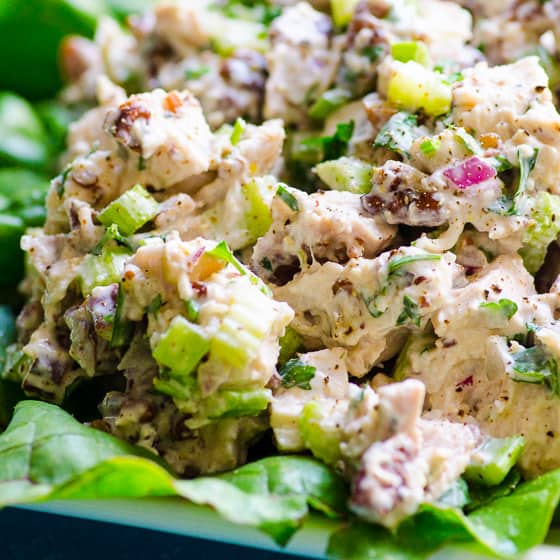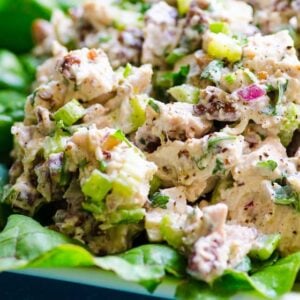 65 Best Healthy Lunch Ideas: Low Fat Chicken Salad
Make this low fat Chicken Salad as part of your healthy lunch ideas rotation! This less mayo healthy chicken salad has greek yogurt, crunch pecans and fresh herbs that give it amazing creamy and crunchy texture and taste.
Instructions
Toast pecans (or other nut) in small skillet on low-medium heat until fragrant and brown, stirring often. Transfer to a cutting board, let cool a bit and chop coarsely.

Add chopped pecans, chicken, celery, onion, parsley, yogurt, mayo, mustard, vinegar, salt and pepper in a medium bowl. Stir gently to mix and adjust salt to taste if necessary.

Refrigerate for at least 2 hours as salad tastes best cold.

Serve with salad greens, make a sandwich, wrap or serve with quinoa or brown rice for a complete meal.
Notes
Store: Refrigerate in an airtight container for up to 5 days. Not recommended to freeze.
Use leftover chicken for salad: From baked chicken breast recipe or Instant Pot frozen chicken.
Onions: White or green onion would work well in place of red, might give a slightly different taste.
Fruit: Add sliced grapes or chopped apple if you wish. 
Mayo variations: Olive oil mayo or vegenaise in place of avocado mayo.
Do not use 0% yogurt: Plain regular or Greek yogurt with fat content 2% and higher work.
Nutrition
Serving:
0.5
cup
|
Calories:
180
kcal
|
Carbohydrates:
2
g
|
Protein:
8
g
|
Fat:
16
g
|
Saturated Fat:
3
g
|
Cholesterol:
32
mg
|
Sodium:
173
mg
|
Fiber:
1
g
|
Sugar:
1
g