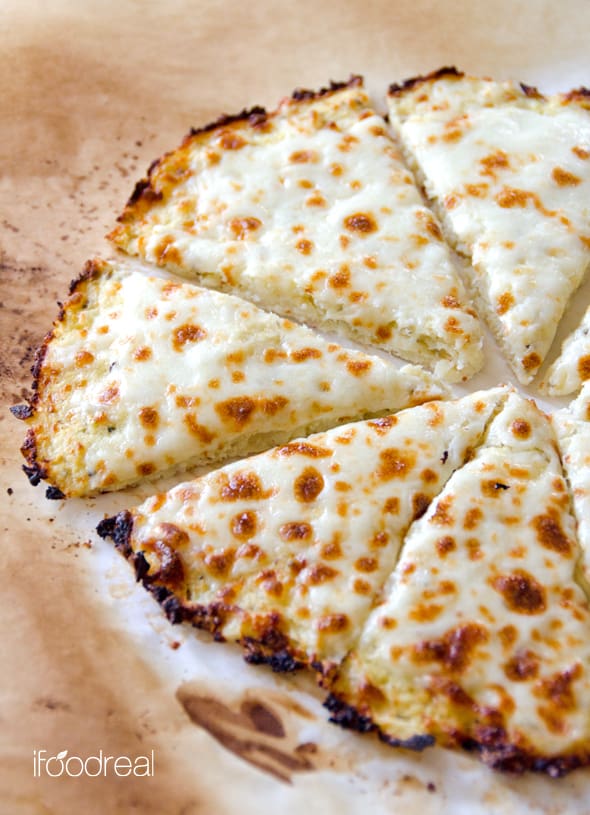 In the past few years, cauliflower pizza crust has gained huge popularity as a low carb alternative to traditional flour pizza crust. Nowadays, you can indulge in "pizza", America's favourite comfort food, and not overeat or feel bloated. There is only one secret – you have to follow my cauliflower crust pizza recipe, read the tips and answers to many questions, and maybe go through comments with many positive reviews to be confident that you can make it. You can do it! You just have to do it!
You are looking at the best cauliflower pizza crust recipe on the web. It's not mushy, you can really hold the slice and I share tips how to make it extra crispy. And it is delicious! I won't lie, the crust doesn't taste like regular pizza crust (duh!) but is super tasty, plus the toppings on top => to die for.
If you are looking for a less time consuming but yet lighter pizza recipe, check out my oatmeal pizza crust. Cauliflower biscuits and cauliflower breadsticks are a great guilt free alternative too.
Cauliflower Pizza Crust Ingredients
Cauliflower: You need large head of cauliflower, 6″ – 7″ in diameter, about 2.5 – 3 lbs. Naturally, cauliflower contains a lot of water and after you remove the outer leaves and separate it into florets you are not left with much.
Egg: Egg is part of "the glue" that holds everything together.
Cheese: As cheese melts during baking, it helps to bind small pieces of cauliflower into a crust. Cheese is crucial! So is the egg (sorry, can't be vegan).
Spices: Simple dried herbs like oregano, basil or Italian mix plus salt and pepper add flavour to the crust as cauliflower itself is pretty bland.
Can I Use Store-Bought Cauliflower Rice?
Yes, you can use store bought fresh or later frozen cauliflower rice instead of making your own. About 4-5 cups or one package. Today, you can buy it in Walmart, Trader Joe's, Costco and virtually anywhere. I love cauliflower rice a lot and buy bags at a time and freeze. If you are looking for more cauliflower rice recipes, see my cauliflower rice recipes and frozen cauliflower rice recipes.
How Many Calories Are In a Cauliflower Pizza Crust?
56 calories, 4 grams of carbs and 4 grams of protein.
Do You Have to Cook Cauliflower Before Making Pizza Crust?
Yes. Cauliflower like zucchini contains a lot of water. In order to get rid of extra moisture, we need to cook cauliflower first and then squeeze really well.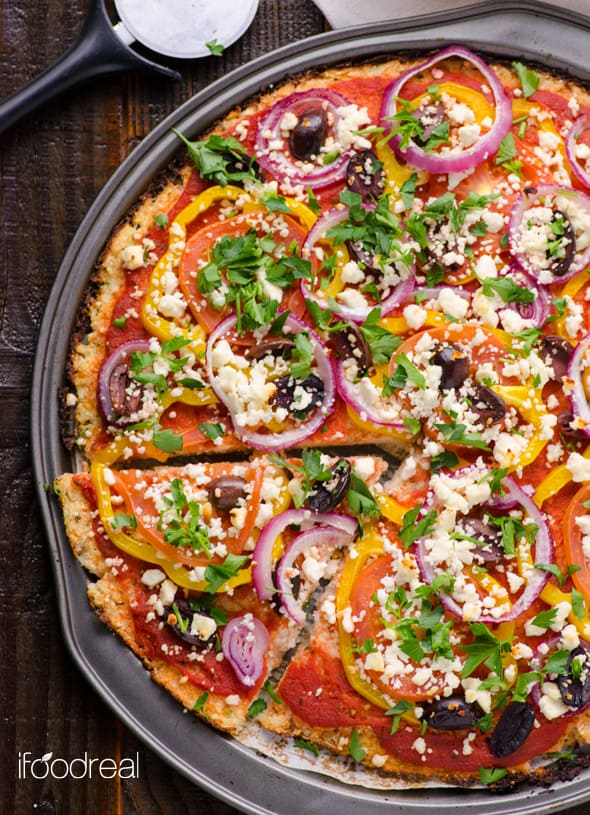 How to Make Sure Cauliflower Crust Doesn't Fall Apart
The best advice I can give you for foolproof cauliflower pizza crust – squeeze cooled cooked cauliflower very well. You really do need to squeeze out more water than you think you'll ever be able to. Squeeze and then pass it to a husband, if necessary. Cauliflower should be pretty dry. I squeezed and then moved the cauliflower around a bit, and squeezed again. If your arm is sore for a bit after, you did it well.
When it is dry enough you'll be able to make pizza crust with it that is a little bit crispy on the bottom!
Other Tips for Best Cauliflower Pizza Crust
Make 2 pizza crusts at a time if you want to feed more than two. Unless you are cooking cauliflower pizza crust recipe only for yourself. Definitely need to make double the dough (meaning two large heads of cauliflower)
You can find cheesecloth in most well-stocked supermarkets, dollar store or on

Amazon

 for a very reasonable price.
More likely your crust will not cover as much of a pan as shown in the picture above. It depends on the size of your round pizza pan. And if you are using rectangular baking sheet, size will vary. Any baking sheet works.
If you own Vitamix rather than a food processor, it does a good job of "grinding" the cauliflower in 3 – 4 batches on the lowest setting.
Can You Freeze Cauliflower Pizza Crust?
Absolutely. Bake, cool, wrap in plastic or place in resealable gallon size Ziploc bag and freeze. Thaw completely before baking with toppings.
How to Make Cauliflower Pizza Crust
Separate cauliflower into florets.
Place cauliflower florets in a food processor and process until "rice" texture. Some coarse chunks are fine. You will be baking and then squeezing the cauliflower, so really chunks do not matter. 
To cook cauliflower, you can either bake it in the oven for 15 minutes or microwave for 8 minutes. Then transfer cooked cauliflower to a bowl lined with cheesecloth. You can also use a linen tea towel like this one. I used it to make cauliflower breadsticks and it worked like a charm. 
Holding by the four corners of cheesecloth with one hand, squeeze out the liquid as much as you can with another hand. Squeeze really well, quite a few times, I mean it! Count it as an arm workout for the day. Cauliflower should be pretty dry. I squeezed and then moved the cauliflower around a bit, and squeezed again. If your arm is sore for a bit after, you did it well. 
You should be left with a cauliflower mash. Transfer it to a bowl with remaining ingredients and mix. 
Using your hands, flatten cauliflower mixture on a lined with parchment paper or silicone mat regular baking sheet or round pizza pan (don't forget to spray it with cooking spray). Make it smaller than shown in the video. I made it a bit too thin which is not the end of the world, it's just crust needs longer cooking time which burns the edges a bit. 
Then bake for 20 minutes, flip and bake for a few more minutes until crispy. Your healthy cauliflower pizza crust is ready. 
Cauliflower Pizza Crust Topping Ideas
Now the fun part begins – toppings. I made 3 kinds: Mediterranean, chicken, and pepper + cheese.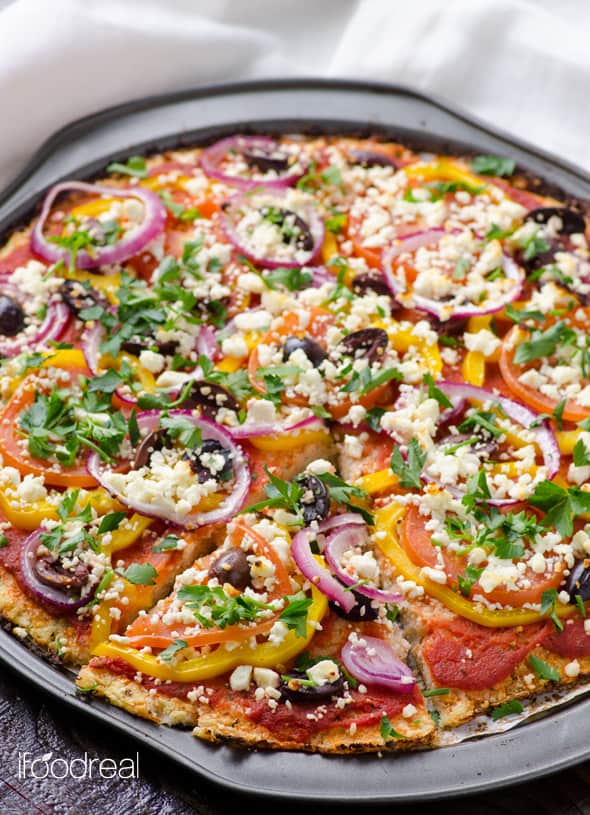 Pictured above is Mediterranean cauliflower pizza: tomato sauce, bell pepper, tomato, olives, red onion, feta cheese and parsley.
And this is chicken and pepper cauliflower pizza: tomato sauce, sliced grilled chicken breast, olives, red onion and cheese.
Honestly, my favourite was cheese cauliflower pizza. I was quite surprised with myself but I loved the combination of cauliflower + cheese. So, if you have been waiting to jump on the cauliflower pizza crust bandwagon, here is your chance. I think I took all the guessing out for you. Make it and let me know how your cauliflower pizza turns out.
Also what pizza toppings have you used?! I would love to hear your ideas!
Print
Cauliflower Pizza Crust
Cauliflower Pizza Crust that is healthy, crispy and simply the best foolproof step by step recipe with tips on how to make it faster.
Author:
Prep Time:

30 minutes

Cook Time:

30 minutes

Total Time:

1 hour

Yield:

8 slices
Instructions
Preheat oven to 375 degrees F and line baking sheet with unbleached parchment paper or silicone mat.
Rinse cauliflower, remove the outer leaves, separate into florets and chop into smaller pieces. Process in a food processor in 2 batches, until "rice" texture forms (skip if using store-bought "rice"). Transfer cauliflower rice on a prepared baking sheet and bake for 15 mins.
Remove cooked cauliflower rice from the oven, transfer to a bowl lined with a double/triple layered cheesecloth or linen towel, and let cool for 5 minutes. Then squeeze the liquid out of the ball (cauliflower inside the cheesecloth) as hard as you can. Be patient and do this a few times until barely any liquid comes out. Muscle work.:)
Increase oven temperature to 450 degrees F. In a medium mixing bowl whisk the egg with dried herbs, salt and pepper for 10 seconds. Add cheese and squeezed cauliflower; mix very well with spatula until combined.
Line same baking sheet with new parchment paper or same silicone mat (just make sure to scrape off any bits of cauliflower) and spray with cooking spray. Transfer "dough" in the middle and flatten with your hands until thin pizza crust forms. Make it thicker that in my video, I made it a bit too thin.
Bake for 20 minutes, carefully flip with spatula and bake for a few more minutes. Top with your favourite toppings and bake again until cheese on top turns golden brown. Slice and enjoy.
Store: Refrigerate covered for up to 2 days.
Freeze: Tightly wrapped in plastic for 1 month.
Notes
You could cook cauliflower rice in a microwave (I just don't have one) adjusting time according to your microwave's abilities (they all differ).
★ Did you make this recipe? Please give it a star rating in the comments.