Learn How to Cook Whole Pumpkin then use it to make pumpkin puree! It's easy to roast in the oven, tastes delicious, and is perfect to use in all your fall pumpkin recipes.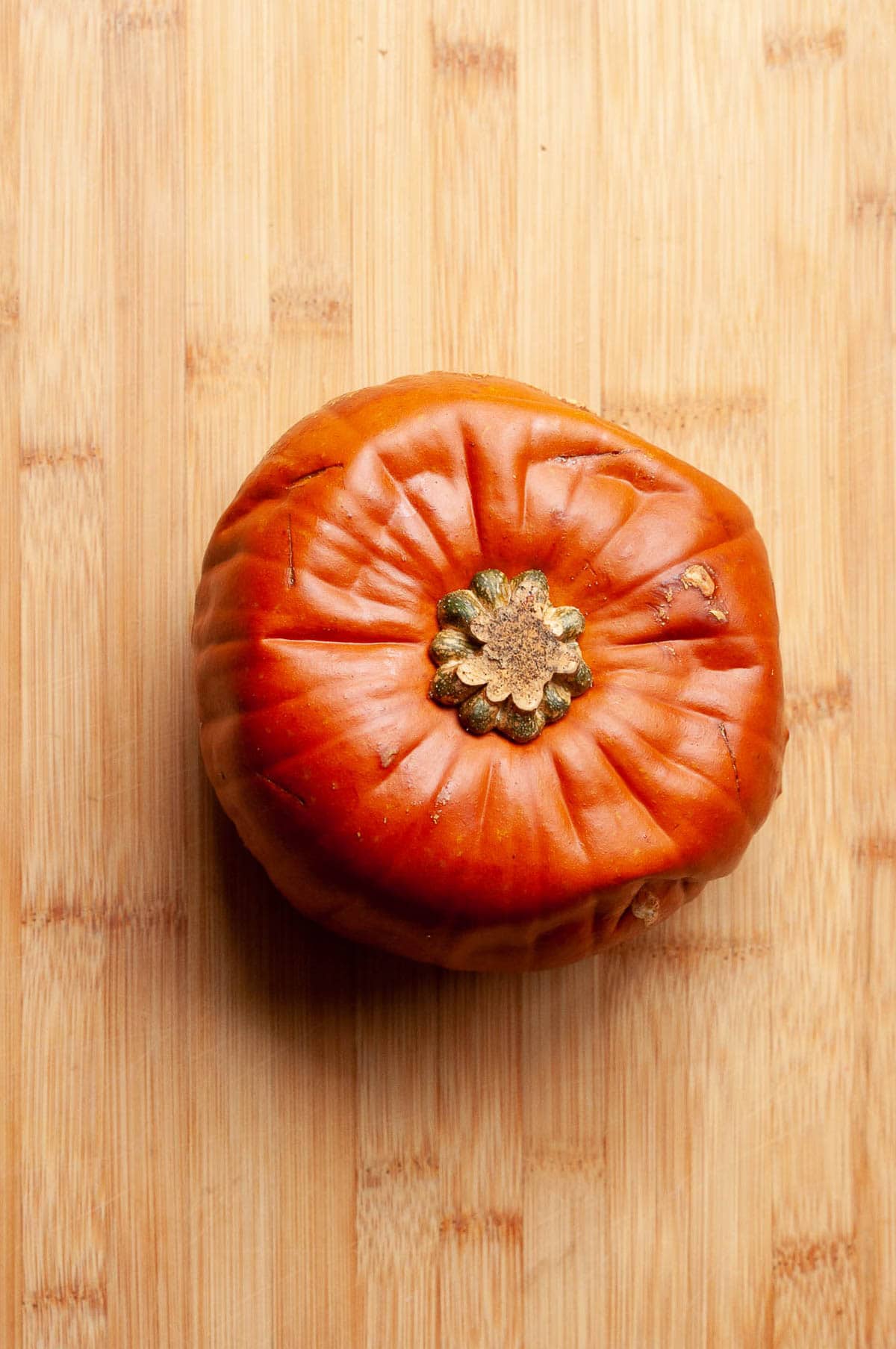 Here is a step-by-step tutorial how to cook a whole pumpkin and it is easier than you think!
Once you know the type of fresh pumpkin to use, it is as easy as roasting then making your own puree.
This time of year you can find a sugar pie pumpkin just about everywhere from the grocery store to farmer's markets.
Stock up during the autumn season and then use your own homemade puree for pumpkin pie filling and other seasonal goodies.
What Pumpkin Should I Use for Baking?
Leave the large carving pumpkins for jack o lanterns and choose a small sugar pumpkin (also called a pie pumpkin) that is about 2-3 pounds in weight.
These smaller pumpkins are specifically grown for baking. They are less fibrous than big pumpkins and also are more flavorful. Sweet pumpkins can be found in the produce section during fall, often near other winter squashes.
After roasting whole pumpkin, soft flesh can be pureed to use in your favorite recipes, anything from pumpkin pie to healthy pumpkin pie bars and even pumpkin spice chia pudding.
How to Cook a Whole Pumpkin
My preferred method if I am planning to puree it later, is to bake the pumpkin whole without cutting it first. As a bonus, you also don't have to cut through the hard outer shell!
This allows the inside to steam vs. caramelize and the bright orange flesh is easy to make into your own homemade pumpkin purée.
Let me show you how to bake a pumpkin whole. It's such an easy recipe!
Preheat oven to 400 degrees F and line a large baking sheet pan with parchment paper.
Wash and dry your pumpkin. Using a sharp knife, pierce entire pumpkin about 10 times to allow steam to escape.
Place on a baking sheet and cook for 60 minutes. The actual cook time will depend on the size of squash and your oven. Your pumpkin is ready when it's skin is darker and can be easily pierced with a fork.
Remove it from the oven, place on a cutting board and let cool for 20 minutes. Then wearing oven mitts cut pumpkin in half then proceed to scrape out seeds and stringy bits with a large spoon.
How to Cut a Pumpkin for Cooking?
To cut a pumpkin there are two popular methods. You can cut crosswise or lengthwise, very similar to how to cut spaghetti squash in half.
Cut crosswise: Cutting through the middle of raw pumpkin will leave one half with stem and other without stem.
Cut lengthwise: Make a cut right next to the stem, as close to the center of the pumpkin as possible. One half your pumpkin may be slightly larger, but should still bake evenly.
How to Bake Pumpkin Halves
There are two benefits of cutting your pumpkin first before cooking. The two halves will cool faster and the raw seeds are easier to clean for roasting later.
Cut the pumpkin, remove seeds and other fibrous strings. Save seeds for other use, for example try to air fry pumpkin seeds.
Brush the inside and edges of the pumpkin with olive oil, then arrange them on a large baking sheet, with halves cut-side-down. To save on clean up time, line the pan with parchment paper.
Roast at 350 degrees F for 45 minutes or until fork tender. This is based on the average 2-3 pound sugar pumpkin, yours may take longer if it is larger in size.
Cool, then proceed to scoop out the flesh and make your own pumpkin puree.
How Long to Roast a Pumpkin?
How long to bake a pumpkin will depend if you are cooking a whole pumpkin or roasting pumpkin halves.
To bake whole pumpkin will take 60 minutes. Roasted sugar pumpkin halves will take around 45 minutes. The size of your pumpkin as well as your oven could increase the time it takes to bake.
Your pumpkin is done when you can easily pierce the skin with a knife.
How to Make Homemade Pumpkin Puree
Transforming your baked whole pumpkin or pumpkin halves into puree is so simple and it tastes so much more fresh than canned pumpkin puree! Just follow the easy steps listed here.
Once your roasted whole pumpkin is cut and cool enough to handle, scoop out the seeds with large metal spoon into a bowl. Discard or try roasting pumpkin seeds. Alternatively, you can peel off the skin to expose the flesh. It should come off easily.
Then scoop out soft pumpkin flesh and add it to a blender or food processor.
Process into a smooth puree, stopping and scraping the sides as needed, about 2-3 minutes.
Your pumpkin puree is ready to use!
Recipe Tip
For a pie pumpkin that is 2-3 pounds in weight, it should yield about 3 cups of puree. That is equivalent to almost 2 cans in most cases.
How to Store Pureed Pumpkin
How long does pumpkin puree last in the fridge? Pumpkin puree can be stored in an airtight container in the refrigerator up to 1 week.
Afterwards, you could also freeze it in portions in freezer bags to be used in your favorite pumpkin recipes year round.
Store in the freezer in a sealed container for up to 6 months, although it is probably safe up to a year in a deep freezer. Thaw in the refrigerator overnight.
FAQs
What if my cooked pumpkin is too thick to puree?
This won't be the case most of the time, but if needed you can add a little water to help things blend into a smooth consistency.
How to know when the pumpkin is done roasting?
You should be able to pierce the skin easily with a knife. Sometimes though, you may have a pumpkin with an incredibly thick skin. If it's been over an hour, odds are that it's roasted enough to proceed with the recipe.
Can I use this method with other winter squash?
Yes, kabocha squash (aka Japanese pumpkin), acorn squash, butternut squash, or most other winter squashes can be roasted then pureed. Although roasting times could vary between squashes depending on their size.
Can I make this without an oven?
If you own a pressure cooker, you can cook a whole sugar pumpkin easily in the Instant Pot. Add a cup of water to the inner pot along with your pumpkin. Cook on manual high pressure for 15 minutes and then use natural release. Proceed to cooling and making recipe as directed.
Do I have to puree all of the pumpkin?
No! Feel free to cut some into cubes and toss into salads or sprinkle with some brown sugar or maple syrup and serve as a savory side dish.
How to Use Pumpkin Puree
I hope you enjoyed this easy step-by-step process how to roast a whole pumpkin. Now, here are a few different ways to use it:
More How to Tutorials
How to Cook Whole Pumpkin and Make Pumpkin Puree
Learn How to Cook Whole Pumpkin then use it to make homemade pumpkin puree! You don't even have to cut it, just bake and blend. No prep!
Ingredients
1

(2-3 lbs) sugar pumpkin
Instructions
Preheat oven to 400 degrees F and line large baking sheet with parchment paper.

Wash and dry pumpkin. Using a paring knife, pierce whole pumpkin about 10 times to allow steam to escape.

Place on a baking sheet and cook for 60 minutes. The actual cook time will depend on the size of squash, from squash to squash and your oven. Pumpkin is ready when its skin is darker and can be easily pierced with a fork.

Remove from the oven, place on a cutting board and let cool for 20 minutes.

Wearing an oven mitt, hold the squash and cut in half. Scoop out and discard the seeds.

To make pumpkin puree, scoop out the flesh with a spoon, transfer into a food processor and process until smooth, pausing and scraping the walls. You can also blend it with an immersion blender in a large mixing bowl.

Pumpkin puree is ready and you can use it in your favorite pumpkin recipes.
Notes
Store: In the refrigerator in an airtight container up to 1 week.
Freeze: Portion into containers and freeze up to 6 months.
Yield: You should get about 3 cups of pumpkin puree which equals 2 standard 14.5 oz cans.
Nutrition
Calories:
88
kcal
|
Carbohydrates:
22
g
|
Protein:
3
g
|
Fat:
0.3
g
|
Saturated Fat:
0.2
g
|
Sodium:
3
mg
|
Fiber:
2
g
|
Sugar:
9
g