Learn the best methods on How to Cut an Avocado in this easy step by step tutorial. You will also learn how to pick an avocado, prevent browning and discover the best way to store it.
Want to learn more easy food prep methods? Check out my preferred methods on how to cut cauliflower, how to cut a whole chicken and how to cook quinoa.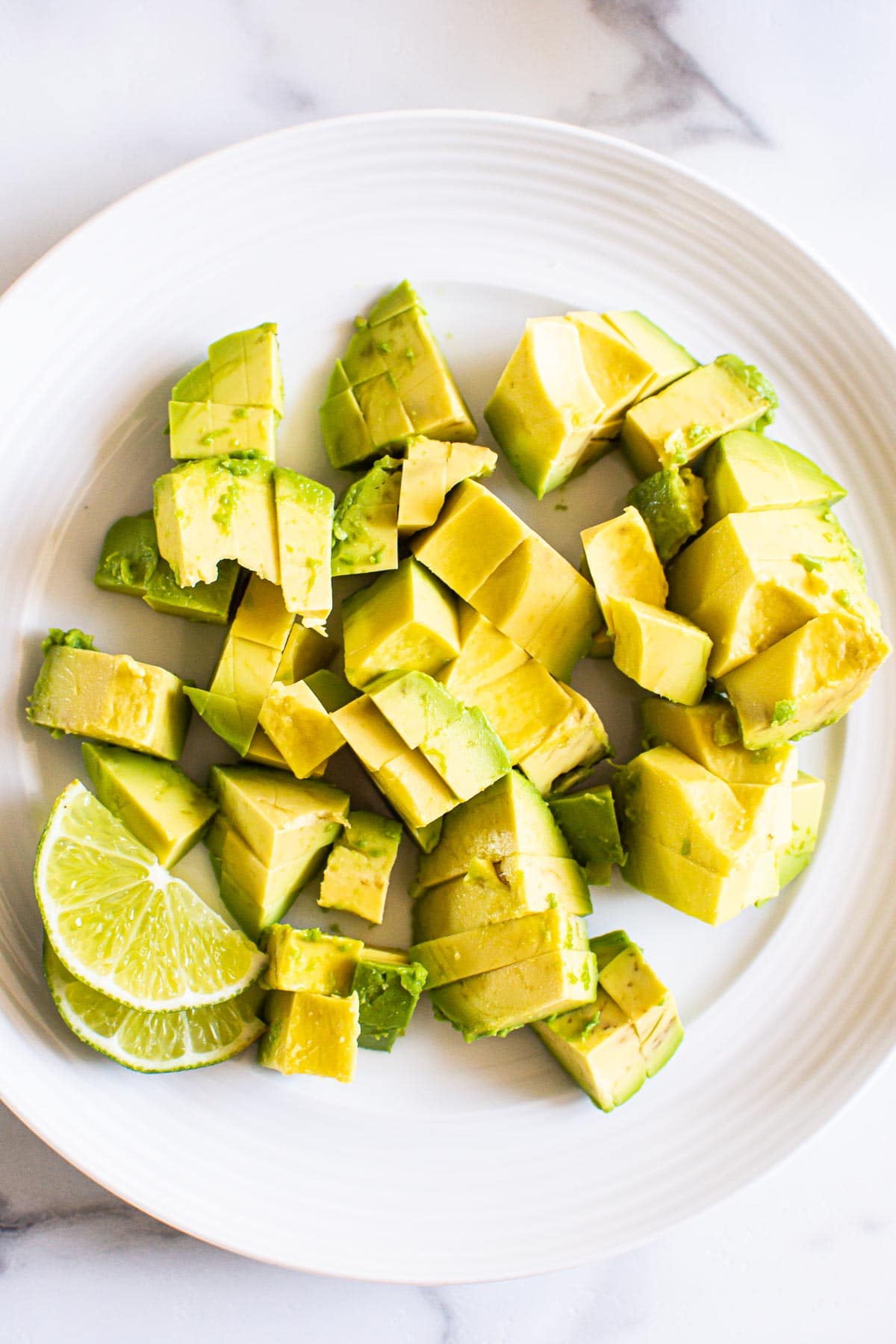 Now, I love avocado, but not at the risk of losing fingers! That's why it's so important to learn how to cut an avocado the best and safest way.
How to Cut an Avocado
Following this simple method on how to cut an avocado, you'll never have to worry about getting anything other than perfectly sliced, diced, or mashed avocado (for delicious avocado toast)!
Cut the avocado: Holding the avocado in the palm of your hand, use your knife to cut in half lengthwise, rotating as you cut.
To do this, make the first cut, and then, when your knife hits the avocado seed in the center of the avocado, rotate the fruit, so you cut open the avocado equally in half.
Open it: Once you've made the cut, use both hands to twist the avocado halves in different directions to separate the pieces.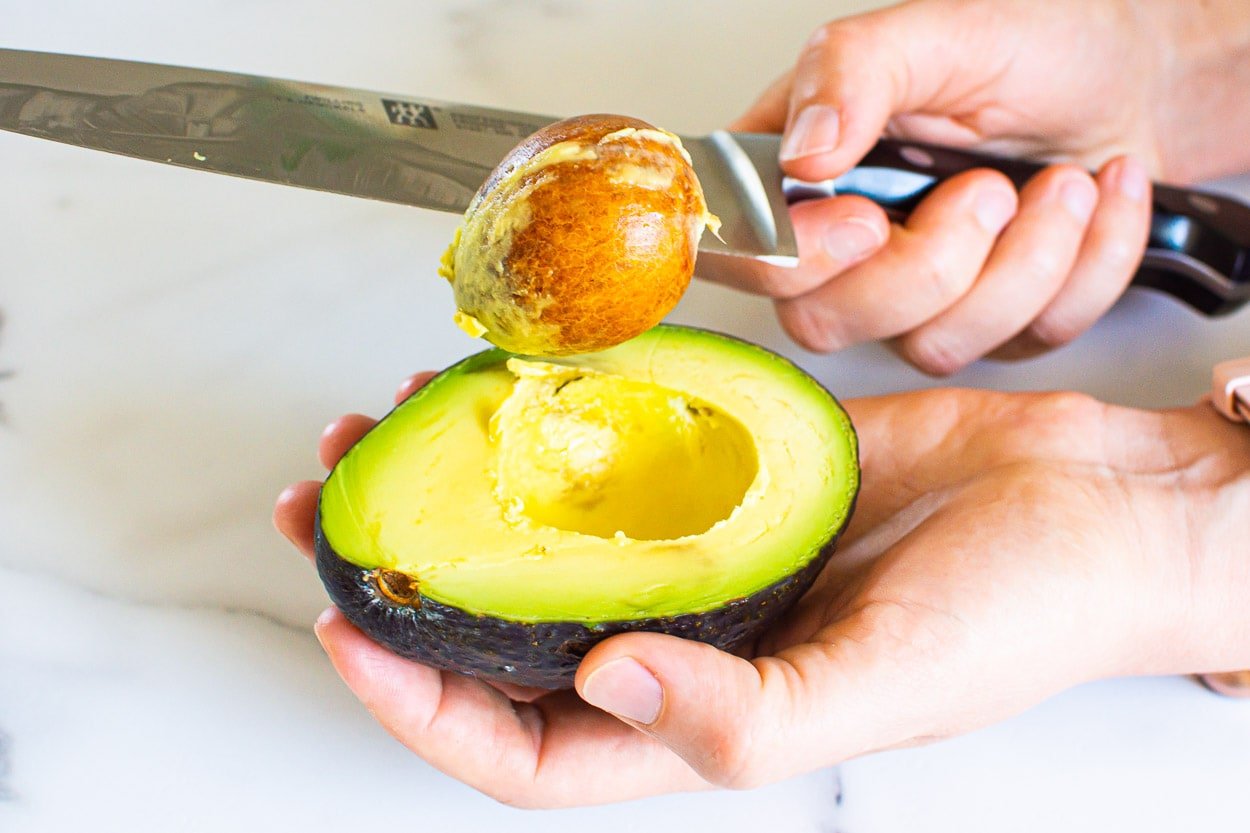 To remove the avocado pit: Use your knife to carefully but firmly stick into the pit and then twist to remove it. Then carefully lift and remove the pit from the avocado.
You can then use your thumb, pushing downwards off the blade or the corner of a bowl, to remove the pit from the knife.
To slice avocado: Hold the avocado in the palm of one hand, then use your knife to cut avocado into cubes. Make slices vertically and then horizontally as big as you'd like the cubes to be within the shell.
Do this gently, but with a little pressure. You will feel when your knife touched the outer shell, so avoid pressing hard enough to cut the skin.
Use a spoon to scoop out the avocado then, making sure to get the spoon as close to the skin as possible for the best results.
Recipe Tip
Or you can use a tablespoon to scoop the entire avocado from the shell and place it on a cutting board. Then cut through the avocado lengthwise 2-3 times, creating thinner sections. Then cube the avocado.
Tips for Best Results
Here are my top tips on how to cut an avocado pain free!
Use a good knife: A non-serrated blade with a sharp tip is best for creating the best cubes, slices, and other cuts of avocado.
Make sure the avocado is ripe enough: Not ripe enough, and the flesh will be hard to cut through. Too ripe, and it will be soft and mushy, not great for cubing or slicing. Check my tips below!
Remove the pit safely: Pit removal is the main cause of kitchen accidents, so follow my method for the best results.
How to Pick Ripe Avocado
We've probably all fallen victim to an avocado that seems ripe but then, upon slicing open, is definitely past its best. Here are the best ways to tell if an avocado is ripe:
Peek under the small stem: This is my favorite tip. If you look under the little stem nub, you can quickly tell the state of your fruit. If it's hard to pull off, the avocado is unripe. If it comes off easily and is green beneath, your avocado is ready. If it's browning beneath the stem, the avocado likely has brown spots and is overripe too!
Gently squeeze: This isn't a foolproof method but you'll be able to tell if it's rock hard or gives way too easily. Perfectly ripe avocados should have just a little give.
The color: I put this at the bottom of the list as there are different varieties of avocado with different coloring. In general, the avocados from my local store are ripe when dark on the outside with just a few specks of green. If they're very green, they're underripe. If they're completely dark, and starting to look wrinkled, then they're overripe.
How to Ripen an Avocado Faster
The slower method:
Pop the avocado in a brown paper bag with bananas, apples, and other ethylene-producing fruits to speed up the ripening process. This usually yields ripe fruit in 1-2 days.
For slightly slower results, you can simply place them besides other ethylene-producing fruit in an open fruit bowl.
To quickly ripen:
Wrap the avocado in tinfoil and bake in the oven at 200 F for between 10-30 minutes, or until it's softened. The time will depend on how hard it was to begin.
Once baked, allow the avocado to chill in the refrigerator, then chop and slice as needed!
Recipe Tip
Once ripened, move your avocados to the refrigerator. This will slow down the ripening process and give you another 2-3 more days before the fruit over ripens.
Tools You Will Need
Here are the best tools when learning how to cut an avocado.
Sharp knife: Use a non-serrated knife with a sharp tip. It doesn't need to be massive, but using a fairly long knife like chef's knife makes it easier when slicing the fruit in half. Avoid ceramic knives as they may shatter when removing the pit!
Spoon: To help scoop the flesh from the skin of avocado.
Kitchen towel: Optional for cutting an avocado beginners.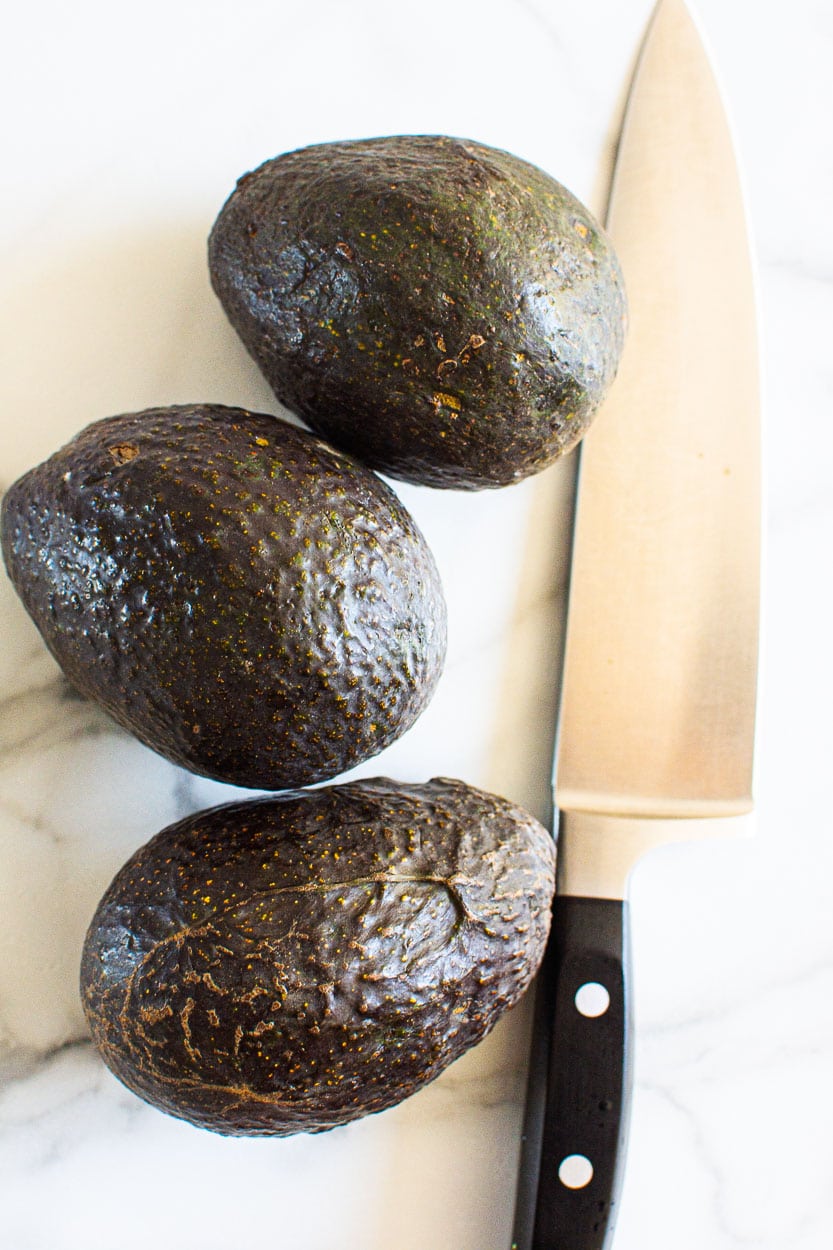 Serving Recommendations
Here are just a few ways to enjoy your cut up avocado:
Using mashed avocado: Avocado egg salad, guacamole and Greek yogurt guacamole. You can also enjoy avocado slices across toast, bagels, wraps, rice paper rolls, etc.
How to Meal Prep It in Advance
Store chopped avocado: Once chopped, it's critical to cover the avocado in lime juice or lemon juice as soon as possible, to stop it from browning.
Refrigerate the chopped avocado in the refrigerator for up to a day in an airtight container. Cover the avocado in water first to keep it for 2 days.
Store avocado halves: If you've sliced your avocado in half but want to save the other half of the avocado for later, I also recommend storing it flesh-side down, within water inside an airtight container. The water will stop oxygen from reaching the avocado flesh and keep it wonderfully green! Drain the water before using it.
Freeze: You can freeze the avocados whole, halved, in wedges, sliced or diced. For chopped avocado, spread the pieces (after coating in lemon juice) on a baking sheet and freeze until solid. Optionally cover with plastic wrap to stop oxidization during this process.
Then add the frozen pieces to a large ziplock bag, remove as much excess air as possible and freeze for up to 2 months. You can freeze whole avocados for between 4-6 months.
Allow the avocado to thaw on the kitchen counter for about an hour. Alternatively, you can buy frozen avocado. After freezing, the texture of avocado can change somewhat, so I prefer to use it mashed, within smoothies, etc.
FAQs
How do I keep an avocado fresh after cutting?
Avocado starts to brown almost immediately after the flesh is exposed to oxygen. The key to keeping it fresh is to reduce the oxidization. You can squeeze lemon or lime juice over it to keep it fresher for longer, too.
Is it best to slice or cube your avocado?
The simple answer is this depends on what you want to do with it. Both methods are easy once you know how to cut an avocado the best way. I prefer using avocado slices to spread over toast, wraps, spring rolls, etc. Alternatively, cubed avocado is great for serving in avocado salad and salsa, to top soups, in tacos, to garnish scrambled eggs or an omelette, and as a garnish. 
What to do if you cut an unripe avocado?
If you accidentally cut through an avocado that's not quite ripe yet, then the easiest way to 'save' it is to rub any exposed flesh with lemon or lime juice. Then place the avocado halves back together, wrap it tightly in plastic wrap and refrigerate until ripe. You may need to scrape off the top of the halves, which will have browned – but the flesh underneath should be fine!
More Easy How-To's
How to Cut an Avocado
Learn the best methods on How to Cut an Avocado in this easy step by step tutorial.
Instructions
To Open an Avocado
Holding avocado in a palm of one hand, cut in half lengthwise with a sharp knife.

Twist avocado halves in different directions to separate.

Holding avocado half in a palm of one hand, abruptly stick sharp end of the knife into the pit and twist it.

Carefully remove the avocado pit from the knife.
To Cut an Avocado Method #1
Holding avocado in a palm of one hand, cut into cubes inside the shell.

Scoop out with a tablespoon. Voila.
To Cut an Avocado Method #2
Scoop out entire avocado half from its shell using a tablespoon.

Using a sharp knife, cut lengthwise a few times horizontally and vertically.
Notes
Store: Avocado turns brown almost immediately getting into contact with oxygen. Squeeze lime or lemon juice over it and refrigerate for up a day in an airtight container. To store avocado for 2 days, add cold water, refrigerate and then drain before using.
Freeze: Yes you can. Freeze spread out on a baking sheet, then transfer to a large Ziploc bag, let air out, seal and freeze for up to 2 months. Thaw on a counter for about an hour. You can also buy

frozen avocado

.
Nutrition
Serving:
1
avocado
|
Calories:
322
kcal
|
Carbohydrates:
17
g
|
Protein:
4
g
|
Fat:
30
g
|
Saturated Fat:
4
g
|
Sodium:
14
mg
|
Fiber:
13
g
|
Sugar:
1
g