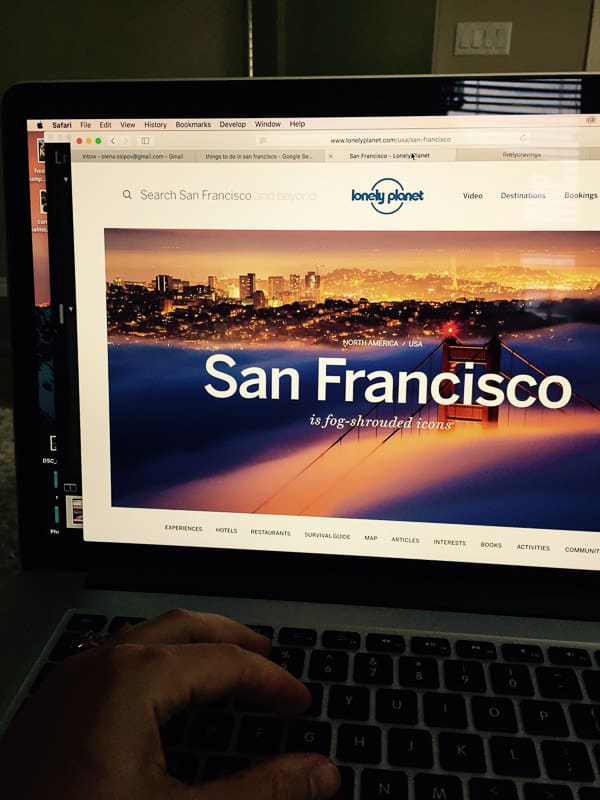 We are going to San Francisco and area this July! I'm open to all of your wonderful suggestions to keep me (you know me) and 2 boys (10 and 6 years old) happy. Here is what I have down so far.
Days 1 – 2: We are driving from Vancouver, BC and need to stop half way overnight to preserve the sanity. Any good place? Mountain St. Helen's? Rosenburg? Been to Portland before.
Days 3 – 5: We will be staying in Union Square in this hotel (surprise-surprise – complimentary wine hour at night). I have booked Alcatraz trip and plan on walking the Golden Gate bridge with the kids. Am I crazy? Should we drive it? Should I bring scooters for the boys to ride while we walk off doughnuts, so less whining?
Lombard Street? Chinatown? Baker Beach? AT&T park?
People, where to eat? Good and nothing crazy expensive because 1US$ = 1.40 CAD$. The scariest emoji ever goes here but life is damn short.
4th of July fireworks – what is the best place to watch? There will be fireworks, right?!
Day 6: I was planning driving inland down to Big Sur and come up on Hwy 1 to enjoy the beautiful views. However, is Hwy 1 partially closed? How can I still see Big Sur? Monterey? Santa Cruz? What is a good place to stay overnight passing Big Sur – I honestly am not interested in US$500 per night ocean views haha.
Day 7: Napa and Sonoma. Is there anything else to do besides knocking myself out with wine tasting? Any specific wine tour that is good? I was thinking visiting a few wineries and then check into a nice hotel with a pool for the boys. Yes? No?
Oh, and I AM driving through Amy's!
Day 8-9: Going home. Again, anything we should see off of Hwy 5 and a good place to stop half way home?
Thanks a bunch! Have a great weekend, guys, while I go rob the bank to fund my inner wanderlust.