Caprese Chicken Zucchini Skillet recipe is cooked in fresh tomato sauce, with melted fresh mozzarella cheese on top and garnished with basil.
For a low carb dinner, we also love this pesto chicken breast, tomato chicken and of course crazy popular Tex Mex chicken zucchini recipe.
Combining chicken and zucchini is one of my favorite summer dinners! This caprese chicken with tomatoes and zucchini skillet is no exception.
First, we make easy fresh tomato sauce with garlic, basil, and balsamic vinegar. Then we simmer cubed chicken and zucchini in it. Top it off with slices of fresh mozzarella cheese, wait until it melts, and top with more fresh basil and freshly cracked pepper. To die for!
Kids and husband gobbled up this chicken zucchini tomato recipe with spaghetti. They also love this pasta caprese and caprese pasta salad a lot! And I enjoyed probably 1.5 servings on its own. Winner, winner chicken dinner!
Why You Will Love This Recipe
Fresh ingredients: Using fresh produce and fresh basil really makes this chicken skillet shine and adds so much flavor! Fresh mozzarella is delicate, light and has a milky-fresh taste that adds to the fresh, light taste of this Italian meal.
Healthy low carb meal: Low fat chicken breasts, healthy zucchini, fresh tomatoes – only 17 grams of carbs per 2 cups serving!
Easy one skillet meal: Making dinner in one skillet means less time washing dishes and more time enjoying summer!
Ingredients and Notes
Fresh is really best for this light and flavorful caprese chicken zucchini tomato recipe!
Chicken: Boneless skinless chicken breast or chicken thighs cook time is a perfect match for delicate zucchini.
Zucchini or squash: Advice for summer – feel free to use dark green, light green, or yellow zucchini or squash. Doesn't matter. Any fresh summer squash works in this dish! The color does not matter, but choose smaller, thinner squash that is uniform in size for a total of 2 pounds.
Fresh or canned tomatoes: Fresh tomatoes are the best as we cook them down into sauce. But you can also use 28 oz of canned diced tomatoes – please drain them.
Fresh mozzarella cheese: Buffalo or fresh mozzarella cheese is a soft log-shaped white cheese in brine. It is traditional cheese used to make anything Caprese. Find this located (usually) in the deli area of your grocery store with other artisan cheeses.
Basil: Fresh basil adds incredible flavor to this caprese chicken skillet recipe, and dried wouldn't be the same. Use fresh parsley, if you wish.
Fresh garlic cloves: Fresh minced garlic is the best!
Pantry staples: Balsamic vinegar for depth of flavor, dried oregano for Italian taste and salt/pepper to season.
How to Make Caprese Chicken Skillet
Here is a quick overview how to make this chicken with zucchini and tomatoes.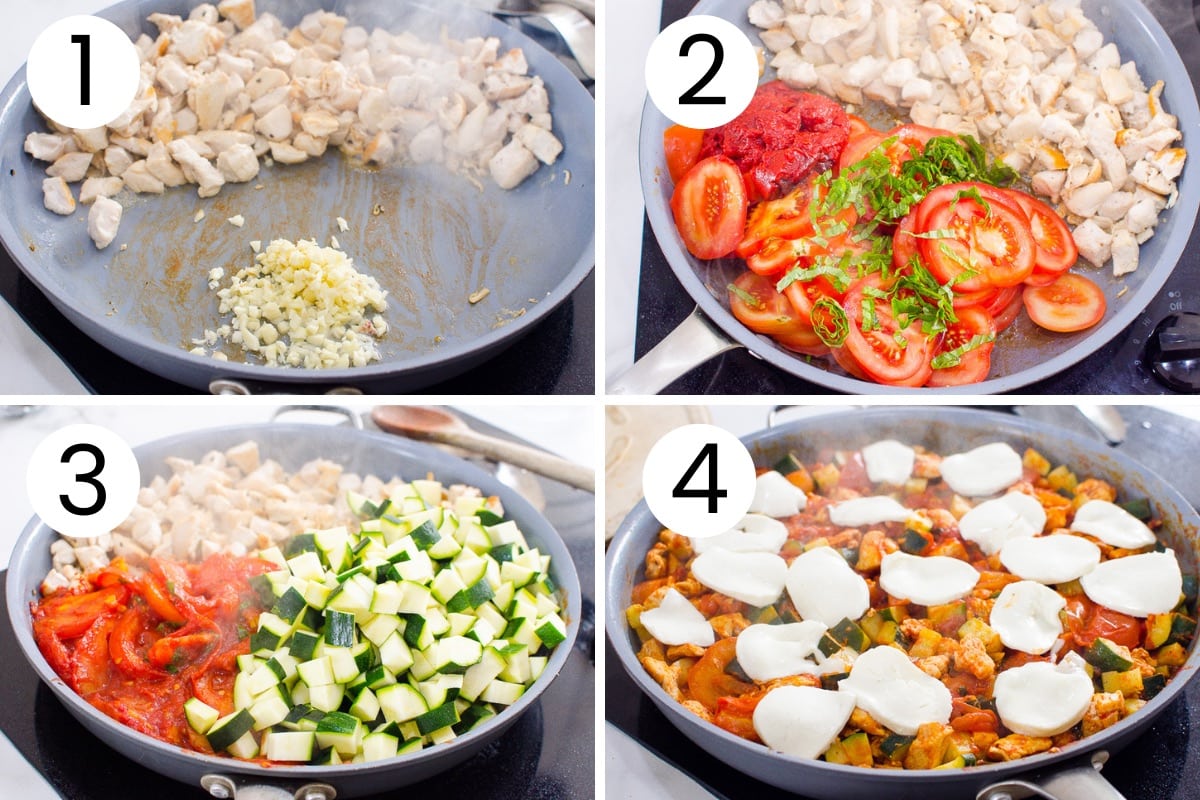 Prep and chop ingredients. This recipe moves fast, so be sure to have all ingredients ready to go.
Pick a large skillet 12″ – 14″ wide to cook this dish comfortably. I am using this skillet in 14″ size.
Cook chicken for about 10 minutes and push to the side – that's why a large skillet is handy.
On the empty side, cook tomatoes with garlic and spices – they will cook down into fresh and quick homemade sauce. Make sure this part is over the burner.
Add zucchini, stir with chicken and sauce, cover and cook for 12 minutes. Do not peek in.
Add cheese and cover to melt for 5 minutes. Again, do not peek in – let heat do its job.
Tips for Best Results
Here are my top tips to help you enjoy the best caprese chicken zucchini skillet!
Zucchini is ready when firm to the touch with a fork.
Do not overcook zucchini, as veggies will become soggy and dish watery.
If you don't have fresh mozzarella, use shredded regular mozzarella cheese.
No fresh basil? Use fresh parsley but not dried basil.
Tomato paste adds a depth of flavor. You can skip it, the dish will be still tasty but a bit less flavorful.
Variations
Diced onion: Add with garlic, could use red onion or sweet onion.
Sliced mushrooms: Use baby baby portobello mushrooms or white button mushrooms and add with zucchini.
Pesto: Stir in with zucchini, use homemade pesto or store bought pesto.
Sun dried tomatoes: Julienned or chopped sun dried tomatoes, stir in with zucchini.
Avocado: Sliced avocado could be added right before serving for extra creaminess.
Serving Recommendations
While this chicken with zucchini and tomatoes skillet could be considered a meal on its own for those enjoying lighter fare, a common question I get is "What can I serve with chicken caprese?". Try the following options to feed your hungry family.
Pasta: As a mom, I eat less carbs for dinner than my husband and boys. For them, I cook spaghetti and it becomes a true Italian dinner with Ukrainian twist.
Low carb: Alternately, you could serve with spaghetti squash to stay low carb.
Salad: A fresh side salad really will capitalize on using summer produce in your meal. Make lettuce salad, spinach salad or even try grilled romaine.
Potatoes: Again, when feeding hungry family members baked potatoes or mashed potatoes always fill them up!
Grains: Serve over rice or quinoa to soak up the juices.
Side vegetables: Green beans would also be delicious as a side.
How to Store and Reheat
Store. Refrigerate caprese chicken skillet leftovers in a glass airtight container for up to 3-4 days.
Do not freeze. Once thawed, zucchini will "leak" all liquid and become a mushy mess. If this recipe is too many servings for you, cut recipe in half and leftovers will keep well for next few days.
Reheat in a covered ceramic non-stick skillet on low-medium heat, for about 5-7 minutes. I wouldn't add any liquid or oil to it at first and then "play it by ear".
FAQs
Is this chicken zucchini tomato recipe low carb?
Yes! Total carbs per serving will be 17 grams.
Can I bake Caprese chicken skillet?
Yes. First, follow instructions how to bake chicken breast and then make your fresh tomato, zucchini and basil sauce in a skillet. Once chicken is done, pour sauce over your chicken breasts, top with fresh mozzarella and pop back in the oven until mozzarella is melted.
What is buffalo mozzarella?
Buffalo mozzarella is made from the milk of Italian Mediterranean water buffalo. It is very creamy and flavorful. If you are unable to find this amazing cheese, fresh cows-milk mozzarella can be substituted. Tip: look in the deli section of your grocer for fresh artisan cheeses.
More Chicken and Vegetables Recipes
Caprese Chicken with Zucchini and Tomatoes Skillet
Caprese Chicken Zucchini Skillet Recipe cooked in fresh tomato sauce, with melted fresh mozzarella cheese on top and garnished with basil.
Instructions
Preheat

large deep skillet

on medium heat and swirl 1 tbsp oil to coat. Add chicken, 1/4 tsp salt and pepper. Cook for 5 minutes, stirring once.

Move chicken to the side of the skillet and keep empty part over the burner. Add 1 tbsp oil, garlic and saute for 30 seconds, stirring frequently.

Add tomatoes, tomato paste, balsamic vinegar, oregano, 1/4 tsp salt and a handful of basil. Cook this "tomato pile" for about 5 minutes, stirring occasionally.

Add zucchini, stir everything together, cover and cook on low-medium for 12 minutes.

Lay mozzarella slices on top, reduce heat to low, cover and simmer for 5 minutes.
Notes
Store:

Refrigerate covered for up to 3 – 4 days. To reheat simmer on low heat in a skillet for 5 minutes covered.

To reheat:

Simmer on low heat in a skillet for 5 minutes covered. If you use non-stick skillet you should not need any water or oil to reheat the dish as zucchini will release water.

Freeze: Do not freeze.
Zucchini is ready when firm to the touch with a fork.
Do not overcook zucchini as veggies will become soggy and entire dish watery.
If you don't have fresh mozzarella, use shredded regular mozzarella cheese.
No fresh basil? Use fresh parsley but not dried basil.
Tomato paste adds a depth of flavor. You can skip it – still tasty but a bit less. 🙂
Nutrition
Serving:
2
cups
|
Calories:
377
kcal
|
Carbohydrates:
17
g
|
Protein:
37
g
|
Fat:
18
g
|
Saturated Fat:
7
g
|
Cholesterol:
106
mg
|
Sodium:
574
mg
|
Fiber:
5
g
|
Sugar:
11
g