Perfectly seasoned Cauliflower Stuffing has all the flavors of traditional stuffing but contains no bread! This low carb twist on the classic can be prepped in only 10 minutes.
Serve it with this turkey drumstick recipe, healthier gravy and fresh cranberry sauce at your Thanksgiving table.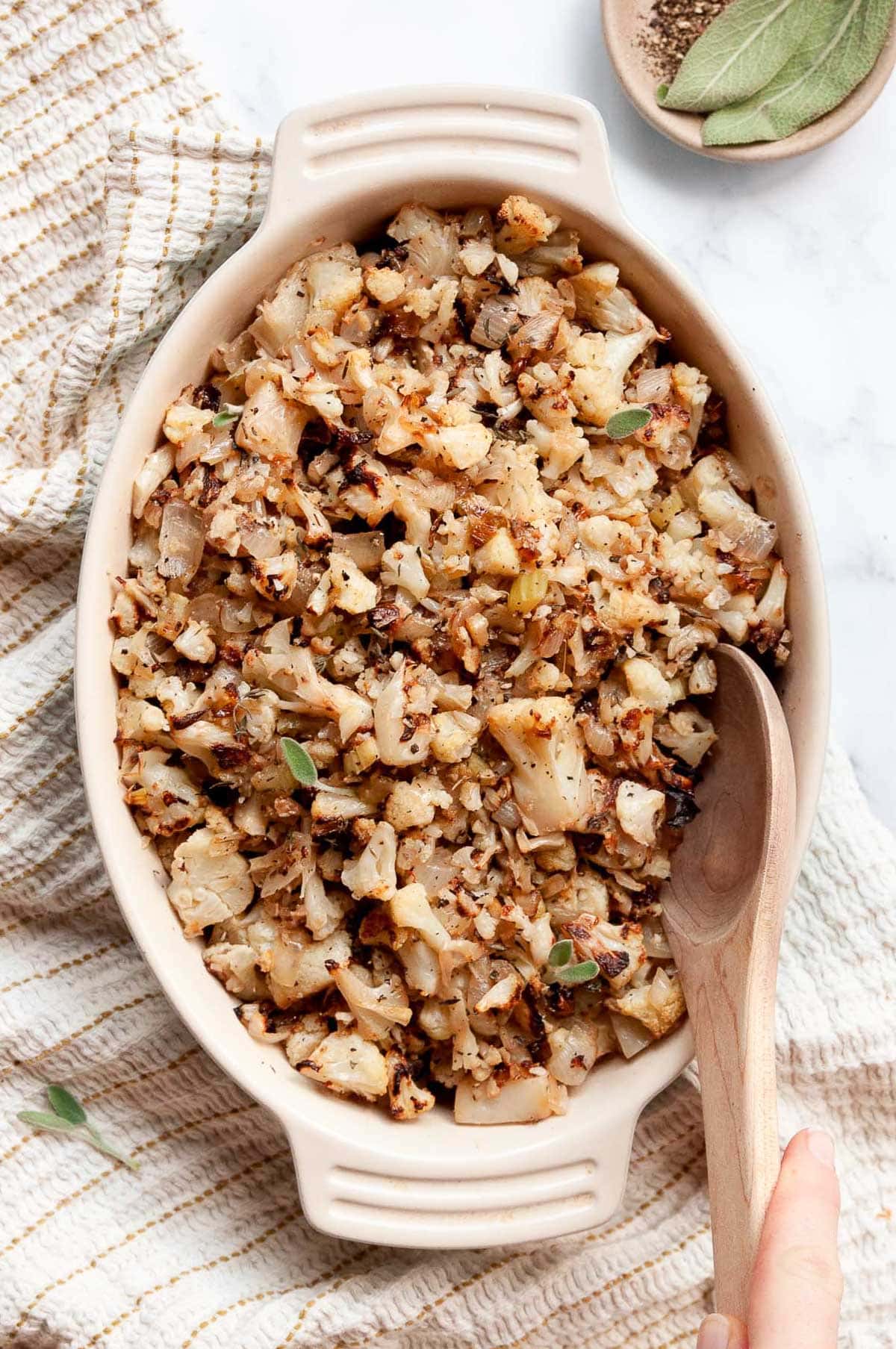 This savory low-carb cauliflower stuffing recipe is so nice at Thanksgiving holiday table or Christmas celebration! It contains no bread and is meatless, so anyone can enjoy it.
We just celebrated this holiday in my country and even kids loved this chock full of veggies holiday side dish thanks to butter. So, even traditional stuffing lovers will appreciate this alternative that uses cauliflower in place of bread.
Both thyme and sage add such a nice savory flavor! You can easily serve this recipe as a veggie side dish year round.
And while there is some minor veggie chopping involved, overall it's an easy recipe!
Why You'll Love This Cauliflower Dressing
Here is why I think it's simply the best:
It's a low carb stuffing: Also gluten free, paleo diet friendly and naturally vegetarian. Perfect for all your guests at the table!
Flavorful: Savory herbs, soft veggies, and caramelized cauliflower add the best taste and textures that mimic the flavor of traditional stuffing.
Traditional: While this isn't a classic carb heavy one, using traditional seasonings gives it that regular stuffing taste.
10 minutes prep: Then into the oven for hands off roasting time! It will be a new Thanksgiving favorite.
Ingredients and Notes
Is stuffing healthy? This Thanksgiving cauliflower stuffing is! It contains fresh simple ingredients that are then roasted to savory perfection!
Large head of cauliflower: About 3 pounds head which will make about 2 pounds of trimmed and cut into bite sized florets. Learn my best method on how to cut cauliflower easily!
Onion and garlic: Freshly minced garlic and sweet onion or white onion.
Celery: Celery stalks should be chopped into thin, small pieces. Fennel could be used for a different taste.
Seasonings: Dried thyme, ground sage, salt and black pepper. Make sure your spices are fresh, nothing will ruin the intended taste more than a stale spice.
Melted butter: You could use olive oil or ghee, but unsalted butter will provide a richer flavor.
Soy sauce: The secret ingredient that adds so much savory taste!
Fresh parsley: For garnish, adds vibrant color and fresh taste.
How to Make Cauliflower Stuffing
Apart from chopping the vegetables, this homemade version of stuffing with cauliflower is relatively easy to make!
To start, preheat oven to 450 degrees F and line 2 large rimmed baking sheets with parchment paper.
Season everything: First, you want to add chopped fresh cauliflower florets, veggies and spices in a large bowl and stir with a wooden spoon until well mixed. This ensures even coating. Then melt butter in microwave and pour on top along with soy sauce, and stir again. Don't dump everything at once.
Transfer to a pan: Divide between previously prepared 2 baking sheets and flatten into a single layer, spreading around the sheet evenly. This will help to roast the veggies versus steaming them. So, take your time here.
Roast: Bake for 25 minutes for soft stuffing and 30 minutes for more crispy caramelized onions and golden brown cauliflower florets with charred edges. A matter of personal preference.
Garnish and serve: Transfer to a serving bowl, garnish with fresh parsley and serve!
Variations
Portobello mushrooms: Chop two portobello mushrooms into bite-sized pieces and add to the sheet pan only after cauliflower has roasted by itself for 15 minutes.
Riced cauliflower stuffing: Prepare recipe, except make cauliflower rice instead of chopping into florets. Roast your onion and celery mixture for 15 minutes, then add cauliflower rice. Cook 5 minutes, stir, than cook for about 10 minutes more.
Other veggies: Carrots would be delicious! Add with celery, carb count will change.
Pecans or cranberries: Toss in 1/4 cup pecans or dried cranberries at the end with the parsley.
Additional herbs: Poultry seasoning or dried rosemary would be delicious!
Fresh herbs: Use 1/2 tablespoon of fresh thyme, fresh rosemary or fresh sage instead of dried herbs for more flavorful cauliflower stuffing!
Bread: It will no longer be a low carb stuffing, but you could add a few bread cubes to roast with the cauliflower.
Expert Tips
Small head cauliflower: Just follow the recipe, add a bit less salt but keep other measurements the same. Even more flavor!
Prep ahead: Chop all fresh vegetables and store in an airtight container in the refrigerator. When ready to make for your Thanksgiving dinner, combine with seasonings and bake as per recipe directions.
Easy clean up: Line pan with parchment paper for easy clean up! I prefer it to a silpat on a busy cooking day because it's disposable.
Baking time: If you like soft cauliflower, roast for 25 minutes. If you enjoy cauliflower with crispy, charred edges roast 30 minutes.
Serving Suggestions
Obviously this healthy stuffing recipe makes an excellent choice to serve as a Thanksgiving side dish! Here are a few pairing suggestions:
Instant Pot sirloin tip roast
Also this is not only Thanksgiving stuffing! It is so tasty, you can serve it beyond November and December, basically year round with your favorite mains.
For a meatless meal, try topping it with a fried egg!
How to Store Cauliflower Stuffing
Refrigerate leftover stuffing in an airtight container for up to 4 days. Reheat in the microwave until warmed through.
Optionally, freeze leftovers in an airtight container for up to 3 months. It might be a bit soggy, so this wouldn't be my first choice.
FAQs
Can I use frozen cauliflower?
No, I don't recommend to use frozen cauliflower. If you would like to save time, purchase pre cut cauliflower in the refrigerated section at the grocery store.
How can I make this ahead of time?
Assemble, bake your roasted vegetables and then store in the refrigerator up to 4 days in advance.

When ready to serve, reheat in the oven at 350 degrees F for 20-30 minutes. If your baking dish is ceramic or glass be sure to bring it to room temperature first so it doesn't shatter in the oven.
Can I add meat to this stuffing?
Yes. Cauliflower stuffing with sausage would be even closer to a classic stuffing! Brown your favorite pork, chicken, or turkey sausage on the stovetop and roast with cauliflower. Your cooked sausage will get crispy and browned!
Can I make this vegan?
Yes. You could use olive oil, vegan margarine or vegan butter. You may need to reduce salt if the dairy free butter contains added salt.
Can I use this is as turkey stuffing?
Maybe. While I haven't tried this, you could try making the recipe, then stuffing it into the bird. The end results will be very soft, though, and may not resemble the recipe as intended. It could be a bit mushy!
More Holiday Side Dish Recipes
You may also love this list of over 50 healthy Thanksgiving recipes!
Cauliflower Stuffing
Savory Cauliflower Stuffing with classic stuffing flavor but contains no bread! A low carb alternative, perfect for the holidays.
Instructions
Preheat oven to 450 degrees F and line 2 large rimmed baking sheets with parchment paper.

In a large bowl, add cauliflower, onion, celery, garlic, thyme, sage, salt and pepper. Stir with a wooden spoon until well mixed.

Pour soy sauce and melted butter on top, stir and divide between previously prepared 2 baking sheets and flatten into a single layer, spreading around the sheet evenly.

Bake for 25 minutes for soft cauliflower stuffing and 30 minutes for more crispy and charred edges. A matter of personal preference.

Transfer to a serving bowl, garnish with parsley and serve.
Notes
Store: Refrigerate in an airtight container for up to 4 days. Freeze: Freeze in an airtight container for up to 3 months. It might be a bit soggy, so wouldn't be my choice.
Nutrition
Calories:
120
kcal
|
Carbohydrates:
10
g
|
Protein:
4
g
|
Fat:
8
g
|
Saturated Fat:
5
g
|
Trans Fat:
0.3
g
|
Cholesterol:
20
mg
|
Sodium:
506
mg
|
Fiber:
4
g
|
Sugar:
4
g