Low carb cauliflower bread recipe that is an alternative to traditional breadsticks. These homemade cauliflower breadsticks are flavourful, cheesy and with easy to follow step-by-step instructions. Yes, this recipe is foolproof, just like my so popular cauliflower pizza crust.
However, I won't lie and warn you that it is a bit time consuming, so I highly suggest to double the recipe. But these cauliflower breadsticks will come out right, you will be able to pick them up by hand. I know you are wondering about that – the answer is "YES".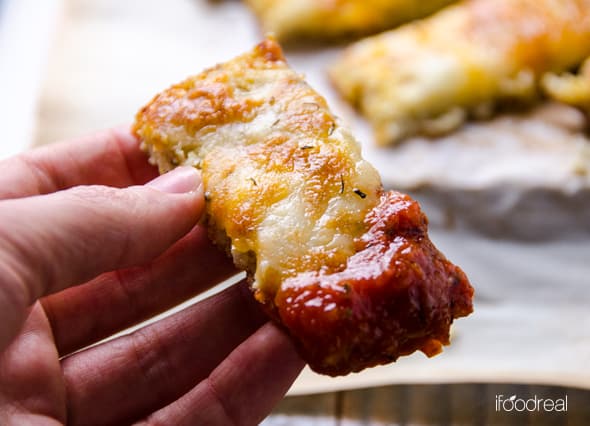 I made 2 batches in a row, just to make sure the recipe works. If you have attempted a cauliflower pizza or breadsticks recipe before without any luck, this recipe will change the situation. There must have been a reason why it didn't work, more likely you didn't squeeze the water from cooked cauliflower well enough.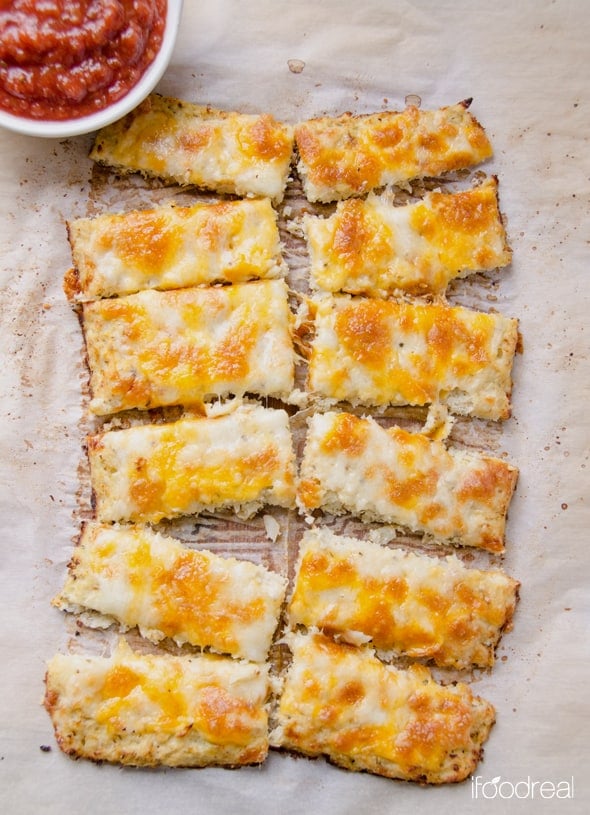 How to Make Cauliflower Breadsticks
You start with a large head of cauliflower, 7″ – 8″ wide, about 3 – 3.5 lbs. If you are serving 2 or more people, I recommend do double the recipe. These breadsticks are so good and guilt free, they disappear fast. Chop cauliflower and process in a food processor until "rice" texture. Do not make a cauliflower mash. Alternatively, you could grate cauliflower using simple boxed grater.
You can use store bought cauliflower rice as well, 1 bag should do it. These days it's widely available in Walmart, Trader Joe's, Costco etc. If you are looking for more cauliflower rice recipes, see my cauliflower rice recipes and specific Trader Joe's cauliflower rice recipes posts.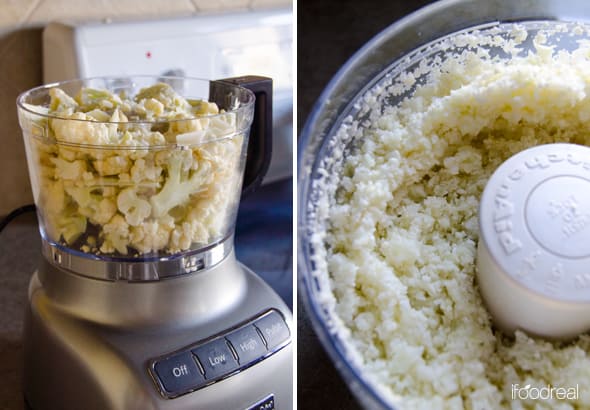 Place cauliflower in any oven proof baking dish and bake for 20 minutes. I used Pyrex glass pie dish. Alternatively, you could microwave or steam it. The idea is to cook the cauliflower, so it releases the moisture and we squeeze it out afterwards.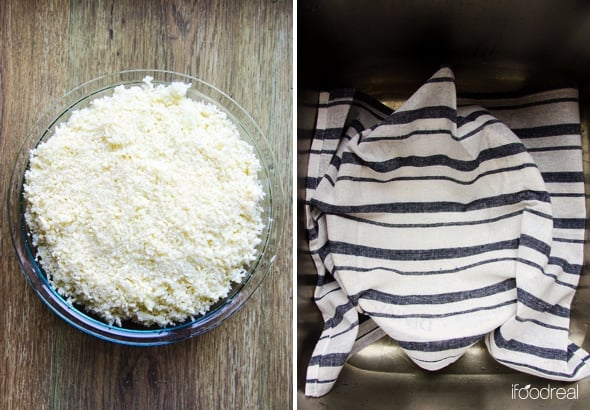 Line bowl with linen kitchen/tea towel. I prefer it to a cheesecloth because I always have towels on hand and it's easy to throw a towel in the washer. In fact, now I have a designated towel for squeezing zucchini when I'm making crustless zucchini quiche, and cauliflower "bread" dishes.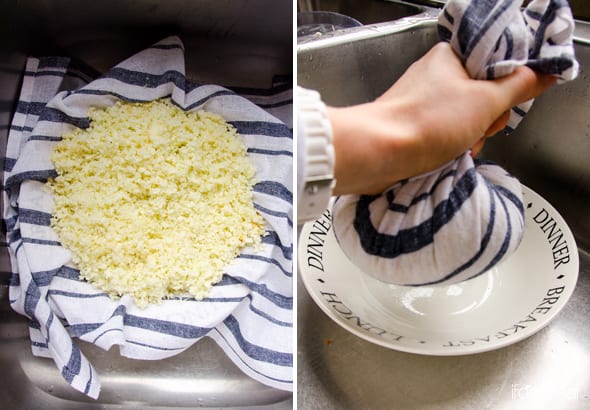 Then you grab towel by the corners, holding with one hand just below the corners, and start squeezing liquid out with another hand. The process will take about 3 – 5 minutes and you should squeeze about 1 cup of liquid. Use a measuring cup as a point of reference. If liquid is hot, let the cauliflower mash cool down a bit and proceed again.
Just showing you that kitchen towel works.
Here you can see, from right to left: cauliflower "ball" before squeezing, after squeezing and liquid squeezed out.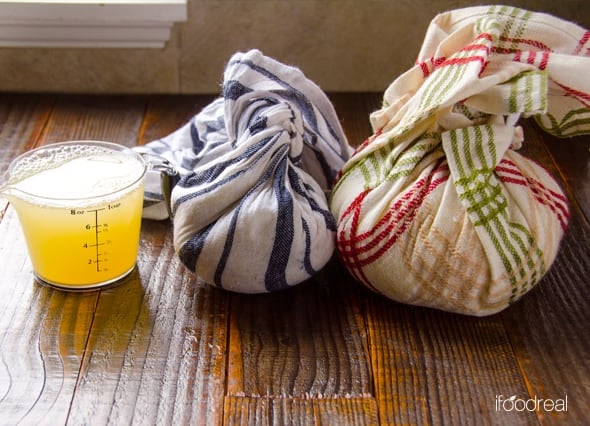 Open the towel and voila: you got yourself some pretty "dry" cauliflower. Add seasonings to it as per recipe. I used egg whites instead of an egg and it worked. Any cheese works. Full or low fat, Mozzarella or Tex Mex, or even Parmesan. Use grated or shredded cheese and when measuring, do not pack.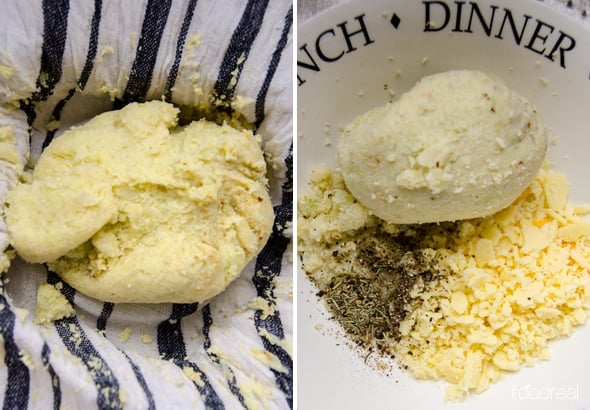 After you make the "dough", transfer it onto any baking sheet lined with parchment paper. The "dough" won't be sticky and that's OK. Egg whites and cheese will act as a binder during the baking process.
I didn't spray parchment paper with cooking spray, and my cauliflower breadsticks didn't stick. More than that, parchment paper underneath the breadsticks was moist after baking. However, some people have reported their cauliflower breadsticks sticking to parchment paper, so if in doubt – spray with cooking spray.
Form a rectangle, using your hands, approximately 9″ x 7″ in size and 1/4″ thick. Press "dough" a bit to make it stay together and use spatula to make the edges straight. Do not worry, the egg whites and cheese will bind everything together during the baking process. It won't fall apart.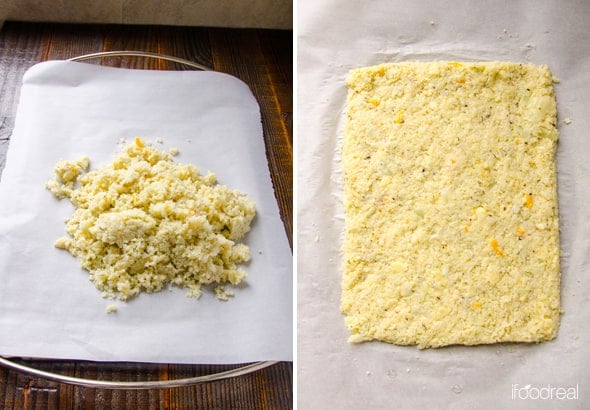 And bake. All ovens vary. I own simple electric oven and it took the breadsticks 18 minutes. Just watch it => when you see the "dough" becoming golden brown on top, it's time to take it out. Then you top the breadsticks with cheese and bake for another 5 minutes until cheese has melted, and then broil for a nice golden brown crust.
Remove breadsticks from the oven and transfer to a cutting board, holding by the ends of parchment paper. Let breadsticks cool down for 5 minutes before cutting, if you can. I waited with the first batch and the breadsticks were easy to cut. With the second one I didn't and it was a bit of a mess. Use serrated/bread knife to cut into 12 breadsticks.
How you serve these guys is totally up to you. I'm just going to give you a few ideas. Serve with warm marinara sauce. Any clean/healthy/organic store bought marinara sauce works. Or you can make your own and that's what I did. My mom makes this Ukrainian type of salsa – adjika recipe. So I combined it with some tomato paste, dried thyme and oregano. Just use what you have. No need to spend money.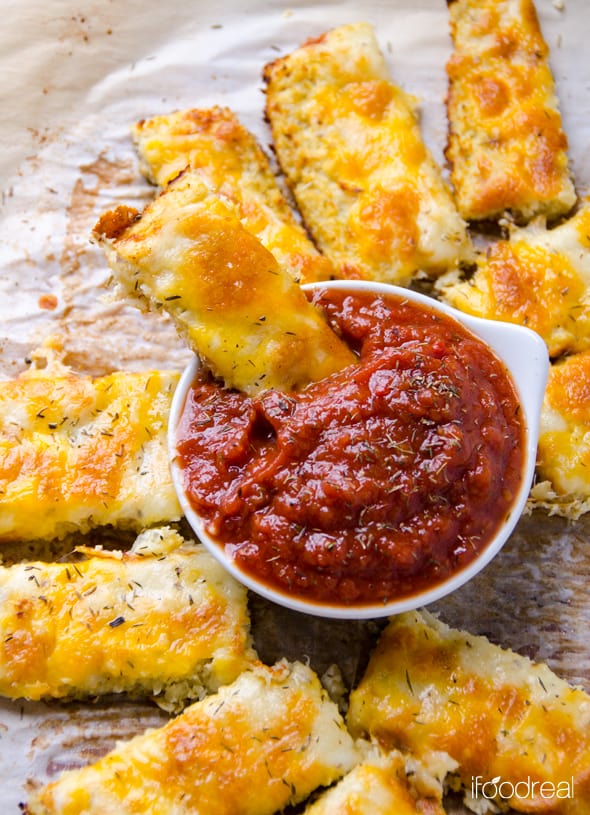 Another idea is to make these cauliflower breadsticks even lighter by skipping the cheese topping. And that's what I did with my second batch. Below I have included 2 nutritional infos:
1. Breadsticks without the cheese topping.
2. Full on with cheese.
These cauliflower breadsticks turned out delicious!!! Full of flavour and cheesy. They hit the spot and satisfy the craving without wrecking your daily macros/nutrition. That's if you care about that, then make sure to check out my low carb cauliflower rice recipes.
You can have 5 – 6 of these and still have consumed very little calories, fat and carbs. Perfect healthy alternative for binge eating weekend get-togethers with friends.:) The only difference is you stay on track and bring your friends here to try your recipe.
Enjoy!
Print
Cauliflower Breadsticks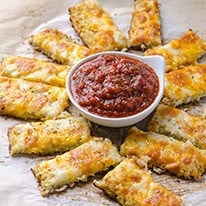 Cauliflower Breadsticks Recipe made with homemade or store bought riced cauliflower, egg whites or eggs, and cheese for a low carb cauliflower bread recipe that is foolproof with step by step instructions.
Author:
Prep Time:

7 minutes

Cook Time:

30 minutes

Total Time:

37 minutes

Yield:

12 servings
Instructions
Preheat oven to 375 degrees F. Rinse cauliflower, remove outer leaves and separate into florets with a paring knife. Place cauliflower florets in a food processor and process until "rice" texture. Some coarse chunks are fine.
Place in an ovenproof baking dish (I used Pyrex pie dish) and bake for 20 mins. Remove cooked cauliflower from the oven and transfer to a bowl lined with a tea/linen towel. Let the cauliflower cool down a bit until it is safe to touch, about 15 minutes.
Fold the towel holding by the ends and squeeze the liquid out of the cauliflower "ball" as hard as you can. Be patient and do this a few times until barely any liquid comes out. I squeezed out 1 cup of liquid. Second photo, from right to left: before squeezing, after squeezing, liquid squeezed out.
Increase oven T to 450 degrees F. Transfer cauliflower to a mixing bowl along with egg whites, 1/2 cup cheese, herb seasoning, black pepper, pinch of salt and mix to combine.
Transfer cauliflower mixture onto the baking sheet lined with unbleached parchment paper. Flatten with your hands into a rectangle, approximately 9″ x 7″ size and 1/4″ thick.
Bake for 18 minutes, remove from the oven and top with remaining 3/4 cup cheese. Bake for another 5 minutes and then broil until cheese turns golden brown. Cut into 12 breadsticks and serve hot with warm marinara sauce, if desired. P.S. For a lighter version, do not top with cheese.
Store: Refrigerate covered for up to 2 days. You can also freeze the breadsticks tightly wrapped in plastic, for up to 1 month. Thaw on a counter or in a microwave.
Notes
*Some people have reported their cauliflower breadsticks sticking to parchment paper, so if in doubt – spray with cooking spray. Mine didn't.
★ Did you make this recipe? Please give it a star rating in the comments.