50 Healthy Thanksgiving Recipes is a collection of classic holiday dishes you know, love and that are good for you. Turkey, veggie side dishes, salads, dessert and make ahead breakfast.
And what would Thanksgiving be without an Instant Pot?! 🙂
Eating healthy on Thanksgiving day is possible. In fact, it is easier than you think. If you know me, you know I believe in eating real whole foods.
Here I have compiled an array of your favorite classics you grew up eating every Thanksgiving. Just made more healthy. 🙂 From turkey to mashed potatoes to even a pumpkin pie, you can truly enjoy a holiday without feeling guilty the next day.
All the recipes are broken down into sections for easy use. Enjoy and happy Thanksgiving!
Healthy Appetizers and Soups
This section is small because I want you to save room for the good stuff.:)
This Healthy Spinach Dip Recipe is made with yogurt, twice more spinach and four times less mayo. The result is the same creamy and flavorful spinach dip you know. It is a super easy appetizer that tastes incredible without the extra calories.
2 Ingredients Parmesan Mushrooms are baby bella mushroom caps stuffed with Parmesan cheese. Healthy and easy mushroom appetizer in 15 minutes!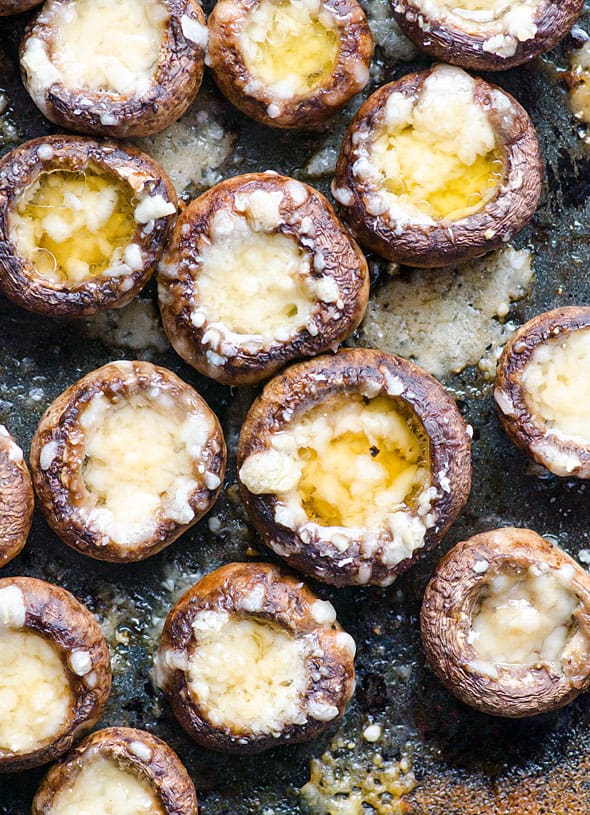 Healthy Butternut Squash Soup with simple ingredients, in one pot and in 30 minutes. The creamy goodness and warm spices are so comforting on a chilly fall or winter day.
Make Ahead Breakfast
Make ahead breakfast for Thanksgiving or Christmas morning is where it's at! Spend time cozying up with your family while your "prepared the day before" breakfast is bubbling in the oven.
These Healthy Cinnamon Rolls are fluffy wholesome buns with healthy frosting and 4 times less sugar than Cinnabon.
Make this Quinoa Breakfast Bake Recipe with berries for a week of healthy and easy breakfasts or for a holiday morning. Serve warm with creamy yogurt and come back to thank me after.
This Healthy Breakfast Casserole is delicious, easy and has no bread. Make ahead for a crowd, meal prep or clean out the fridge. This egg bake is veggie, protein and flavor packed.
Sweet Potato Egg Casserole with shredded sweet potato, eggs and spinach. Make ahead healthy egg casserole perfect for meal prep breakfast, brunch and holidays.
Turkey, Chicken and Meat
Turkey is not the only star of the show. We take more lean turkey and chicken breasts and make them juicy and flavorful. Don't feel like poultry? Make lamb or salmon.
Serve this juicy Boneless Turkey Breast Roast for Holidays instead of a turkey. Herb crusted and stuffed with garlic it is a winner every time! Or enjoy as a healthy sandwich meat year round.
Roasted Turkey Breast comes out incredibly juicy inside, with crispy skin and flavorful with simple ingredients like garlic and dried herbs. It is perfect for small gatherings during Thanksgiving and Holidays.
Chicken Stuffed with Brie, Spinach and Cranberries makes clean and simple dinner or a fancy chicken recipe for any occasion. Moist, flavourful and juicy.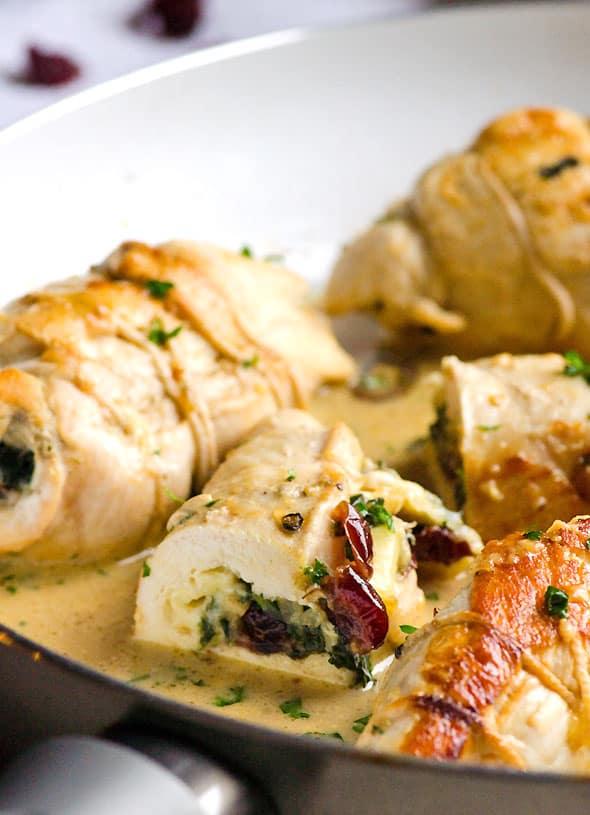 How to cook perfect boneless leg of lamb roast every time. Basic EASY recipe anyone can make!
Easy Baked Salmon in Foil with simple seasonings in 20 minutes. Healthy, moist and delicious dinner even picky eaters will enjoy.
Nothing screams fall like Stuffed Acorn Squash with ground turkey, spinach and the perfect blend of spices. This recipe looks so fancy but so easy to make. And tastes even better!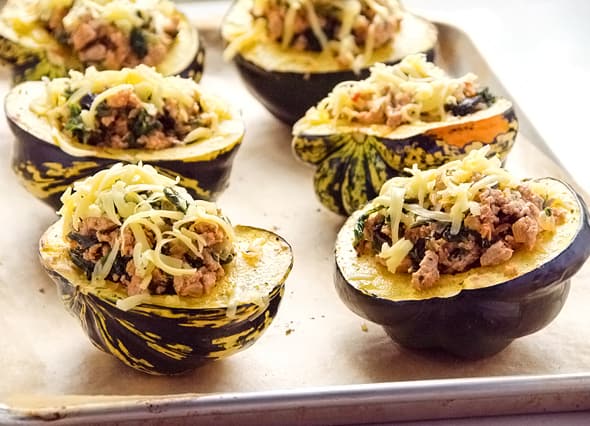 Healthy Cranberry Sauce with 3 simple ingredients and refined sugar is not one of them. Easy and tasty cranberry sauce from scratch. Perfect addition to your Thanksgiving turkey with gravy and mashed potatoes.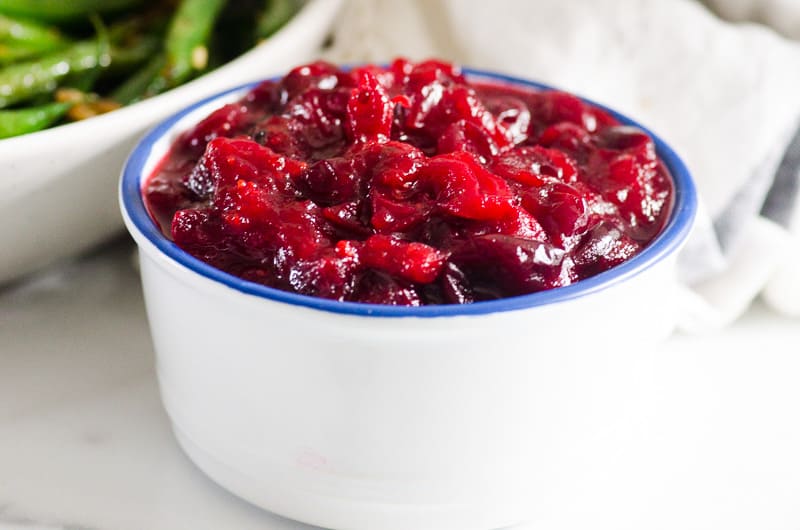 Turkey Gravy Recipe made easy and healthy with or without drippings. Silky smooth, perfectly rich and the best gravy for your mashed potatoes and turkey!
Healthy Veggie Sides
When it comes to mashing, roasting and sauteing vegetables, mashed potatoes are just the beginning. I like my veggies not overcooked, with a lot of flavor and yet healthy. This is where we exercise moderation. Did I mention bacon? 🙂
The Best Healthy Mashed Potatoes my Ukrainian way. Creamy, fluffy and delicious without 2 sticks of butter.
Cauliflower Mashed Potatoes is easy and delicious low carb alternative to traditional mashed potatoes, but just as smooth and creamy.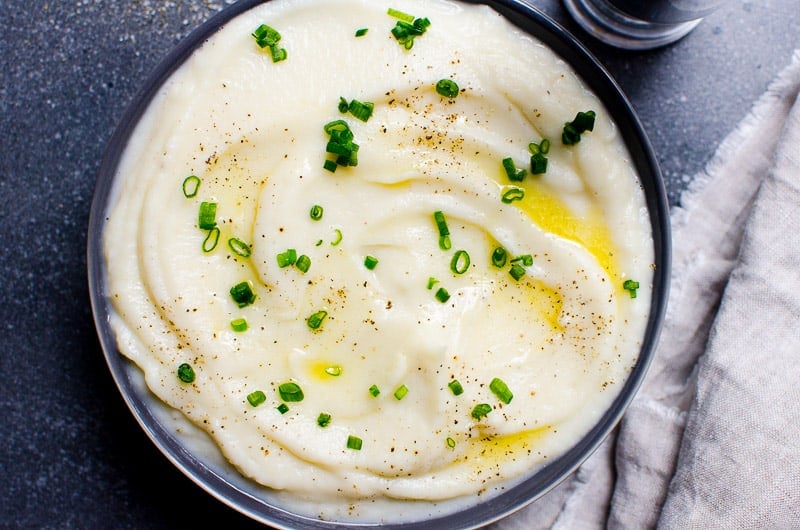 Mashed Sweet Potatoes are unbelievably fluffy, creamy, healthy and so easy to make. Delicious side dish for a weeknight dinner or a holiday table. These are so good!
Garlic Green Beans not only taste incredible, but are super easy to make. Fresh green beans, butter/olive oil and garlic sauteed in a skillet make for the perfect healthy side dish year round or for your holiday table.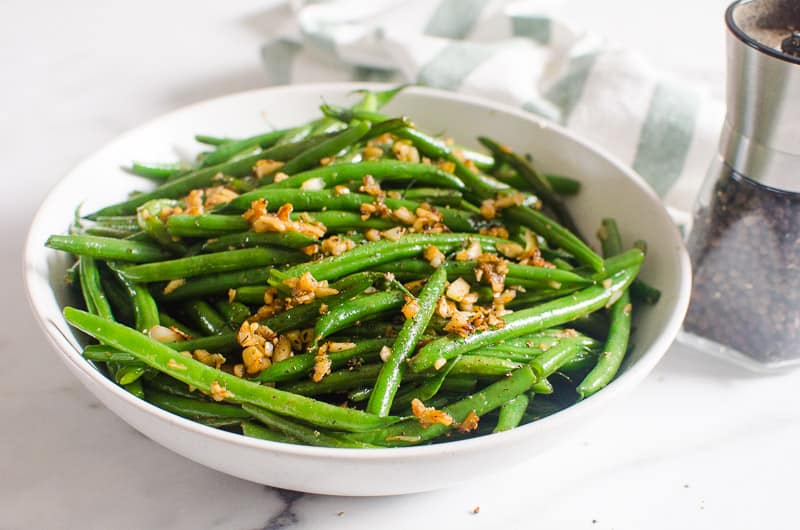 Roasted Cauliflower is made with garlic and olive oil, then baked until nutty and caramelized. It is such a simple way to make flavorful cauliflower.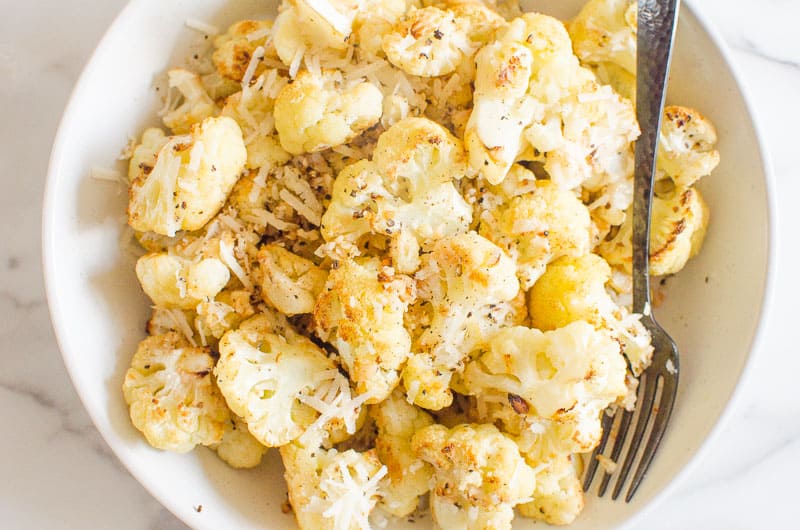 Super simple Roasted Brussels Sprouts are baked until they are crispy on the outside and buttery soft on the inside. This is a delicious and easy fall side dish that will help you eat more vegetables.
Cauliflower Risotto with brown mushrooms and cauliflower rice sautéed in flavourful broth in 15 minutes. Hearty and healthy low carb dinner with amazing reviews.
Roasted Sweet Potatoes with simple warm spices, soft inside and crispy outside are perfect as a side dish, in a wrap or salad. These sweet potatoes cubes melt in your mouth and satisfy a serious savory craving in a healthy way.
Perfect Roasted Asparagus every time plus tips on how to store, prep, roast and season this healthy side dish. You will never have to eat limpy and mushy asparagus again.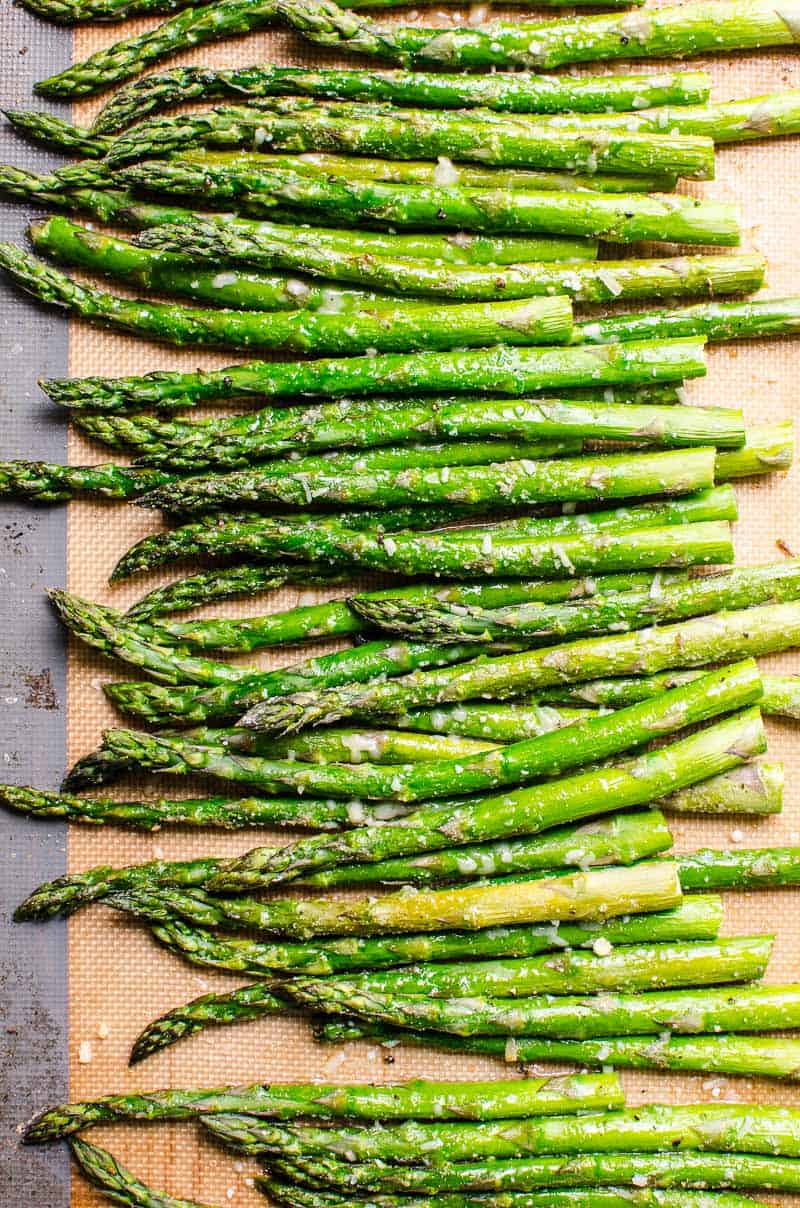 Sauteed Brussels Sprouts with bacon, pecans, garlic and maple syrup make healthy finger licking side dish. On Thanksgiving or a busy weeknight, brussels sprouts come to the rescue as they are easy and quick to cook.
Healthy Casseroles
Delicious and healthy Thanksgiving casseroles can be made without canned soups, marshmallows and dehydrated packet mixes.
Healthy Green Bean Casserole made from scratch with Parmesan pecan onion topping. Low calorie, low sodium and light healthy alternative without mushroom soup or breadcrumbs.
Healthy Sweet Potato Casserole with crunchy pecan sugar topping is melt in your mouth, delicious and comforting casserole for your Holiday table without the guilt. Bonus – can be made ahead and frozen. You're welcome!
Healthy Mac and Cheese in one pot in 15 minutes. Creamy, cheesy and flavorful and as healthy as it gets. No weird ingredients because life is short, friends.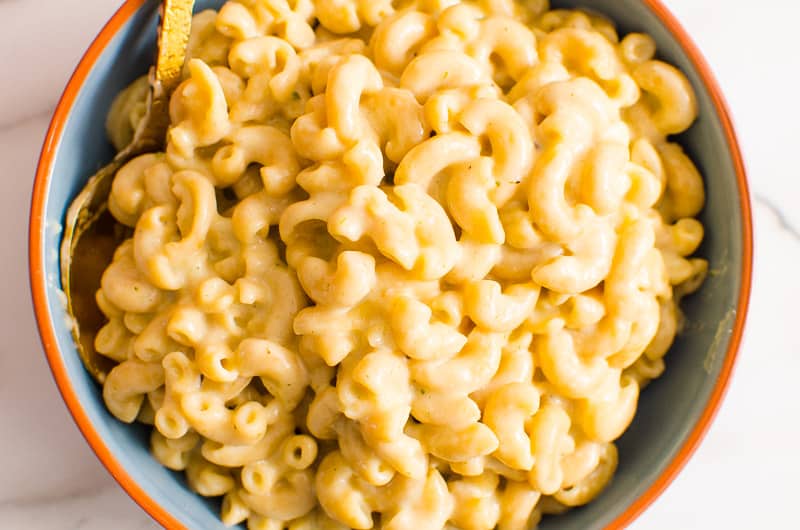 Salads
I love a good salad! However, the last thing you need is a complicated salad recipe on a busy Thanksgiving day. Most of these salads can be made ahead and do not contain many ingredients or have blender made salad dressings.
Creamy Mexican Kale Salad with raw kale, black beans, corn, cilantro and creamy cumin flavoured avocado dressing.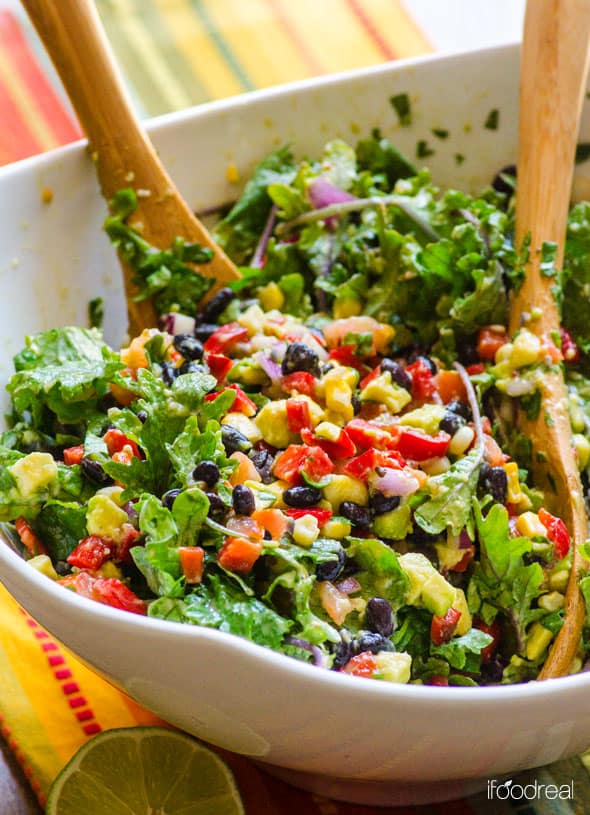 Brussels Sprouts Salad with thinly sliced brussels sprouts, toasted almonds, real Parmesan cheese shavings and easy lemon garlic dressing.
Spinach Salad with eggs, tomatoes, cucumbers, sesame seeds and easy healthy salad dressing. Simple recipe for a weeknight or a celebration table. I promise it is one of the easiest salads you will ever make!
Arugula Beet Salad with zesty greens, simple candied pecans, crumbled feta and easy balsamic dressing. If you are looking for an easy way to eat more beets, this beet salad recipe is the one. It will win you over, even if you don't love beets!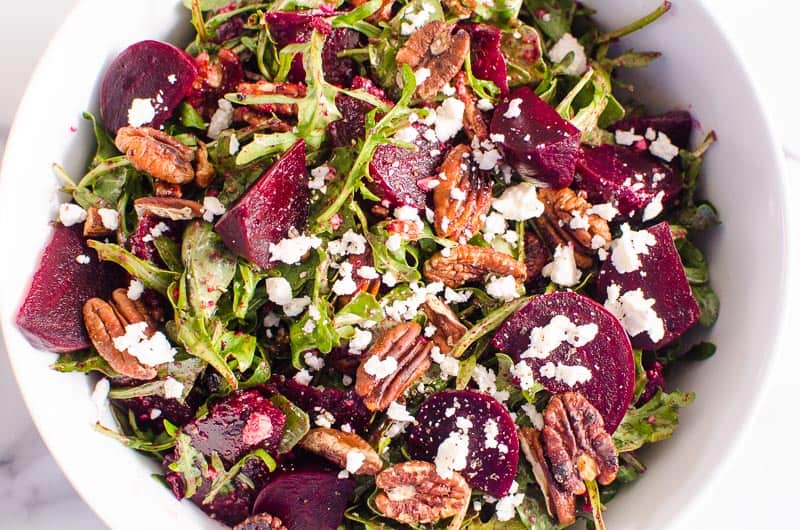 Cozy Kale and Quinoa Salad with apples, walnuts and cinnamon dressing. Superfood fall in a bowl tasty any day!
The Best Broccoli Salad combines fresh broccoli, crispy bacon, dried cranberries, sunflower seeds, shredded cheese and creamy dressing. This easy salad is the best of both worlds – healthier and flavorful.
This Cauliflower Potato Salad is low carb salad with a lot of flavor. It will blow your mind. It's just brilliant!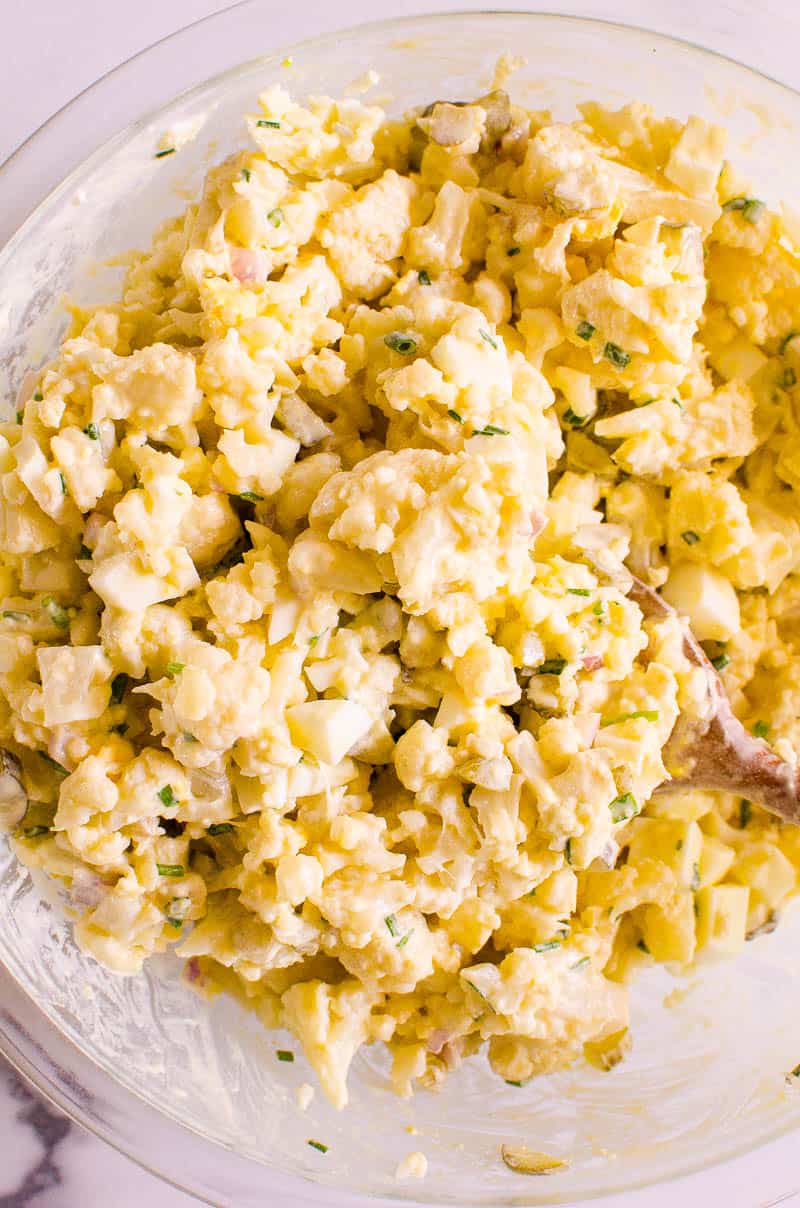 Flavorful and easy (no massaging) Lemon Kale Salad with toasted nuts and fresh Parmesan cheese, tossed in lemon and garlic dressing. Hands down, one of my favorite leafy green salads ever!
Instant Pot Recipes
Are you a lucky Instant Pot owner? If yes, electric pressure cooker can save you precious stove and oven space on a busy Thanksgiving day. And food comes out just as delicious with minimal prep. Instant pot is way faster, but just as convenient as using a slow cooker.
Instant Pot Sweet Potato Casserole is fluffy souffle topped with delicious and crunchy candied pecan topping. Made from start to finish in your electric pressure cooker. So convenient on a busy Thanksgiving day!
Instant Pot Baked Potatoes come out fork tender, perfectly fluffy in your pressure cooker in half the time. This is foolproof recipe for any size of potatoes.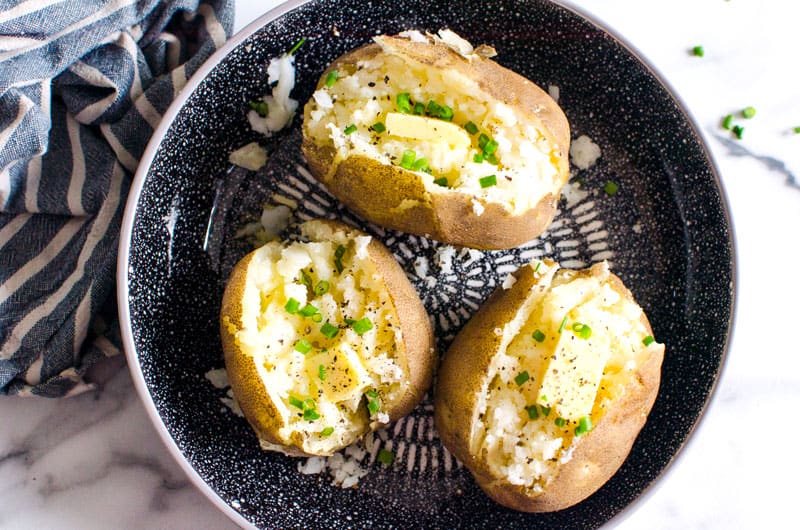 Instant Pot Mashed Potatoes are easy, creamy and fluffy in 30 minutes in one pot. No drain, no cutting potatoes into small chunks and no heating up milk separately. Simply the best way to make mashed potatoes!
Instant Pot Turkey Breast is super juicy, ready in an hour and even gravy is made in same pot. Saves time, money and feeds a small gathering. It's perfect!
Instant Pot Mac and Cheese is creamy, mouthwatering and hands off family comfort food. Made healthy-ish with only 1 cup of cheese and any kind of noodles, this pasta dinner recipe is ready in 15 minutes.
Healthy Desserts
We are huge on desserts, but what would a holiday be without a little treat?! Here are some of our healthier Thanksgiving favorites.
This Healthy Pumpkin Cake is the best version of a classic fall dessert. Topped with a luscious yogurt cream cheese frosting, it is moist, decadent, and packed with hidden nutrients!
Healthy Pumpkin Pie with easy whole wheat crust and silky smooth pumpkin pie filling. A delicious low sugar addition to your healthy Thanksgiving table.
Healthy Carrot Cake with whole wheat flour, Greek yogurt, toasted coconut and walnuts. This cake is moist, tall, has texture and thick creamy frosting. It is absolutely delicious!
This No Bake Peanut Butter Pie is smooth, creamy and healthy. Made without cream cheese, cool whip or graham crust, watch it disappear at any gathering. It is that good!
Healthy Pumpkin Bars with oatmeal, almond flour and chocolate chips. A delicious guilt free treat on a chilly fall day that the entire family will love!
This No Bake Strawberry Cheesecake is fluffy, full of strawberry flavour and lighter. Easy to make with fresh or frozen strawberries and Nutella crust, this is the perfect cake for any celebration.
Turkey Leftovers
Growing up in the Ukraine, I was taught not to waste food. That includes a turkey carcass or leftover turkey meat. So, here are a few ideas for your turkey carcass.
This Turkey Tetrazzini is an easy way to enjoy leftover turkey. To make this traditional casserole healthy, we load it up with veggies and lighten up the sauce. And everything cooks in one pot because last thing you want to do is dirty 3 more pots after the Holidays.
My family's Instant Pot Bone Broth Recipe we made for centuries in Ukraine. Full of collagen, budget friendly and ready in 2.5 hours instead of 24 hours.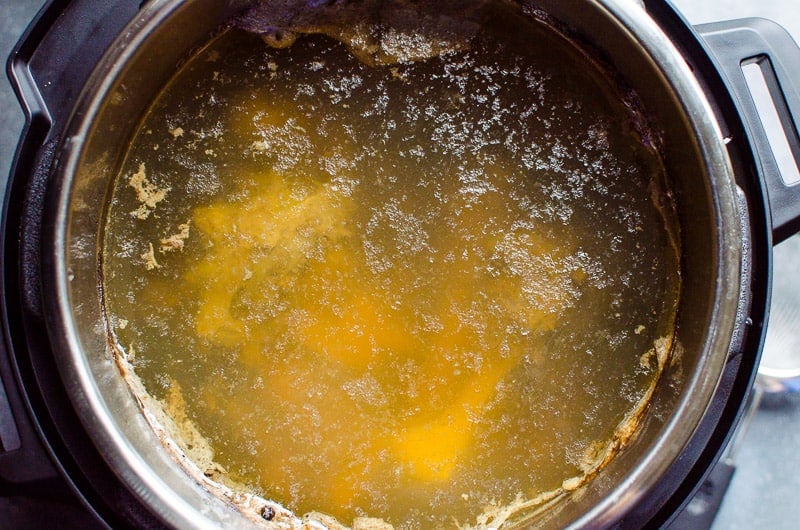 Ukrainian Buckwheat Soup Recipe with soup bones, vegetables and roasted buckwheat. Healthy, wholesome and delicious soup that makes enough for leftovers.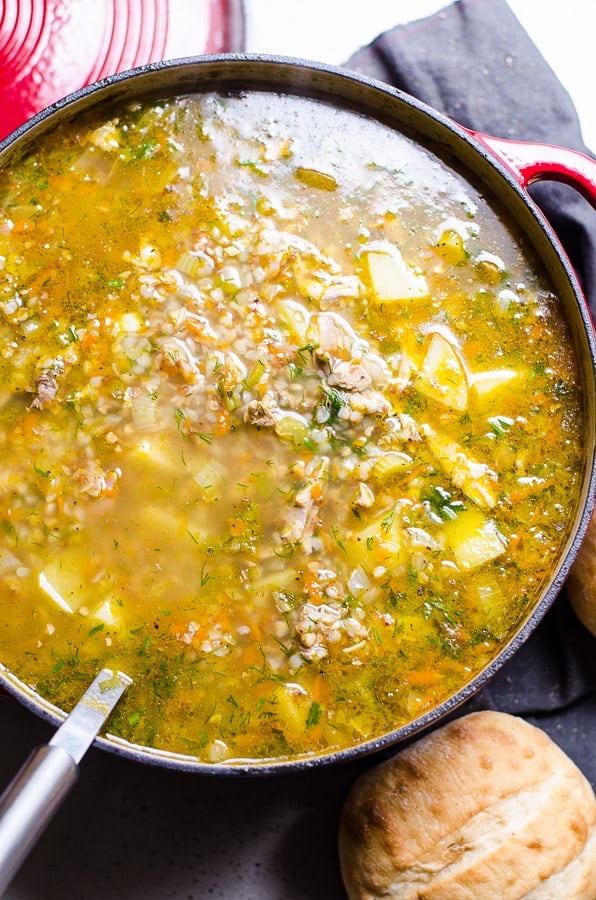 Turkey Noodle Soup is the answer to leftover roasted turkey. Its broth is so healing and delicious, once combined with simple veggies and pasta your family will devour it in minutes.
Print
50 Healthy Thanksgiving Recipes: Roasted Turkey Breast
One of my most popular Thanksgiving recipes will be a hit on your holiday table for sure! This Roasted Turkey Breast is so juicy and flavorful with the perfect crispy skin. It is the best turkey recipe for small gatherings this holiday season.
Author:
Prep Time:

10 minutes

Cook Time:

90 minutes

Total Time:

1 hr and 40 minutes

Yield:

8

servings

1

x
Category:

Dinner

Method:

Oven

Cuisine:

North American
Scale
Ingredients
Roughly 

5

 lbs turkey breast, bone in and skin on

2 tbsp

 salted butter, softened

2

 large garlic cloves, grated

1 tbsp

 rosemary, dried

1 tsp

 smoked paprika

1 3/4 tsp

 salt
Ground black pepper, to taste

3 cups

 water
Instructions
Preheat oven to 450 degrees F.
Prep turkey breast by rinsing and then patting dry. Place breast into a large baking tray with a rack.
If needed, use a paring knife or shears to trim away any fat from the turkey breast.
In a small bowl, combine softened butter, garlic, rosemary, smoked paprika, salt and pepper with a fork.
Rub the turkey breast with the seasoned butter using your hands or a brush. I recommend starting at the bottom (at the bone). Make sure to rub under the skin, if possible.
Place the turkey breast side up in the roasting pan making sure to add water to the bottom.
Bake uncovered for 20 minutes on the bottom oven rack.
Then, cover loosely with foil and bake for another 70-80 minutes or until the internal temperature in the deepest part of meat reaches 150 – 155 degrees F. Check with a meat thermometer.
Remove from the oven and let rest for 20 minutes.
Using a sharp knife, slice against the grain.
Serve warm with mashed potatoes and gravy.
Store: Leftovers can be refrigerated for up to 5 days. You can also freeze in portions for up to 3 months  for future use in sandwiches, salads, frittatas, casseroles and soups.
Notes
To keep your turkey breast moist, roast with the skin on. The skin can easily be removed after cooking (but who would want to get rid of crispy skin?! 🙂
Ensure there is water(broth or stock) at the bottom of the roasting pan. This helps keep the oven moist while roasting the turkey.
I recommend using a metal pan or a high heat oven proof baking dish.
If you use a clay or glass baking dish and need to add liquid to the bottom, add HOT water only. Cold water may cause the dish to crack.
I prefer cooking with parchment paper rather than aluminum foil. However, make sure to keep an eye on it so it doesn't burn!
Try other dried herbs like thyme, basil, oregano.
Fresh garlic gives the best flavor, in my opinion. You can also use garlic powder (~about 2 tsp).
★ Did you make this recipe? Please give it a star rating in the comments.