Slow Cooker Rump Roast Recipe consists of tender pieces of meat cooked with veggies in delicious gravy. Made with simple ingredients and 5 minutes prep, this Crock Pot rump roast recipe is one of our favorite dinners on a cold winter night!
We also enjoy this sirloin tip roast in slow cooker at the end of long day.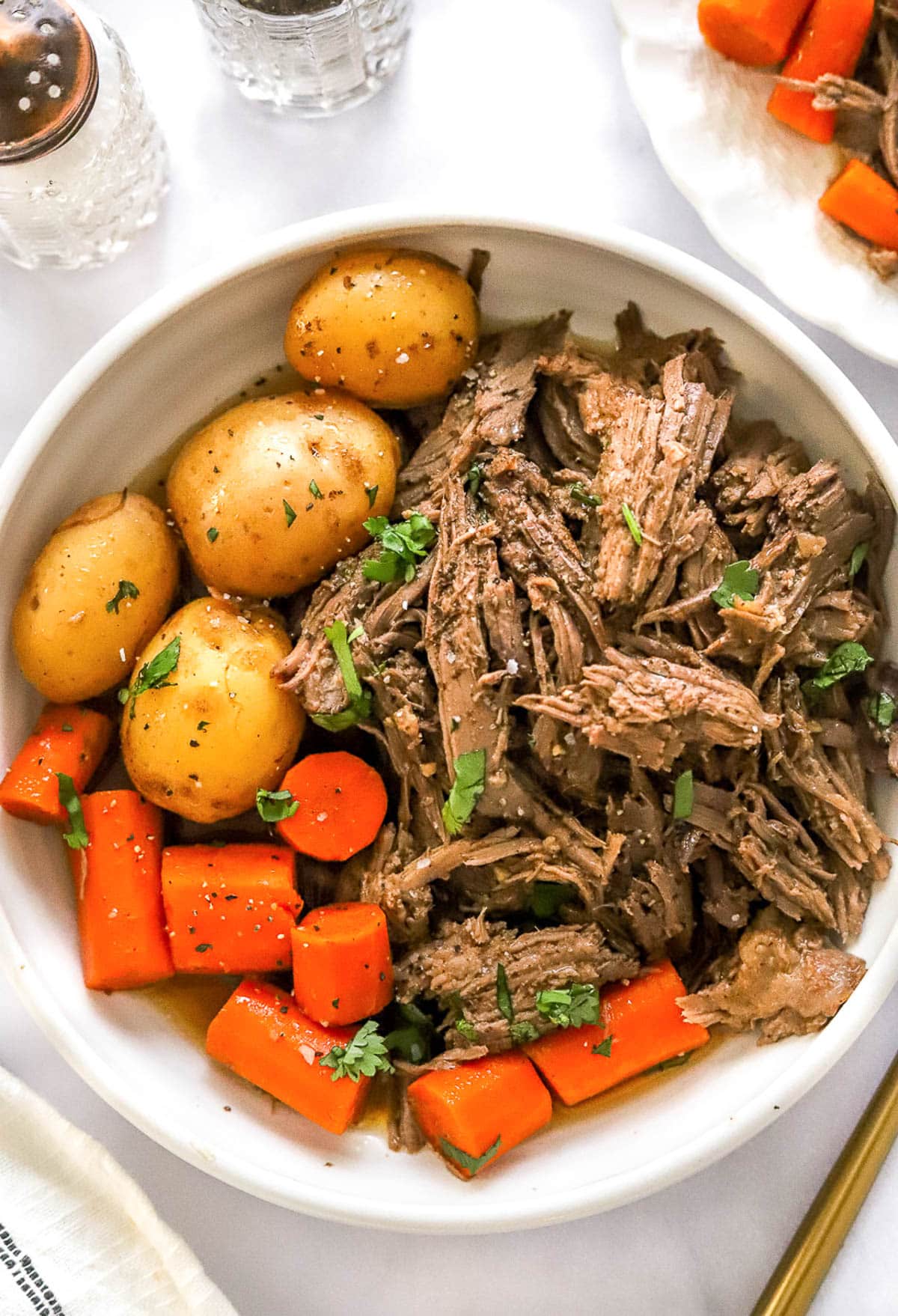 This slow cooker rump roast is one of first slow cooker recipes I ever made. I haven't shared more roast recipes before because I thought they are hard to make. Was I ever wrong, so watch out for many more coming your way!
With rising food prices, I am now always on lookout for cheaper cuts of meat. Turns out, you can pick up the cheapest cut like chuck roast, rump roast or bottom round roast, and make a delicious roast. This sirloin tip roast recipe is a perfect example!
So the other day, I grabbed a rump roast, threw it in a crock pot with baby potatoes and baby carrots, and poured some super easy sauce on top. And how good this slow cooker rump roast turned out!
Our whole family enjoyed it on a busy weeknight after a full day of work, school and sports. It's a great recipe for days like these!
I do sure love my pressure cooker and make Instant Pot pot roast recipe about once a month. But I have to say it is pretty convenient to turn on your slow cooker in the morning and come back home to a delicious roast!
What Is a Rump Roast?
Rump roast is a cut of beef from the top of the cow, just before the tail. Also known as bottom round roast and round tip roast, the name comes from the triangular shaped tip from the rump end of the outside round.
It is boneless and lean cut of meat without much fat or marbling. Therefore, it is best for slow cooking to allow a tough piece of meat to turn into tender shreds.
Ingredients and Substitutions
To make rump roast in slow cooker, you will need 11 simple ingredients. I like to make it a complete meal with the veggies but you can also cook the meat only. I share more details in the recipe card below.
Variations
How to Cook Rump Roast in Crock Pot?
Slow cooker rump roast recipe requires 5 minutes of prep time before and 5 minutes of prep work after. Making it a great option for easy healthy dinner!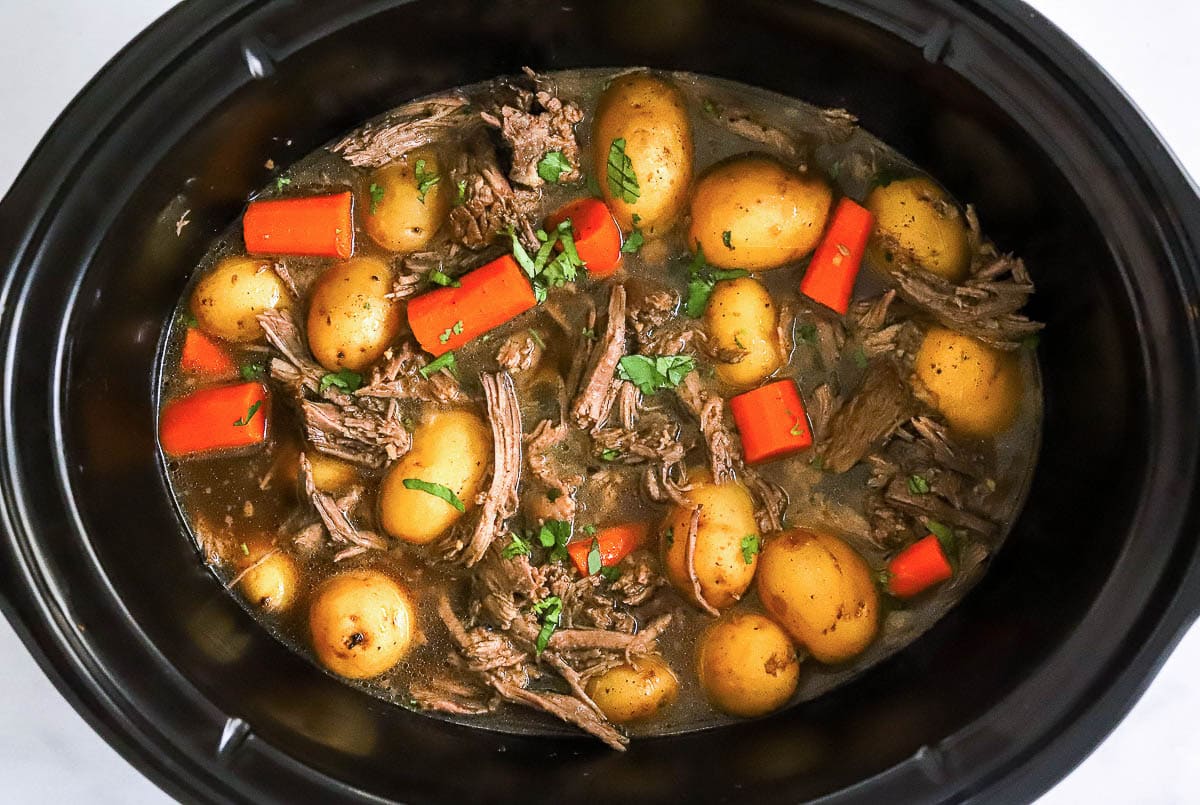 How Long to Slow Cook Rump Roast?
Cooking time may vary slightly based on the size of your roast and your slow cooker as well. However, typically medium to large roast, 3 pounds and more, is enough to cook for 8-10 hours on low heat.
I prefer to cook tougher cuts of meat on low setting. It's because the connective tissue has enough time to break down and melt into a tender delicious meat. But when in a pinch, high temperature will work.
Tips for Best Results
To ensure you end up with the best rump roast recipe, here are my top tips for best results and you should end up with a total winner for dinner!
Storing and Reheating
Serve: When your delicious slow cooker rump roast is ready, try to serve it within 2 hours. Or there is an option to keep it on Warm, then it's good for 4-5 hours.
Store: Let everything cool down to room temperature first. Then transfer meat, veggies and gravy to an airtight container and refrigerate for up to 4-5 days.
Reheat: Add desired amount of food in a medium size saucepan and reheat by simmering on low heat for 3-4 minutes or until warmed through. You can also reheat in a microwave for a few minutes. Rule of thumb is always to reheat only what you will eat.
Freeze: I do not recommend to freeze cooked potatoes or carrots because once thawed they have odd texture. But I do know some people are OK with that. In this case, freeze pot roast in an airtight container leaving some room for expansion for up to 3 months. Thaw in the refrigerator overnight and reheat as per instructions above.
FAQs
Can you cook a rump roast too long?
Can you overcook it? I don't think so, assuming you do not leave it to cook for 24 hours or without enough liquid. The general rule of thumb is to get an internal temperature of your meat to 190-195 degrees F for optimal shredding and tenderness. Just check with a meat thermometer.
How to make a rump roast tender?
Does it get more tender the longer you cook it? Yes. For tender rump roast, cook it longer on low heat setting. 8-10 hours will do for an average size roast of 3 lbs.
Do you have to brown roast before putting it in a crock pot?
No. The sauce we use in this slow cooker rump roast recipe has enough great flavor. However, it won't hurt to brown the sides of the roast in large skillet for 5-6 minutes before cooking it in a crockpot. Maillard reaction that occurs during browning adds more flavor.
Can I cook frozen roast?
No. As per USDA recommendation, it is not safe to slow cook frozen meats because it takes meat long time to reach cooking temperature in the slow cooker, increasing the chance of bacteria growth and food borne illnesses.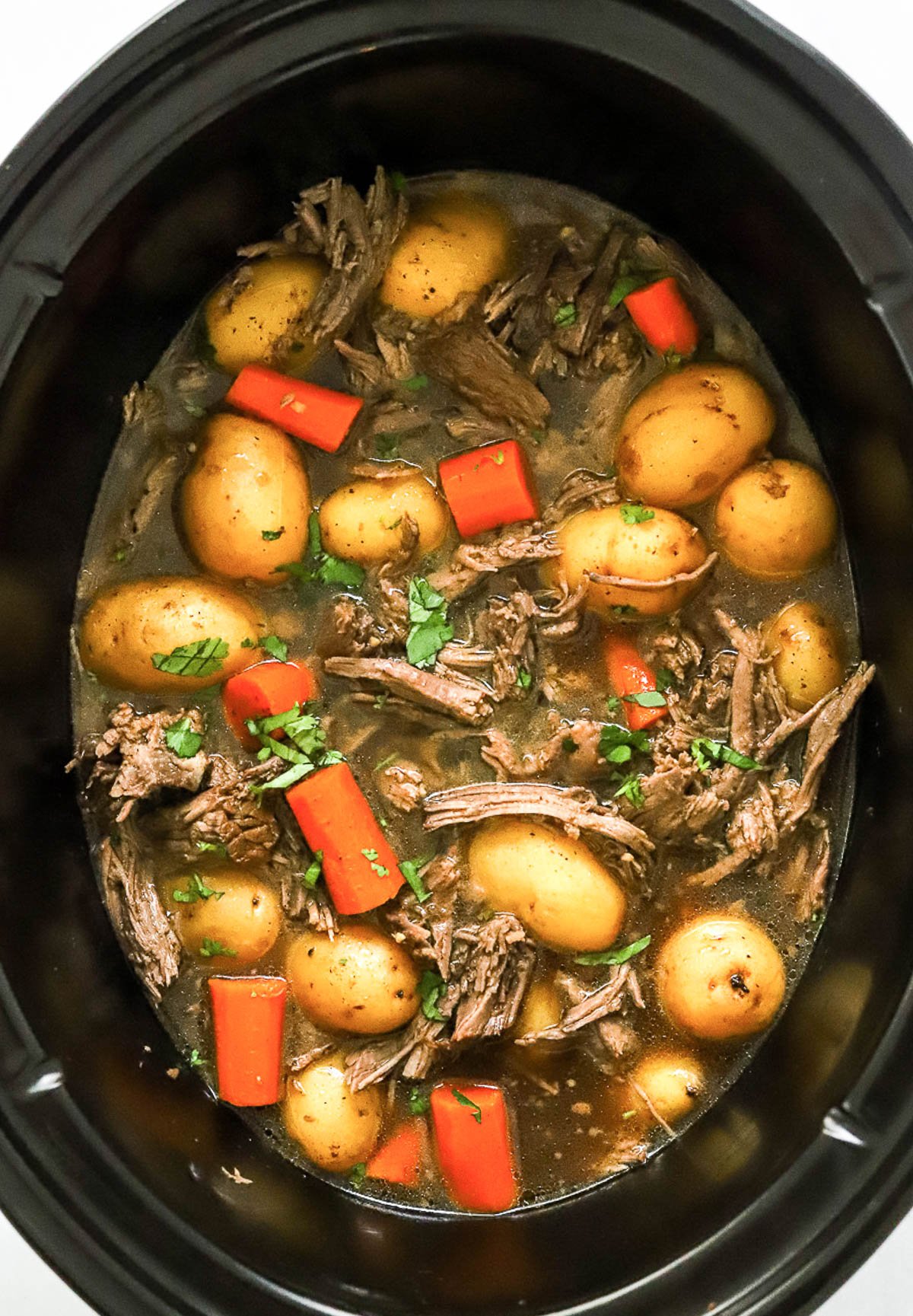 More Slow Cooker Roast Recipes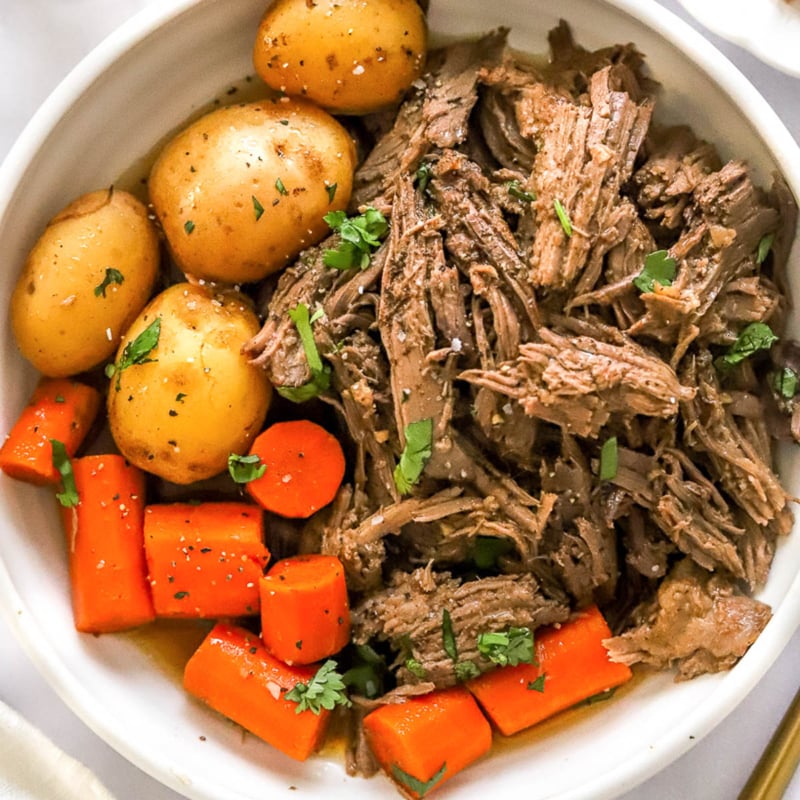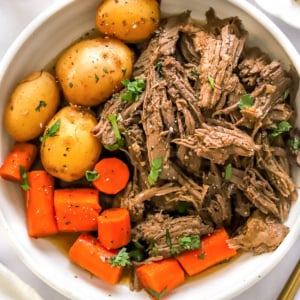 Slow Cooker Rump Roast Recipe
Slow Cooker Rump Roast consists of tender pieces of meat cooked with veggies in delicious gravy. Made with simple ingredients and 5 minutes prep, it's perfect for a cold winter night!
Instructions
In a large slow cooker, whisk together garlic, beef broth, balsamic vinegar, maple syrup, soy sauce, mustard, salt and pepper.

Place roast in the center and scoop a few spoonfuls of the sauce on top. Add baby potatoes and carrots around it and cover.

Cook on Low for 8 – 10 hours for most tender results or on High for 4 – 5 hours works too.

After, transfer meat onto a plate, shred using 2 forks and return it to the slow cooker.

Gently stir meat and veggies together with the sauce. Serve hot.
Notes
Recipe updated 2022: If you would like to make original recipe without the vegetables, just follow the recipe with the following measurements – 2 lbs rump roast, 1 cup beef broth, 1/3 cup balsamic vinegar, 2 tbsp maple syrup, 1 tbsp soy sauce, 1 tbsp Dijon and 1 garlic clove.
Store: Keep refrigerated in a glass airtight container for up to 5 days.
Freeze: In an airtight container up to 3 months. I recommend to freeze without potatoes.
Nutrition
Serving:
1.5
cups
|
Calories:
297
kcal
|
Carbohydrates:
30
g
|
Protein:
29
g
|
Fat:
6
g
|
Saturated Fat:
2
g
|
Cholesterol:
70
mg
|
Sodium:
663
mg
|
Fiber:
3
g
|
Sugar:
8
g