This slow cooker balsamic pot roast is tender, juicy, and packed with flavor, with only minutes of hands-on prep! Serve it up with a big pile of creamy mashed potato for the ultimate comfort meal!
Looking for other meaty faves using a slow cooker? You might like this healthy pulled pork, slow cooker turkey meatloaf, porcupine meatballs, or even a whole chicken (with pasta!)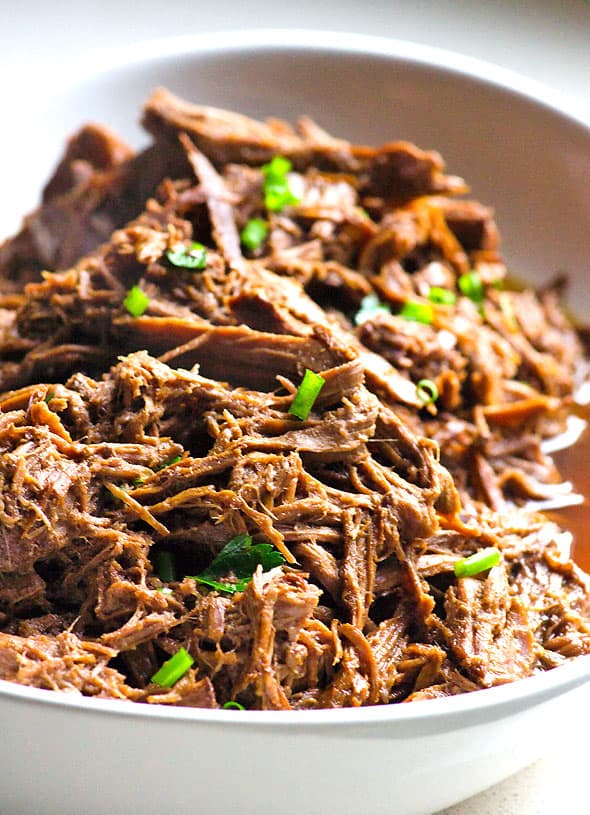 I did not have a pot roast recipe on iFOODreal until this one because I'd never cooked one (since then I've also made an Instant Pot pot roast and a healthy chicken pot pie casserole). For a million reasons. The biggest one because it seems such an Americanized recipe with an onion soup mix or whatever that is (you got me) that is against my clean eating religion.
Then I rarely buy beef because my mom has been supplying us with venison. Venison needs special extra care so I didn't want to mislead anyone by saying the recipe will work with beef. Well, it would definitely work but how it will taste I wouldn't know.
So, I finally ran out of venison (until January), got tired of slow cooker Thai chicken thighs and slow cooker butter chicken, and bought 2 lbs grass fed rump roast. Quality beef is expensive so I rarely buy it. However, to make a tasty roast you can pick up the cheapest cut like chuck, rump or bottom round roast. It is just hard to find in my neck of the woods.
I cannot even find humanely raised pork. I pick up bacon occasionally at the moment and that's it (for Ukrainian breakfast potatoes and hashbrown breakfast casserole).
So, I literally told that roast once I put you in a slow cooker and cut the oxygen, you better come out awesome. It took me 5 minutes to whisk all ingredients together, I closed the lid and prayed for long 5 hours. My prayers were answered and this slow cooker balsamic pot roast came out dastish-fantastish!!!
The meat was not fall of the bone because there is no bone and because I had to shred it with 2 forks. It was shreddable for sure but the longer you keep the roast cooking more tender roast will be. Just common sense. Once you dunk it in the the vinegary slightly sweet rich sauce and stir that is when heaven begins.
I served slow cooker balsamic pot roast with mashed potatoes for those who want ultimate comfort. And for those who want low carb there is cauliflower potato mash. Nothing beats saucy flavourful meat on top of mashed something!!! That is such a winter comfort food in my clean eating books.
You could serve it up alongside steamed vegetables or other roasted veggies and greens too, like roasted asparagus, garlic green beans, or sauteed sprouts.
More Healthy Slow Cooker Recipes
Slow Cooker Balsamic Rump Roast
Slow Cooker Balsamic Pot Roast is a healthy roast recipe with beef, balsamic vinegar, beef stock, mustard and soy sauce prepared in a crockpot.
Instructions
In a large slow cooker, whisk together garlic, beef broth, balsamic vinegar, maple syrup, soy sauce, mustard, salt and pepper.

Place roast in the center and scoop a few spoonfuls of the sauce on top. Add baby potatoes and carrots around it and cover.

Cook on Low for 8 – 10 hours or on High for 4 – 5 hours.

After, transfer meat onto a plate, shred using 2 forks and return it to the slow cooker.

Gently stir meat and veggies together with the sauce. Serve hot.
Notes
Recipe updated 2022: If you would like to make original recipe without the vegetables, just follow the recipe with the following measurements – 2 lbs rump roast, 1 cup beef broth, 1/3 cup balsamic vinegar, 2 tbsp maple syrup, 1 tbsp soy sauce, 1 tbsp Dijon and 1 garlic clove.
Store: Keep refrigerated in a glass airtight container for up to 5 days.
Freeze: In an airtight container up to 3 months. I recommend to freeze without potatoes.
Nutrition
Calories:
297
kcal
|
Carbohydrates:
30
g
|
Protein:
29
g
|
Fat:
6
g
|
Saturated Fat:
2
g
|
Cholesterol:
70
mg
|
Sodium:
660
mg
|
Fiber:
3
g
|
Sugar:
8
g