Cranberry Jalapeno Cream Cheese Dip is a festive holiday appetizer you will be making all season long! Sweet, tart, creamy and with a hint of spice, this cranberry dip is delicious crowd pleaser.
Other dip recipes we love to serve this time of year are baked feta dip, cottage cheese dip and french onion dip!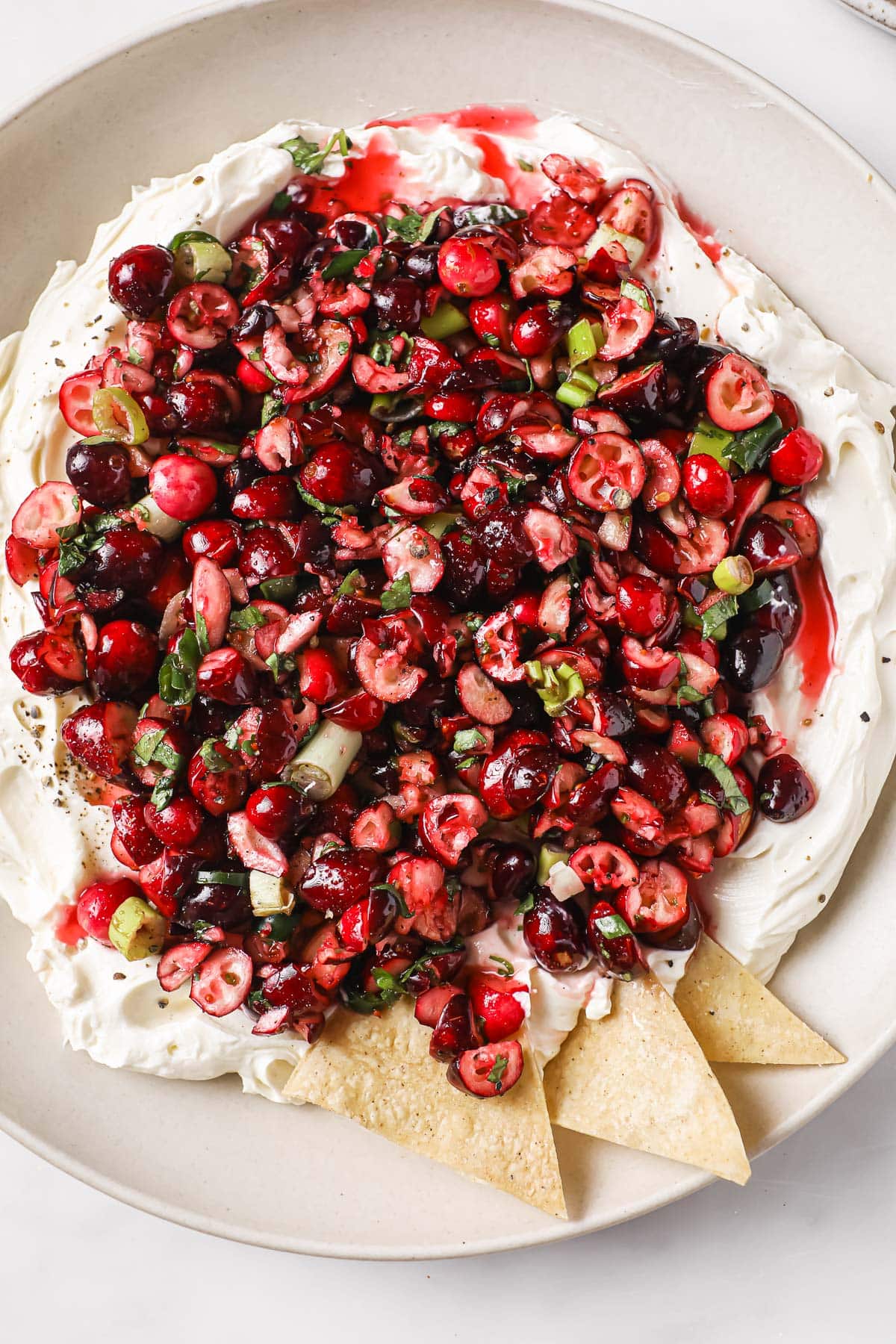 This cranberry jalapeno cream cheese dip is the ideal balance of tart, sweet, and spicy. Honestly, it's the craveable snack you never knew you needed, until first bite, and then you can't get enough.
It has a bit different flavor profile and is more indulgent than other appetizer recipes I share but hey, it's Holidays!
Creamy from whipped cream cheese, tangy from fresh lime juice, then spiked with sweetened yet tart cranberries, and a bit of heat from the jalapenos.
It's the perfect seasonal dip and a reason to get excited when you see those bags of red berries appear at the grocery store in November and December. And leftover dip is so good on top of chicken!
Why You'll Love This Recipe
Quick and easy: You can also make it ahead. It's party perfect for Thanksgiving, Christmas and all of the holiday season.
Fresh flavor: From the fresh cranberries to lime juice and cilantro, there are so many delicious tastes.
Colorful: Bright red cranberries, white cream cheese, and green cilantro, this delicious dip is a stunning presentation and even looks like Christmas.
Adjust to taste: Make cranberry jalapeño cream cheese dip spicier with more jalapeño peppers or tone it down with less.
Ingredients You Will Need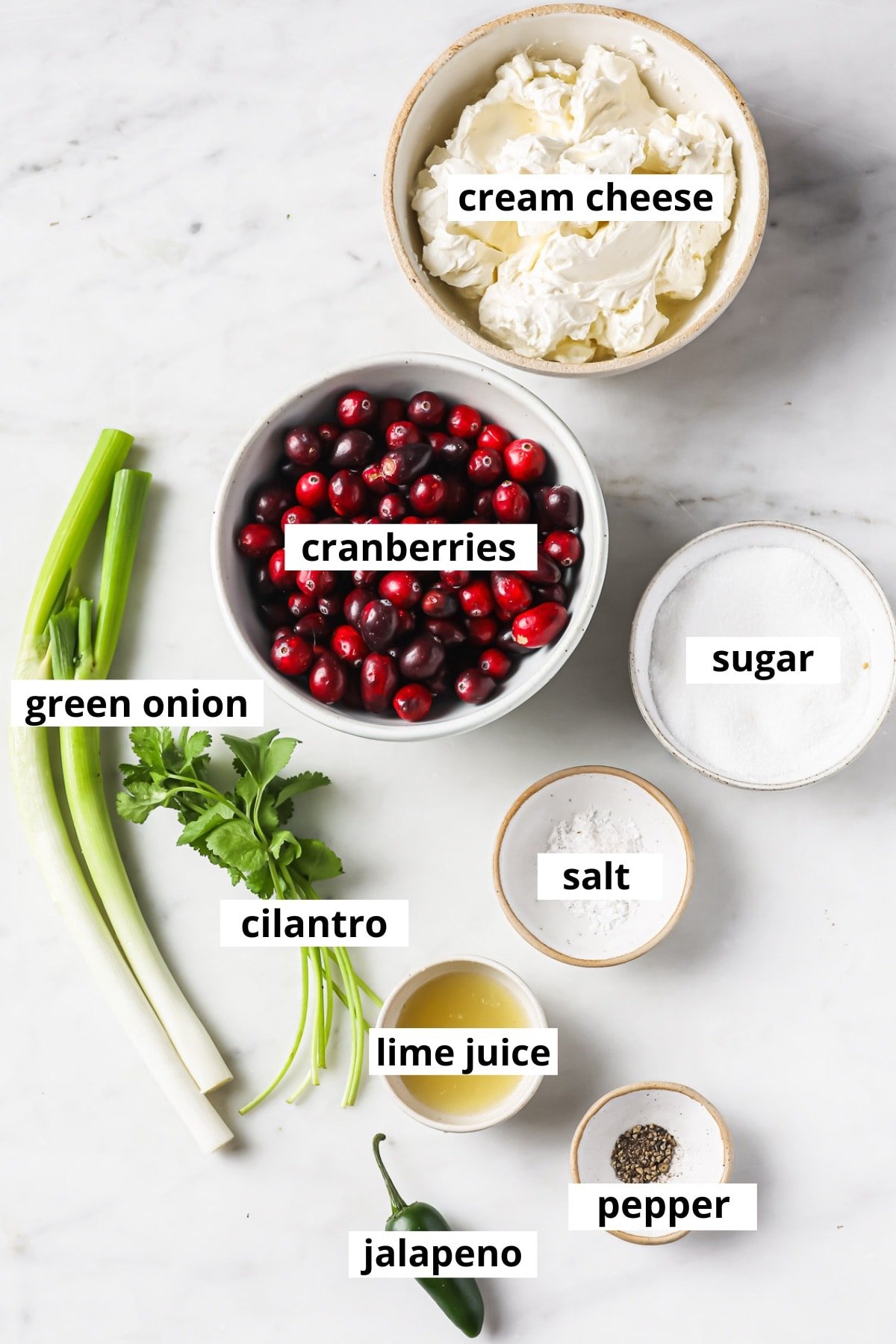 This recipe relies on fresh ingredients for the best taste! You will need only 9 simple ingredients.
Cranberries: Fresh cranberries are a must, not frozen cranberries. Fresh berries are firmer, crunchier, and add great texture to the dip. Frozen berries will "leak" and be mushy.
Lime juice: Or lemon juice, although freshly squeezed lime juice is my preference.
Jalapeno peppers: Deseeded but if you like things generally more spicy, feel free to leave a few seeds in.
Sugar: Some recipes on the web call for up to a cup sugar. I only used 1/3 cup, so that the cranberries really pop. But feel free to add more to suit your taste.
Cream cheese: I recommend to use plain full-fat cream cheese. You can use Neufchâtel cream cheese, which is lower fat cream cheese, but you will get low fat taste.
Additional ingredients: Green onions or scallions, salt, and fresh cilantro.
How to Make Cranberry Jalapeno Dip
Cranberry jalapeno dip comes together in only 20 minutes. But if you plan in advance, it really allows the flavors to develop.
Here is a quick overview, find detailed directions below.
Chop cranberries: Start by finely chopping your whole cranberries. I prefer to use a hand chopper vs a food processor as you risk pureeing them in the latter. Transfer to a medium bowl.
Marinate cranberry mixture: To your chopped cranberries, add the sugar, freshly squeezed lime juice, salt and pepper. Stir and allow cranberry mixture to marinate while prepping other ingredients. Add chopped jalapeno, green onion, and cilantro, stir again and then set aside.
Make whipped cream cheese: Add softened cream cheese to a large bowl and whip with a hand mixer for 1-2 minutes until creamy. Transfer to a serving dish or pie plate and spread cream cheese in a single layer.
Assemble: Use a slotted spoon to spread cranberry jalapeno salsa in an even layer on top of the cream cheese mixture. Do not add the juices as dip will become too watery. You can drain them or save for topping your cooked turkey or chicken.
Tips and Substitutions
Softened cream cheese: For properly whipped cream cheese texture, leave your block of cream cheese at room temperature for up to 4 hours. If you are in a rush, soften cubed cream cheese in microwave, in 10 seconds intervals.
Spicy cranberry dip: Leave your jalapeno seeds in, use habanero peppers, or serrano chilis.
Strain cranberry mixture: For best texture and less runny cranberry dip recipe, you can use a fine mesh sieve to strain your mixture.
Orange zest: Add just a bit for some extra citrus taste.
Ground cumin: A 1/2 teaspoon tastes great with the jalapeno and lime.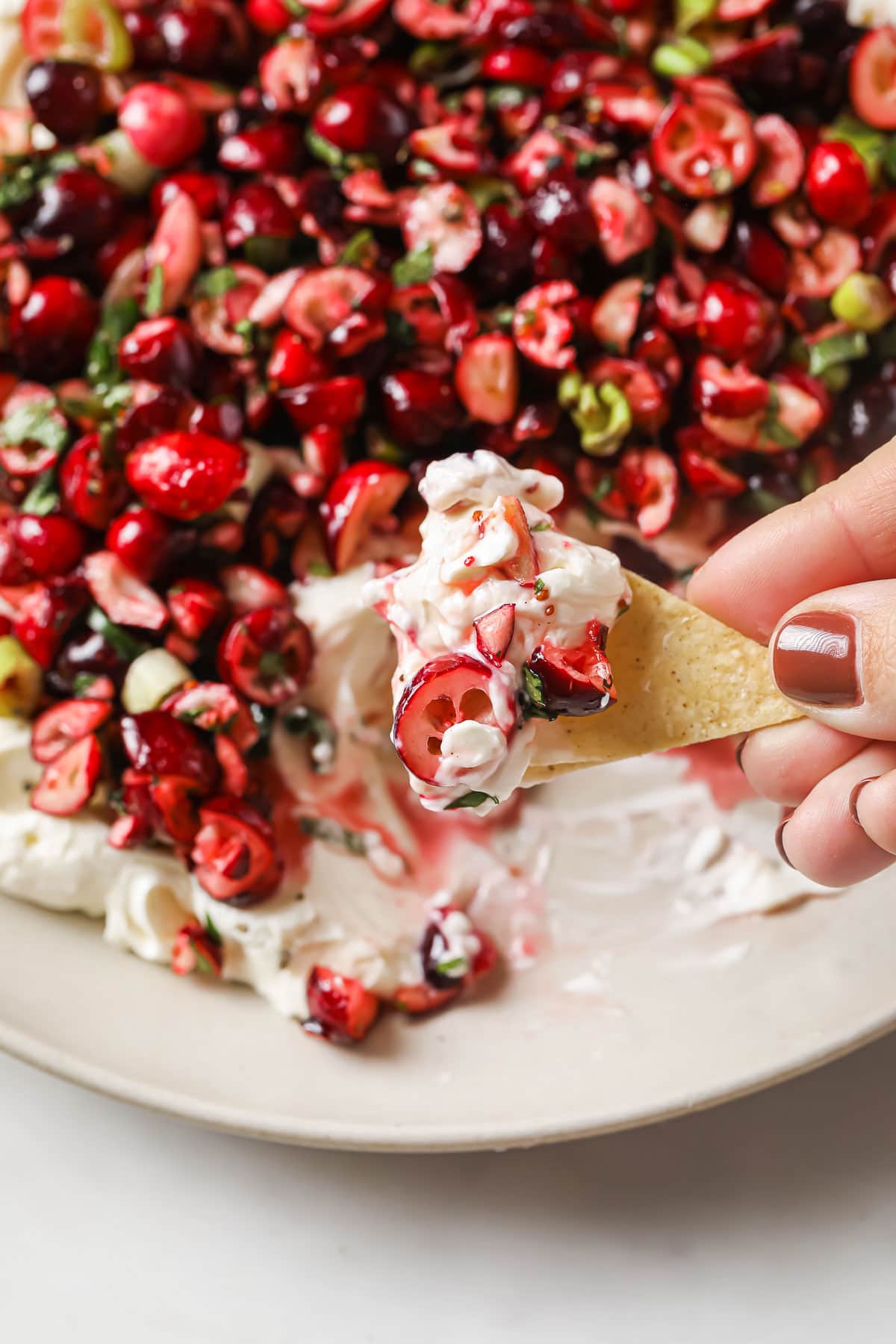 Serving Suggestions
This cranberry cream cheese dip makes such a perfect holiday party appetizer when placed in a serving bowl surrounded by an assortment of crackers and dippers!
It goes great with bread cubes, garlic crackers, pita chips, baguette slices or crostini. For a low carb option, try celery sticks. You can also enjoy this festive appetizer with tortilla chips.
Enjoy it before a meal or serve with other delicious hors d'oeuvres like deviled eggs or stuffed dates.
Can I Make It In Advance?
Yes, you can actually make the cranberry mixture up to a day in advance to really let the flavors meld together and develop.
When you are ready to put the dip together, strain the extra liquid from the cranberry mixture and serve over top cream cheese.
How to Store
Refrigerate cranberry jalapeno cream cheese dip covered with plastic wrap until ready to serve and then store leftovers for about 3-4 days. If some of the liquid separates just stir it back in. Do not freeze.
FAQs
Can I make a dairy free version?
Sure! Just use a dairy free cream cheese.
Can I make cranberry dip without a food chopper?
You can finely chop your cranberries by hand, it will just take a bit longer. I do not advise using a food processor as your cranberries can quickly turn to mush.
How can I make it even more creamy?
If you want a more creamy dip like the two popular store brands La Terra Fina jalapeno cranberry dip or Costco Stonemill Kitchens, you could add 1/4 cup of sour cream or Greek yogurt to the whipped cream cheese in step 4 of the directions.
Can I use frozen cranberries?
Unfortunately not, the key to this cranberry jalepeno dip is fresh cranberries, not frozen, not dried.
More Cranberry Recipes to Try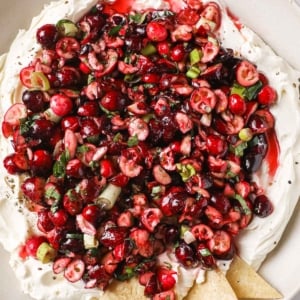 Cranberry Jalapeno Cream Cheese Dip
Cranberry Jalapeno Cream Cheese Dip is a holiday appetizer you will be making all season long! Sweet, tart, creamy and spicy cranberry dip in 20 minutes.
Instructions
Use hand food chopper to chop cranberries or finely chop by hand. Do not use the food processor as cranberries will become a mush. Transfer to a medium bowl.

Add sugar, lime juice, salt and pepper. Stir and set aside to allow cranberries to marinate while you prep other ingredients.

Finely chop jalapeno, green onion and cilantro. Add to the bowl with cranberries, stir and set aside.

In a large bowl, whip softened cream cheese with a hand mixer for 1-2 minutes on medium speed or until smooth and creamy. Transfer to a round pie dish or plate with walls and spread in a single layer.

Spoon cranberry mix on top, leaving the juices behind. Serve with crackers of choice like pita chips or garlic crackers.
Notes
Store: Refrigerate covered with plastic wrap until ready to serve and after for about 3-4 days.
Softened cream cheese: It takes about 4 hours at room temperature or you can use a microwave.
Leftovers: Are good spooned over any meat or roasted veggies like squash.
Cut recipe in half if needed.
Nutrition
Calories:
61
kcal
|
Carbohydrates:
4
g
|
Protein:
1
g
|
Fat:
5
g
|
Saturated Fat:
3
g
|
Cholesterol:
14
mg
|
Sodium:
118
mg
|
Fiber:
0.3
g
|
Sugar:
3
g