Easy Shrimp Ceviche Recipe with raw or cooked shrimp that is cool, zesty, and refreshing. Dip into shrimp ceviche with tortilla chips, spread on a tostada shell or add to tacos.
Easy fresh dips like pineapple jalapeno salsa, black bean and corn salsa, and mango salsa are in our regular summer rotation. Enjoy!
Shrimp Ceviche Recipe
Shrimp ceviche is one of those high end healthy appetizers I never order in a restaurant because it is soooo expensive. Ha, truth be told we barely even go to restaurants except for sushi.
I used to wait all year round for our yearly all-inclusive vacation to eat my fair share of Mexican shrimp ceviche. No more.
Shrimp ceviche recipe is so easy to make at home. Once you get over a fear of "eating raw seafood" you will keep making ceviche all summer long.
And to clarify, you will not eat raw shrimp as lime juice will "cook" it. You can also use cooked shrimp, no problem.
This is the best shrimp ceviche recipe that is cool, zesty and refreshing. A must have for summer! Let's do it!
Plus, if you love healthy shrimp recipes as much as I do, then you'll be eating it all summer with this healthy shrimp salad, grilled shrimp skewers and shrimp tacos.
What Is Ceviche?
What is ceviche? I will explain in my own words. Ceviche is raw seafood "cooked" in lime juice for a few hours. Then mixed with traditional flavors like jalapeno, cilantro, red onion, avocado, tomato etc.
I can guarantee you there are a million variations of a shrimp salsa recipe. Ceviche cocktail with clamato juice, hot sauce and ketchup. With addition of cucumber or mango. And so on.
For today's easy shrimp ceviche recipe all you need is shrimp, limes, red onion, tomato, avocado, cilantro, jalapeno, salt and pepper.
I like to share it as a seafood 'salsa' type of dish alongside other salsa recipes like pico de gallo, fresh peach salsa or strawberry mango salsa, and even salsa guacamole!
How to Make Ceviche with Raw Shrimp
I buy small peeled, deveined and tails off raw shrimp. The cheapest. You can also add crab and scallops if you happen to have them on hand.
Place 1 lb of shrimp in a bowl and cover with warm tap water. Let thaw for 10 minutes.
Drain and give a gentle squeeze.
Cut small shrimp in half lengthwise and large shrimp into 4 long stripes.
Then dice. You want small pieces of shrimp with each bite.
Pour fresh lime juice over diced shrimp in a bowl. Stir.
Refrigerate for 1.5-2 hours or until pink and opaque.
Your shrimp is now "cooked" and ready to be combined with other ingredients to make homemade ceviche.
How to Make Ceviche with Cooked Shrimp
If you are not "brave" enough to make raw shrimp ceviche, make cooked shrimp ceviche. No worries, no judgement here. I was the same until a few weeks ago. Until I saw how perfectly lime juice cooks the shrimp. It was pink after sitting in acid for 1.5 hours!
Many will say ceviche with cooked shrimp is not authentic ceviche but that's OK. Marinate cooked shrimp in lime juice for only 15 minutes. That's the only difference.
How to Juice Limes Properly
OK, friends. You can use a shortcut with cooked shrimp but don't even think about bottled lime juice. It is not the same taste plus a ton of preservatives. Yikes.
You need 3/4 cup fresh lime juice. That's about 6-8 large limes depending how fresh, juicy and big your limes are.
To juice limes:
Roll limes on a cutting board pressing with your hand. Helps to release juice from the flesh.
Cut limes in halves.
Squeeze juice using this squeezer. Limes are not lemons. I find lemon rimmer doesn't work as well.
You should end up with 3/4 cup juice. Discard skins.
How Long Does Ceviche Last?
After you stir everything together, let Mexican shrimp ceviche marinate for 15 minutes. There are several salads that taste so much better with a bit of marinating time like this creamy cucumber salad, Kani salad, Thai chicken salad, and more!
I adjust salt and pepper to taste after taste testing shrimp ceviche with a chip. You have to take into consideration that all tortilla chips have different levels of sodium.
Homemade shrimp ceviche will keep fresh in the fridge for up to 2 days.
What to Serve Ceviche With?
With tortilla chips. Our favorite are organic Kirkland tortilla chips. They are lower in sodium and seem to be not as oily. Set out for your guests or family as a dip.
Spread on a tostada. You can even make your own healthy tostada shells at home that can be used with any Mexican dish. So much better than store bought. Essentially tostada is a giant tortilla chip.
In tacos. If you are making healthy fish tacos or any veggie tacos, top with ceviche. Or just make shrimp ceviche tacos haha.
Love Shrimp? Try One of These Recipes
You might also want to peruse through all of my Mexican-inspired recipes!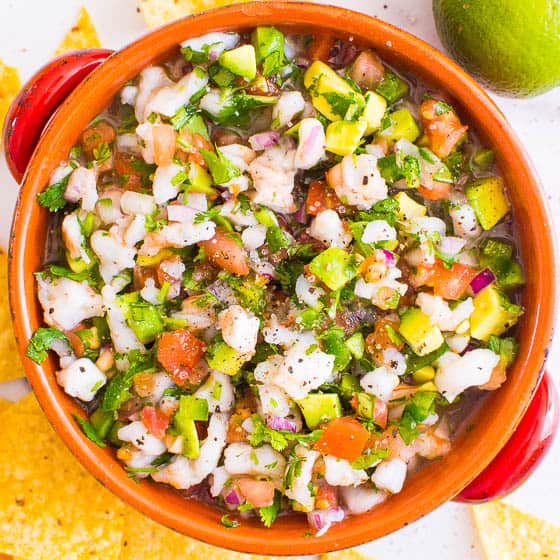 Best Ever Shrimp Ceviche Recipe
Best ever Shrimp Ceviche with raw or cooked shrimp that is cool, zesty and refreshing. Dip into with tortilla chips, spread on a tostada or add to tacos.
Ingredients
1

lb

raw or cooked shrimp

peeled, deveined & tails off

3/4

cup

fresh lime juice

6 large limes

1

large tomato

diced

1

large avocado

diced

1/2

cup

red onion

minced

1/2

cup

cilantro

minced

1

jalapeno

seeded & diced

Salt and pepper

to taste (I added about 1/2 tsp salt)
Instructions
If using frozen shrimp, add it to a medium bowl and cover with warm tap water. Let thaw for 10 minutes.

In the meanwhile, squeeze juice from limes and add to a large bowl. Please do not use bottled juice.

Drain shrimp and give it a gentle squeeze. Dice it and add to the bowl with lime juice.

Marinate: Cooked shrimp for 15 minutes; raw shrimp for 1.5 hours or until opaque and pink. Acid will "cook" the shrimp.

While shrimp is marinating, dice tomato, avocado, red onion, cilantro and jalapeno and add to another bowl. Refrigerate if making ceviche with raw shrimp. I also recommend to dice avocado right before combining shrimp with veggies to avoid brown avocado.

Add vegetables to the bowl with shrimp, stir and add salt and pepper to taste. Remember tortilla chips are salty. So I would salt after the taste test with a chip.

Serve cold with chips, on a tostada and even in tacos.
Notes
Store: Refrigerate covered for up to 2 days. 
Nutrition
Calories:
110
kcal
|
Carbohydrates:
6
g
|
Protein:
12
g
|
Fat:
5
g
|
Saturated Fat:
1
g
|
Cholesterol:
143
mg
|
Sodium:
444
mg
|
Fiber:
2
g
|
Sugar:
1
g