Creamy and savory Baked Feta Dip with juicy tomatoes, garlic, and fresh basil is a simple appetizer that doesn't skimp on taste! It's perfect for sharing when served with crackers, crostini, or crusty bread.
We also love this cottage cheese dip!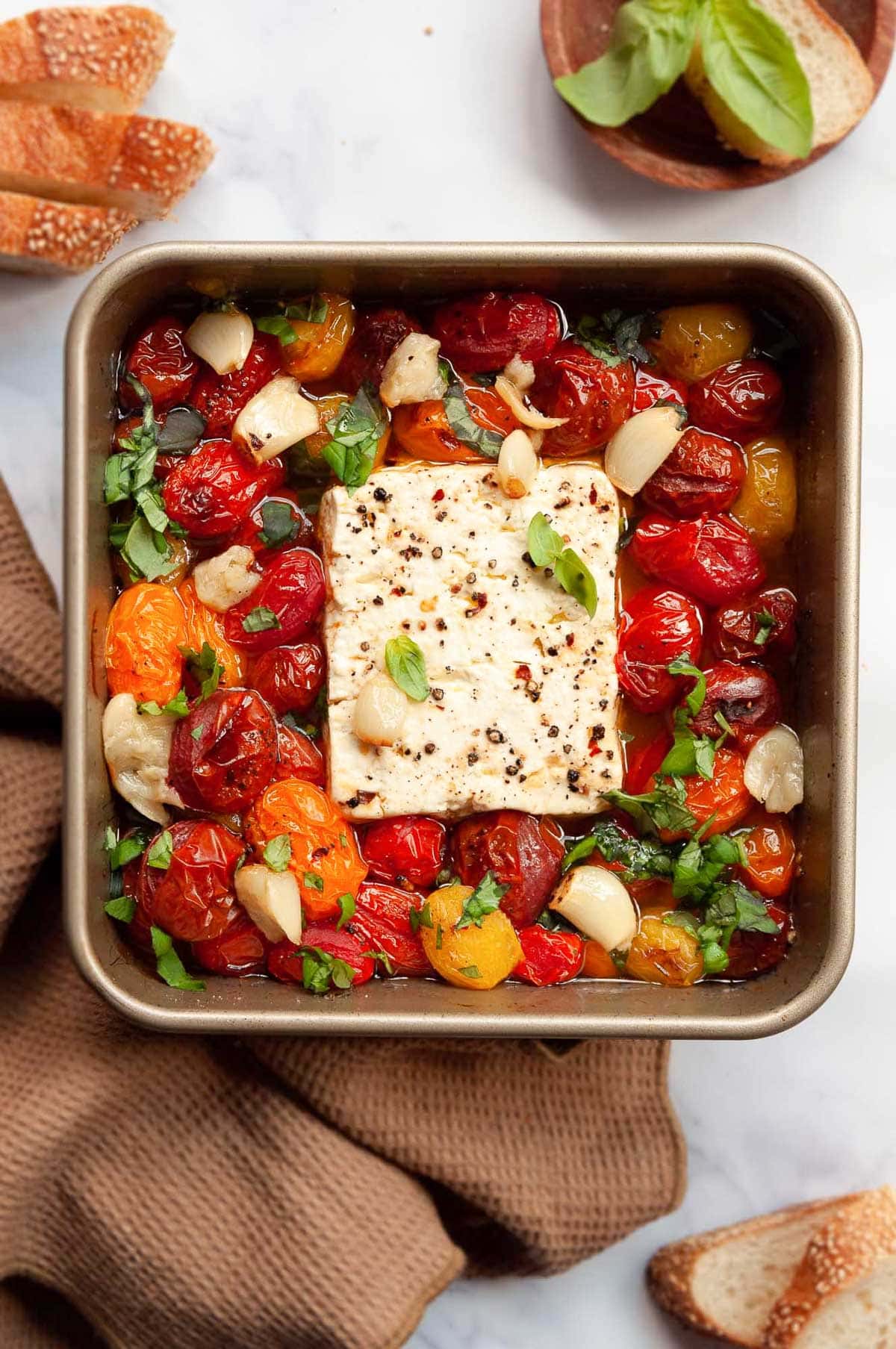 This baked feta dip is such an easy recipe! I made it for a neighbors get together and it was the easiest thing I could have done on a Friday night.
You literally add everything to a dish, bake and stir. No chopping or grating anything!
Delicious baked feta appetizer contains minimum ingredients but maximum taste. Creamy feta, juicy tomatoes, and savory garlic are bursting with Mediterranean flavor, and I can't just get enough.
I didn't get into the baked feta pasta TikTok trend, but if it was anything like this tasty dip, I am hooked!
Tomato feta dip is just as good in the summer as it is at a holiday party! It will seriously elevate your snacking game. I have even snuck a bite or two straight out of fridge, so good even cold!
Why You'll Love This Recipe
Quick and easy: Baked feta dip recipe takes just over 30 minutes. Perfect for a last minute appetizer when unexpected guests drop in.
Party perfect: Not only the taste is fantastic, the presentation is stunning and makes an impressive appetizer for guests.
Creamy: While it's not quite melted feta cheese, baking the cheese in the oven turns it into a luscious, creamy spread ready to be served with bread or pita.
Flavorful: Sweet and salty with notes of savory garlic and fresh basil, such a treat for the taste buds.
Ingredients and Substitutions
Baked feta dip is the perfect example of a how a few simple ingredients can come together for a flavor packed easy appetizer! You need 8 ingredients and still some can be omitted.
Feta cheese: Quality feta is the star of the show here. You will need 5 to 8 ounces block of feta cheese. I used 8 oz. It comes in a vacuum sealed package or in a brine. Goat milk, sheep's milk or cow milk feta cheese is OK.
Grape tomatoes: You could also use cherry tomatoes. Under high temperature both of these tomato varieties burst open to release sweet and juicy goodness. In a pinch, 3-4 cut up fresh tomatoes might work.
Fresh garlic: You will need one whole head of garlic, not peeled or minced garlic cloves.
Olive oil: A good quality extra virgin olive is the best for this appetizer.
Red pepper flakes: Also called red chili flakes, it adds just the right amount of spice. If you are sensitive to spicy foods, feel free to omit. Or add more!
Fresh basil: To sprinkle over your warm feta dip and bring it to life! Other fresh herbs like fresh thyme or fresh parsley would be great or just skip.
How to Make Baked Feta Dip
This recipe is literally just baked feta and tomatoes with some EVOO and spices. All you have to do is add all ingredients, bake and stir. With prep time of 3 minutes, it couldn't be any easier!
To start you will need to preheat oven to 425 degrees F and grab a square 8×8 baking dish. No need to spray anything.
Lay out all the ingredients: First, place block of feta in the middle of the square baking pan. Now you want to add all tomatoes around and tuck a head of garlic in the corner. It will be tight and you want that!
Season: Drizzle everything with olive oil and then sprinkle with salt, black pepper and red pepper flakes. I sprinkle majority of salt on tomatoes because feta is salty enough. Both peppers looks super pretty on white cheese.
Bake: Bake in preheated oven for 30 minutes and then broil for another 5 minutes or until golden brown. Ovens vary and you might need to bake it longer if your tomatoes do not appear roasted enough.
Stir and garnish: Once you remove dip from the oven, take out a head of garlic with tongs and let it cool for about 5 minutes. Then I like to use same tongs and squeeze the garlic cloves over the dish. Stir feta and cherry tomatoes with a large spoon, just enough to combine, to keep the color. Then if you have fresh basil, sprinkle on top.
How Do I Serve It?
To serve, I like to place baking dish on a trivet in the center of the table. Serve with a large spoon and provide small plates with forks and napkins.
Since baked feta dip is salty and tangy, it goes best with slices of plain pita bread, crusty baguette, bread slices, crostini or simple crackers.
You can serve leftovers over warm pasta, stir and it becomes your baked feta pasta. Or serve over any chicken dish the next day.
Variations
While feta tomato dip tastes good as is, feel free to add some variety.
Additional vegetables: Add thin sliced red bell peppers, red onion, or even artichoke hearts before baking.
Olives: For briny flavor use kalamata olives, for earthy flavor green and black olives work.
Seasoning: Dried oregano or Italian seasoning could be sprinkled on everything before baking for additional herby flavors. This is especially great if you don't have fresh basil on hand.
Vinegar: Red wine vinegar is light in taste and a splash could be added to the dip before placing in the oven. You could also add a drizzle of balsamic reduction right before serving!
Honey: If you love sweet and savory, add a drizzle of honey before serving.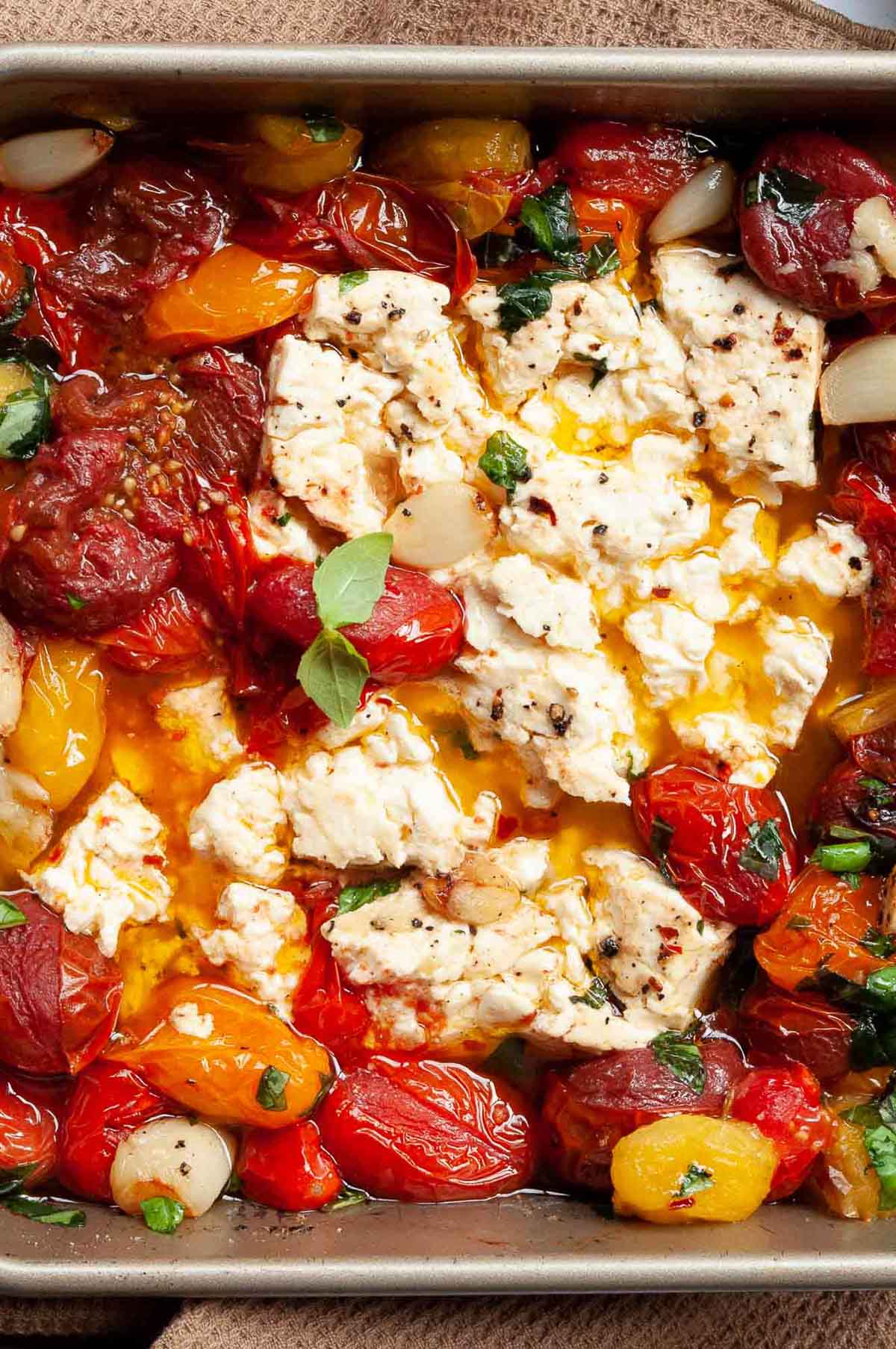 Expert Tips
Size of baking dish: Use a small baking dish for best results. If your tomatoes are too spread out, they will be roasted tomatoes vs. breaking down to be juicy.
Oven-safe dish: Make sure you are not using a glass dish that can easily shatter at high temperature, especially under the broiler. Speaking from experience.
High heat: The key to feta and tomato dip is to bake it under high heat. If you want your feta more golden brown, pop it under the broiler on a top rack but not too close, just for a few minutes.
Best quality ingredients: There are only a few ingredients here and the key is to use the freshest you can! No canned tomatoes and extra virgin olive oil is a must.
Serve right away: Serve while it's creamy, spreadable and warm.
Make Ahead and Storing
Make ahead: You may ask "Can I make it ahead of time?". Sure thing, especially during busy holiday season, relaxing Super bowl Sunday or lazy summer days.
To prep ahead of time, assemble and keep covered in the refrigerator for up to 2 days. Bake right before you intend to serve it. Any creamy dip tastes best fresh out of the oven when the feta still has soft and creamy texture!
Store: Refrigerate leftovers in an airtight container for up to 5 days.
Let me say that I don't mind this particular feta recipe cold! To warm it up again, just pop in a microwave for a few minutes. Or just serve over freshly cooked hot pasta, stir and watch it melt in front of your eyes.
FAQs
Would crumbled feta cheese work?
While crumbled feta cheese is not ideal, it may work if you clump it together in the center of the dish. This way it will get creamy rather than dry out. I really recommend a block for best results, though.
Can I make dip with other cheese?
While this is a recipe for a feta dip, you can try it with goat cheese, brie cheese or blue cheese. Note cooking time will be shorter.
Does baked feta cheese melt?
No. What baked feta cheese does do, though, is get warm, creamy, and spreadable.
More Delicious Dips To Try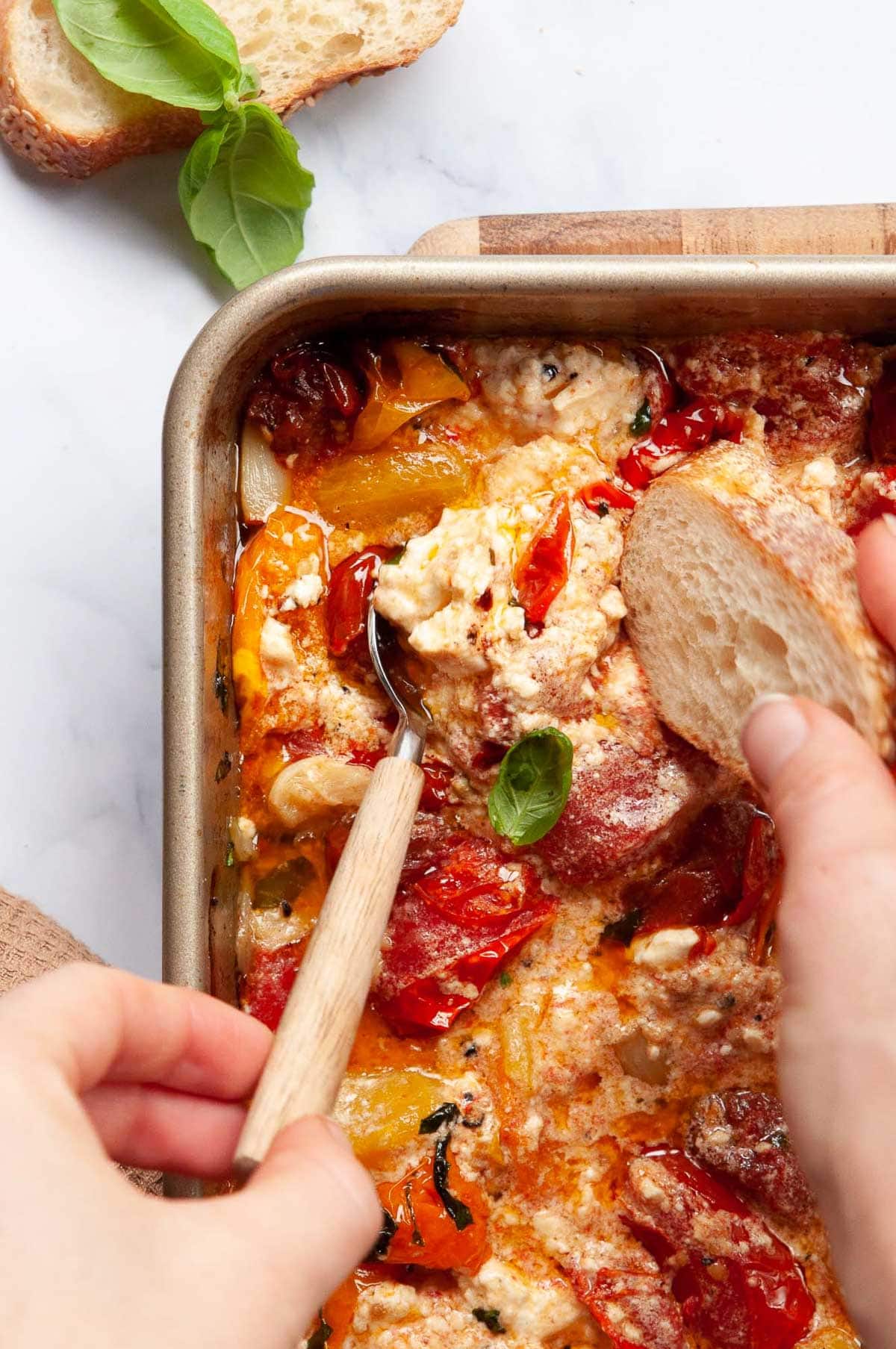 Baked Feta Dip with Tomatoes
Creamy and savory Baked Feta Dip with juicy tomatoes, garlic, and plenty of fresh basil is a simple appetizer perfect for serving with crackers, crostini, or crusty bread.
Instructions
Preheat oven to 425 degrees F. In a square 8×8 baking dish, place block of feta in the center. Spread grape tomatoes around it and tuck a head of garlic in the corner.

Drizzle everything with olive oil and then sprinkle with salt, black pepper and red pepper flakes.

Bake for 30 minutes and then broil for another 5 minutes or until golden brown.

Remove from the oven, take out garlic on a plate to cool down for 5 minutes and then squeeze the cloves over the dish. Using a large spoon, stir everything gently just to combine and garnish with basil.

Serve warm with a spoon and slices of pita, baguette or crackers.
Notes
Store: Refrigerate dip leftovers in an airtight container for up to 5 days. You can serve it on top of baked chicken.
Tomatoes: Cherry tomatoes or cut up large tomatoes will work too in a pinch. I prefer whole small tomatoes though.
Basil: If you don't have fresh basil, it's fine.
Nutrition
Calories:
126
kcal
|
Carbohydrates:
5
g
|
Protein:
4
g
|
Fat:
11
g
|
Saturated Fat:
4
g
|
Cholesterol:
20
mg
|
Sodium:
322
mg
|
Fiber:
1
g
|
Sugar:
2
g