These Healthy Deviled Eggs are well-seasoned, creamy and made with Greek yogurt instead of mayo. Perfect healthy appetizer or a snack.
Got extra hard boiled eggs? Make avocado egg salad, avocado deviled eggs or healthy egg salad!
Healthy deviled eggs are savory and creamy with a zesty tang that everyone loves. There is no skimping on anything we love about traditional deviled eggs!
No mayo deviled eggs are also super easy and cheap to make. Most of the effort goes into making sure you peel the egg shell without taking the egg whites off with it. That's when Instant Pot hard boiled eggs recipe comes in – 100% easy peel.
Even the fancy piping is crazy easy!
Ingredients for Healthy Deviled Eggs
To make healthy deviled eggs, all you need is a few simple ingredients, eggs, yogurt, and spices.
Eggs: This greek yogurt deviled eggs recipe uses 6 large eggs.
Greek yogurt: I recommend to use at least 2% fat Greek yogurt. Go ahead and revert to classic mayonnaise, if preferred.
Dijon mustard: Prepared Dijon is a bit tangier and cuts back on the "eggy" taste. Yellow mustard works too.
Apple cider vinegar: White vinegar is also a popular choice, if desired.
Smoked paprika: Adds nice smoky taste. Substitute for regular paprika, if needed.
Hot sauce: Frank's hot sauce, cayenne pepper, Tabasco or whatever you've got in your cupboard is just fine. You could even swap with some horseradish!
Salt & pepper
Green onion
How to Make Healthy Deviled Eggs
This healthy deviled eggs recipe starts by perfectly hard boiling the eggs first. You want to make sure they peel nicely and the yolk doesn't become green due to overcooking. I recommend to do so ahead of time.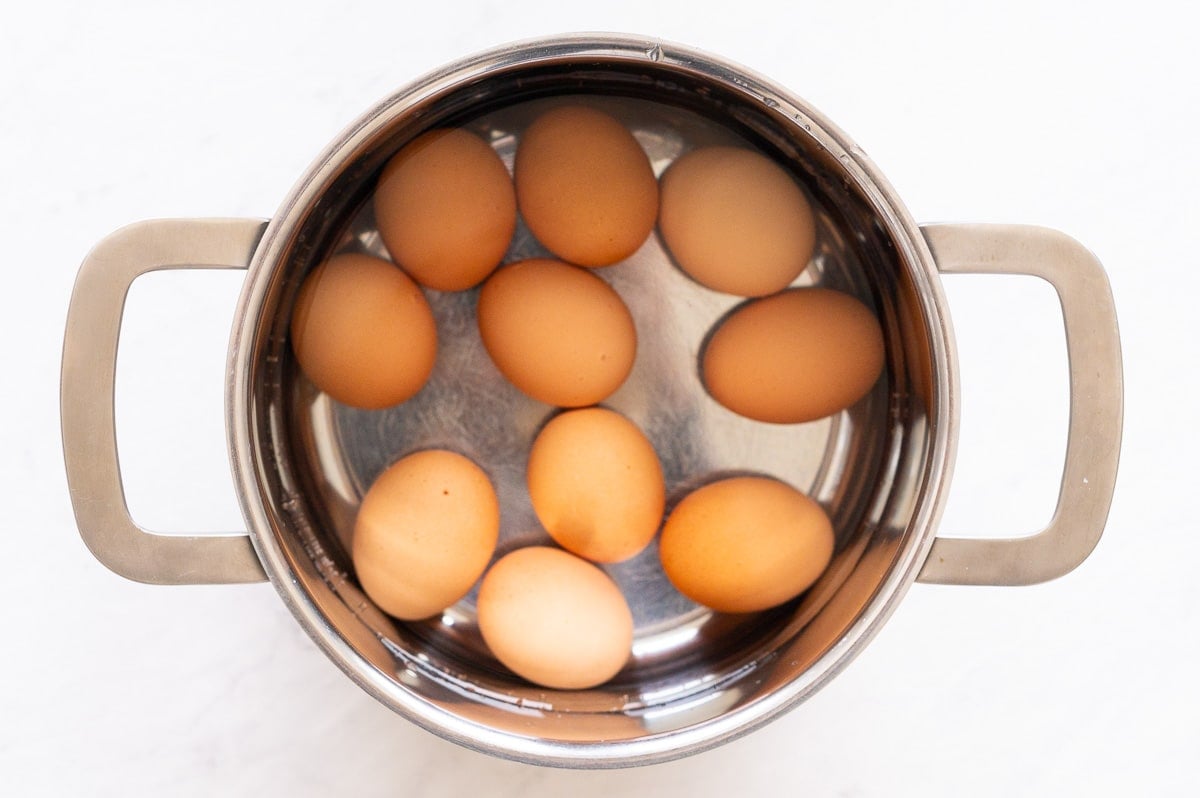 Step 1: Hard boil your eggs. My personal preferred method is to make hard boiled eggs in Instant Pot because eggs are 100% easy peel. Second favorite is the stovetop method. And in third place are air fryer hard boiled eggs.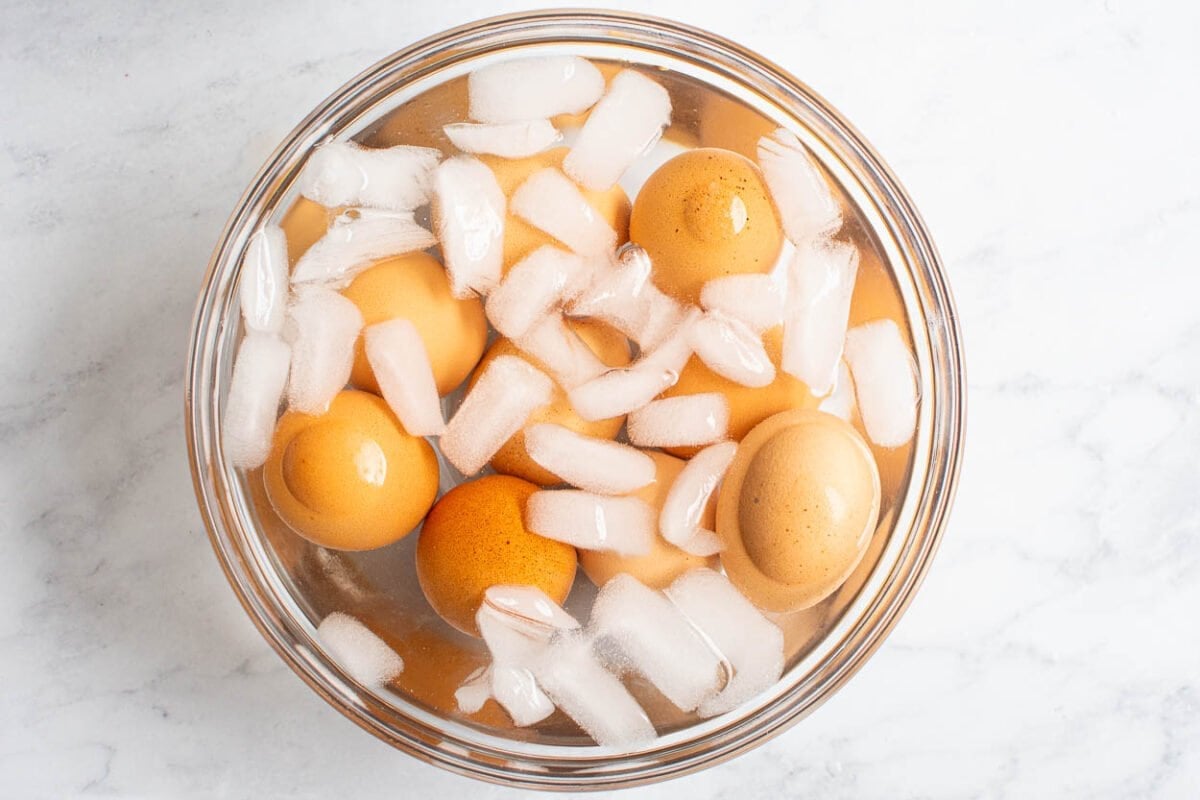 After eggs are cooked, immediately transfer them to an ice bath to stop the cooking process. Once cooled to the touch, peel the eggs, carefully. Try to avoid destroying any part of the egg whites so healthy deviled eggs look pretty.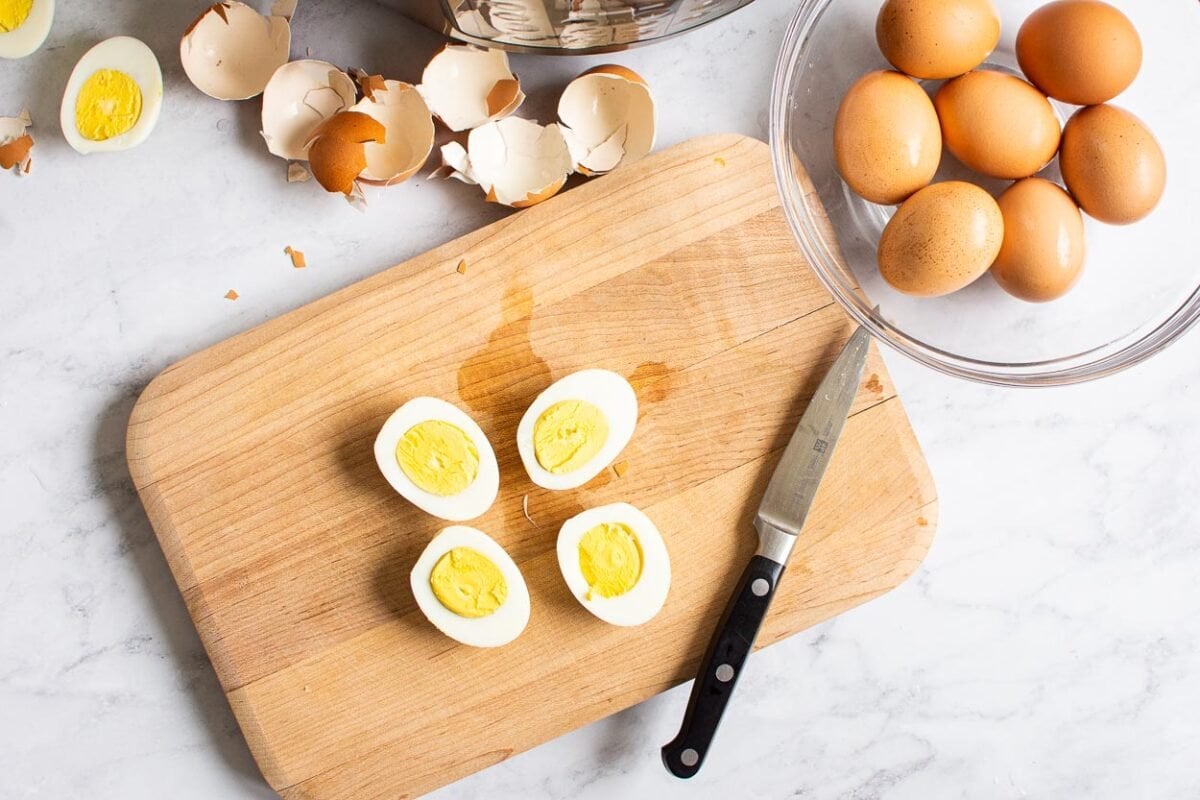 Step 2: Cut each egg in half lengthwise. Remove the yolks from the egg whites and gather them into a medium bowl. Mash with a fork, then add Greek yogurt, mustard, paprika, hot sauce, salt and pepper.
Step 3: Continue mashing until smooth and uniform mixture forms. Transfer the egg yolk mixture into a piping bag. I use a glass to hold my piping bag still while filling it.
Step 4: To pipe the egg mixture, I use Wilton disposable piping bag with a simple star tip. Twist the end of the bag tight and pipe the mixture back into the groove of the egg whites. Don't be shy, fill them to the brim, there is enough egg mixture for all deviled eggs.
The Secret to Perfect Healthy Deviled Eggs
It's in the filling. Or to be more precise, in piping it!
Are you serving guests at a party? Or are you having them as a snack for you and your family on a Tuesday afternoon?
I recommend to pipe in either case. It is super easy and will make the guests reach for these pretty healthy deviled eggs. Especially, kids who do not like eggs, will be all over this healthy high protein snack.
I use my basic Wilton piping kit and because the plastic bag is so sturdy, I rewash and reuse it again. You can also cut off a tip from a Ziploc sandwich bag and filling will still look like it came from a piping bag.
You can also just spoon the mixture into the egg whites.
Recipe Tip
I should mention that you have to use Greek yogurt. Regular yogurt contains more whey and your mixture will be runny. Which is OK for spooning it but definitely not piping.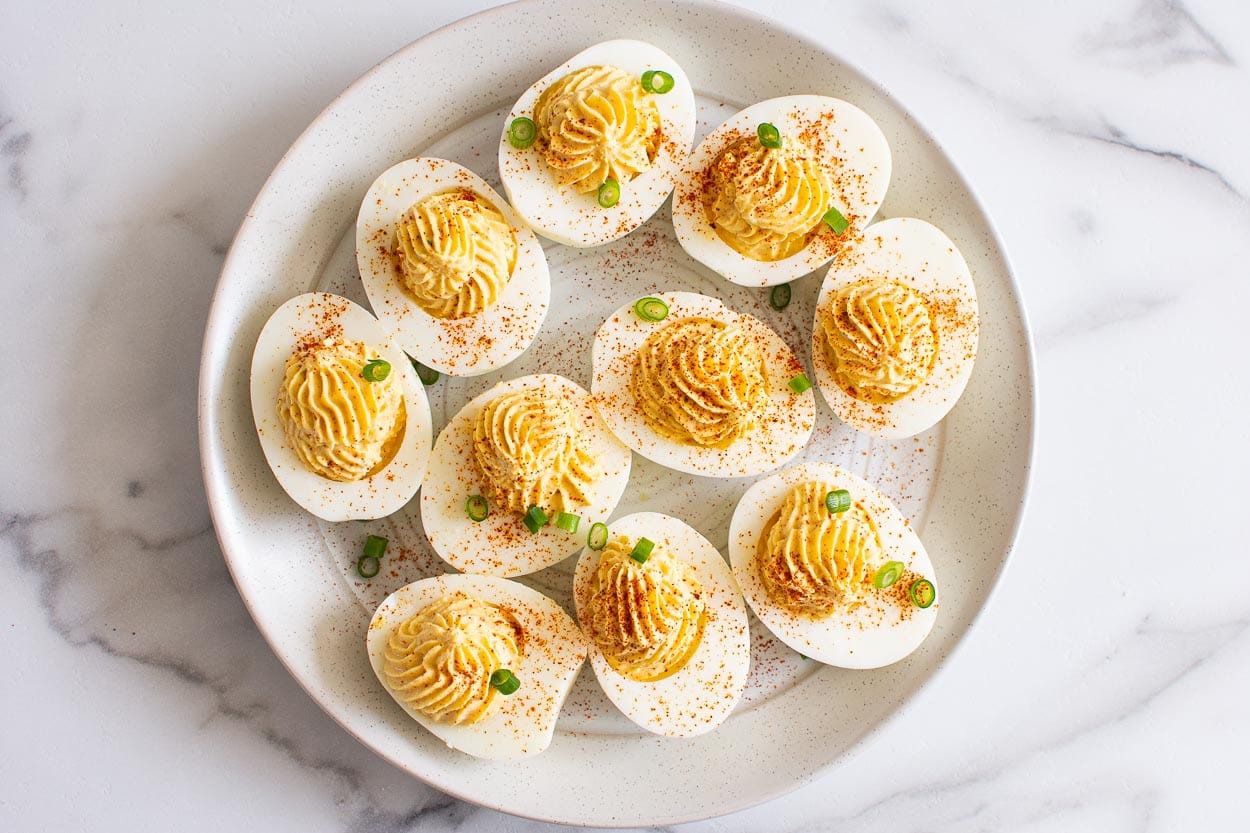 Can I Make Them in Advance?
Yes. Store the hollowed-out egg whites separately from the egg yolk mixture in airtight container in the fridge for up to 2 days. Assemble just before serving.
Technically, you can store already assembled healthy deviled eggs for 2 days in advance, but I don't recommend it. It's always nice to serve freshly piped deviled eggs to your guests.
Serving Greek Yogurt Deviled Eggs
No matter the filling technique choice, top healthy deviled eggs with green onion and paprika for an impressive presentation. Also baked bacon crumbles, chives, jalapenos, or a bit of feta cheese or goat cheese will be great. Serve on a beautiful serving platter.
My kids just love them as after-school snacks. Protein and omega 3s before dinner? Who am I to say no?! This plate was gone by the next day.
I'd say plan to serve two halves minimum per guest. You'll probably want to have more, even if just to have leftovers for the week!
Recipe Tip
Leave some plain. Have little bowls of garnishes and toppings for anyone that wants to dress their healthy deviled eggs up how they like it.
FAQs
How do you store leftovers?
Keep any healthy deviled eggs leftovers in an airtight container for up to 5 days in the fridge. Happy snacking!
How do you easily peel hard boiled eggs for deviled eggs?
This is where the ice bath plays such an important role! Fresh eggs are naturally harder to peel. So, the ice bath stops the cooking but it also helps peel the membrane away from the egg white.

Gently tap the hard boiled egg, avoiding too many little cracks, and start peeling away at it carefully. You can also use a spoon, flip it over and gently run it in between the egg white and the shell.

Can I double or triple this healthy deviled eggs recipe?
Absolutely! It's a great idea to make more than enough. For leftovers, yes, but also in case you have trouble peeling and some of them don't turn out so pretty.
Why Greek yogurt works to make healthy deviled eggs?
Greek yogurt is an awesome replacement for mayo. It's thick, rich, and creamy but isn't made with oil or egg yolk. It's higher in protein and lower in calories.

We've swapped for Greek yogurt in healthy potato salad and healthy chicken salad and have had rave reviews! Most people don't notice the difference!
More Egg Recipes to Try
More Appetizers to Try
I hope you enjoy these healthy deviled eggs! This flavorful and pretty snack is a popular healthy egg recipes repeat in our house, and I hope it will be at yours too.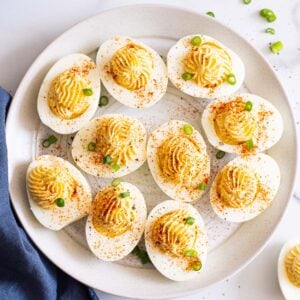 Healthy Deviled Eggs
These Healthy Deviled Eggs are made with Greek yogurt instead of mayo. They are well-seasoned, creamy and deliciously tangy.
Instructions
In a medium bowl, add the egg yolks and mash with a fork. Add Greek yogurt, mustard, apple cider vinegar, paprika, hot sauce, salt and pepper. Mash until smooth and well combined.

Transfer mixture into a piping bag with a star tip and pipe into the egg whites openings. You can also spoon it. Sprinkle with smoked paprika and green onions. Serve cold.
Notes
Make ahead: Refrigerate the egg whites and mixed egg yolk filling in separate covered containers for up to 2 days.
Store: Refrigerate in an airtight container for up to 5 days. Do not freeze.
Nutrition
Serving:
2
deviled eggs
|
Calories:
69
kcal
|
Carbohydrates:
1
g
|
Protein:
6
g
|
Fat:
4
g
|
Saturated Fat:
1
g
|
Trans Fat:
1
g
|
Cholesterol:
164
mg
|
Sodium:
176
mg
|
Fiber:
1
g
|
Sugar:
1
g