Ah, it's been wonderful! Where do I begin?!
My mom has been visiting so I really was able to do some wonderful things that I usually am not able to do. Like go for a run by myself, go tanning and visit Seattle!
The whole weekend, by ourselves! No strollers, sippy cups and diapers in my suitcase this time. And no worries cause when my mom is taking care of my house and kids, it's all taken care of! She is the best! THANK YOU, MOM!!!On the way to Seattle we stopped at Trader Joe's in Bellingham and got some supplies.
I always book a room with a fridge, so I can bring my food. It saves money and keeps my fat cells count in check.
I love Trader Joe's. A store with great healthy yummy food at affordable prices. I wish we had one in Canada.
Living only 2.5 hours away, we visit Seattle every spring. It's a family tradition. It was our first time without the kids though.
This time we stayed at the Reinassance in downtown Seattle. The hotel was good but located right by I5, so a bit noisy.
On Saturday morning we had breakfast in our room. Peaceful, quiet, no rush = priceless! The Mango Greek yogurt was delicious!
After breakfast we decided to go out and explore the downtown. As soon as we left the hotel this view opened up…
If you have never been to Seattle, it's famous for its fresh seafood, the 1st Starbucks store, the Space Needle, Grey's Anatomy, Pike Place Market, Seattle's Best coffee and piroshky…After reading this post you will probably remember Seattle only for piroshky.
Keep reading…
We ate a lot of them and I took many shots: on a shelf, before biting, after the 1st bite, with coffee, inside, outside…
Alex was just watching…Well, I love food and I love piroshky!
This building is cool, huh?!
I had to take a picture of this popcorn place. The name Kukuruza means Corn in Russian.
Check out all of the flavours here.
Just a nice shot…
Our first stop was Pike Place Market. We always start the tour of Seattle here. It was busy.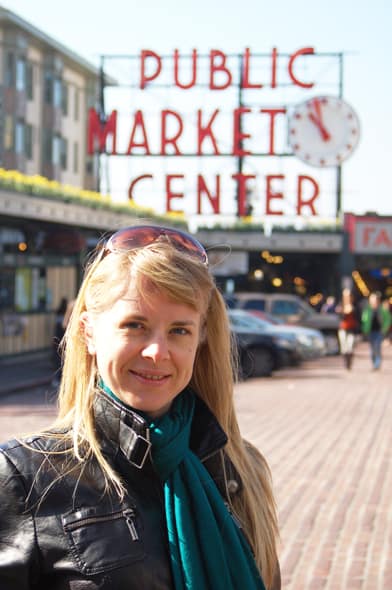 I loved the daffodils along the rooflines. So pretty.
Inside you can find a huge variety of fresh seafood. You can even get it packed for the airplane ride or shipped to your house.
It's not cheap but I bet you it's the best of the best.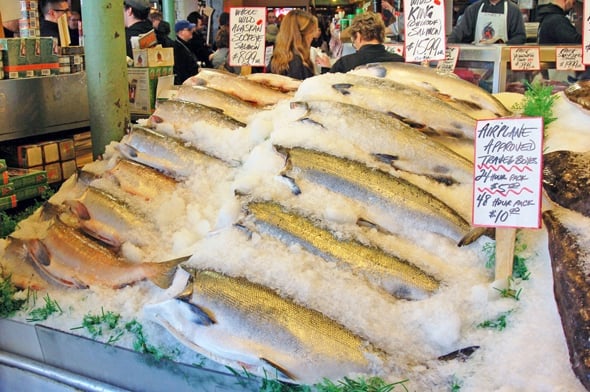 Colourful carrots…
Veggie chips…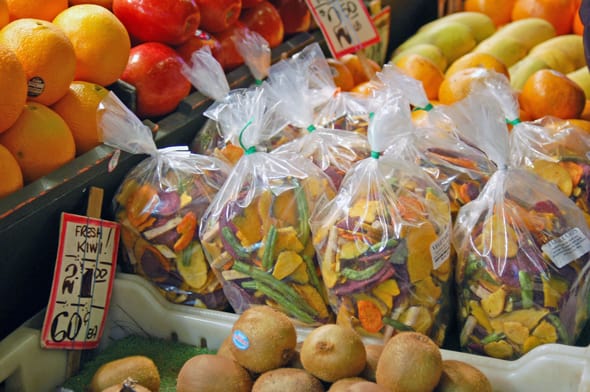 Any kind of pasta you can only imagine including Chocolate Linguine is sold here.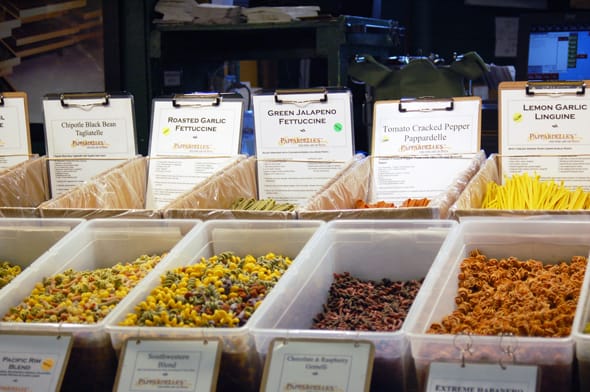 Have never seen this kind of broccoli before. Have you?
Truffles…Super fragrant mushrooms. I have never cooked with them and probably never will. But who knows?! The smallest one was $10 but you need just a little bit.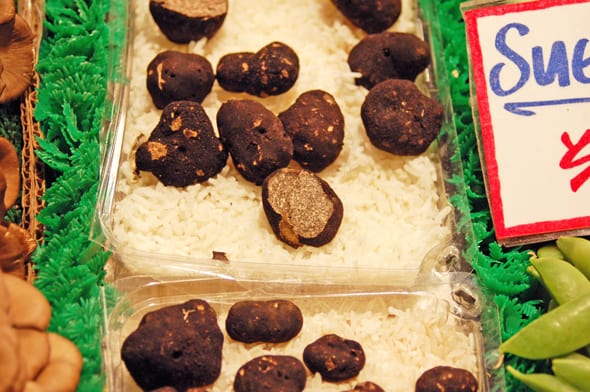 Chanterelles…I grew up with them. Hard to find but me and my mom always managed to pick some when we went mushroom picking every fall.
I bet you they would taste great in my mom's Healthy Crock Pot White Bean & Mushroom Soup.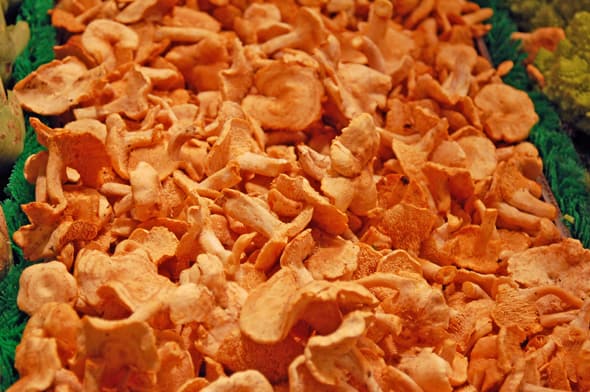 More mushrooms…
Pike Place always has an abundance of fresh cut flowers. I'm not sure if it's like this all year round but in spring for sure.
Not so many tulips yet. Once they are in season in April-May, the smell inside the market is unbelievable!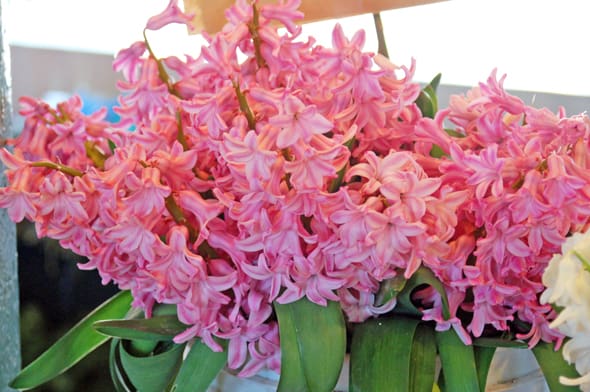 You can see many women strolling around with these bouquets of flowers. I wasn't one of them. I appreciate the beauty of flowers and love to look at them, but never care to have one. These run $15 per bouquet.
And then we reached Piroshky, Piroshky…
It is located 2 doors down from the original Starbucks store.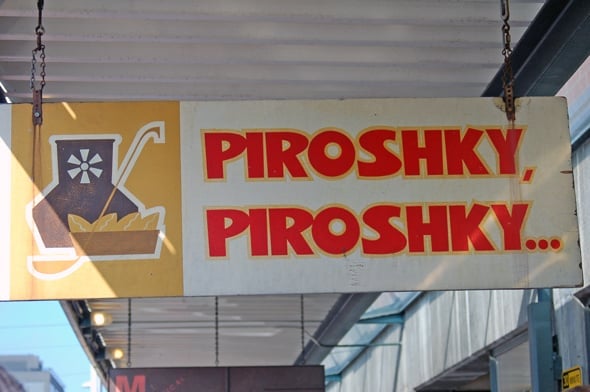 Piroshky are traditional Ukrainian/Russian food. It is basically various fillings wrapped in a yeast dough, and baked in the oven.
I would say the shape of these piroshky is not as authentic but the taste…Just like my grandma used to make. That's all that matters, right?!
While waiting in line, we watched the Russian lady making them. Beautiful process!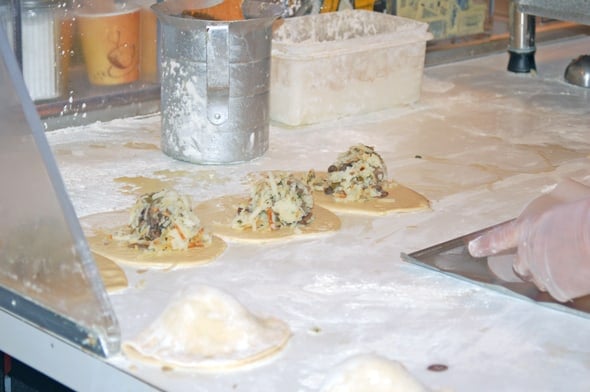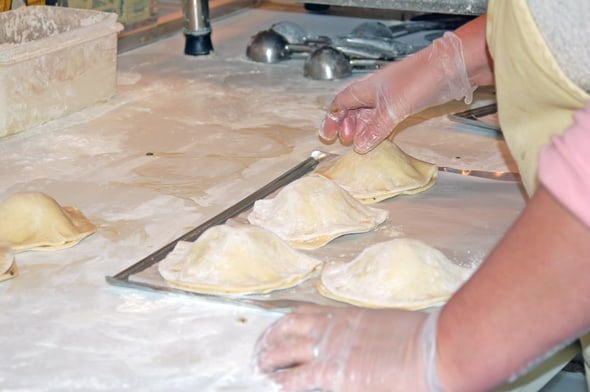 It is a mass production of piroshky…Because of people like me…
The variety is huge. From sweet to savoury ones. And they literally fly off the shelves.
The place is very busy and there is always a line up. While waiting in line, you pick your piroshky and just pray that by the time you get to the counter they won't be sold out.
It was hard to take photos as the place is tight and the line moves fast, but I managed to take a few.
I picked beef and onion one…
It was yummy! Just the way I remember it as a kid. So juicy!
Alex got some kind I can't remember. It wasn't as good as mine, because he kept asking to take a bite of mine.
But life is fair and someone wanted to take a bite of his…
Do you think this shot should go into one of these frames?
We walked past the 1st Starbucks store but didn't go in. The line was huge and at the end of the day it's the same Starbucks coffee like in any of their other locations.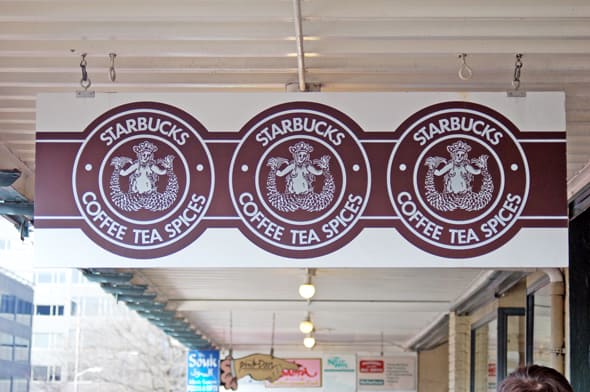 I couldn't even get close enough to take the photo of the inside. But I've been there and if you are ever in Seattle, you have to go in.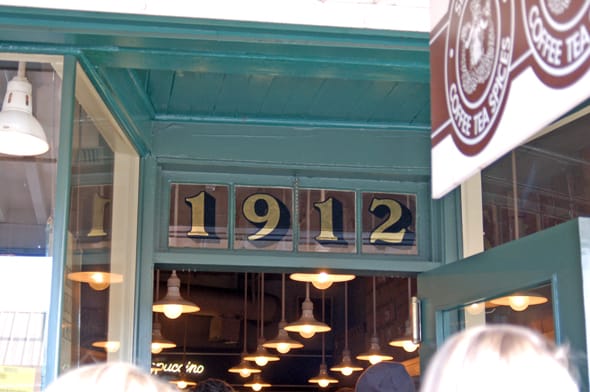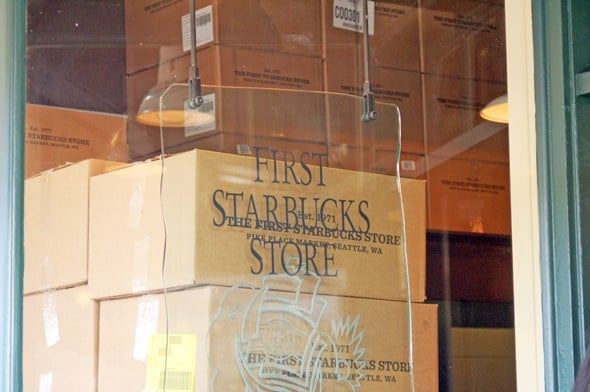 Alex decided to have a coffee with dessert from a French bakery near by.
While he was getting it, I was admiring the beauty of these breads.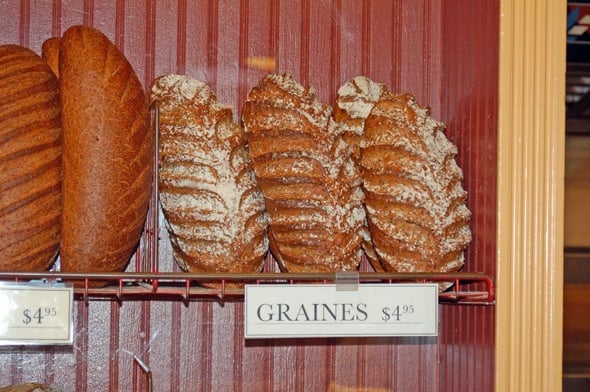 I decided to go back to Piroshky, Piroshky and get my dessert there.
The choice is overwhelming.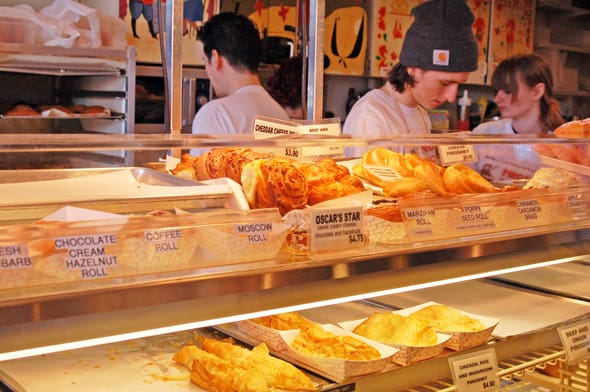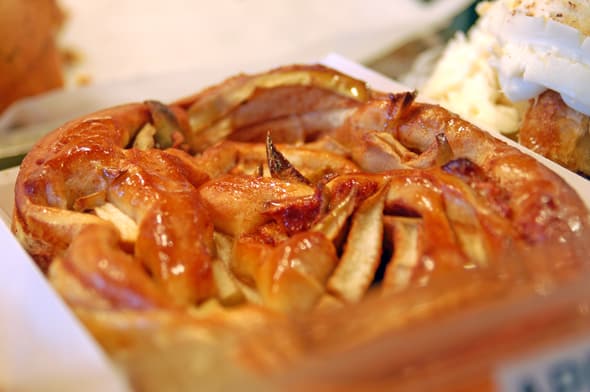 I picked this one: Poppyseed and Raisin Roll. And I also got another beef and onion.
I know, I totally pigged out but no guilt whatsoever.
This time we sat down at the beautiful park nearby and were enjoying the sunshine, the view of the ocean and people watching.
Since we couldn't get into Starbucks, got our coffee at the French deli. It was Caffe Umbria and let me tell you it was one of the best I have ever tried!!!
They have a location in Pioneer Square in Seattle, and serve it all over North America including Bellagio Hotel in Las Vegas and the Culinary Institute of America in Napa. It was really good!!!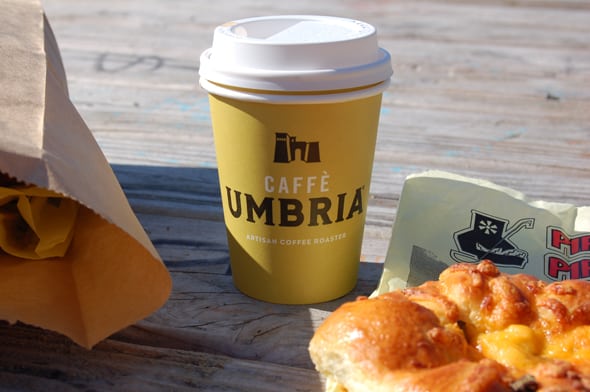 Now back to piroshky…
The outside…
The inside…
This roll reminded me a lot of the Poppyseed Roulade and if you are looking for a recipe, you can find one on Natasha's Kitchen.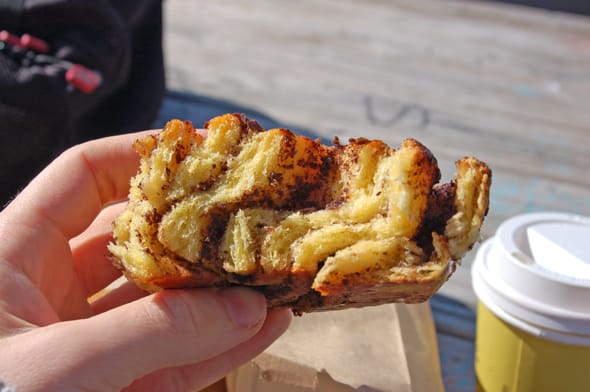 The rest of the afternoon we kept walking along the oceanside. After eating so many piroshky the walk was much needed. I could barely breathe.
The day was gorgeous!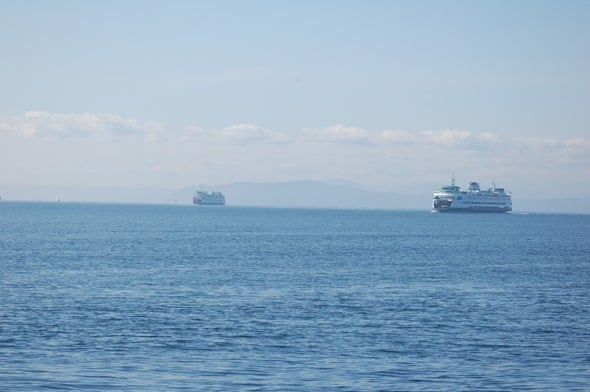 Alex took this photo for his own amusement. Apparently 2 ships were "crashing" into my head. Haha, so funny…
We spent good half hour sitting on a bench and debating whether we should go on a Seattle Great Wheel.
I have been to the Space Needle and the Eiffel Tower in Las Vegas before, and can't say I enjoy being so high. Don't get me wrong, the view is gorgeous but it's just not my thing, I guess.
So, the final verdict was no, as we watched how long it was taking to load and unload people. I have never thought of that but really you have to do it in stages. It's a wheel!
We passed by an Irish pub on one of the old downtown streets. So European…
The next day we were tired. We managed to make it to West Seattle, to the Seacrest Park and take a shot of the downtown.
It was typical North West Coast weather that day – drizzle and warm.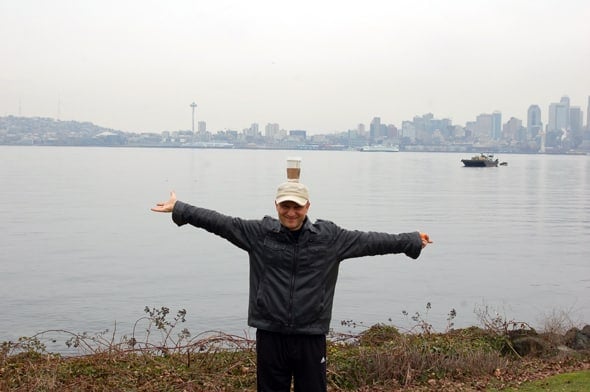 I'm pretty sure this is the place where one of the Bachelor episodes was filmed. I believe it was the finalist Brad meeting Emily's competitor here. I can't rememeber her name but she was from Seattle.
We were so full with all the food we ate the day before… So I had to put it on my Seattle 's places to visit list for next time.
As we walked back to our car we saw the diving school doing lessons on the Alki beach…
It was a great trip and we had lots of fun, but at same time  it was nice to get home and have a wonderful dinner with my mom and enjoy some hottub to conclude the wonderful weekend!:)
Bye bye, Seattle. See you next time!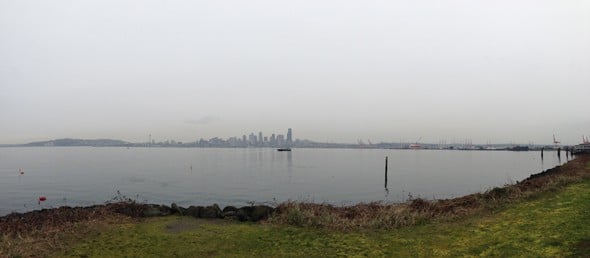 Questions of the Day:
1. Have you ever been to Seattle?
2. If so, what are your favourite places to visit in Seattle?
3. What are your favourite food places/restaurants in Seattle?