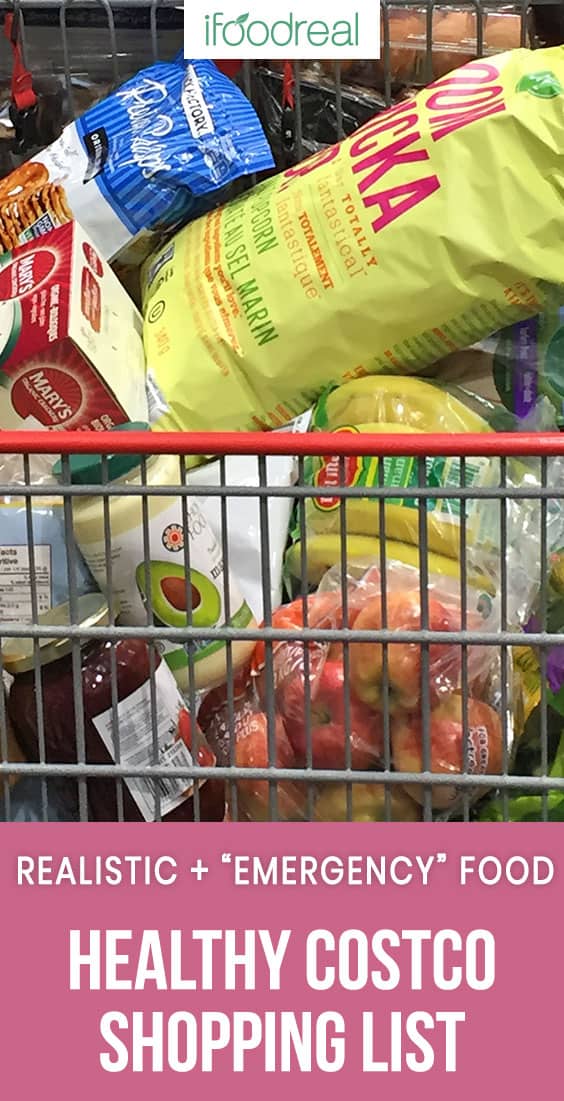 Costco has the coolest stuff at best prices, we all know that. Selection of organic and healthier foods is like nowhere else. Costco is THE store of all grocery stores. Costco and farmers market are my two most favourite places to shop.
This is my Costco in March, probably just like yours, minus or plus the snow, palm trees or sunshine.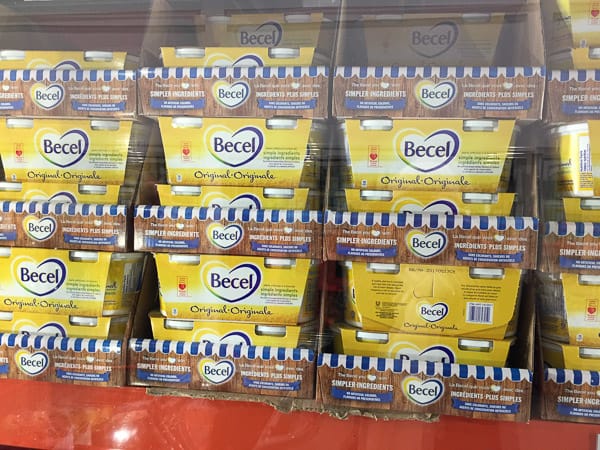 As soon as I put membership card back in the wallet, I immediately start loading shopping cart with Becel. No, kidding. Don't buy that shit ever! Petroleum processed hydrogenated GMO oils, ewww. Keep scrolling to fats you need to buy.
Also, please understand that Costco's selection varies by location and season. This is what I bought on one particular February day needing only particular items. I will update the list as I go. Also, do not hold a gun to my head telling me something isn't healthy. It's real life with 2 children.
Produce
Organic Spinach – Smoothies.
Asparagus, Mushrooms – Clean Fifteen list.
Organic Zucchini
Snap Peas – Dirty Dozen but man the struggle in February re: vegetables is real, better than chips, right?! I patted myself on the back for not buying poisonous strawberries and bought snap peas instead.
I swear Costco's Avocados are the best I have ever had in my life! Not like other produce though, especially fruit from Spain, seriously?!
Mini Cucumbers – Windset Farms is a local BC company that grows produce in greenhouses without pesticides but rather controls pests with bugs.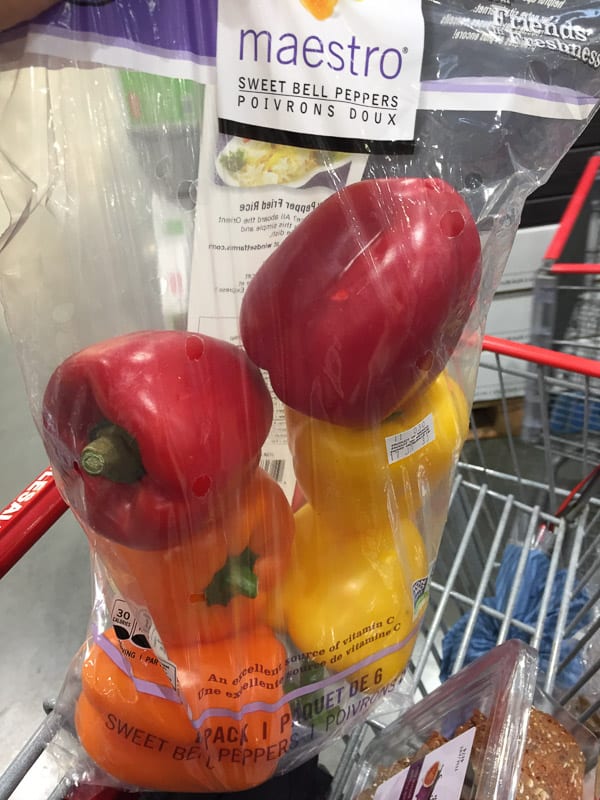 Non GMO Sweet Bell Peppers by Windset Farms.
All kinds of melons are great to buy in winter because of their price and thick skin – they make Clean Fifteen list. Even if they were sprayed, all pesticides get cut off with the skin.
Grape Tomatoes – Usually my Costco has organic ones or Windset Farms. Not sure if these are sprayed or not but we already ate them. Next time I better not rush and look for my preferred brand.
Mango – Clean Fifteen list.
Organic Strawberries – I buy only organic berries because EWG found 38 various pesticides on strawberries and raspberries in one report that DO NOT wash off with water. Costco is the best place to buy organic strawberries when they are in season somewhere besides home. Again, not often.
For those of us who don't want to eat pesticide residues and who want to stop fumigants from endangering farm workers and neighbors, buying organic is a small price to pay. The transformation of strawberries from an occasional treat to a cheap and abundant supermarket staple should serve as cautionary tale about the consequences of chemically driven industrial agriculture.
Frozen Fruit – our favourite!!! We buy it year round, especially more in winter, for smoothies and just eating. Pineapple makes Clean Fifteen, so not organic is OK. We also buy organic strawberries, mango and cherries.
I also bought a bag of bananas (not organic which were just OK taste wise but are on Clean Fifteen list) and apples (which were disgustingly flavourless, so never again).
Frozen Organic Edamame – Great addition to dinner when you don't feel like making salad or chop vegetables, take to work as a snack.
Snacks
I have compiled a detailed list of 25 Costco healthy snacks.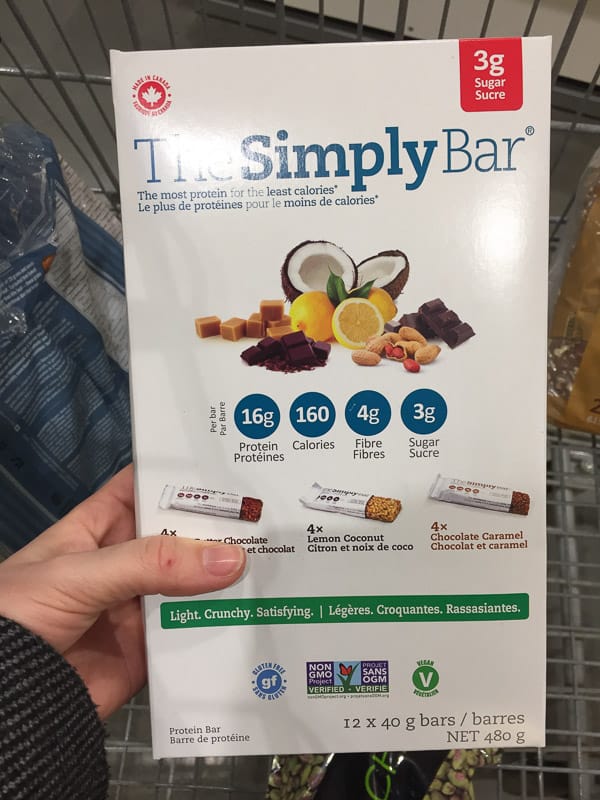 Protein bars – I buy these once in a while for when I'm on the go. I honestly do not love the taste of these, they are OK. But what I like is that these protein bars are made with plant-based protein (non-GMO soy) and are low on added sugar. You gotta pick your battles.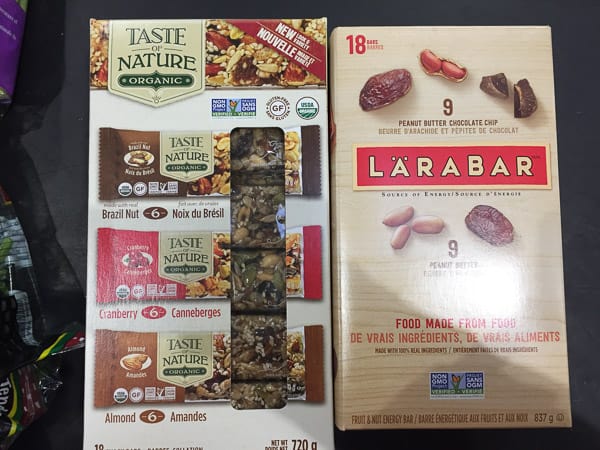 Larabars and Taste of Nature Bars – While Larabars are not OK for school because of peanuts, we all love and use them for snacks at other times. I love the simplicity of ingredients – dates, peanuts and maybe chocolate chips.
Kids love them! Taste of Nature bars contain nuts but some are OK (without peanuts) to send to school with my oldest one.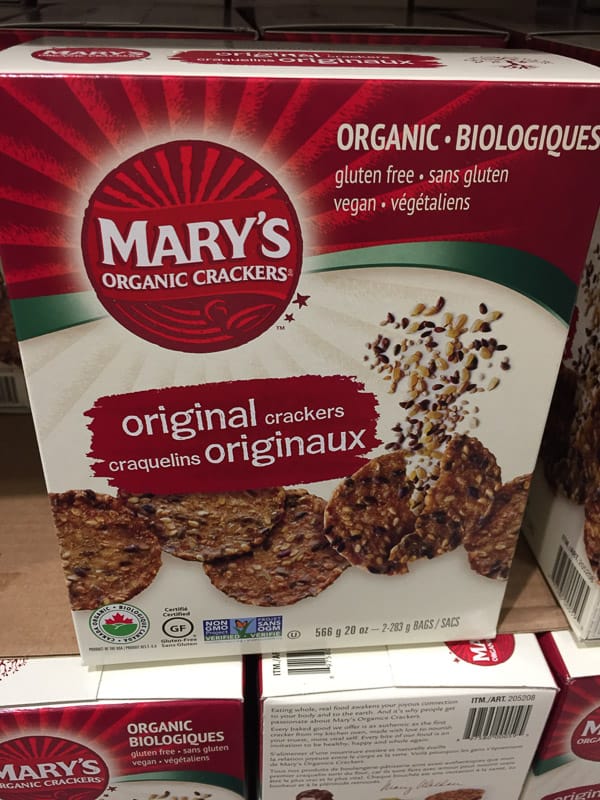 Good Whole Food Crackers.
Pretzel Chips – I do not love that these pretzel crisps are made with white flour but at least they are non-GMO and not a sugary snack for school.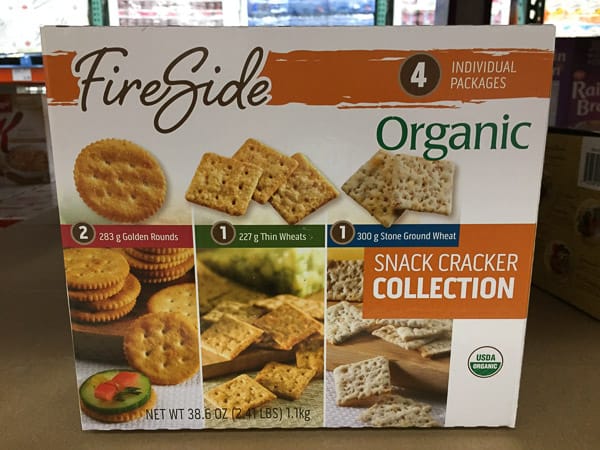 Organic Crackers – Same story as with pretzel chips. At least these crackers do not contain cr@p.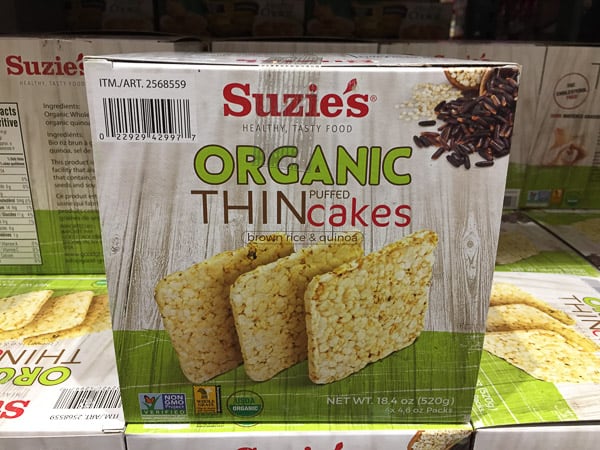 Organic Brown Rice and Quinoa Cakes – wholesome organic snack, good with nut butter or mashed avocado on top.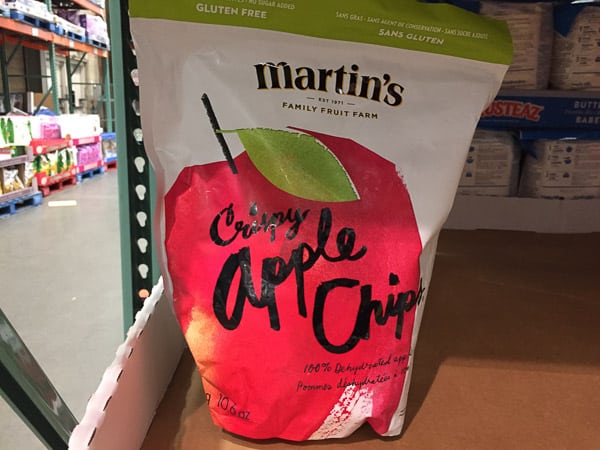 Apple Chips – Dehydrated apples, full of fiber and unprocessed, great for when you are out of fresh apples. I wish they were organic but oh, well.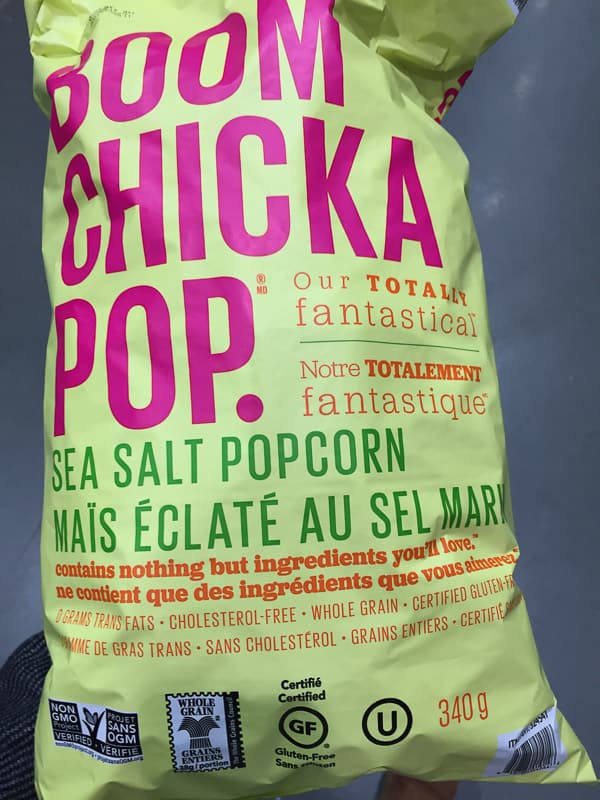 Non-GMO popcorn is good for school snacks too – not a sugar plus the peanut and nut free policy makes school snacks nearly impossible to be non-junk.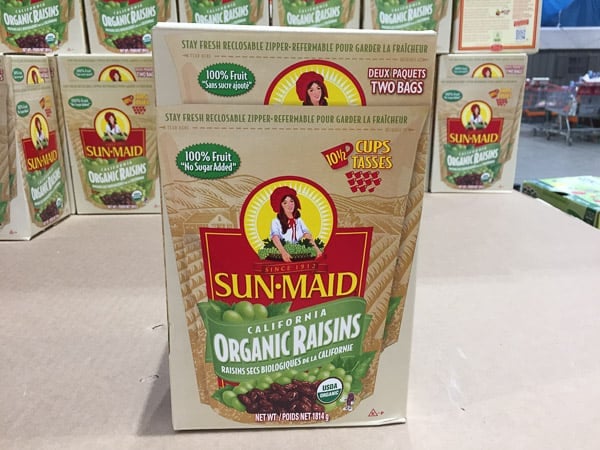 Organic Raisins – Perfect for school snacks. Seems like they come and go in my Costco. Raisins are dried grapes who like strawberries have thin skin and all pesticides just go right through, so organic are preferred.
Unsalted Mixed Nuts – We all love these! I gave up on buying organic nuts long time ago because they are so expensive. Not fried in canola or vegetable oil? Score!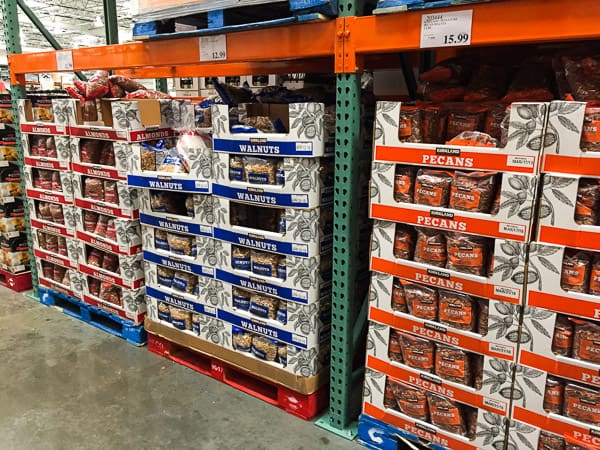 Raw Unsalted Nuts – Kirkland brand: walnuts, almonds, pecans – great for snacking and baking.
Food Should Taste Good – non-GMO Project Verified with better ingredients chips. Still chips, just healthier.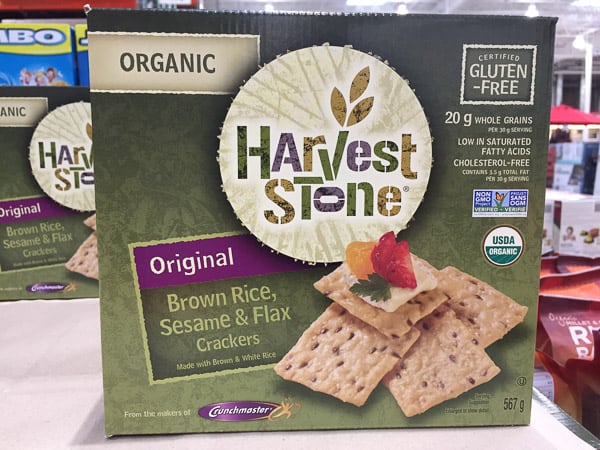 Organic Crackers – I bought these crackers because they were on sale and contain good ingredients.
Grains
Quick Cooking Steel Cut Oats – Organic and they make the best crunchy oatmeal in 15 minutes.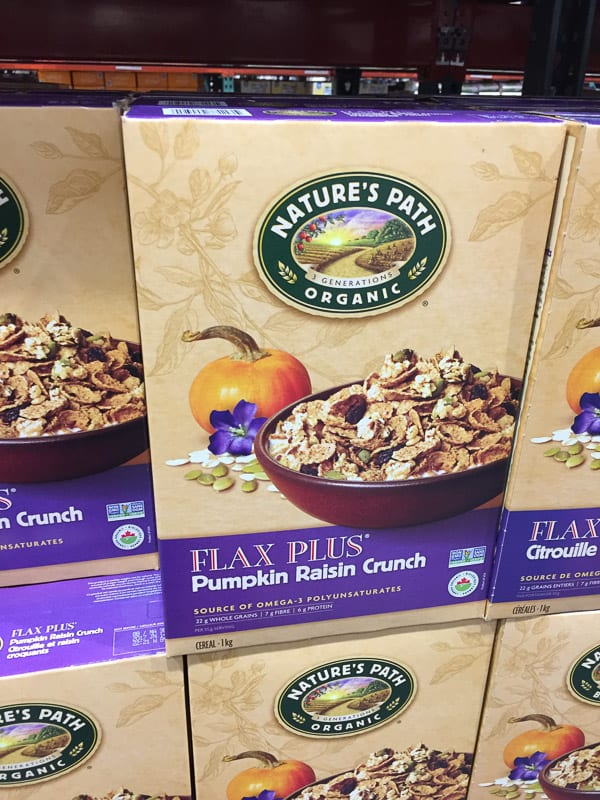 Organic Cereal – I'm not a morning cook. I feed kids cereal, toast, eggs and oatmeal for breakfast. My breakfast philosophy is as less sugar and possibly all organic. I'm not making my own cereal simply because my kids don't like it. Some things just won't happen in my clean eating journey. C'est la vie.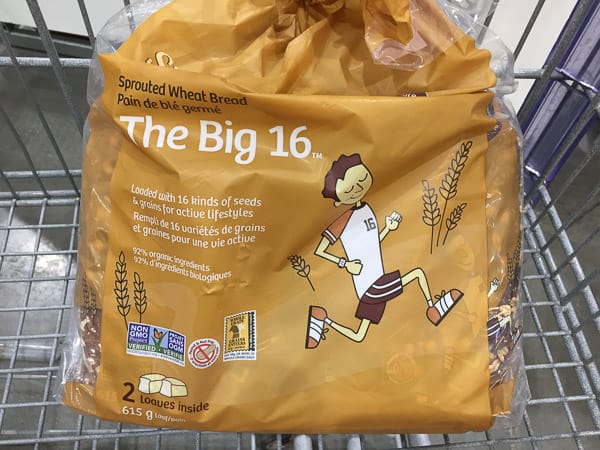 Organic Bread – all my 3 boys eat a lot of bread because they are boys who play sports and work out. I am not against grains at all, can't imagine our life without bread, especially with schools that do not allow any kind of nuts. Plus honestly, only 1% of people are truly gluten intolerant, everything else is marketing. We are not, yay. We used to buy Dave's Killer Bread but lately we switched to Silver Hill because it has 1 g of sugar vs. 5g in Dave's. It is added sugar, please note. Silver Hill is a local bakery, so organic bread variety might vary for you.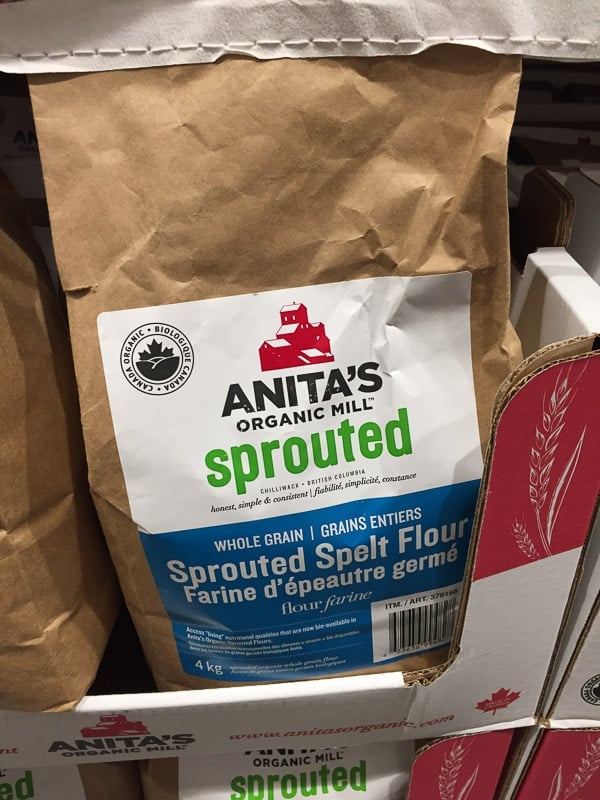 Organic Spelt Flour – from our local company. I LOVE baking with spelt flour instead of whole wheat because it is lighter. Our favourites are: healthy zucchini bread, healthy banana muffins and healthy blueberry muffins. To find affordable spelt flour is not always easy. So, thank you, Costco!!!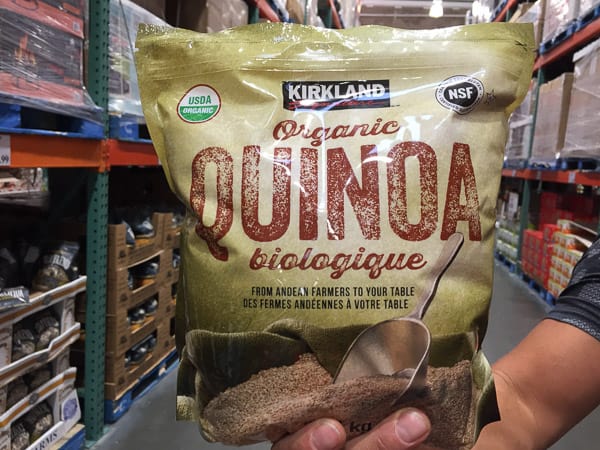 Organic Quinoa
Organic Brown Rice
Organic Rice and Quinoa Blend – Was on sale, so I got it. We do not eat white rice because it has been stripped of fiber and nutrients.
Healthy Ramen – With organic millet and brown rice, was on sale, not cheap otherwise. Doesn't contain spices or broth. Good for emergency and to add variety to your healthy diet. Things can get boring pretty quickly in anyone's household.
Organic Whole Grain Pasta
Red Lentil Pasta
Meat and Seafood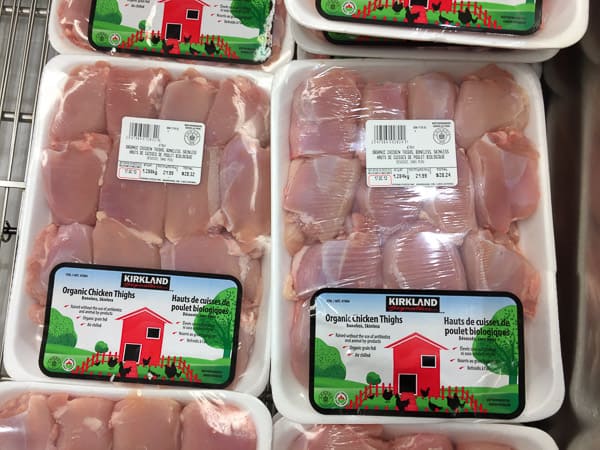 We do not buy meat at Costco except occasional Organic Chicken. I usually buy chicken from my local organic farmer, Alex fishes for salmon in Fall and my mom supplies us venison from their hunting trips in Alberta. Overall, we try to eat less meat and animal products => do we really need that much protein?!
My favourite Canned Salmon. There is a more expensive kind, sockeye salmon, but I am cheap. Well, sometimes I buy that one. We eat it straight from the can, especially me for lunch.
You are probably looking at farmed Shrimp, I know. I buy it very rarely. To buy wild decent size shrimp is nearly impossible in Vancouver. So, c'est la vie. 4 times a year I buy it and make shrimp avocado tomato salad.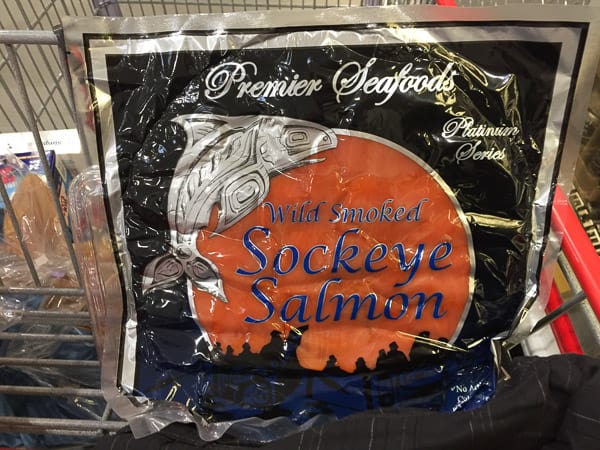 Smoked Salmon is expensive so it is a treat. Definitely once a quarter treat. It is wild, yay.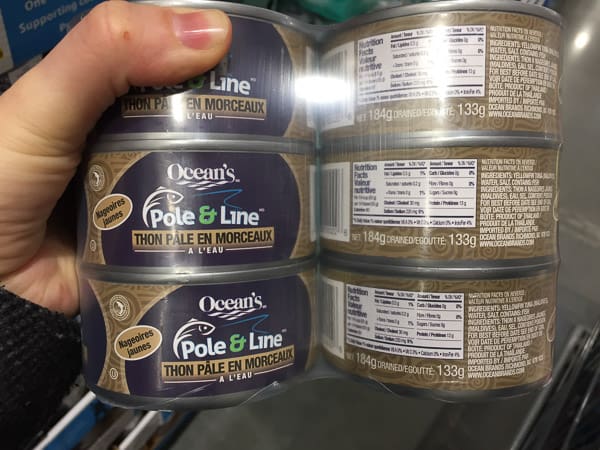 My kids love tuna and I don't (huge exception is my healthy tuna salad recipe – to die for creaminess and sweet and salty combo). I buy this pole and line kind which promises to be sustainable and pray it won't "kill" us. Tuna contains mercury. 6 cans will last us 2-3 months, so I think we will be fine.
Coffee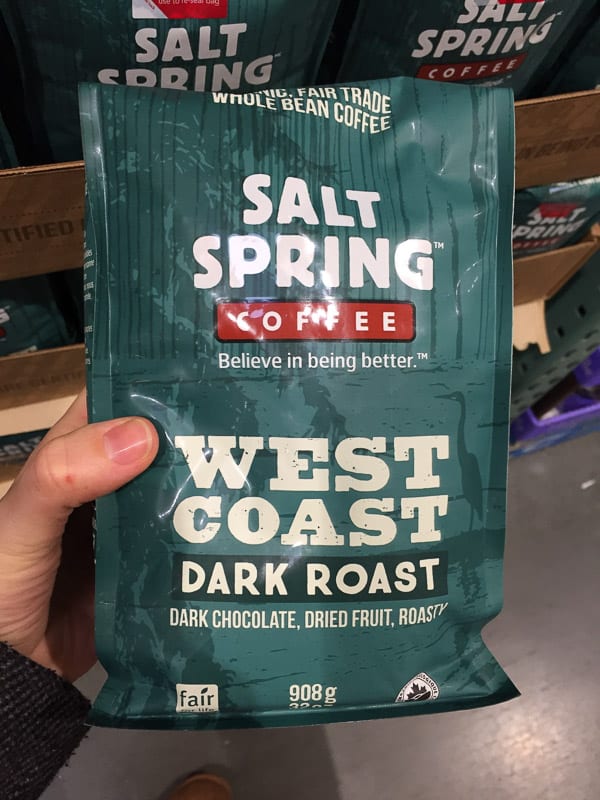 Coffeeeeeeeee…Only organic and only in a form of beans. We grind coffee ourselves. Coffee is extremely high in pesticides so only organic. Not to mention the flavour – Folgers, VanHoutte and Maxwell House are disgusting. I'm European – coffee, tea and wine must be good or bye-bye. That is why I always save leftover cold coffee to make healthy iced coffee and healthy frappuccino.
Coffee selection will greatly vary on your location, I found. I buy Salt Spring, Level Ground and Ethical Bean.
Fats
Almond Butter – I'm not crazy about the fact that it is in a plastic jar, because fat products should be in glass jars due to contact with plastic. But I was already at Costco and had no time to go to a regular grocery store. My 10 year old likes it for school lunches when peanut butter is prohibited and almond butter is kinda allowed.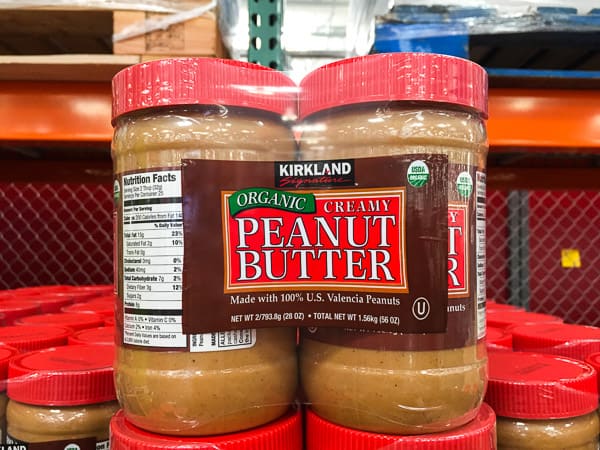 Organic Peanut Butter
Avocado Mayo – I was super happy to see it at Costco because it costs an arm and a leg in a regular store. This jar will last me a year. I like Chosen Foods mayo because it is made with avocado oil that is pretty much organic, organic eggs, honey and very good clean ingredients.
Avocado Oil for cooking all the way. It has a high smoke point and no aftertaste. And seriously, it is pretty much organic as avocados have thick skin and are barely sprayed.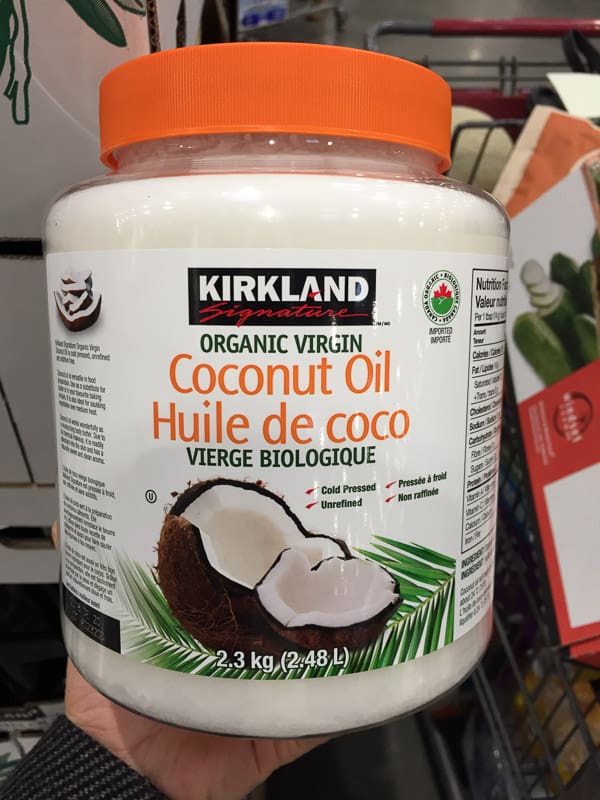 I use Organic Coconut Oil mostly as an ingredient in recipes like coconut oil fudge, no bake peanut butter pie and healthy chocolate coconut balls. I like to eat a bit by the spoon.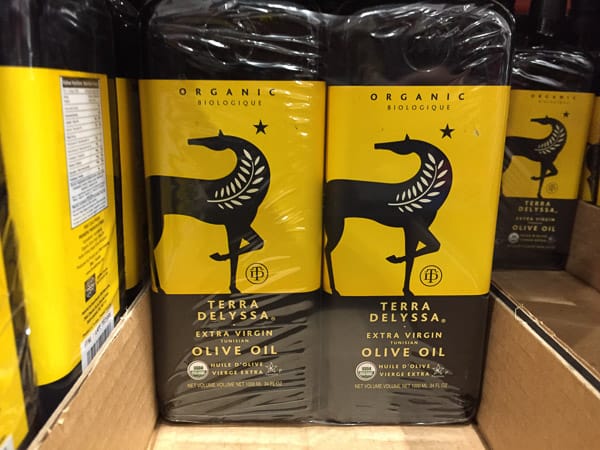 Organic Olive Oil – Good olive oil is extra virgin, cold pressed and in a dark bottle.
Dairy and Eggs
Organic Almond Milk – For smoothies, coffee, cereal and baking.
Organic Eggs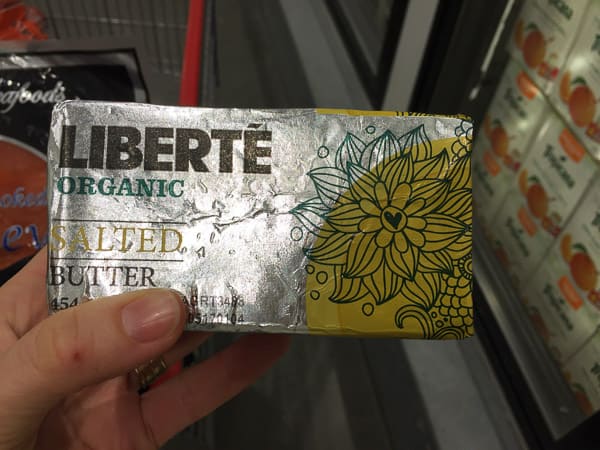 Organic Salted Butter – I would prefer unsalted but honestly I don't care, I just add less salt to a meal I'm adding butter to. I'm not concerned about our salt intake because we barely eat processed foods which are a source of sodium concern. I use pink salt that is actually super good for us. Our bodies need salt in moderate amounts.
Organic Vanilla Yogurt – I do not buy it often because one serving has as much added sugar as ice cream!!! It is crazy, right?! A whopping 19 g of sugar per 3/4 cup. Kids like it (of course), so I started to mix it up with plain yogurt. I do not eat added sugar yogurts.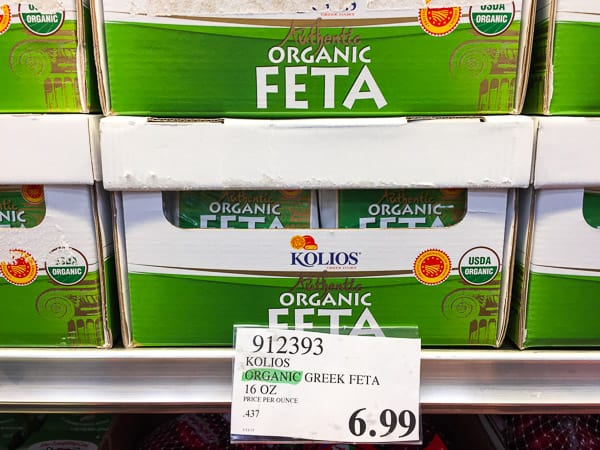 Organic Feta Cheese – For moderate consumption in salads like tomato pasta salad.
Organic and Grass-Fed Hard Cheese – For snacks and making casseroles like ground turkey quinoa casserole. I monitor the amount of cheese my kids eat, grown ups don't eat much at all. I love the fact that Kerrygold cheese is made with grass fed milk and is imported from Ireland – quality product right there without being certified organic = common sense.
Cans and Jars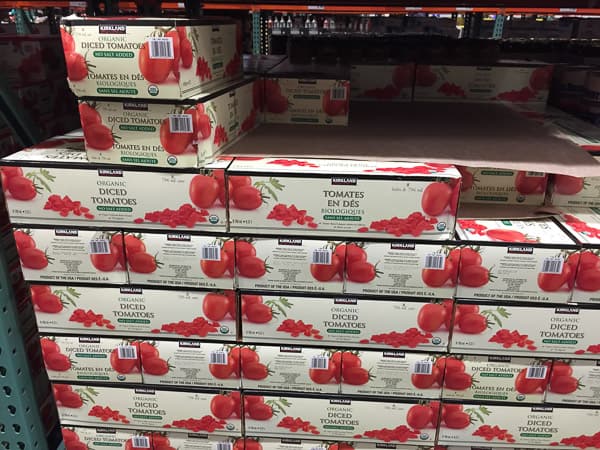 Organic Canned Diced Tomatoes, Tomato Sauce and Tomato Paste – I like the fact that they are all organic considering tomatoes are on a Dirty Dozen list and low in sodium and added sugar. I can't cook without these ingredients and buying them in glass jars organic is nearly impossible where I live due to price and availability. I am not crazy about cans but I think Kirkland cans are without BPA.
Organic Salsa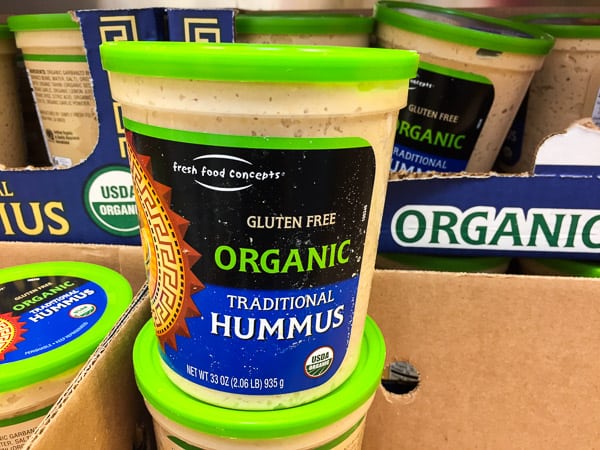 Organic Hummus – Although I love my garlic hummus recipe dearly, sometimes it's nice to buy hummus that tastes not bad and costs $5.
Organic Coconut Milk – This brand is the best consistency coconut milk I have ever tried.
Emergency
I talk openly that we eat clean 80-90% of time because it is real life with 2 kids. So, meet my "emergency" food.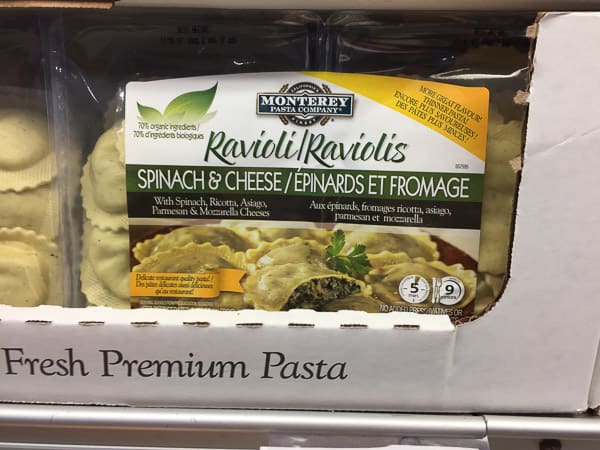 70% Organic Ravioli – 70% works for me. Kids love it and I eat one or two.
Organic Lentil Soup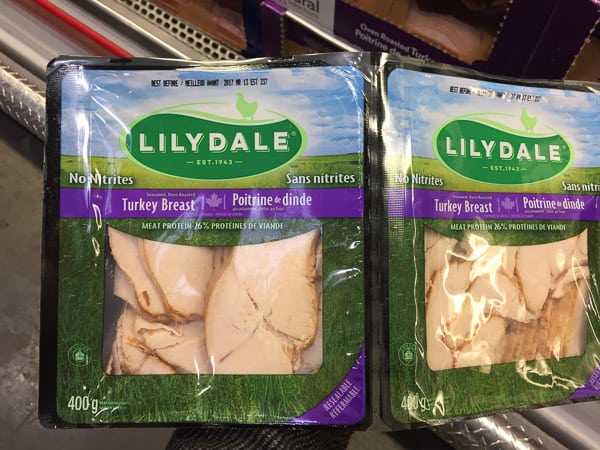 Cooked Turkey Breast – Ugh, I'm not crazy about this one as I'm not a fan of Lilydale. Even their organic chicken I'm not sure – I do not love commercial chicken farms, even organic. They still suck. But this particular time I went for cooked turkey breast without nitrites for lunches and dinners. I had to.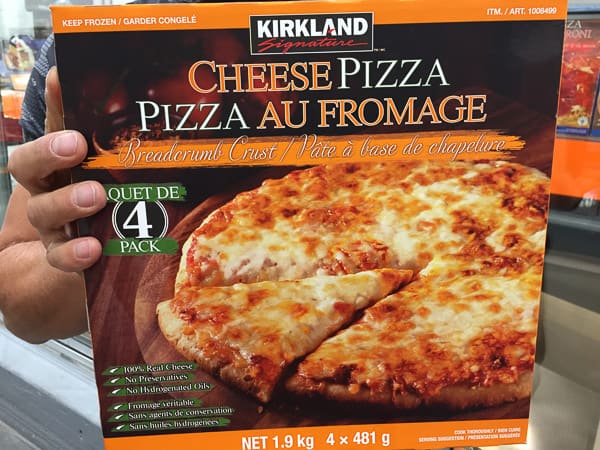 Cheese Pizza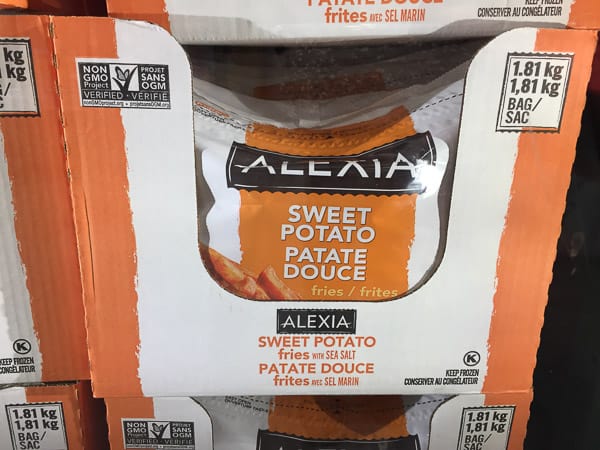 Sweet Potato Fries – makes me feel like I'm eating fries but healthier.
Salmon Burgers – I appreciate the fact that salmon is wild, however I'm not crazy about other non-organic or non-GMO ingredients. Therefore, it is an emergency food.
Mac and Cheese – When I have no time to cook (usually when I'm not home) I make kids Annie's, at least it's organic without nasty colours and additives. Also great for hot lunches, I put it in the one and only stainless steel thermos I found without plastic lid inside.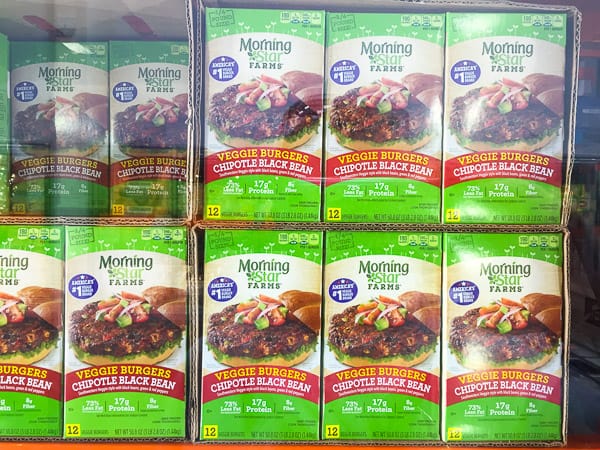 Veggie Burgers – Not entirely clean but better than eating a beef burger or other junk. We like to eat it with a salad, quinoa or brown rice; rarely on a bun.
Odds and Ends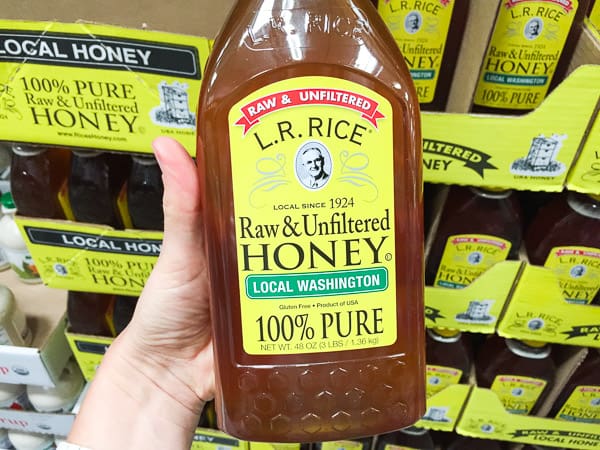 Raw Honey – Raw unfiltered honey is the best in terms of health benefits. Filtered honey is the same as liquid sugar. Best consumed raw.
Maple Syrup – I would say one of the healthiest and my favourite natural sweeteners. It doesn't solidify as honey often does, makes great pancake syrup, and is so tasty.
Organic Chia Seeds – I love making chia pudding for breakfast and snacks.
Flaxseed and Hemp Hearts – Healthy fats that frankly I don't love but try to add to baked goods and whenever I can.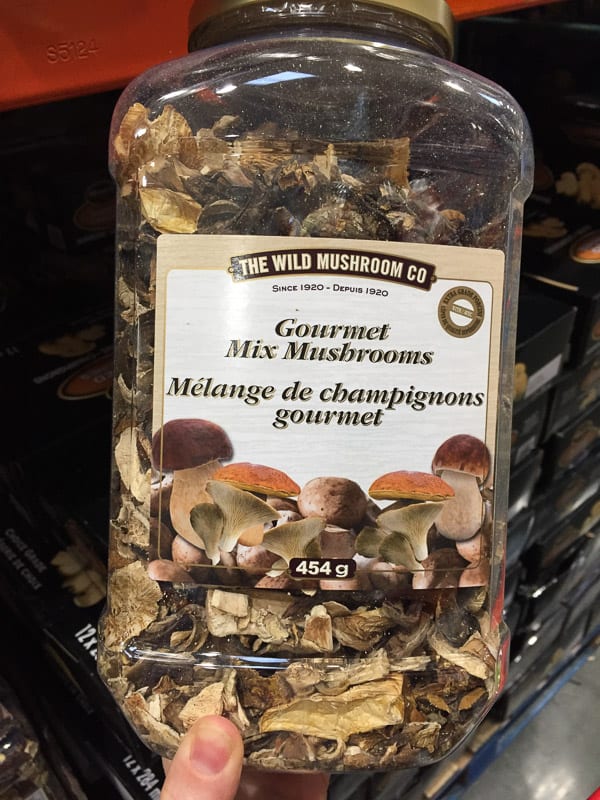 I grew up eating Wild Mushrooms and was super happy to see them at Costco. I add wild mushrooms to soups and stews, just for a change.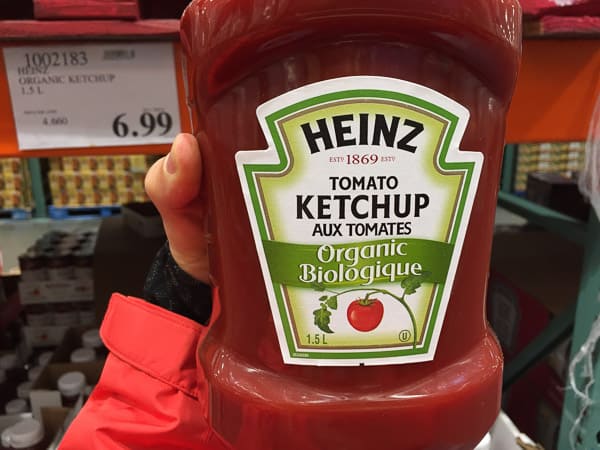 Organic Ketchup – Lasts us about a year haha. Ketchup is ketchup, still should be used sparingly as a condiment. We use rarely, like mayo.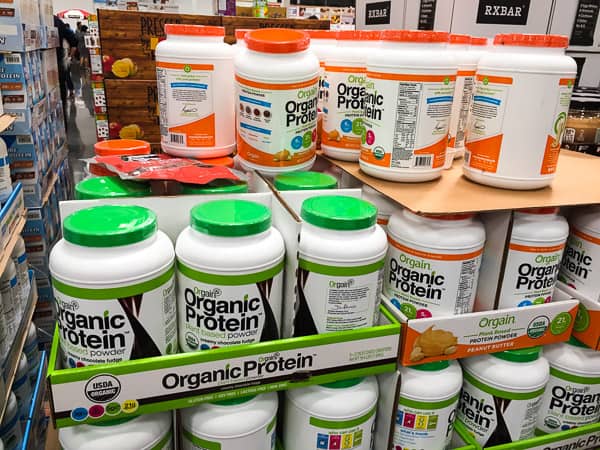 Organic Protein Powder
Treats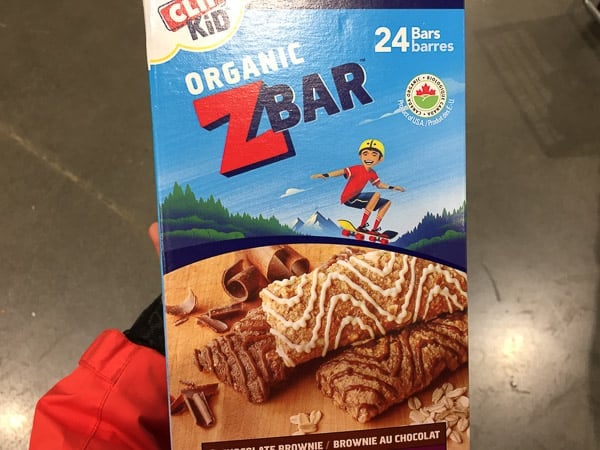 Organic Z Bars – At first I was going to add them to "Snacks" category but then I realized I don't treat them this way. Z Bars are quite high in sugar and are no different than cookies, that is why my kids are crazy about them. And that is why I keep them out of reach and give when I am out of other snacks, aka back up/treat food. And I do not buy them every Costco shopping trip.
Also I have to give a credit to Cliff company for coming up with a catchy name "Z Bars" – kids love to say it and it is easy to remember, but that doesn't change the fact that they are high in sugar. Cliff people, PLEASE reduce the amount of sugar and I will review my approach to Z Bars on my blog! Polite blackmail to keep our kids healthy.:)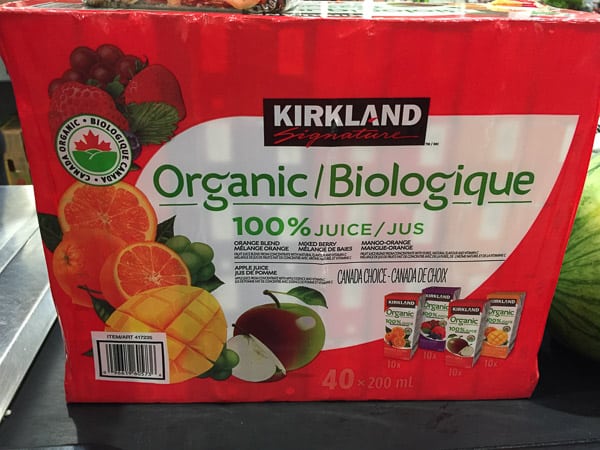 Organic Juice Boxes – Juice falls into the same category as ice cream for me. I buy juice boxes 4 times a year, few times being summer when we go to the beach and field trips, and over winter for skiing trips.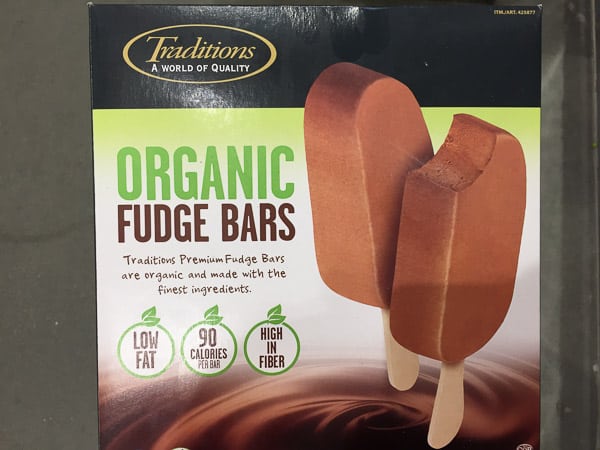 Organic Fudge Bars – At least no chemicals and colours.
Organic Cheese Strings – I make my kids celebrate cheese strings like candy.:)
So, here you have it, my healthy Costco shopping list. I will update it as I go.
I love you, Costco!
What real food do you like to buy at Costco? How much is your Costco bill on average?