This recipe for Healthy Tuna Salad Recipe has fewer calories and fat by using Greek yogurt. It is lighter yet super flavorful, creamy and fluffy! Serve it sandwich style or over a bed of fresh greens for a light meal.
Other meal prep salads we love are this chickpea tuna salad, Mexican tuna salad and avocado tuna salad.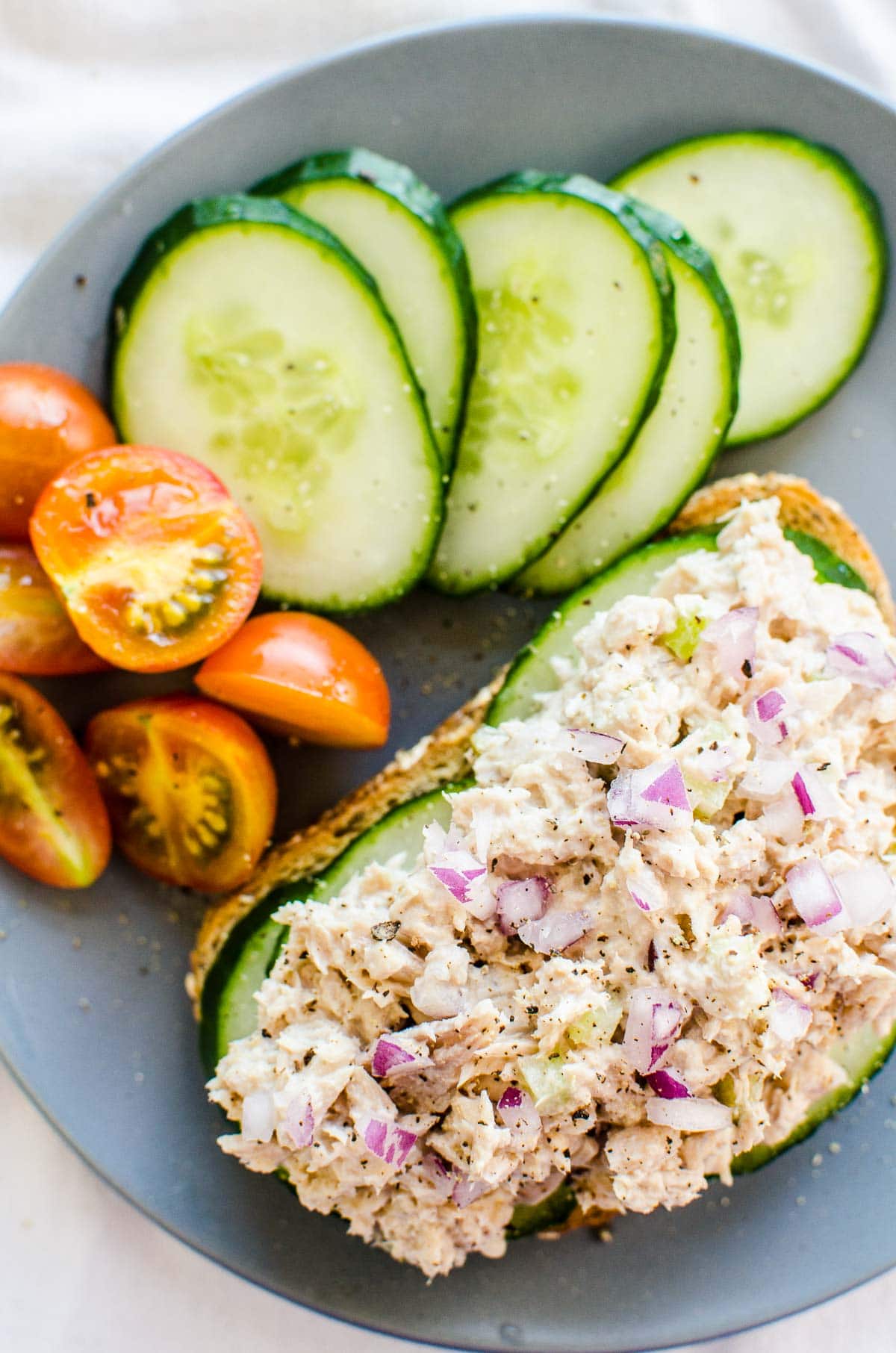 It took me a few years to come up with a healthy tuna salad recipe I like. I am more of a canned salmon salad girl but my kids love tuna, so I kept trying.
I tried all healthy versions of tuna salad – with avocado, and with yogurt instead of mayo. Not the same although I do quite love avocado egg salad. Just not with tuna.
I already struggle with the whole concept of "tasty classic tuna salad". So, it took a few tries to come up with what I consider a tuna salad that is a lighter option yet tastes like it has a cup of mayo.
I am finally happy to share the best tuna salad recipe I can eat too! There just has to be a touch of mayo for me, personally. You can omit it though, it is a very small amount!
Ingredients for Healthy Tuna Salad
Here are 10 simple ingredients necessary to make a low calorie tuna salad for quick lunches.
Canned tuna: You will need 4 cans of tuna, regular size of 4 ounces each. Keep scrolling for Canned tuna 101 info.
Mayo + plain Greek yogurt: The best combination to get that traditional tuna salad taste but with less calories. Use mayo made with avocado oil and Greek yogurt with at least 2% fat for the tastiest Greek yogurt tuna salad results. You can omit mayonnaise though.
Dill pickles: Add a briny taste with sweet and sour notes that really make this tuna recipe outstanding.
Celery and red onion: Crunchy celery and zesty red onion add both crunch with bold earthy and sweet taste.
Fresh garlic: Because garlic is always a must in any dish, hands down.
Lemon juice: Adds tang and brightness.
How to Make Healthy Tuna Salad Recipe
This healthy tuna salad recipe is so easy and great option for healthy lunches. You can whip it up with pantry staples and other simple ingredients.
It takes only 15 minutes of prep. Simply mix the ingredients, then place in the refrigerator to chill.
Drain a can of tuna: Holding onto the lid of open can, flip the can and drain into the sink while pressing hard on the lid.
Flake the tuna: Using a fork, remove tuna from a can into a mixing bowl and flake with a fork. You can also add all 4 cans into a large bowl and flake with a hand mixer.
Combine all ingredients: Now it's time to put your healthy tuna salad together! Add to your bowl with tuna the pickles, celery, red onion, garlic, lemon juice, salt, pepper, yogurt and mayo.
Stir well with a fork and refrigerate. 30 minutes would be enough but longer is better.
Variations
I am sharing just a basic recipe for a tuna salad. You can jazz it up to satisfy your taste buds.
Here are a few variations I tried or think would be good:
Curried salad: Add desired amount of fresh curry powder. I used the same yellow curry powder I make yellow chicken curry with and salad turns out so flavorful!
Pasta salad: Mix with cooked whole wheat macaroni for healthy tuna pasta salad.
Avocado and eggs: Love avocado? Substitute mayo with mashed avocado. Add a few chopped hard boiled eggs. This is when I would add a squirt of Dijon mustard too.
Fresh herbs: You can always add 2-3 tablespoons of finely chopped fresh dill, fresh parsley or green onion. I like to keep salad basic for you, so you can make it anytime, but I add herbs if I have them on hand.
Serving Healthy Tuna Salad
Tuna salad may have salad in its name, but it can be enjoyed in so many more ways.
Low carb meal: Swap out the chicken for tuna and make lettuce wraps or lettuce cups. Or serve over a bed of salad greens.
Open-faced sandwich: Make tuna salad sandwiches with a few slices of cucumber under it, so good and fresh! Or go diner style and grill with a slice of cheese for a tuna melt.
Breakfast or lunch toast: Top your whole grain bread or protein bagel with it for a healthy meal of fiber, fat and protein! Or make tuna avocado toast by smashing an avocado on toast and topping it with a scoop of healthy tuna salad.
In an avocado: Scoop out the avocado seed and fill the empty avocado halves with the salad! A restaurant quality healthy lunch.
With crackers or pita chips: Choose some healthier prepackaged snack crackers such as organic Triscuits or sweet potato crackers.
How Long Does Tuna Salad Last?
Salad can be refrigerated for up to 5 days. It is perfect for meal prep. I like to make salad in a large Pyrex glass bowl, then just pop a lid on and refrigerate. You can also keep it in an airtight container.
What Is the Best Canned Tuna to Use?
There are so many cans of tuna on the grocery store shelves. Which one to buy?
Here is a quick overview of different kinds of tuna, so you can pick the best one next time.
Types of Tuna
Albacore tuna: White tuna has less "fishy" taste, white color and a firm texture. According to US FDA, it is higher in mercury than other tuna species because it eats more fish that might contain mercury.
Light tuna: Is a mix of smaller tuna species like yellowfin tuna, skipjack tuna and yellowtail tuna. It is tan to pink in color, has softer texture, more flavor but also more strong fish taste. It has lower mercury levels than albacore.
Various Tuna Flake Sizes
Solid tuna: Is a whole piece of tuna squeezed inside the can.
Chunk tuna: It is basically smaller pieces of solid tuna combined in one can.
Flake tuna: Pressed through a fine mesh screen to make it small.
Grated tuna: Made even into smaller particles than flake tuna. Never seen this one at the grocery store.
Marinades It Is Packed In
Packed in water: Has less added flavor, costs less and possibly contains more Omega-3 fatty acids.
Packed in oil: Usually in vegetable oil or olive oil, which adds slight flavor and increases the price.
My Canned Tuna Pick
I always buy chunky light tuna packed in water because I do not see the need for extra oil as we drain it anyways. It is also more affordable.
FAQs
Can you freeze it?
Yes, you can. However, once thawed Greek yogurt might release extra moisture. Drain it and give salad a good stir. You can liven it up with fresh herbs like dill or parsley, if you wish.
Can I make this recipe without mayo?
Certainly, you can use all Greek yogurt in place of the mayo.
Can you use different canned fish?
Yes, you can use canned salmon instead of canned tuna.
Is tuna salad healthy?
Healthy means different thing to everyone. This recipe is made lighter than classic tuna salad by using mostly Greek yogurt and just a touch of mayo. It is also a great source of protein and healthy fat.
Healthy tuna salad has really grown on me! It is not something I ate growing up in Ukraine but tastes evolve.
More Tuna Recipes
More Healthy Salad Recipes to Try
And if you love seafood, you have to check out these reader-favorite shrimp tacos!
Healthy Tuna Salad
This Healthy Tuna Salad Recipe has fewer calories and fat by using Greek yogurt. It is lighter yet super flavorful, creamy and fluffy tuna salad!
Ingredients
4

x 6 oz cans tuna

packed in water

2

small dill pickles

diced

1

large celery rib

diced

1/4

cup

red onion

minced

1

garlic clove

grated

1

tbsp

lemon juice or vinegar

1/4

tsp

salt
Ground black pepper

to taste

3/4

cup

plain

Greek yogurt, 2%+ fat

1/4

cup

mayo

optional (I use avocado oil mayo)
Instructions
Drain cans with tuna well. I usually press hard onto the lid while draining the can completely.

Transfer to a large bowl and separate into flakes with a fork.

Add pickles, celery, red onion, garlic, lemon juice, salt, pepper, yogurt and mayo.

Stir well with a fork and refrigerate.

Serve cold in a sandwich or over lettuce leaves.
Notes
Make ahead: Tuna salad tastes best cold. For best results, refrigerate 30 minutes before eating.
Store: Refrigerate tightly covered for up to 5 days.
What canned tuna to buy? I buy canned light tuna packed in water. Albacore tuna has less "fishy" taste and white "meaty" texture or yellowfin/skipjack/light tuna is tan to pink in colour and has more strong fish taste. I always buy chunky one vs. whole because it's cheaper.
Mayo + plain Greek yogurt:  I used mayo made with avocado oil and Greek yogurt with at least 2% fat for the tastiest results. You can omit mayonnaise though.
Nutrition
Calories:
110
kcal
|
Carbohydrates:
2
g
|
Protein:
15
g
|
Fat:
5
g
|
Saturated Fat:
1
g
|
Cholesterol:
28
mg
|
Sodium:
384
mg
|
Fiber:
1
g
|
Sugar:
1
g