If you have lots of leftover quinoa from last night's dinner and ground turkey in the freezer, this ground turkey quinoa casserole with a giant pack of baby spinach is for you. Some of my favourite casseroles are made with quinoa: Tex Mex black bean quinoa casserole, spinach artichoke quinoa casserole and spinach chicken quinoa casserole. Quinoa is a queen of healthy whole grains, full of complete protein and contains all essential amino acids. Treat it like rice but quinoa is even better, simply just because it is ready in 12 minutes.
I originally posted this ground turkey casserole 4 years ago while visiting my mom's farm. Over the years, I made it over tens of times receiving rave reviews, so more appetizing photos were in order.
How to Make Ground Turkey Quinoa Casserole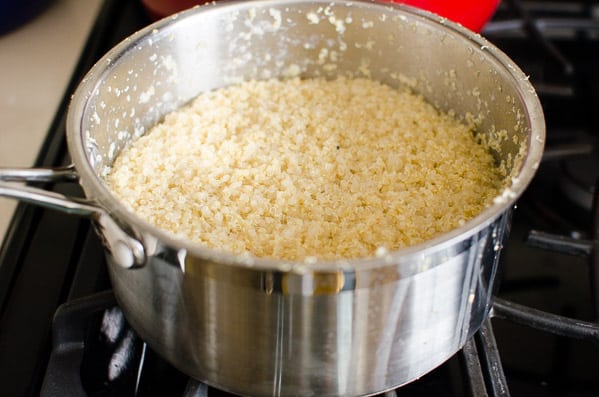 Cook quinoa as per package instructions undercooking by 4 minutes. In my world, it means 8 minutes cooking time, with a clean up afterwards.
Sauté ground turkey for 5 minutes, breaking into pieces with spatula while stirring. I used ground venison because I already had it on hand. You can also use ground buffalo, chicken, pork or beef.
Then you want to pan fry dried herbs in a bit of oil first, to help release their flavours. Afterwards, add garlic and onions, and cook until translucent and fragrant.
Don't be afraid to throw as much spinach as you want because it shrinks like crazy – I used a giant standard 11 oz pack of baby spinach. Load it up with iron, vitamins A, K, C, E , calcium and cancer fighting abilities. Tip: if your kids are not spinach eaters, replace it with broccoli, green peas or any other green vegetables they like.
Mix everything together in a giant bowl, dump into baking dish and level (do not press or tap). Sprinkle with cheese and bake uncovered for 25 minutes. That's it!
Garnishing with diced tomatoes and green onions is optional. My kids loved it! This ground turkey quinoa casserole came out extremely juicy and right amount cheesy. It tasted even better next day and is perfect for freezing – it tastes fresh no matter what you do.
Got a friend who just had a baby?
First published in 2013.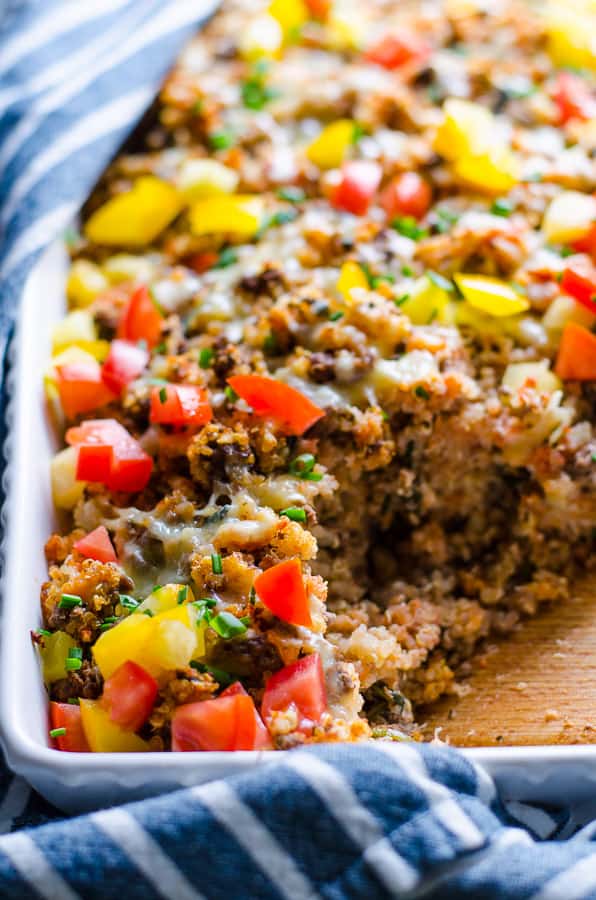 Print
Ground Turkey Quinoa Casserole
Ground Turkey Quinoa Casserole made healthy and juicy with spinach, ground turkey, tomato sauce, breadcrumbs and cheese. What a budget friendly crowd pleaser!
Author:
Prep Time:

5 minutes

Cook Time:

40 minutes

Total Time:

45 minutes

Yield:

8 servings
Ingredients
2 cups uncooked quinoa
2 lbs ground turkey
1 medium onion, finely chopped
4 large garlic cloves, grated
11 oz package baby spinach
14 oz can tomato sauce (I used low sodium)
1/2 cup whole wheat bread crumbs
3 cups cheddar or mozzarella cheese, shredded
2 tsp basil, dried
1/4 tsp thyme, dried
1/2 tsp salt
1 tbsp avocado oil or coconut oil
Cooking spray (I use Misto)
Green onions and diced tomatoes, for garnish (optional)
Instructions
Cook quinoa as per package instructions undercooking by 4 minutes. Transfer to a large mixing bowl. Preheat oven to 375 F degrees and spray 9 x 13 baking dish with cooking spray. Set aside.
Preheat large non-stick skillet on medium heat and add ground turkey. Saute for 5 minutes, breaking into pieces with spatula while stirring. Transfer to the bowl with quinoa.
Return skillet to medium heat and swirl 1 tbsp of oil to coat. Add dried basil and thyme, saute for 30 seconds, stirring constantly. Add garlic and onion, saute until golden brown. Add spinach in batches while stirring, and cook until it's wilted. Transfer to a bowl with quinoa and turkey, along with tomato sauce, bread crumbs, 2 cups of cheese, salt and ground pepper. Stir just enough to combine.
Transfer mixture into a baking dish, sprinkle with remaining 1 cup of cheese and bake uncovered for 25 minutes. Serve immediately garnished with tomatoes and green onions, no need to let casserole cool down.
Store: Refrigerate in an airtight container for up to 3 days or freeze leftovers for up to 3 months.
Freeze: Assemble, tightly wrap with plastic and then foil, and freeze for up to 3 months. Thaw in the fridge overnight and bake as per instructions + 15 minutes.
★ Did you make this recipe? Please give it a star rating in the comments.