This relaxing getaway in the woods of gorgeous PNW is kindly sponsored by Mt. Baker Lodging.
Last weekend we have embarked on a short summer getaway in the woods adjacent to Mount Baker National Forest. Something we have never done before – staying in a log cabin in July. Without TV but WiFi.
But who needs WiFi…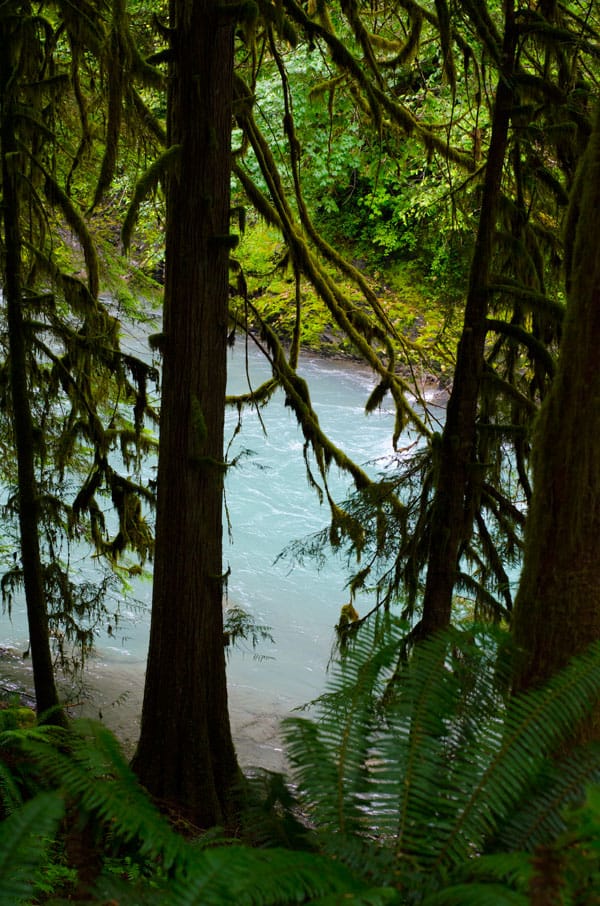 Where mountain rivers flow…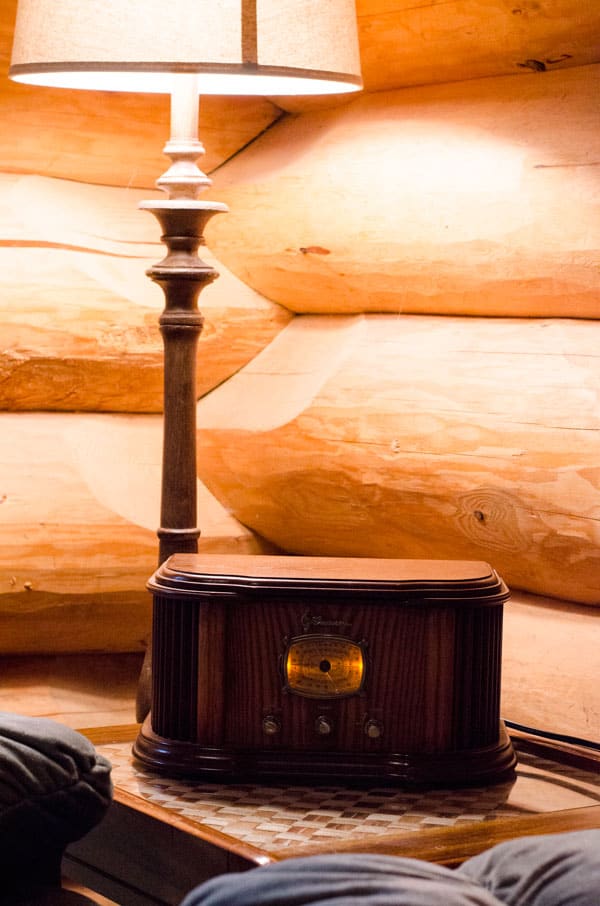 Logs warm you inside out…
Marshmallows are roasted at night.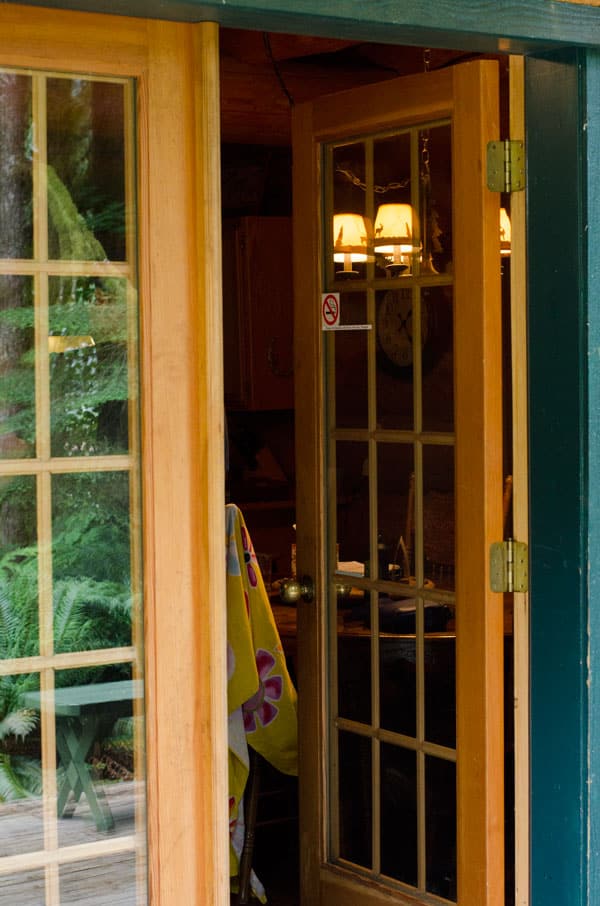 We stayed in Snowline cabin #10 which is a 2 storey log cabin with 2 bedrooms, 1 bathroom and sleeps up to 8 people – perfect for 2 families.
As soon as we arrived living room's table and floor were covered in LEGO. But what did I expect?! I told kids there would be no TV and we have successfully parted ways with iPads few months ago. I love it – I have old fashioned kids.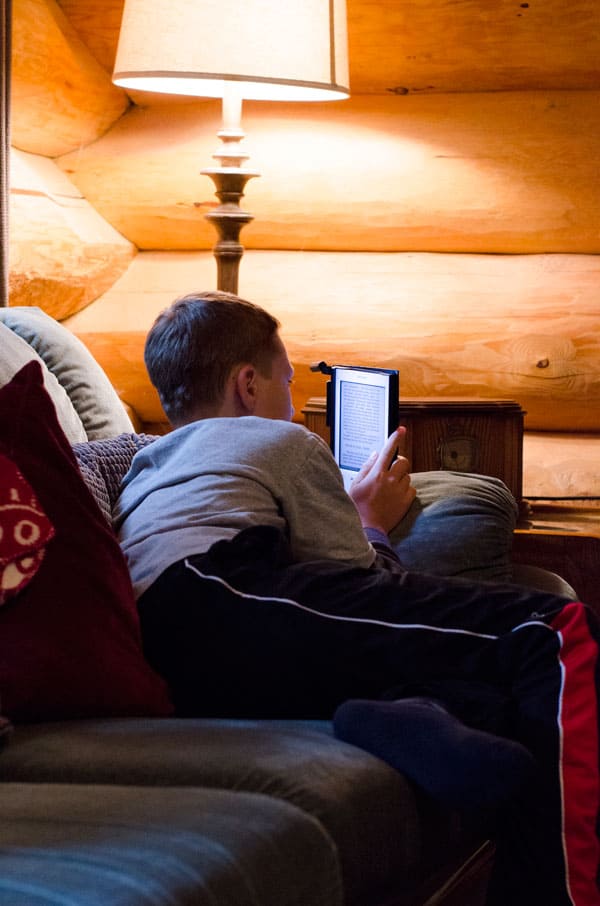 Kids who love to read and play with real toys.
We spent a lot of time reading. The setting was just perfect for it. I finished The Girl On The Train and started The Rumour. I can't recommend the first book enough although many of you might have read it by now. I am often behind the masses in reading.
Kitchen was cozy and spacious stocked with all essentials. No dishwasher but you kinda get used to it and take an opportunity to get your husband's undivided attention. Just like we are so used to a life without a microwave, we didn't use one available. So, many things in life are a matter of habit.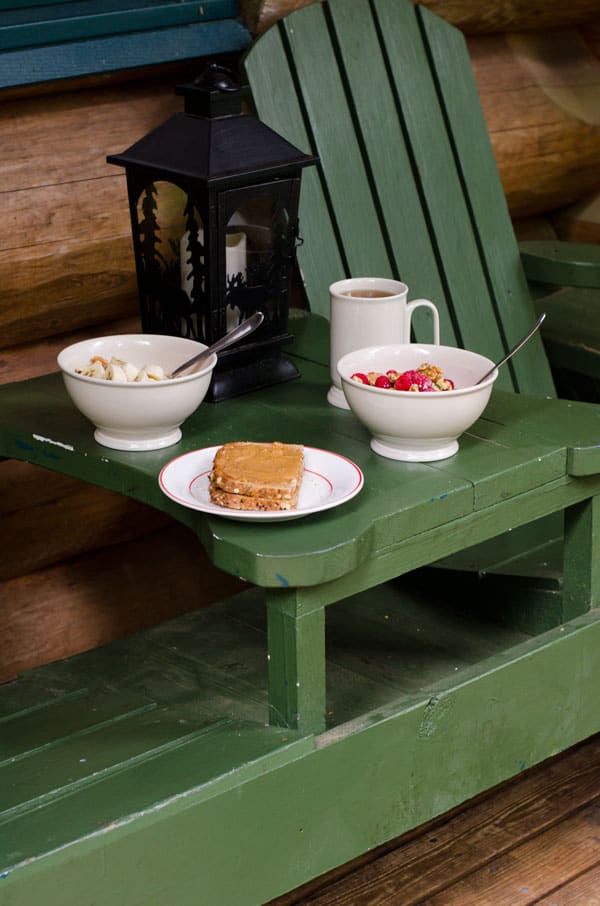 I have to say that this vacation I really had to let go off my organic food preferences. Snowline resort is really located in a middle of nowhere. I mean away from large stores where you can choose and pick your food and we didn't want to waste our time driving 1.5 hours to a big store. So, I had to get what I could at a small border store. It was all healthy but very few organic items.
Nonetheless, everything was delicious and healthy. I made whole grain cereal with nuts and fruit for breakfast both mornings.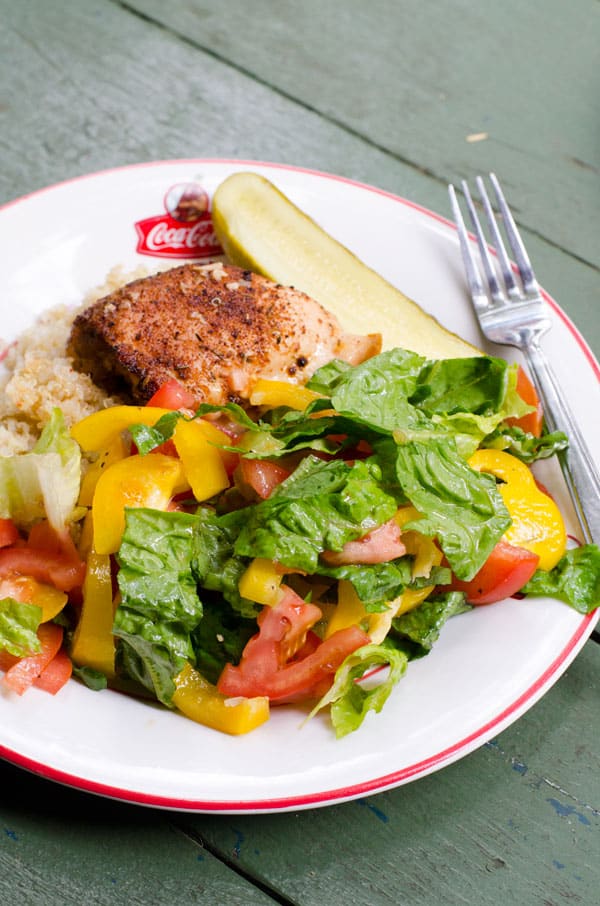 This was a typical lunch and dinner – roasted meat with dry spices, quinoa and a salad. And a pickle. We love pickles! I have a hard time to find organic pickles anywhere though. Many are from India, just read the label.
Full bathroom with a shower and newer washer and dryer located on the main floor.
Upstairs you will find 2 adjacent rooms with 2 wide bunk beds and a master bedroom with 2 queen beds that had this dreamy balcony just perfect for reading. Which I have never used haha. I read mostly in bed and downstairs.
Snowline has many amenities so there is always something to do. Tennis courts, basketball hoops, playground.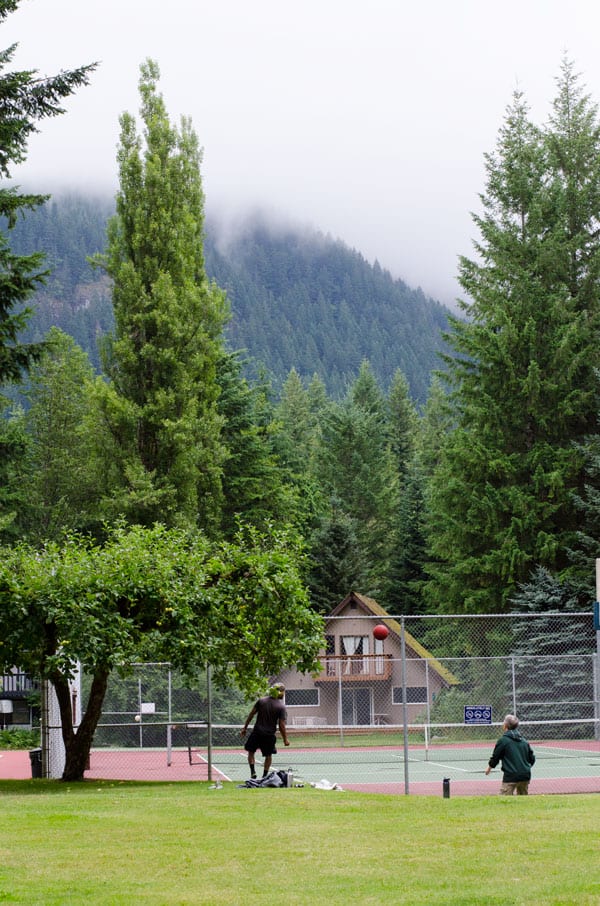 And a heated outdoor pool. It was a bit chilly outside so kids were in and out. I would say August would be the best month for swimming in this pool.
There is also a fish pond for kids 12 and under which seemed a bit dried out and overgrown with weeds but there is fish. We watched a falcon catching fish there which was the coolest experience ever.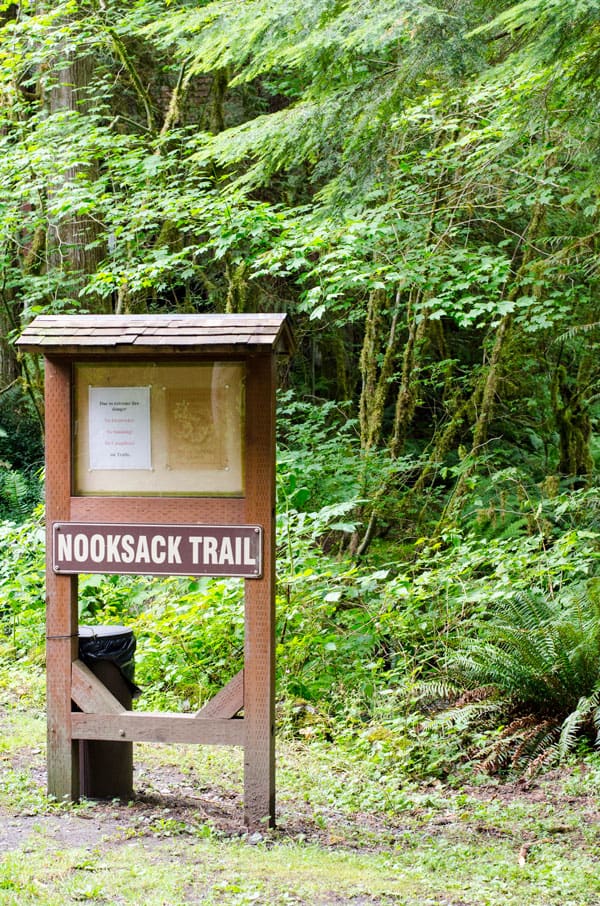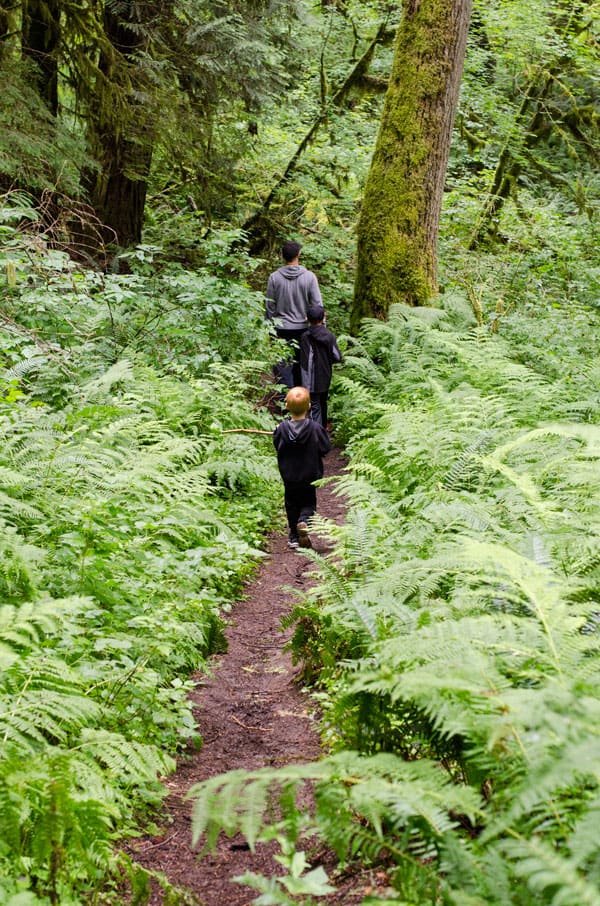 Saturday afternoon we went on a Nooksack Trail hike.
Among the mossy branches, you really can't stop but wonder how old they are.
Trail lead to the Nooksack river.
This vacation really brought us back to basics how vacation used to be without iPhones, iPads and TV. I have to admit we really had to teach ourselves what to do with ourselves. If that makes sense.
Just doing nothing is hard. Apparently.
But somehow one thing leads to another…
Spending hours on front porch being silly brings laughter.
A two hour lunch that is impossible in the city when so many things have to be done leads to feeding birds with pistachios for another hour.
Do you know what these birds are? At first we thought they are blue jays but now after Googling I am not so sure…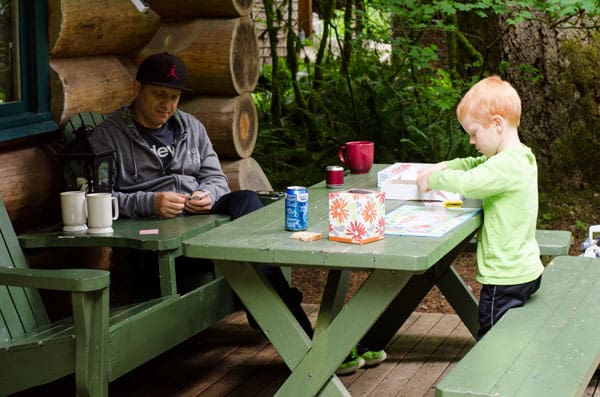 After lunch, you make coffee or tea. Play cards. Organize Monopoly money. For hours.
That leads to playing Monopoly and drinking wine for another hour.
Then cycle begins again with a walk, dinner and fire.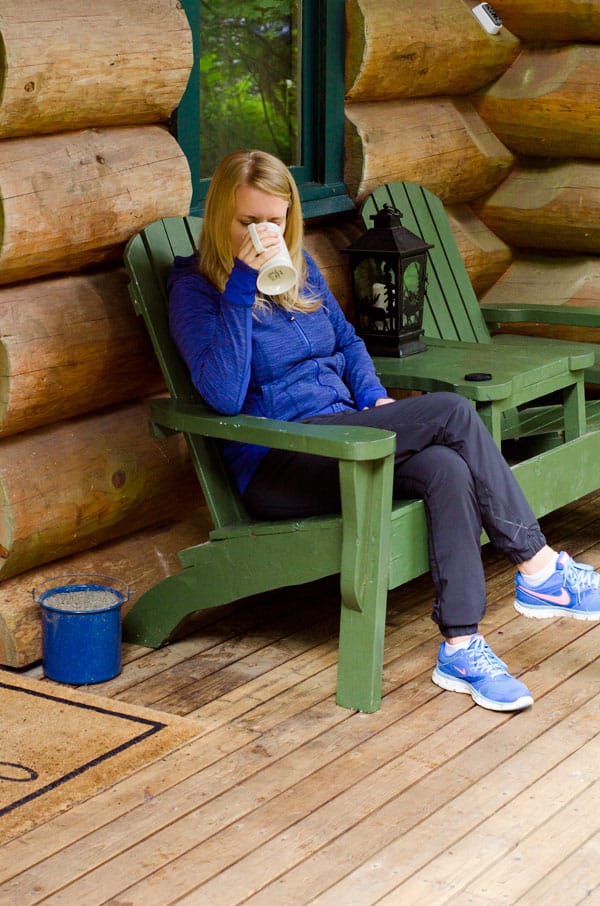 It was really amazing weekend away from hustle and bustle doing ordinary things with our family. Paying attention to each other. I can't say it was very relaxing with 2 active boys but definitely a vacation.
Time at Mt. Baker Lodging forced us to put electronics down that are intoxicating our lives in 2016 and enjoy time with each other. Like look each other in the eye without rushing anywhere.
Until next time!