This collection of Healthy Egg Recipes are not only easy to make but also nutritious! Discover new ways to turn this high protein staple into delicious meals for breakfast, lunch, or dinner.
Accompany your healthy egg meal with healthy salad recipes, healthy sides, or healthy muffin recipes!
Healthy egg recipes from traditional breakfast casseroles to easy grab and go egg recipes for busy days! Each of these recipes with eggs pack in a ton of flavor yet are simple to make.
Healthy meals with eggs feature a variety of recipes to choose from whether you want healthy breakfast ideas or quick healthy dinner ideas!
Eggs are one of my family's favorite protein sources and I always have them stocked in the fridge! They are budget friendly, easily found at the grocery (or sourced locally!), and can be used to make healthy meals all day long.
Why Do Healthy Egg Recipes Make Great Meals?
Healthy egg recipes are easy to cook, packed with protein and nutrients, and budget friendly!
Complete protein: One egg has 6 grams of protein and all the essential amino acids our body needs!
High in vitamins and minerals: In fact, eggs contains small amounts of almost every vitamin we need.
Family friendly: Even the most finicky kids have been known to gobble down eggs without complaint.
Versatile: There are so many ways to enjoy eggs from casseroles to in a salad!
FAQs
Are brown eggs better for you than white eggs?
No, egg color is not an indicator of quality, taste, or nutrition.
How can I tell if my eggs are fresh?
Fill a bowl with cold tap water and place your egg in the bowl. If it sinks to the bottom and lays flat on one side, it's fresh! If it stays at bottom but stands on it's small end, it is okay to eat, but not quite as fresh. If it floats, best to discard.
How can I make eggs taste good and healthy?
Make these healthy egg recipes. 🙂 Kidding aside, healthy means something different to everyone and as for tasting good, proper preparation plus using vegetables and seasonings add a lot of taste without a ton of calories, fat, or sodium.
Healthy Breakfast Recipes with Eggs
Easy vegetarian Air Fryer Breakfast Casserole made with colorful vegetables, cheese, and eggs! This frittata is made in a fraction of the time it would take in the oven, making it just as perfect for a weekend brunch as it is for a weekday breakfast!
Your family will love this unique Sweet Potato Egg Breakfast Casserole! With its subtle southwest flavor this will be a new staple at your holiday or weekend brunch, or serve with Mexican kale salad for dinner.
High protein and great for meal prep, Egg Muffins are individually sized frittatas! With quinoa, sun dried tomatoes, spinach and cheese they have a subtle Italian taste that both kids and adults love.
Skip the drive through and meal prep these Healthy Breakfast Sandwiches! With lean breakfast protein, cheese, and vegetables this better-for-you breakfast choice will keep you full until lunch and will become a staple in your meal prep routine.
Versatile Broccoli Cheese Egg Muffins are perfect for any holiday brunch or meal prep for busy mornings! These protein packed, portion sized egg cups contain eggs, cottage cheese, and quinoa for a whopping 7g protein per serving!
No bread Healthy Breakfast Casserole is made hearty with vegetables and potatoes instead! Perfect for a clean the fridge out dinner or make ahead for a busy holiday morning.
Skip waiting for the water to boil with these easy Air Fryer Hard Boiled Eggs! Whether you are enjoying them with a sprinkle of salt and pepper or using them to accompany your healthy chicken salad, they will easily become a part of your healthy egg recipes repertoire.
Another fool proof method! Cook 1 – 16 eggs when you follow the easy directions for Instant Pot Hard Boiled Eggs. They are the perfect addition to the breakfast version of best charcuterie board ideas.
Perfect for accompanying Ukrainian breakfast potatoes and almond flour bread, Instant Pot Poached Eggs are cooked perfectly in 2 – 5 minutes!
A Starbucks copycat favorite, Instant Pot Egg Bites are made with only 1 ingredient or can be customized with a variety of veggies, cheeses, or protein! Meal prep friendly for those busy mornings.
If you're the type of of person that is always on-the-go in the morning, you need healthy egg recipes like this one! Healthy Breakfast Meal Prep is the perfect balance of protein, fiber, and whole grains packed up in a perfect portion sized container.
A low carb breakfast favorite, although truth be told, this Spaghetti Squash Breakfast is equally as great as a dinner! Roasted spaghetti squash, topped with an egg and creamy avocado is a culinary adventure.
Baked Cottage Cheese Egg Bites are light, fluffy, and full of protein. Make a batch on the weekend and enjoy all week.
Egg Dishes for Brunch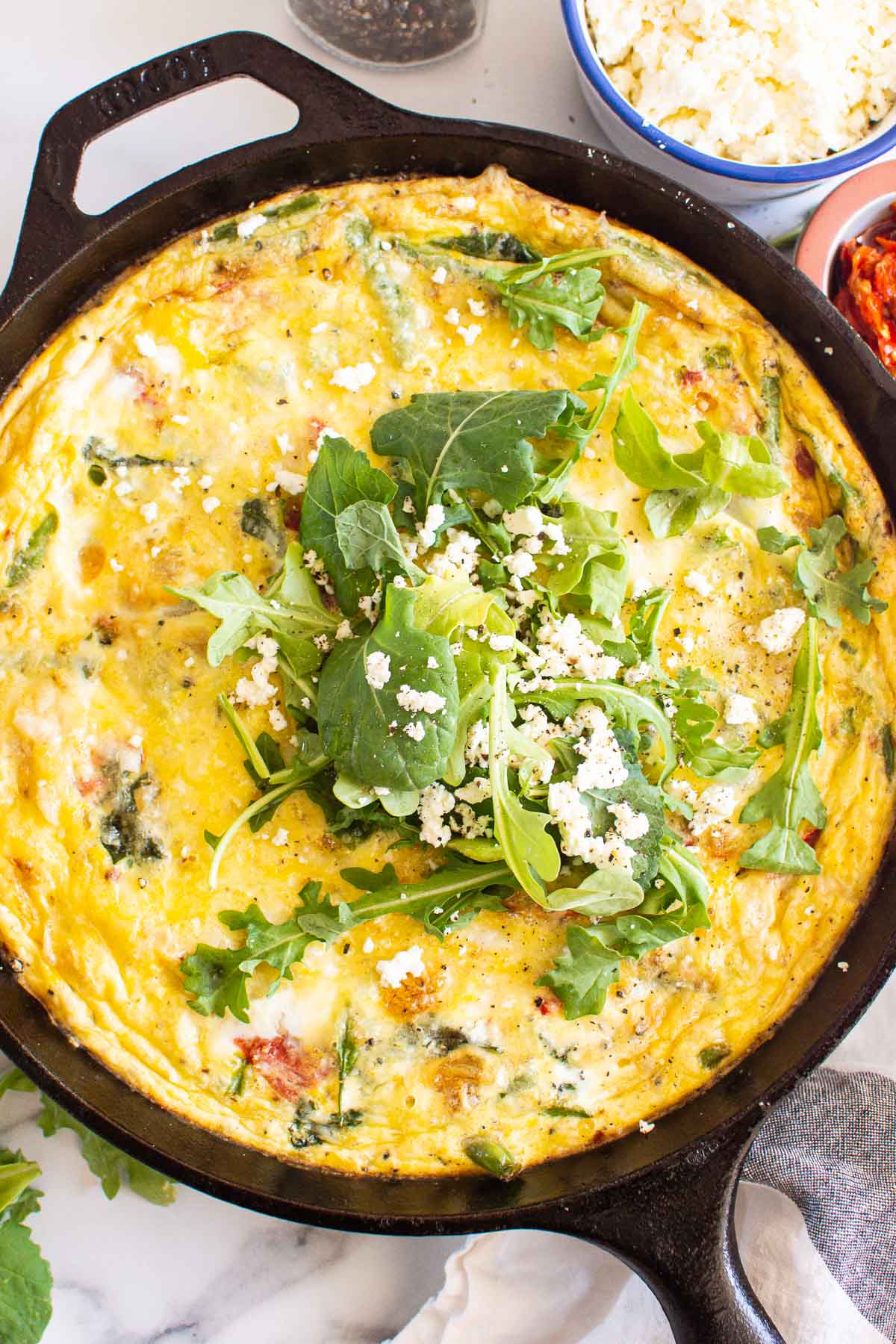 The best tried and true formula for cooking Vegetable Frittata! This clean eating egg recipe is the perfect example of a dish that can be served at any meal. It's also a great way to use up leftover broiled asparagus in the spring or marinade for grilled vegetables in the summer.
The perfect use for your bounty of garden zucchini but also as equally delicious anytime of the year! Crustless Zucchini Quiche features clean, minimal ingredients and can even be made in the air fryer.
Healthy and lower in calories, Crustless Broccoli Quiche is a year round favorite! This gluten free, low carb, vegetarian meal is perfect for a variety of lifestyles and is a sneaky way to get more veggies into your kids (or husband!) diet.
Melt in your mouth Crustless Spinach Quiche is another healthy egg recipes favorite! With only a few ingredients, this brunch item can even be made ahead and baked fresh. Serve with reader favorite almond flour banana muffins for a healthy brunch idea!
A holiday favorite, Healthy Deviled Eggs, get a lightened up makeover with Greek yogurt! Watch these disappear at your next Easter feast when served with a main dish boneless leg of lamb and side of fresh spring asparagus!
A genius way to incorporate more of this low carb winter squash into your diet! Spaghetti Squash Quiche ditches a heavy grain crust for a vegetable crust, then fills it with a creamy egg and cottage cheese filling complete with kale and mushrooms. It's to die for delicious!
Spaghetti Squash Quiche with Vegetables
The perfect way to use up any veggies lurking in the crisper drawer and include them in healthy egg recipes! Spaghetti Squash Quiche with Vegetables ditches a heavy crust for this low carb version full of delicious taste.
Healthy Lunch Ideas with Eggs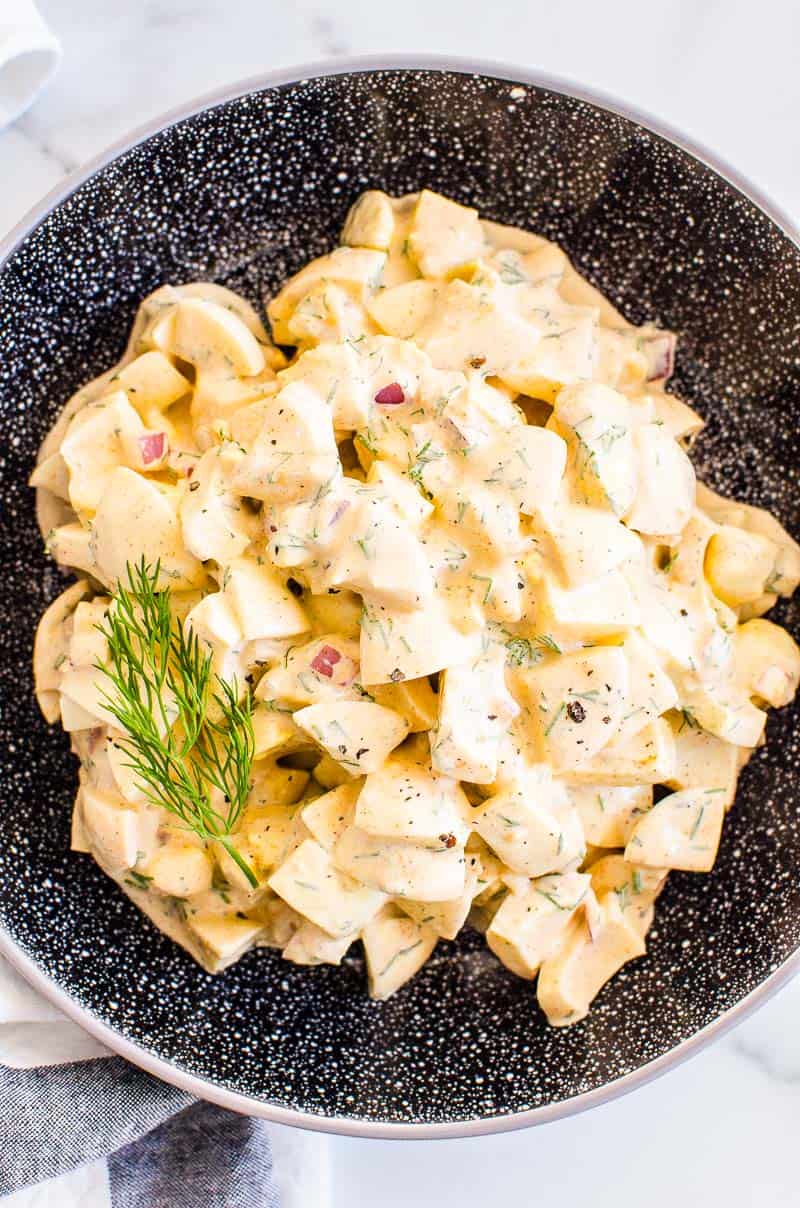 Creamy yet lighter with Greek yogurt, Healthy Egg Salad, is a quick lunch idea! A healthy egg recipe made with only a few simple ingredients and a great way to use up those leftover hard boiled Easter eggs.
A creamy egg salad that is perfect for a dairy free diet! Creamy Avocado Egg Salad is a great balance of lean protein from eggs, healthy fats from avocado, and fresh herbs.
Just when you thought healthy tuna salad couldn't get any better, Tuna Egg Salad comes along! This healthy egg recipes lunch favorite is super simple to whip up then serve with crackers, on a bed of lettuce, or with whole grain toast.
A salad that goes with just about everything including any healthy grill recipes, healthy Spinach Salad, combines fresh baby spinach, hard boiled eggs, tomatoes, and cucumbers tossed in a simple four ingredient dressing or try any of these healthy salad dressing recipes!
This warm salad will be your new spring favorite side dish or add leftover baked chicken breast and make it a main! Asparagus Salad with Easy Dijon Vinaigrette with toasted almonds, creamy hard boiled eggs, avocado, and juicy tomatoes is a delight for the tastebuds.
A clean out the kitchen fridge type of salad! This version of Cobb Salad contains all your 'cobb' favorites like leftover Instant Pot chicken breast, hard boiled eggs, and bacon, then adds any leftover vegetable combinations you want. Includes directions for how best to layer salad in a mason jar for easy healthy lunch ideas all week.
Healthy Egg Dinner Recipes
One pan is all you need for this simple dinner full of flavor! Perfectly cooked eggs, tender potatoes, and juicy tomatoes make this Sweet Potato and Eggs an often requested meal at my house and will at yours soon, too!
A low carb favorite of the traditional version, Cauliflower Fried Rice, comes together in only 15 minutes! Complete this vegetarian meal with fried tofu or air fryer tofu, more reader favorites.
A one pot meal with veggies, rice, eggs, and lean chicken! Instant Pot Fried Rice is ready in 40 minutes, healthier than take out, and ready in only 40 minutes. You will love this healthy dinner idea that includes eggs.
More Healthy Recipes To Try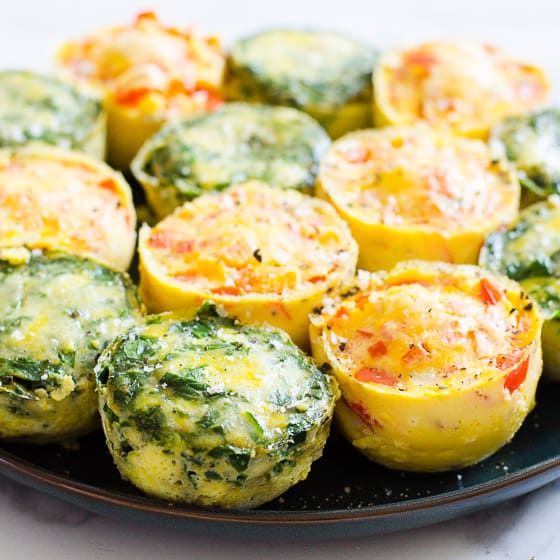 Best of Healthy Egg Recipes: Instant Pot Egg Bites
A healthy egg recipes family favorite! Instant Pot egg bites are easy to make and ready in less than 15 minutes. Made with one ingredient and easily customizable, perfect for breakfast, brunch or snack!
Ingredients
Optional Mix Ins:
Handful of spinach

finely chopped

1/2

large bell pepper

diced

Parmesan cheese

grated
Instructions
In a 4 cup measuring cup, add eggs, water, baking powder, salt, pepper and whisk well.

Spray msilicone mold with cooking spray. Add mixture into each of 14 openings about 2/3 full. If you want, add veggies and cheese now and do not stir. Close each mold with silicone lid and stack in a staggered position, so the cups don't line up. Then you won't have lids sucked in and deformed bites.

Then place on top of

the trivet with handles

. If your trivet doesn't have handles, you might struggle getting mold placed carefully into a 6 quart pot. It is very tight and be careful not to spill.

In Instant Pot, add 1 cup cold water. Place trivet inside, close the lid, set pressure release valve to Sealing and press Pressure Cook on Low for 8 minutes – 8 quart Instant Pot, 11 minutes – 6 quart Instant Pot.

After turn valve to Venting. Using oven mitts and holding onto handles of the trivet or to the mold itself, remove from Instant Pot.

Open the lids, cool off a few minutes and using small silicone spatula go around the edge staying close to the walls of each opening and release egg bites one by one.
Notes
Store:

Refrigerate in an airtight container for up to 5 days.

Freeze:

Cook and cool egg bites. Pop in an airtight glass container with a lid and freeze for up to 3 months.

Where can I buy a silicone mold? I bought this one, actually a set of 2, on Amazon. What I like is that it has 2 lids and not 1, to prevent spilling.
Prep toppings small: You can add anything you want. Just make sure to dice, chop or grate finely since egg bites are small.
Nutrition
Serving:
1
egg bite
|
Calories:
42
kcal
|
Carbohydrates:
1
g
|
Protein:
4
g
|
Fat:
3
g
|
Saturated Fat:
1
g
|
Cholesterol:
105
mg
|
Sodium:
141
mg
|
Fiber:
1
g
|
Sugar:
1
g