The only Strawberry Spinach Salad recipe with a homemade balsamic dressing that you will ever need! Healthy, super tasty and a crowd favorite this simple salad takes only 20 minutes to make (including toasting nuts!).
Our other favourite vibrant salad recipes are this simple spinach salad recipe, arugula salad, and this Mexican kale salad.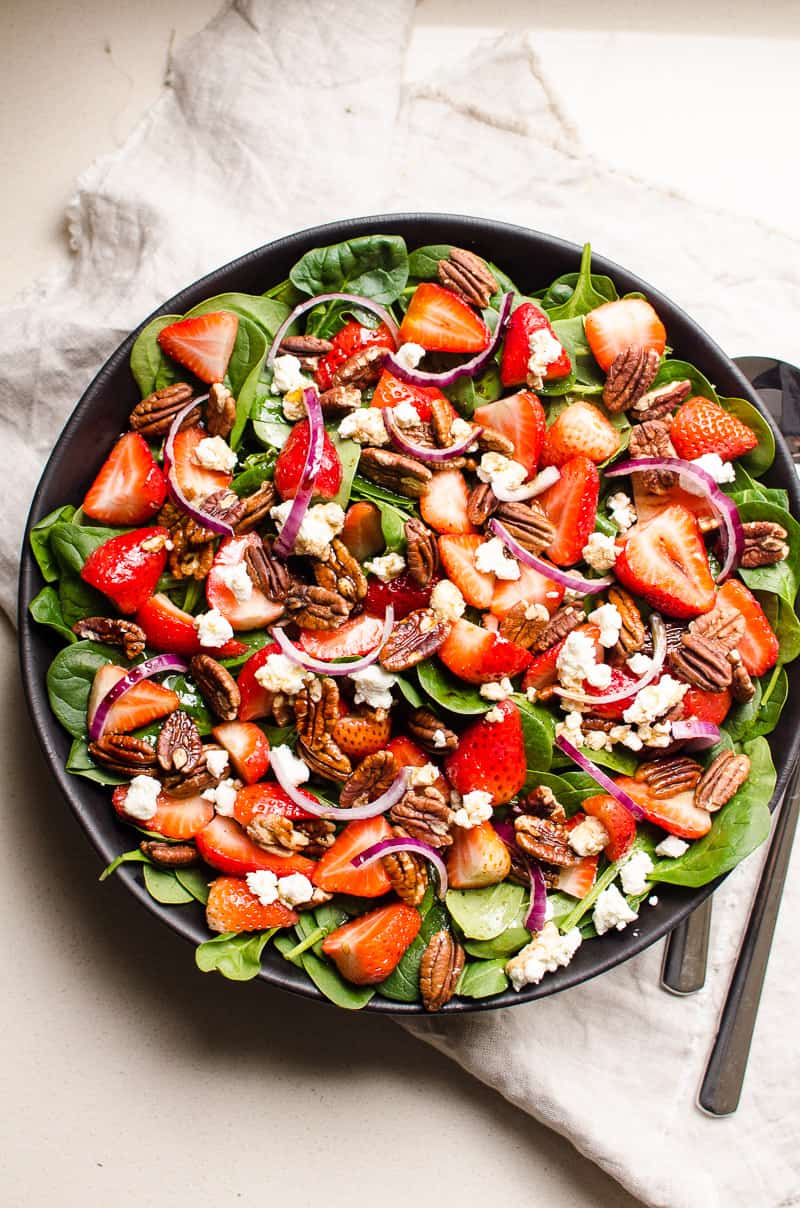 Making a fresh, beautiful, and colourful salad, like this strawberry spinach salad recipe, has never been so easy! It really is the best salad to make for any sort of gathering as it has something for everyone.
Leafy greens, fresh sweet strawberries, tangy feta, crunchy pecans, and a homemade balsamic dressing without refined sugar are so good! When you're craving healthy no bake strawberry cheesecake or strawberry yogurt but know you should have some greens, make this salad.
And while it's not exactly healthy dessert recipes, it's a wonderful balance of taste. Light, sweet, and that naturally sweet and tangy dressing is so delicious.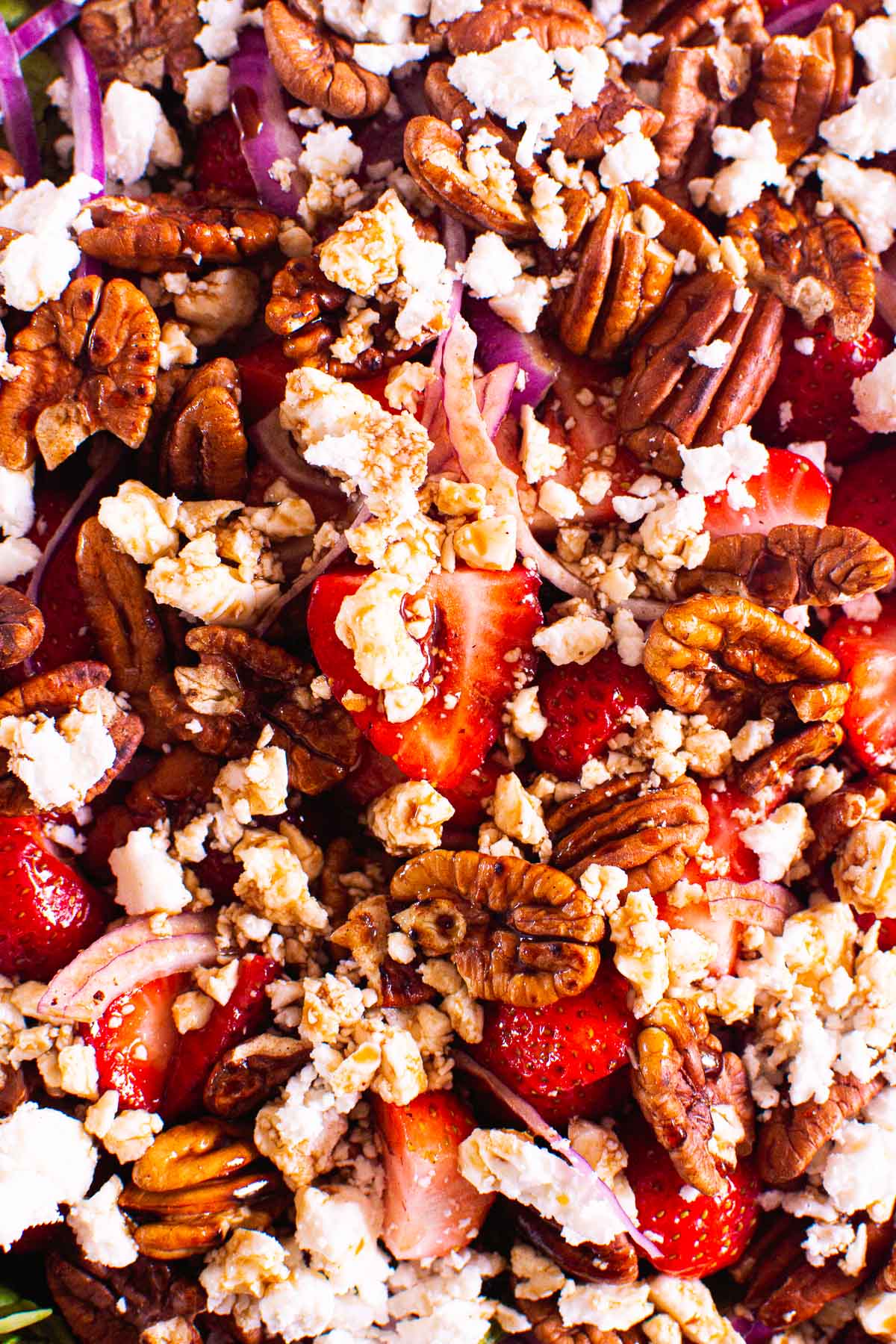 Fresh quality ingredients provide vitamins and minerals and it's entirely flexible, too! Use berry salad dressing, swap pecans for walnuts, or use a different cheese.
And while this salad is perfect for spring celebrations and summer BBQs, swap apples for strawberries in the fall or add squash during winter! Even salad skeptics will happily dig in and enjoy this strawberry salad no matter the season.
How to Make a Strawberry Spinach Salad
Consider these directions as your jumping off point to making this salad your own! Omit what you don't want or add in more of what you love.
1. Toast pecans: Preheat the skillet well then add nuts and toast them until they're fragrant. Nuts burn fast once they hit a hot surface, so stir often and don't walk away. Once toasted, remove them from the heat immediately.
2. Make the dressing: Whisk olive oil, balsamic vinegar, maple syrup, and soy sauce with a fork in a bowl. Or shake dressing in a jar with a tight-fitting lid.
3. Combine everything: In a large bowl add spinach, chopped strawberries, and onion, toasted pecans, crumble cheese on top. Drizzle with the dressing.
Avoid soggy salad! It's best to drizzle the dressing on top just before serving. Otherwise, if it sits too long, the salad will become soggy!
Salad Ingredients
Spinach: I like to buy pre-washed baby spinach because it is so affordable and convenient. Garden spinach that is coarsely chopped works as well. Spinach is a versatile salad green that can be used not only for salad, but also for healthy spinach dip and hot healthy spinach artichoke dip.
An 11 oz box of baby spinach that goes into this salad contains 69 grams of fiber, 89 grams of protein, and some crazy amount of vitamins A and K!
Strawberries: Fresh, plump, sweet, and loaded with vitamin C. Hull and chop in halves or even quarters. I do not recommend using frozen berries as the salad will become extremely soggy, use those in healthy strawberry muffins or healthy strawberry bars!
Red onion: This is nature's antibiotic. It adds zest and keeps the recipe from being too sweet. No need to pre-soak it IMHO.
Pecans: Quickly toasted on a skillet- pecan halves add an extra dimension with crispy roasted crunch and deeper nutty flavour.
Cheese: Soft goat cheese "melts" into the dressing making it creamier. Whereas feta cheese crumbles are saltier and hold on their own better.
I encourage you to always buy organic spinach and strawberries, and only when they're in season. According to the Dirty Dozen, these rank at the top of produce heavily sprayed with pesticides that are impossible to wash off.
Strawberry Spinach Salad Dressing
I know homemade salad dressing can be intimidating. Never know what to add and the ratio. But this balsamic dressing is embarrassingly easy to make with only 4 ingredients.
Salad Dressing Ingredients
Olive oil: Quality raw extra virgin olive oil would be the best with its deep velvety smooth texture and fruit taste. For example, light olive oil is best for sauteing, has a mild taste, and has fewer health benefits.
Balsamic vinegar: Sweet deep balsamic vinegar makes the dressing. You can substitute it with red wine or apple cider vinegar.
Maple syrup: Adds sweetness. Honey or agave syrup can be substituted.
Soy sauce: I used Bragg's liquid aminos but regular soy sauce also works. It completes the last requirement for a good salad dressing in a ratio of oil+acid+sweet+salt. You will appreciate its umami flavor in many healthy salad recipes!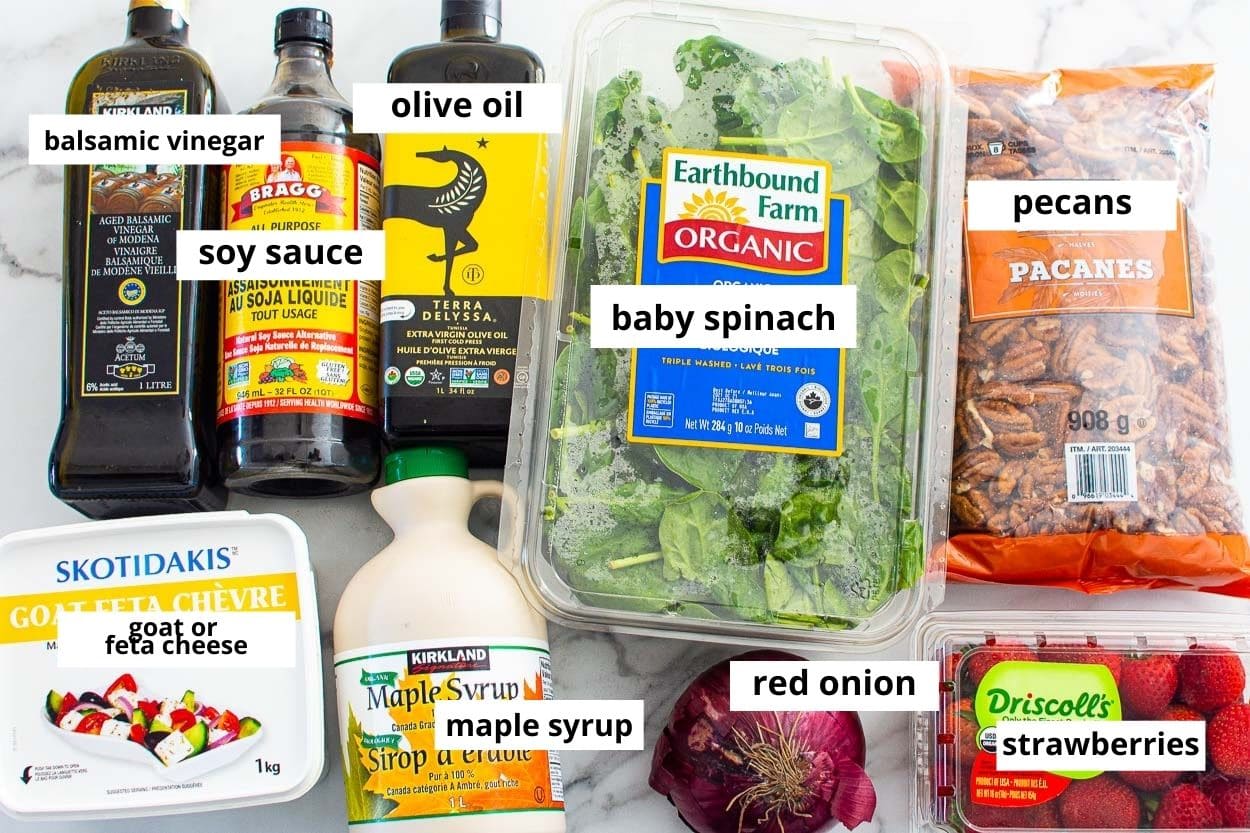 Variations and Substitutions
There are so many reasons to love this salad, and one of my favorites is that you can easily swap ingredients to what you have on hand.
What To Serve with This Salad
As is this makes the perfect side salad or starter, but you can easily turn it into a complete meal for a light lunch or dinner!
Can This Salad Be Made Ahead of Time?
This salad is a perfect candidate for Easter or Mother's Day when strawberries are in season!
If you choose to assemble the salad ahead of time, refrigerate covered salad in a bowl. You can also prepare the components separately and assemble all of it just before serving.
Either way, always keep salad dressing separate in a jar for up to 2 days and add it just before serving. Warm up on a counter for 15 minutes or in a glass with hot water, and give it a shake afterwards.
If you like nuts super crunchy, store them separately in a dry place. Nuts absorb the moisture really in the bowl and fridge fast.
FAQs
What can I use instead of feta cheese?
Soft mozzarella cheese, either cubed or baby mozzarella balls, and crumbled blue cheese would be delish with strawberry spinach salad balsamic dressing! Bocconcini or gorgonzola would also be great.
I have an allergy to tree nuts, can I omit the pecans?
Yes! Sunflower seeds would be a great nut free replacement.
Can I add poppy seeds to the dressing?
Sure you can. This strawberry spinach salad balsamic dressing is amazing as is, but some people might enjoy adding poppy seeds, while others prefer a squeeze of dijon mustard.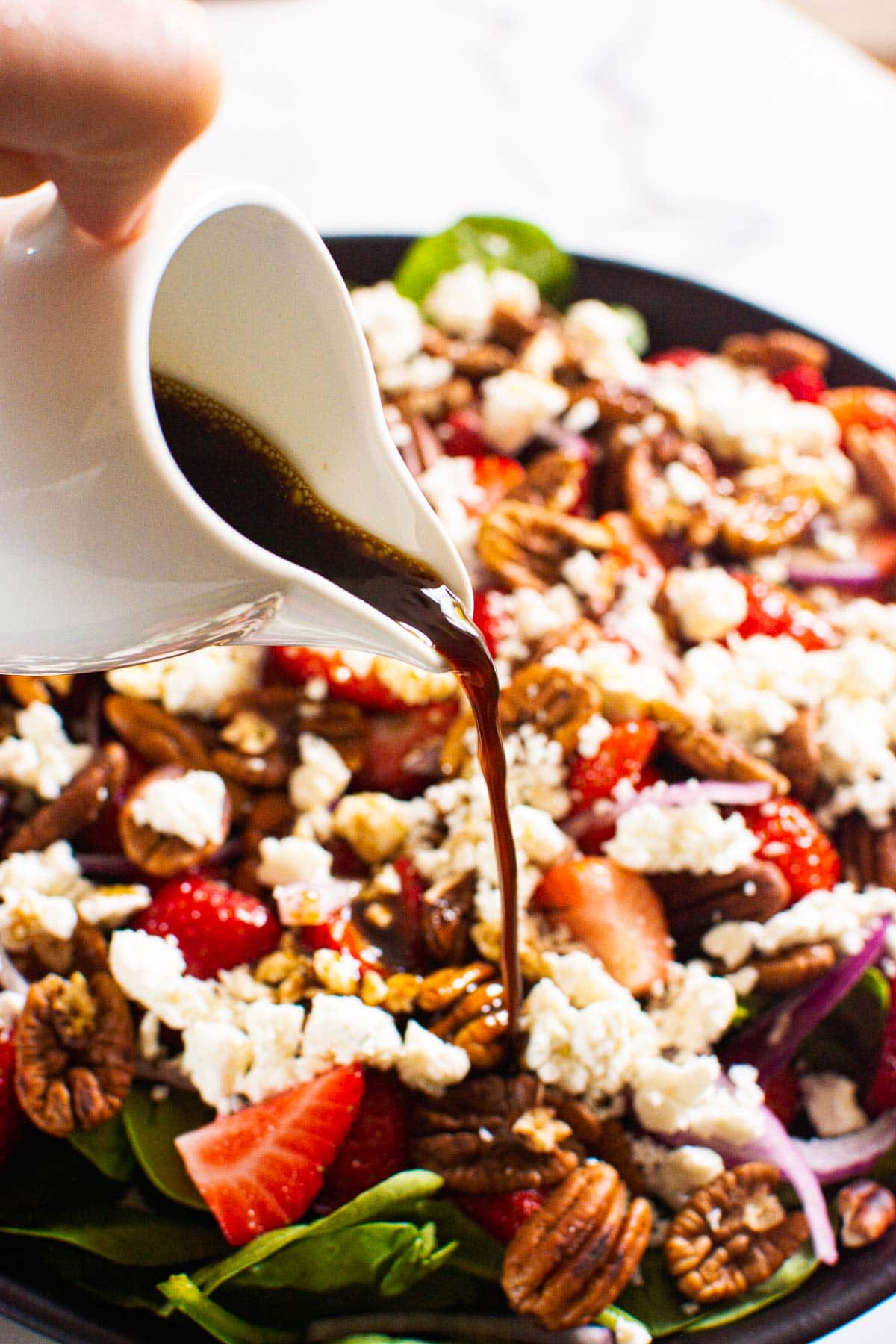 Best Strawberry Spinach Salad with Balsamic Dressing
The only Strawberry Spinach Salad with a homemade balsamic dressing that you will ever need! Healthy, super tasty and with tons of substitutions this simple salad takes only 20 minutes to make (including toasting nuts!).
Ingredients
Strawberry Spinach Salad:
1

lb

strawberries

hulled and sliced in halves (quarters)

3

oz

goat or feta cheese

crumbled

1/4

cup

red onion

thinly sliced

1 1/2

cups

pecans

11

oz

box baby spinach

pre-washed
Instructions
Preheat ceramic non-stick medium skillet on medium heat and add pecans. Toast for about 3 minutes or until fragrant, stirring frequently. Remove from heat immediately to prevent nuts from burning.

In a small bowl, combine olive oil, maple syrup, balsamic vinegar, soy sauce and whisk with a fork. Set aside.

In a large bowl, add spinach and top with strawberries, cheese, red onion and toasted pecans.

Drizzle dressing on top and stir gently until well combined. Serve immediately.
Notes
Store: Salad is best consumed within 1-2 hours of mixing. You can refrigerate leftovers for up to 1 day in an airtight container but keep in mind spinach will get soggy.
Make ahead dressing: Whether you choose to make balsamic or poppy seed dressing, both can be prepared ahead and refrigerated for up to 4-5 days. 
Other greens: For a peppery twist, add part arugula. 
Other berries and fruit: Use fresh blueberries, raspberries or blackberries instead. 
Other cheeses: Soft mozzarella cheese, either cubed or baby mozzarella balls, and crumbled blue cheese would be delish! 
Out of pecans? Roast almonds, chopped walnuts, pistachios or even cashews.
Added protein. Top with some healthy grilled chicken recipe for protein.
See recipe post for more tips and FAQs.
Nutrition
Calories:
263
kcal
|
Carbohydrates:
13
g
|
Protein:
5
g
|
Fat:
23
g
|
Saturated Fat:
4
g
|
Cholesterol:
9
mg
|
Sodium:
218
mg
|
Fiber:
4
g
|
Sugar:
8
g