Super easy Braised Lamb Shanks Recipe slow cooked in delicious, rich red wine sauce. Serve over creamy mashed potatoes or risotto and you've got a restaurant meal at home!
It is on par with this fancy but easy boneless leg of lamb recipe and lamb stew recipe.
What if I told you you could prepare top notch braised lamb shanks at home even if you never cooked lamb?! I slow cooked this recipe one Sunday afternoon and all of my men couldn't stop raving about it asking when is next time?! "Always hungry".
Lamb shanks come from the bottom section of the lamb leg just below the knee. It is a tougher cut of meat that benefits from slow cooking method. Depending where you live, they can be affordable or on a pricier side. But you can buy lamb shanks in any grocery store or butcher shop!
Regardless, I highly recommend to make this braised lamb shank recipe for your next Sunday dinner or any of special occasions, and you will save a ton of money down the road by skipping your favorite restaurant.
Ingredients and Notes
For this lamb shank recipe you will need a few simple ingredients. The list might seem long but they are all basic ingredients and I provide you with substitutions below.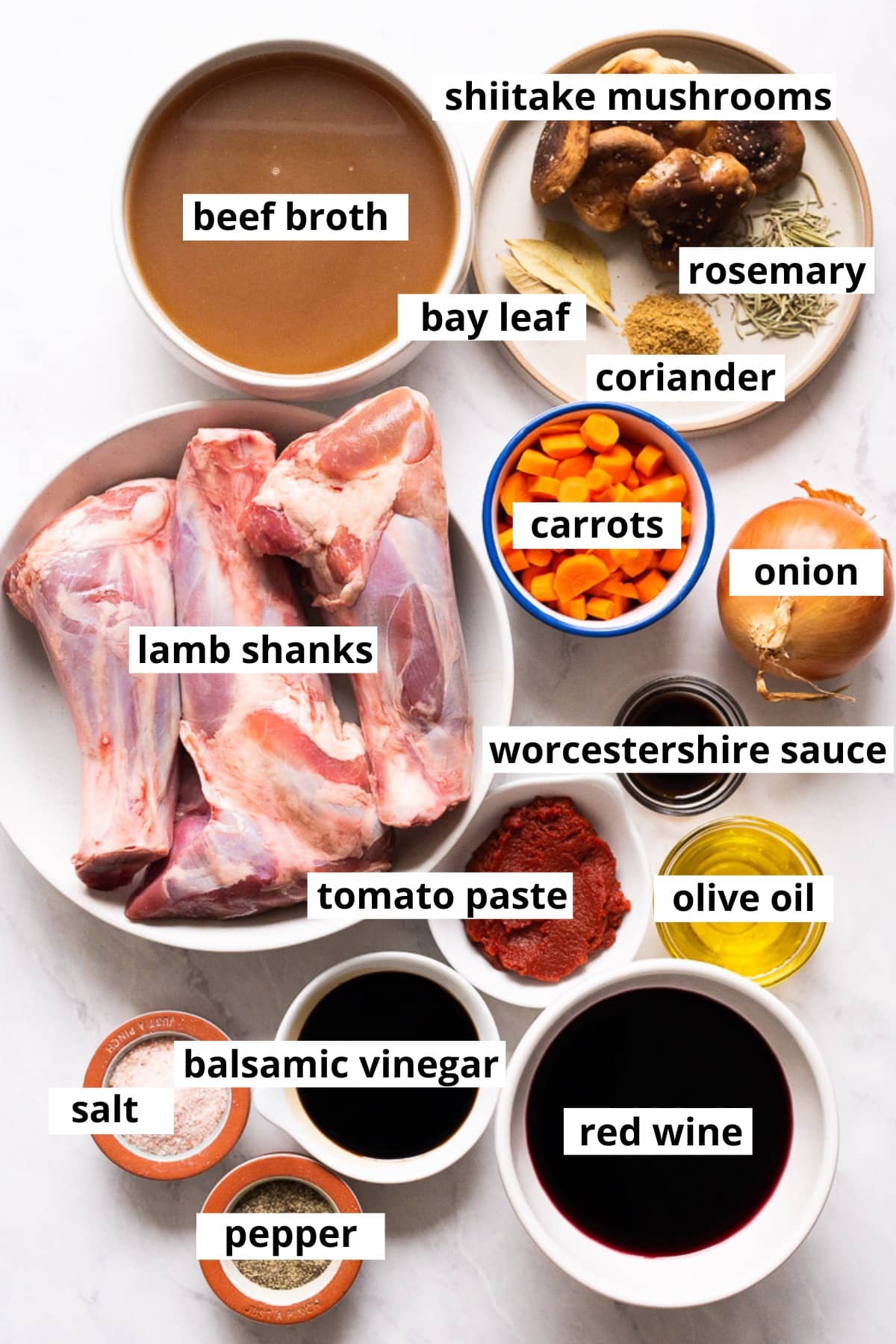 Lamb shanks: 3-4 lamb shanks which weigh about 1.5-2 pounds. More likely, you can find 3 lamb shanks in a vacuum sealed packaging at the grocery store. They can be sold fresh or look in a freezer section. Visiting local butcher shop is always a good idea.
Vegetables: Please use what you have on hand. I prefer onion, carrots and shiitake mushrooms. Brown mushrooms, dried mushrooms would be great too. Also can use celery and garlic.
Beef stock: Quality beef broth is key in this braised lamb shanks recipe. I like to use this beef base.
Tomato paste: To thicken the braising liquid and the sauce at the end.
Red wine: Any good red wine like cabernet sauvignon, shiraz, malbec or merlot will work.
Balsamic vinegar: Helps to make more rich sauce. You could also substitute apple cider vinegar.
Worcestershire sauce: A must to add more depth of flavor. In a pinch, you can substitute soy sauce.
Seasonings: I like to use dried rosemary so I can make lamb shanks any time. But feel free to use fresh rosemary or fresh thyme. Also you will need bay leaf, ground coriander, salt and pepper. If you don't have ground coriander use ground cumin instead.
Oil: I love the taste of good quality extra virgin olive oil for searing this lamb. You can also use any neutral tasting oil.
Fresh herbs (optional): At the end, just for garnish. I like to use fresh parsley.
How to Cook Lamb Shanks
Use these step-by-step instructions to make this easy braised lamb shanks recipe.
For the pot, I highly recommend heavy ceramic or cast iron Dutch oven. It retains the heat well and works the best for the braising cooking method!
Season the lamb shanks: Sprinkle lamb shanks, trimmed of excess fat, on all sides with salt and pepper.
Sear them: Cook in well preheated pot with olive oil until golden brown on all 4 sides. You will have to work in batches here. Set aside on a plate.
Saute the vegetables: Saute onion, carrots and mushrooms in a bit of olive oil with rosemary, coriander and bay leaf added during last 30 seconds.
Incorporate tomato paste: Add tomato paste and stir until it is well mixed with vegetables. This step will help to have smooth consistency braising liquid.
Make the sauce: Pour in beef broth, red wine, balsamic vinegar, Worcestershire sauce and add remaining salt and pepper. No need to deglaze the pot, just give liquid a good stir with a wooden spoon.
Braise the lamb shanks: Submerge lamb shanks into braising liquid, cover and cook in preheated 350 F oven for 2 -2.5 hours or until tender and fall off the bone when touched with a fork.
Rest the meat: Remove braised lamb shanks from the oven and let them rest for 10 minutes before serving. There is no additional step to make the sauce. This is an easy recipe!
Tips for Best Results
Here a few tips how to make the most tender, fall-off the bone meat in flavorful, luscious sauce. It such a comfort food during cold weather!
Use Dutch oven: If you don't have one, invest in one. Oven proof, enamel coated, cast iron Dutch oven is the best for this recipe. It is ideal pot for cooking roasts and braising because it retains heat well and heavy tight fitting lid prevents the mess in your oven.
Don't skip browning: You need that golden caramelized exterior on your lamb shanks to add a lot flavor to the lamb dish.
Cook low and slow: Don't rush it. Lamb shanks are a tough cut of meat with a lot of connective tissue. They need long cook time. Do not go above 350 F but you can slow cook them at 300 F. Note cooking time will be longer.
Don't worry about over cooking: Lamb shanks are forgiving, you can cook them for 2-3 hours. In fact, they only get more tender. If you notice your lamb shanks are still tough, add a bit more beef broth to the cooking liquid and keep cooking another 20 minutes. Then check.
Don't use any other cut of meat: Don't substitute any other tender lamb cuts like leg of the lamb. Only lamb shanks.
Sauce is too thick: If at the end of braising, the sauce is too thick it is because it cooked down. Just add beef broth until desired consistency, stirring in between.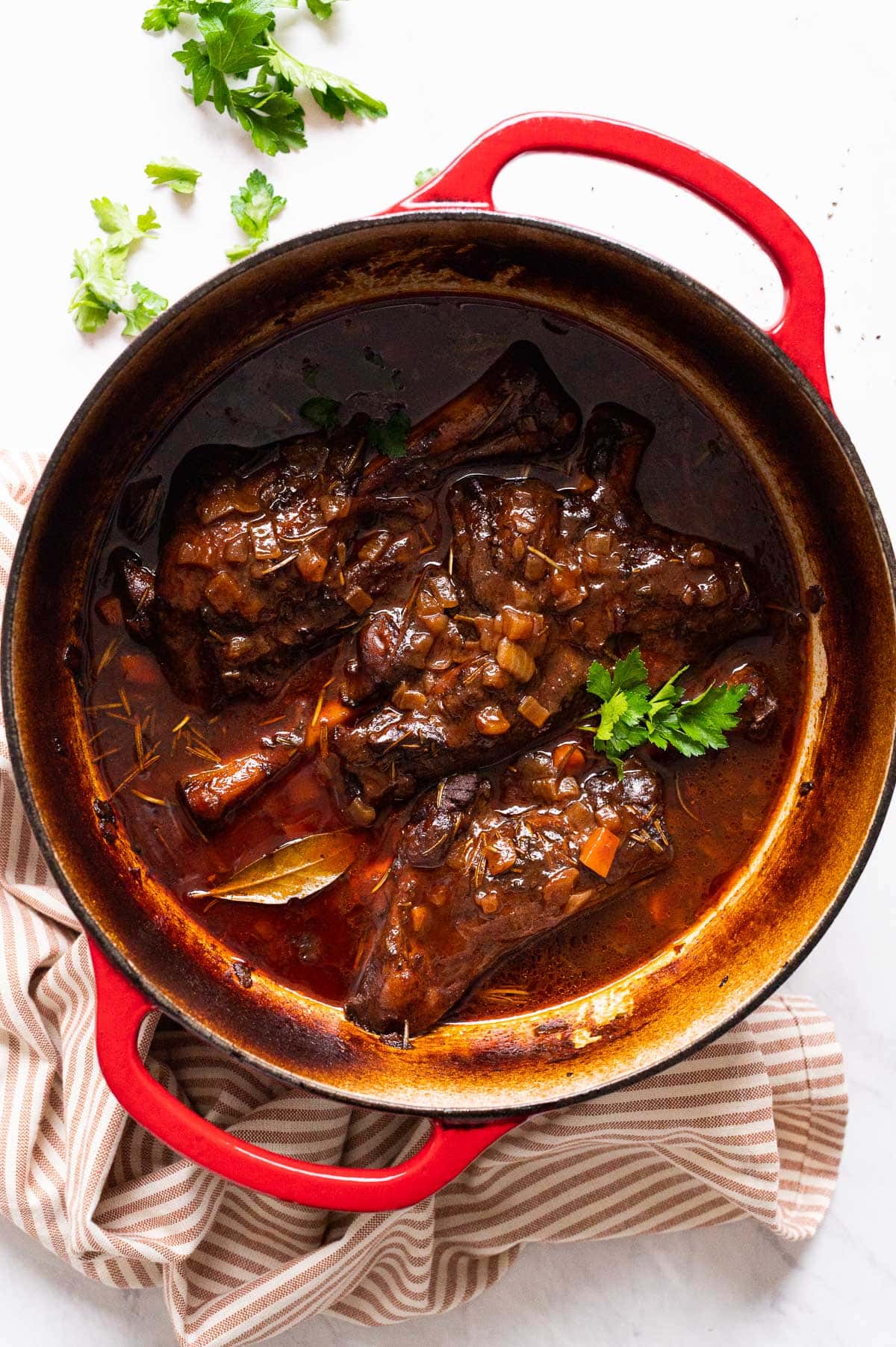 What Red Wine Should I Use to Cook Lamb Shanks?
To cook lamb shanks you can use any decent quality dry red wine like merlot, pinot noir, cabernet sauvignon, shiraz or malbec. It doesn't have to be expensive! I always use $15 bottle of cab sav because I love the mild flavor it yields to the sauces.
I recommend to stay away from red table wine or red wine blends as they either lack flavor or are too sweet.
What to Serve with Braised Lamb Shanks?
Braised lamb shanks are best served over a bed of creamy mashed potatoes, buttery cauliflower mash, risotto or creamy polenta to scoop up flavorful sauce in every bite.
You can also serve lamb shanks over rice, quinoa or pasta. There is so much flavor in this lamb dish, you need a pretty plain side dish to serve it with.
Serve with simple salad and freshly baked garlic bread rolls.
How to Make Ahead and Store
Make ahead: Braised lamb shanks are best served when they are finished cooking. However, you can keep it warm for up to 1 hour by simmering on low. If sauce has thickened or cooked down too much, add a splash of beef stock.
Store and freeze: Transfer lamb shanks with remaining sauce to an airtight container and refrigerate for up to 3-4 days. Freeze for up to 3 months, then thaw in the fridge overnight.
Reheat: Add desired amount of lamb shanks and sauce to a pot, cover and simmer on low heat for 10 minutes, checking on it and stirring a few times. Add a splash of beef broth if necessary.
FAQs
How long to braise lamb shanks?
Braise lamb shanks for 2-2.5 hours in 350 F oven. You can go even up to 3 hours.
How do I make lamb meat soft and tender?
You make lamb shanks tender by cooking on low heat for long period of time, so connective tissues in the meat have a chance to break down.
Should lamb shanks be pink when cooked?
No. Lamb shanks meat will be brown when cooked for such a long time. You do not have to worry about undercooking this recipe for lamb shanks as the cook time is very long.
Should they be submerged in liquid for cooking?
Yes. Make sure to use large enough pot to fit all 3-4 lamb shanks. Lamb shanks should be covered with braising liquid for the most part. Tops can be peeking out.
More Lamb Recipes to Try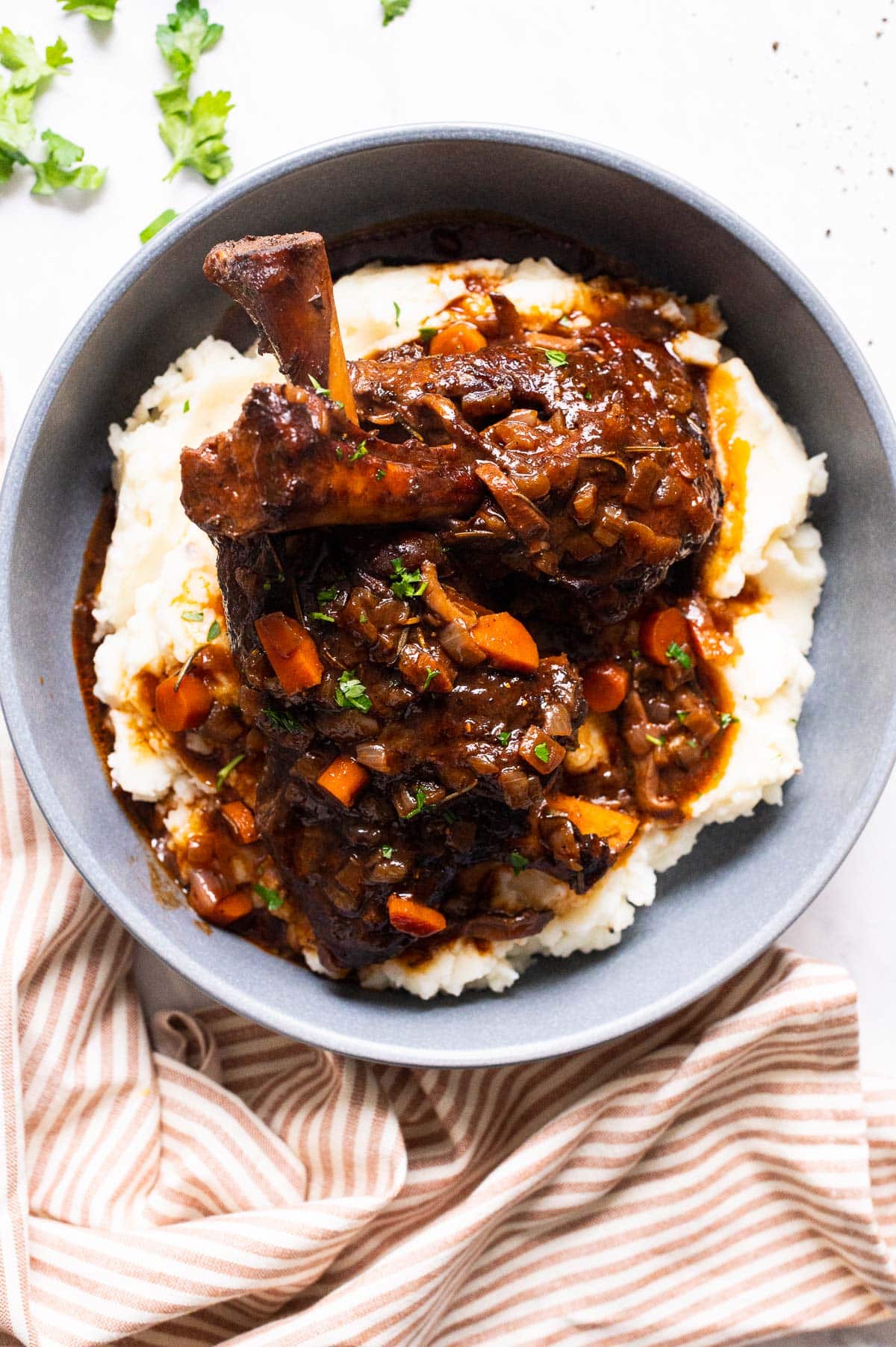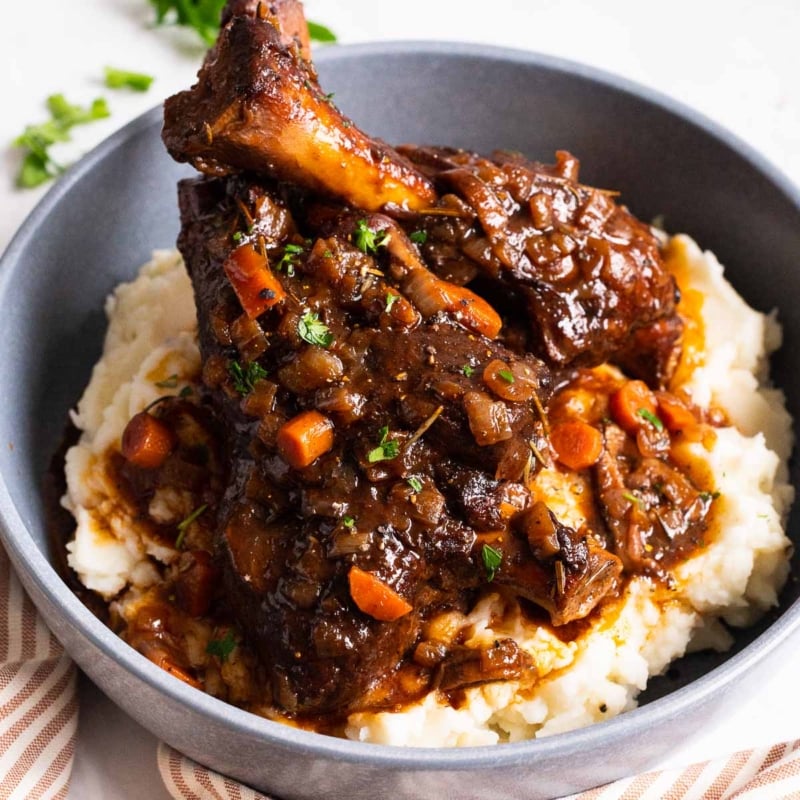 Braised Lamb Shanks Recipe
Easy Braised Lamb Shanks Recipe slow cooked in delicious, rich red wine sauce. Tender, fall-off the bone lamb recipe of restaurant quality!
Instructions
Preheat oven to 350 degrees F. Also preheat large Dutch oven on medium-high heat and add 1 tablespoon of olive oil.

Season lamb shanks with 1/2 teaspoon salt and 1/2 teaspoon ground black pepper on all sides. Sear lamb shanks until golden brown crust forms and transfer to a large plate.

Add remaining 1 tablespoon olive oil and add onion, carrots and mushrooms. Saute until translucent, stirring occasionally. Then add rosemary, coriander and saute for another 30 seconds, stirring constantly. Add tomato paste and stir with vegetables until incorporated.

Pour in beef broth, red wine, balsamic vinegar, Worcestershire sauce and add remaining 1/2 teaspoon salt and 1/2 teaspoon black pepper, then stir. Add previously browned lamb shanks, making sure they are covered with liquids.

Cover pot with a lid and bake on a bottom oven rack for 2 hours.

After remove lambs shanks from the oven, let stand in a pot covered for about 10 minutes and serve hot with the gravy over mashed potatoes.
Notes
Store: Refrigerate for up to 5 days in an airtight container.

Reheat desired amount in small pot by simmering on low heat. Cover and stir occasionally until warmed through.

Freeze: Make sure to cool lamb completely and then freeze in an airtight container for up to 3 months. Thaw in the fridge overnight.
Nutrition
Calories:
366
kcal
|
Carbohydrates:
17
g
|
Protein:
33
g
|
Fat:
12
g
|
Saturated Fat:
3
g
|
Cholesterol:
95
mg
|
Sodium:
861
mg
|
Fiber:
4
g
|
Sugar:
9
g