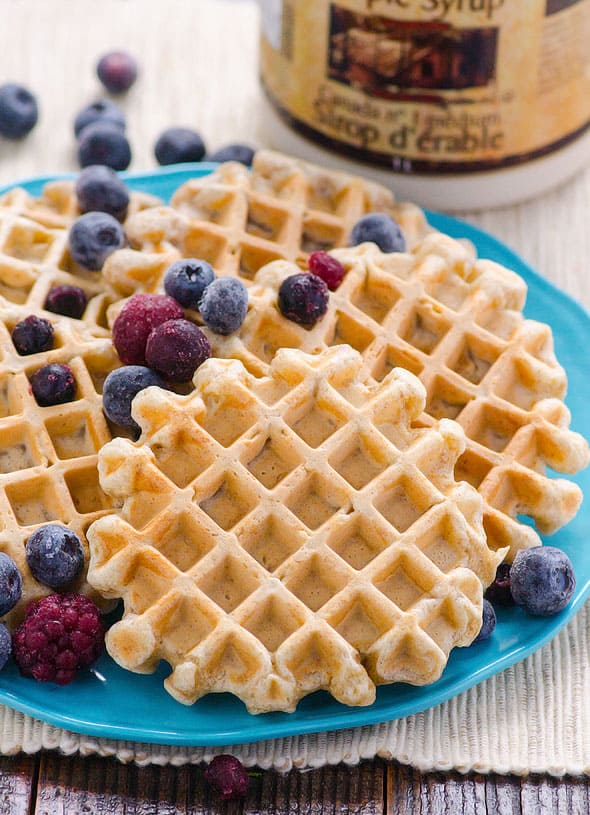 I stopped buying waffles since we started eating primarily real food (what is real food and my real food list) because Eggo belongs to a chemistry lab and not my freezer.
There is even colour in those waffles but they are "a source of 9 essential vitamins and minerals". Wow, really?! Thank you! Kellogg's also suggests to pair them with a glass of GMO milk to provide "a complete and balanced breakfast". Double thanks! Clearly Kellogg's would never want to sponsor a review of their product on iFOODreal, like ever. Fine with me, stay away, waffle fakers!
Then I found organic waffles but the cost prevented me from buying them. My boys LOVE waffles (what kids don't?!) and will eat that $5 box for breakfast. I always kept thinking "Not a necessity, next time. I'd rather buy a bag of organic apples with saved money".
One day, I got so tired of boys begging for waffles, I wiped years of dust off my over decade old waffle maker, cleaned out the pantry ingredients and made these applesauce waffles. Then I made them again and stocked my freezer. Whoa, this is cheap and easy! Since then, me and my waffle maker have regular dates. My latest creation is this amazing healthy waffle recipe, followed by oatmeal protein waffles. Thick, crunchy on the outside and a bit chewy, they keep me sane on many mornings.
To freeze, let waffles cool for 10 – 15 minutes, then place in a resealable Ziploc bag, let as much air out as possible, seal and freeze. Call me crazy but I also wash, dry and reuse not heavily soiled bags. I wouldn't save a bag from meat or fish but from waffles why not?!
Enjoy!
Print
Healthy Waffle Recipe
Healthy Waffle Recipe with whole wheat flour, olive oil and maple syrup. Double the batch and freeze for healthy breakfasts and snacks.
Author:
Prep Time:

5 minutes

Cook Time:

20

Total Time:

25 minutes

Yield:

12 waffles
Instructions
In a large mixing bowl, lightly beat eggs. Add milk, maple syrup, olive oil, vanilla, baking powder and salt; whisk until well combined. Add whole wheat flour, mix well.
Preheat waffle maker and make waffles according to your waffle maker's instructions. Amount of batter depends on the size of your waffle maker. I have similar to this non-stick one and used about 1/3 cup batter per waffle. If your waffle maker is cast iron you might have to spray it with cooking spray to prevent waffles from sticking but maybe not since batter has enough oil. Try one and see how it comes out.
Store: Refrigerate in air circulating container for up to a week.
Freeze: Fully cook, cool completely, and freeze in an airtight container for up to 6 months. Reheat in a toaster.
★ Did you make this recipe? Please give it a star rating in the comments.