The Best Healthy Mashed Potatoes my Ukrainian way. Creamy, fluffy and delicious without 2 sticks of butter.
You can also make Instant Pot mashed potatoes if you are a lucky magic pot owner. It is even easier than this recipe.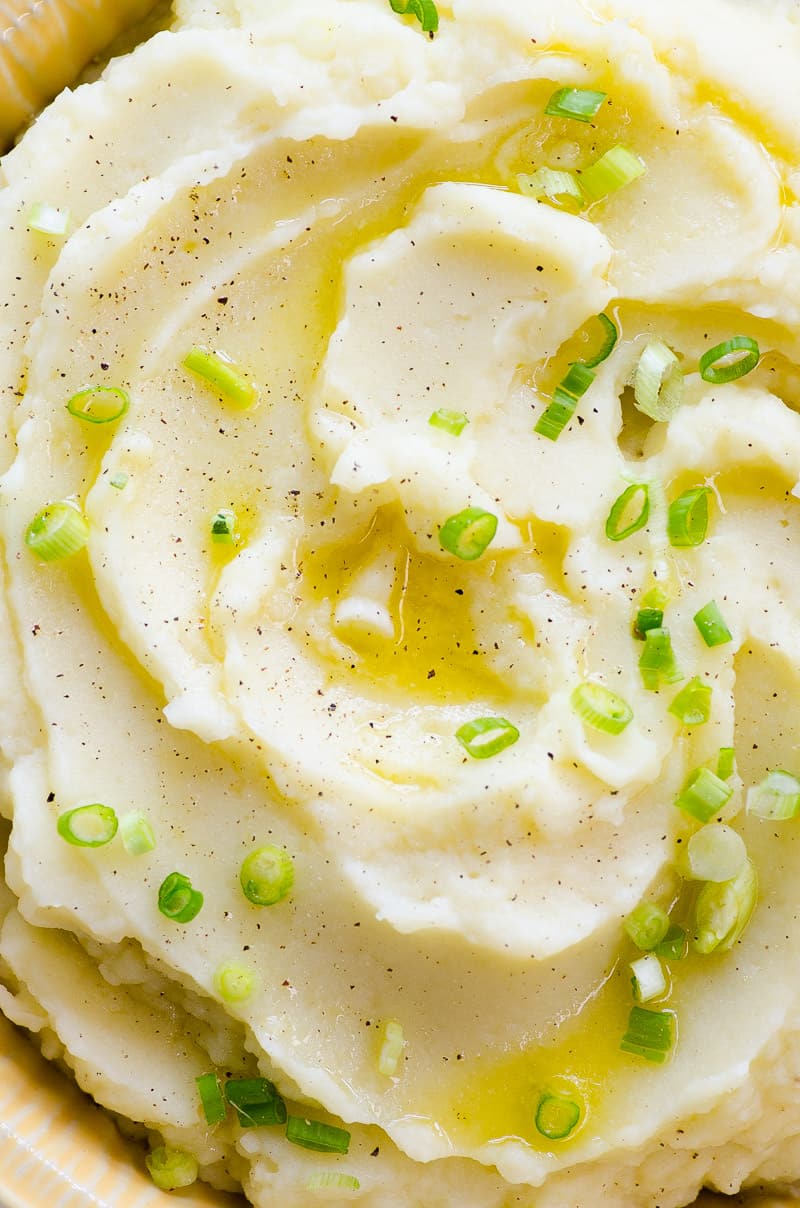 Healthy Mashed Potatoes
Let's start thinking Holidays!
Turkey, gravy, brussels sprouts and dare I say healthy cinnamon rolls are all on iFOODreal's menu this season.
If there is more qualified person to talk about healthy mashed potatoes, it is anyone who grew up in former USSR. In Ukraine potatoes were our bread and butter. Entire family would grow potatoes during summer, harvest in fall and eat year round. We ate potatoes 3-4 times a week. Baked, mashed, boiled. Everything!
Today I will share my version of healthy mashed potatoes like my grandma, mom and aunt used to make. It is an easy recipe with a few tips to make them creamy, fluffy and flavourful.
Are Mashed Potatoes Healthy?
Cauliflower mashed potatoes are a great low carb side dish. But at same time I do not think we should avoid traditional starchy vegetables because of their high glycemic carbohydrates. There are much worse things you can eat than good old potatoes.
Health Benefits of Potatoes
Vitamin C. One potato contains more vitamin C than one medium tomato or sweet potato. Vitamin C supports the immune system, helps collagen production and iron absorption.
Fiber. One medium potato with the skin contains 2 grams of fiber that helps to keep your belly full. This is why I try not to peel potatoes whenever I can.
Potassium. Potatoes rank in top 20 raw foods with high potassium content. Higher than banana. One medium potato with skin on contains 15% of recommended daily value. Potassium is super important mineral your body needs to transmit nerve impulses, help muscles contract and maintain normal blood pressure.
Potatoes are a source of vitamin B6, low in sodium and fat free.
Bottom Line
Fruits, vegetables and whole grains should be consumed daily. Fried foods and high fat snack should be a treat. Understanding the difference between fast food fries and homemade mashed potatoes will help you nourish your body properly and leave room for an occasional indulgence.
Ingredients
Potatoes
Milk
Butter
Garlic powder
Salt and pepper
What Are the Best Potatoes to Use?
Starchy variety like Russet or Yukon Gold will produce the most creamy, fluffy and flavor packed mashed potatoes. If you use more waxy type like red or white potatoes (been there, done that), it will take you longer to mash them and taste will not be the same.
Do I Have to Peel the Potatoes?
Yes. I am an advocate for eating the skin of any potatoes because it contains many health benefits. But with mashed potatoes you have to peel the skin for smooth end result. But you can make smashed potatoes with skin on, add Greek yogurt or sour cream and fresh garlic. Mmmm. I see new recipe in the future.
Make Ahead?
Mashed potatoes are the best served fresh. Here is what I do to prepare them ahead.
Peel, cut, cover with cold water and refrigerate for up to 24 hours. Then drain and cook when ready. Saves a lot of time in a pre-Thanksgiving dinner rush.
OR after potatoes are done cooking, turn off the heat and don't drain for up to an hour. Drain and mash right before serving.
How to Make Healthy Mashed Potatoes
Cook potatoes with salt. It helps to flavor potatoes during cooking. Then drain, add butter, hot milk, garlic powder, salt and pepper. Warming up milk makes a huge difference. Mashing potatoes with hot milk helps to mash potatoes well, incorporate other ingredients and simply keep potatoes warm.
Mash with potato masher until smooth and creamy. I would not recommend to use a food processor or an immersion blender. They will make potatoes gummy with a weird shine to them. Some people like to use a hand mixer. I stick to a good old potato masher.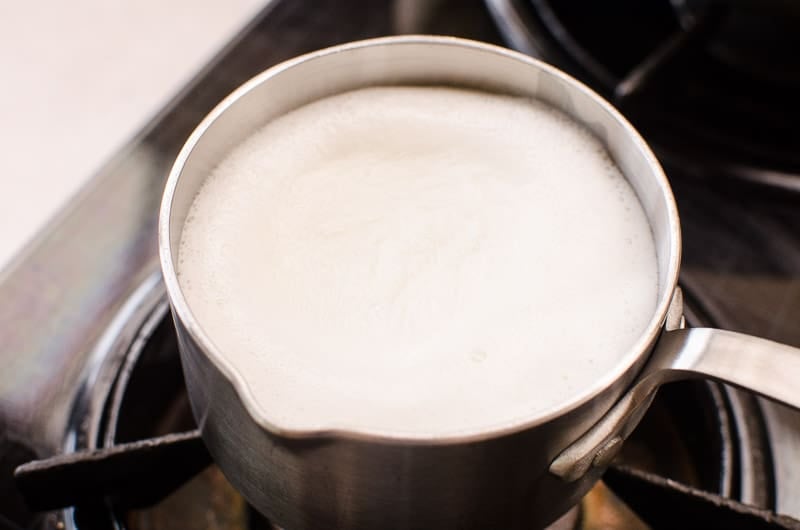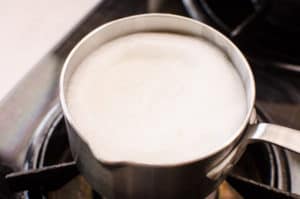 5 More Tips for Best Mashed Potatoes
Cut in same size pieces. To ensure evenly cooked potatoes, cut them in similar size cubes. Smaller the cubes, less cooking time.
Salt the water. When potatoes cook starch granules absorb the water. If you add salt in the beginning, you will not need as much at the end.
Cook in cold water. It might be tempting to cover potatoes with hot tap water to speed up the boiling process. Doing so will result in undercooked inside and falling apart outside.
Drain well. Have patience to drain all the water. It will ensure no watery taste and more creamy potatoes.
Use room temperature butter. It will be absorbed more easily and will not cool down the potatoes. Just like hot milk.
Substitutions
Milk. I recommend to use homo milk or at least 2% cow's milk. I would not advise on almond or skim milk because full fat cow's milk makes potatoes creamy.
Chicken broth. I have seen it other recipes but have never tried.
Garlic. You can replace garlic powder with fresh garlic. Start with 1 small grated clove and adjust to taste. Raw garlic can make mashed potatoes overpowering with its flavor. It is purely a mood thing for me. How I feel that day – garlic powder or fresh garlic.
Butter. You can use ghee or vegan butter. To me, healthy substitute for butter in mashed potatoes is butter. Without butter they are not the same. Don't use 1 or worse 2 sticks of butter and it's all good.
Greek yogurt or sour cream. A small dollop of either or will add a tang to mashed potatoes. Why not?!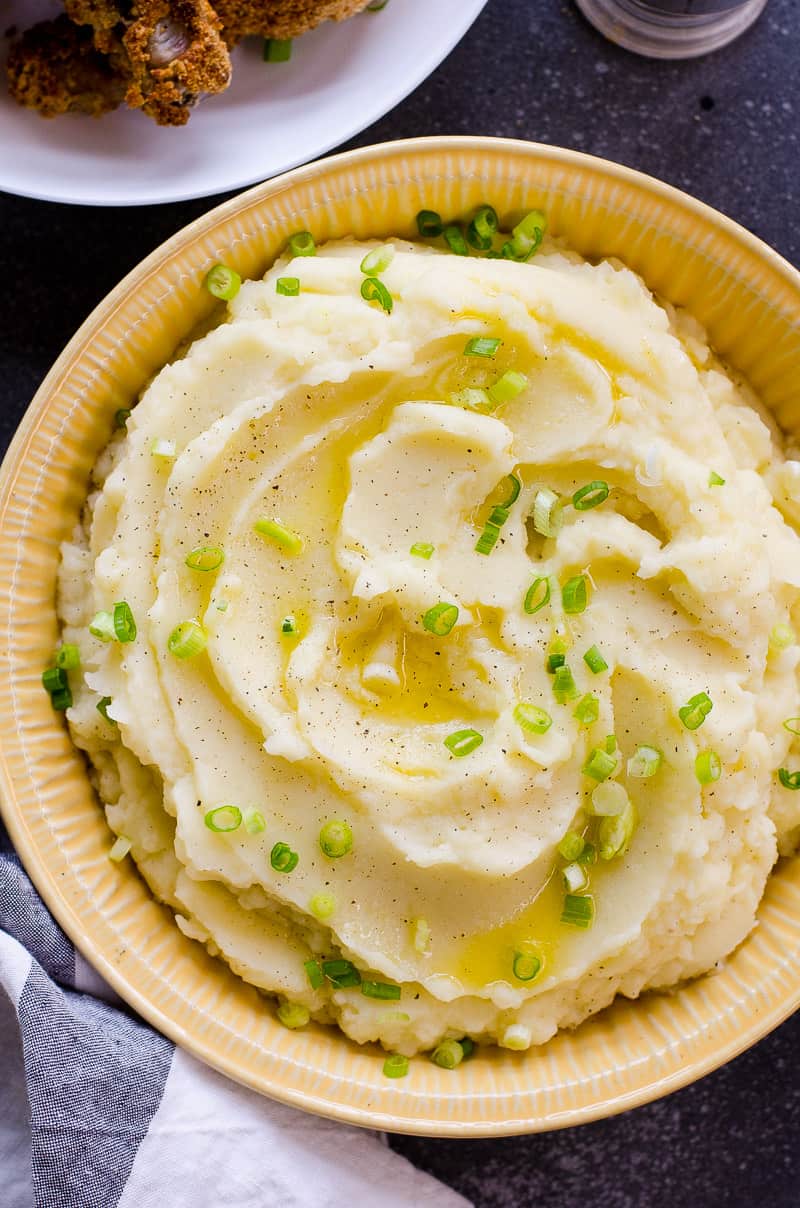 What to Serve with Mashed Potatoes
Healthy Mashed Potatoes
The Best Healthy Mashed Potatoes my Ukrainian way. Creamy, fluffy and delicious without 2 sticks of butter.
Print
Rate
Ingredients
3

lbs

russet or yukon gold potatoes

peeled & cubed

4

tbsp

butter

room temperature

1 1/4

cups

whole milk

1

tsp

garlic powder

3/4

tsp

salt

Ground black pepper

to taste
Instructions
In a large pot, add potatoes, 1/4 tsp salt and enough cold water to cover.

Cover with lid and bring to a boil. Reduce heat to low and cook for 20-25 minutes or until potatoes are tender.

In a small saucepan, bring milk to a boil. Don't walk away and watch milk not to run.

Drain potatoes very well by holding onto the lid and leaving a small opening or in a colander.

Add butter, half the hot milk, remaining 1/2 tsp salt, garlic powder and pepper. Mash until smooth adding remaining hot milk half way through mashing.

Serve immediately.
Notes
Store: Refrigerate leftovers in an airtight container for up to 3 days.
Freeze: Unlike potato cubes, mashed potatoes freeze well because they are mashed with dairy. Freeze in portions with future use in mind in an airtight container container for up to 3 months. Thaw on a counter for 4-5 hours or in the fridge overnight. Warm up on the stove on low with a splash of milk.
Make Ahead: Refrigerate peeled and cubed potatoes in a bowl with cold water for up to 2 days. Cook as per recipe.
Nutrition
Serving:
0.5
cup
|
Calories:
274
kcal
|
Carbohydrates:
42
g
|
Protein:
6
g
|
Fat:
9
g
|
Saturated Fat:
6
g
|
Cholesterol:
25
mg
|
Sodium:
393
mg
|
Potassium:
1026
mg
|
Fiber:
5
g
|
Sugar:
4
g
|
Vitamin A:
316
IU
|
Vitamin C:
45
mg
|
Calcium:
85
mg
|
Iron:
2
mg
Join today and start saving your favorite recipes
Recipes and images are a copyright of ifoodreal.com. It is against the law to republish recipes anywhere including social media, print and all world wide web. Nutritional info is provided for informational purposes only and to the best knowledge.