How to make homemade Healthy Mashed Potatoes that are creamy, fluffy, and flavorful – but with only a fraction of the fat and calories! With just 4 ingredients (plus salt and pepper), these potatoes are decadent and easy to make.
For other 'Holiday' favorite side dishes, you might also like this bacon-wrapped asparagus, healthy green bean casserole, sauteed sprouts with bacon and pecans, and/or Instant Pot sweet potato casserole!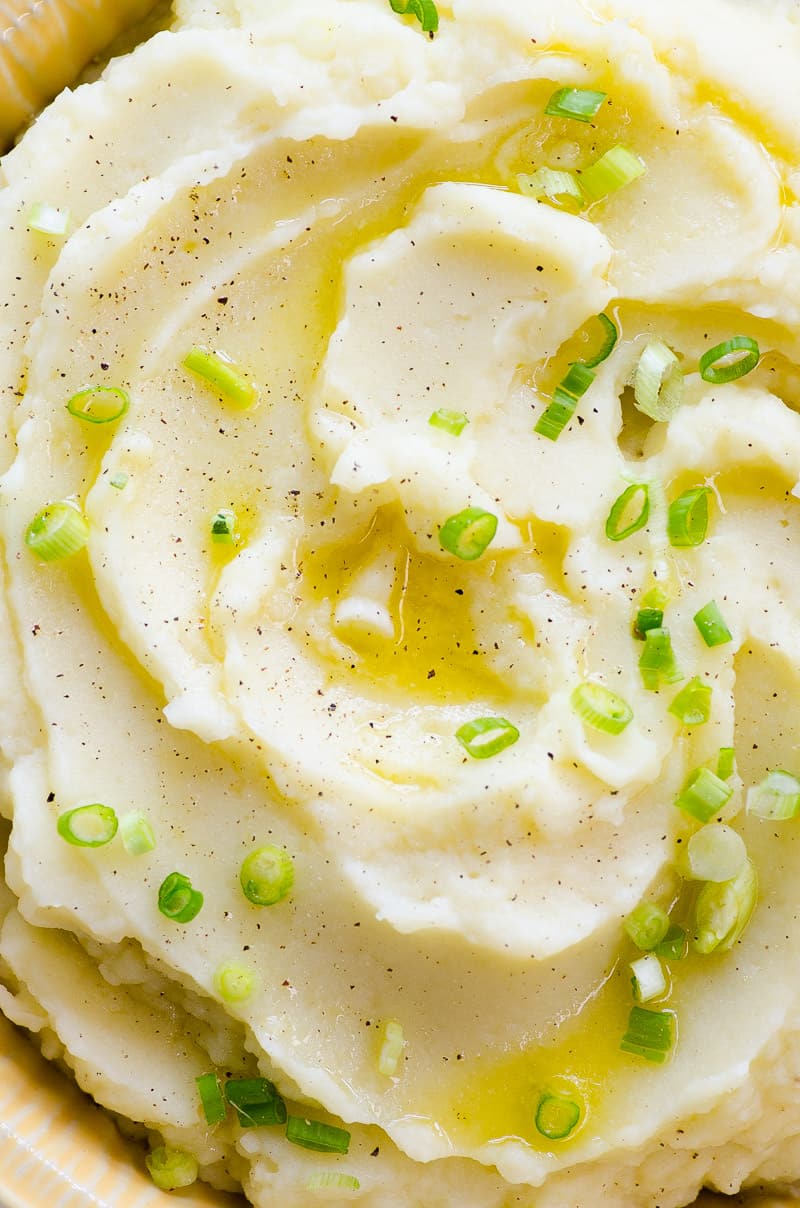 Creamy, Fluffy, Healthy Mashed Potatoes
As someone who grew up in the former USSR, I know my potatoes. In Ukraine, potatoes were like our bread and butter. Baked, boiled, fried, and mashed – they were a year-round, multi-weekly addition to our table. Which is why it's great to have a healthy mashed potatoes recipe to turn to for all the flavor but only a fraction of the fat used in many creamy mashed potatoes recipes. That means it's a great side to all sorts of mid-week meals and not just the holidays (though it is, of course, a must at any Thanksgiving table too)!
The truth is, potatoes get a bit of a bad rep as a carby food, but you could certainly do a lot worse (with far more 'empty calories'). In fact, potatoes pack in several vitamins, minerals, and health benefits, including:
Vitamin C. One potato contains more vitamin C than one medium tomato or sweet potato, which supports the immune system, helps collagen production, and iron absorption.
Potassium. Potatoes rank in the top 20 raw foods with a high potassium content (even higher than a banana). Potassium helps our bodies to transmit nerve impulses, help muscles contract, and maintain normal blood pressure.
Potatoes are also a source of vitamin B6, are low in sodium, and are fat-free.
That's why you'll happily still see me adding them to tons of recipes, like this healthy potato salad, Ukrainian breakfast potatoes (with bacon) and one pan chicken and potatoes. Although I'll admit, these healthy homemade mashed potatoes make it onto my table at-least weekly. So keep reading for tons of suggestions on how to enjoy it!
You might also like this recipe Instant Pot mashed potatoes (which are even easier to make!), Instant Pot potato soup or for a lower carb option, this healthy cauliflower mashed potatoes!
Why This Mashed Potatoes Healthy Recipe Works?
Healthy mashed potatoes are creamy and fluffy with just a fraction of the fat and calories!
Swap out the heavy cream and sticks of butter for whole milk and a reduced amount of butter for fantastic flavor!
This recipe requires just 4 ingredients – plus salt and pepper, with real ingredients and fewer empty calories!
It's ready in under 30 minutes – quick and simple healthy sides for mid-week and holidays!
Plus, you can enjoy this homemade mashed potatoes recipe with dairy or dairy-free!
This recipe can also be prepared ahead and saved in the fridge or freezer, so it's ready whenever needed!
There are also tons of ways to adjust this recipe with extra flavors and ingredients – without adding tons of extra calories!
Ingredients for Healthy Mashed Potato Recipe
Potatoes: Russet or Yukon Gold are the best potatoes (locally) for homemade mashed potatoes.
Butter: Use room temperature butter, so it absorbs better without cooling down the potatoes. Ghee would also work.
Milk: Since this healthy mashed potato recipe doesn't rely on cream, I recommend whole milk for the creamiest results.
Seasonings: All you need for the base healthy mashed potatoes is garlic powder, salt, and pepper.
Read below (after the recipe how-to) for more information on homemade mashed potato add-ins and recipe variations!
How to Make Creamy Mashed Potatoes
Prepare the potatoes: First, clean, peel, and cube the potatoes. Try to chop them around the same size so that they cook at an even rate.I chopped them into pieces that are around 1-inch pieces, so they cook faster.
Cook the potatoes: In a large pot, add the potatoes, ¼ tsp salt, and enough cold water (don't be tempted to use hot or they'll cook unevenly) to cover the potatoes with around ½-inch on top. Then cover the pot with a lid and bring to a boil. Then reduce the heat to a low simmer and cook for 20-25 minutes, or until tender.
Even if you're reducing salt intake, I don't recommend omitting the salt from the cooking water. It's vital for infusing the spuds with extra flavor.
Heat the milk: Then, in a separate small saucepan, bring the milk to a boil, stirring often. Watch the milk carefully as it can scorch on the bottom of the pan.
Drain the potatoes: When the potatoes are cooked, drain the liquid. To drain it all, you can do this through a colander or using the lid (with just a small opening).
You don't need to discard the leftover cooking water. This water will be starchy and is perfect for saving to add to sauces, stock, soups, etc. You can even freeze it for later.
Combine the ingredients: Then add the butter, half the hot milk, garlic powder, pepper, and remaining salt. Then mash until smooth, adding the remaining milk bit-by-bit while mashing.
You can mash the potato using a potato masher or ricer for the best results. While it's possible to use an electric stand mixer if the potato is overbeaten, it will become gummy, so be careful.
Tips for Best Mashed Potatoes
Cook in cold water.

It might be tempting to cover the potatoes with hot tap water to speed up the boiling process. Doing so will result in an undercooked inside and falling apart outside, though.

Use room temperature butter. It will be absorbed more easily and will not cool down the potatoes.
Avoid using a blender/food processor: The heat and speed of the blades will react with the starch in the potatoes and make them gummy. A hand mixer can work, but only if used carefully.
For a smooth potato puree: You can press the mashed potato mixture through a sieve for super-smooth pureed potato (think 5-star restaurant meal-type silky smooth spuds).
For softer mashed potato: If even after all the milk, you still prefer your potatoes to be softer, then you can add in some of the reserved cooking water, mashing in-between, until you reach your desired consistency.
Optional Add-In's and Variations
There are several ways you can adapt this healthy mashed potatoes recipe without adding tons of extra fat and calories, including:
Fresh herbs: Either stir them into the healthy mashed potatoes or use them to garnish for extra flavor. I recommend parsley, chives, scallions, rosemary, or even thyme. For extra flavor, you could add the herbs to the milk while it heats to infuse the mixture with flavor.
Aromatics: Caramelized onions or garlic could garnish or mix into the creamy mashed potatoes for more flavor. You could also substitute the garlic powder for fresh garlic (around 1 small, grated clove, adjusted to personal taste) either raw or added into the pot with the cooking spuds.
Greens: Feel free to mix in some greens for an even more nutritious, healthy mashed potato recipe. Peas, spinach, and kale would all work – folded into the mashed mixture (the heat will wilt the spinach/kale naturally, but you could pre-sauté them if preferred).
Cheese: For a slightly richer yet still healthy mashed potatoes dish, you could add just a few spoonfuls of cream cheese. Alternatively, you could serve the potato with just a little freshly grated parmesan over the top.
Greek yogurt/sour cream: Add a dollop of either for a slight 'tang' and extra dimension to the mashed potatoes.
Chicken stock: You can reduce the amount of milk used slightly, replacing it with chicken stock for tons of flavor. Use reduced-sodium if preferred. Use vegetable stock for a vegetarian version.
Dairy-free: Feel free to make vegan mashed potatoes by using dairy-free butter and dairy free milk.
Low carb: For a low carb option, check out my slow cooker cauliflower mashed potatoes.
Cauli potato mash: You don't have to go all or nothing. For a lighter, healthy mashed potatoes recipe, you could swap out just a portion of the potatoes (around 1/4 – 1/3) for cauliflower. It's fewer calories and carbs, and you'll barely be able to tell!
FAQs
What are the best potatoes for mashing?
I recommend using starchy varieties like Russet or Yukon Gold for the most creamy, fluffy, and flavor-packed homemade mashed potatoes. Russets are super light and fluffy when mashed. Meanwhile, Yukon Gold's have a slightly buttery flavor so the results are a little creamier.

If you use a more waxy type like red or white potatoes (been there, done that), it will take you longer to mash them and the taste will not be the same. Because of the lower starch levels, they just won't break down properly and are far more likely to become gummy. They also don't seem to absorb the milk/butter as much either.
How do I get the best fluffy mashed potatoes?
The way you mash the potatoes is important for achieving wonderfully fluffy mashed potatoes. Use a potato masher or ricer while slowly mixing in the warm milk for the creamiest and fluffiest results. Avoid using a food processor or immersion blender unless you want super gummy results.
What makes this recipe a healthy mashed potatoes?

Everyones 'healthy' is something different. The point of this healthy mashed potatoes recipe was to enjoy spuds that are creamy and flavorful but without tons of cream and butter. Instead, this recipe uses a minimal amount of butter with whole milk in place of the cream.
How do I make this dairy free?
It's super simple – just swap out the dairy for dairy-free alternatives. I recommend using a creamy whole vegan milk (like oat milk or cashew milk) for the creamiest results. It may not be as creamy as the dairy version though.
How long do I boil potatoes for mash?
The time needed to boil the potatoes depends on how finely you chop the potato pieces. For pieces that are 1/2-1 inch cubed pieces, it can take between 15-25 minutes (based on the exact size).
Do you have to peel the potatoes?

While I'm 100% an advocate for eating potato skins wherever possible (for extra nutrients), for mashed potato – get rid! The only time you can leave the peels on when cooking is if you use a potato ricer to mash the potatoes. The ricer will automatically leave the skins in the ricer to separate them when mashing.
Mashed Potato Serving Recommendations
To say that these healthy mashed potatoes are versatile would be an understatement. In Ukraine, we could eat them with everything! Here are just a few of the dishes you could enjoy them with:
You can also use the leftovers to make dishes like potato dumplings, fritters, and 'bubble & squeak'.
Making Homemade Mashed Potatoes in Advance and Storing
Make ahead: You can pre-peel and chop the potatoes, storing them in a bowl of water (to avoid oxidization and browning) in the fridge for up to 2 days. Then continue with the recipe as written. This is great for avoiding the holiday rush (like Thanksgiving and Christmas)
Alternatively, you can cook the potatoes up to an hour in advance. Simply keep the cooked potatoes in the cooking liquid for up to an hour before draining and mashing before serving.
Storing: Store the leftover healthy mashed potatoes in an airtight container in the fridge for up to 3 days.
Freeze: The dairy in the mashed potatoes allows them to freeze well. I recommend freezing it in portions (so it's easier to defrost) in an airtight container for up to 3 months. Then, allow it to thaw in the fridge overnight or on the counter for 4-5 hours before reheating.
Reheat: Reheat the mashed potatoes either in the microwave or on the stovetop with an extra splash of milk to make it smooth and creamy once more.
More Healthy Side Recipes To Try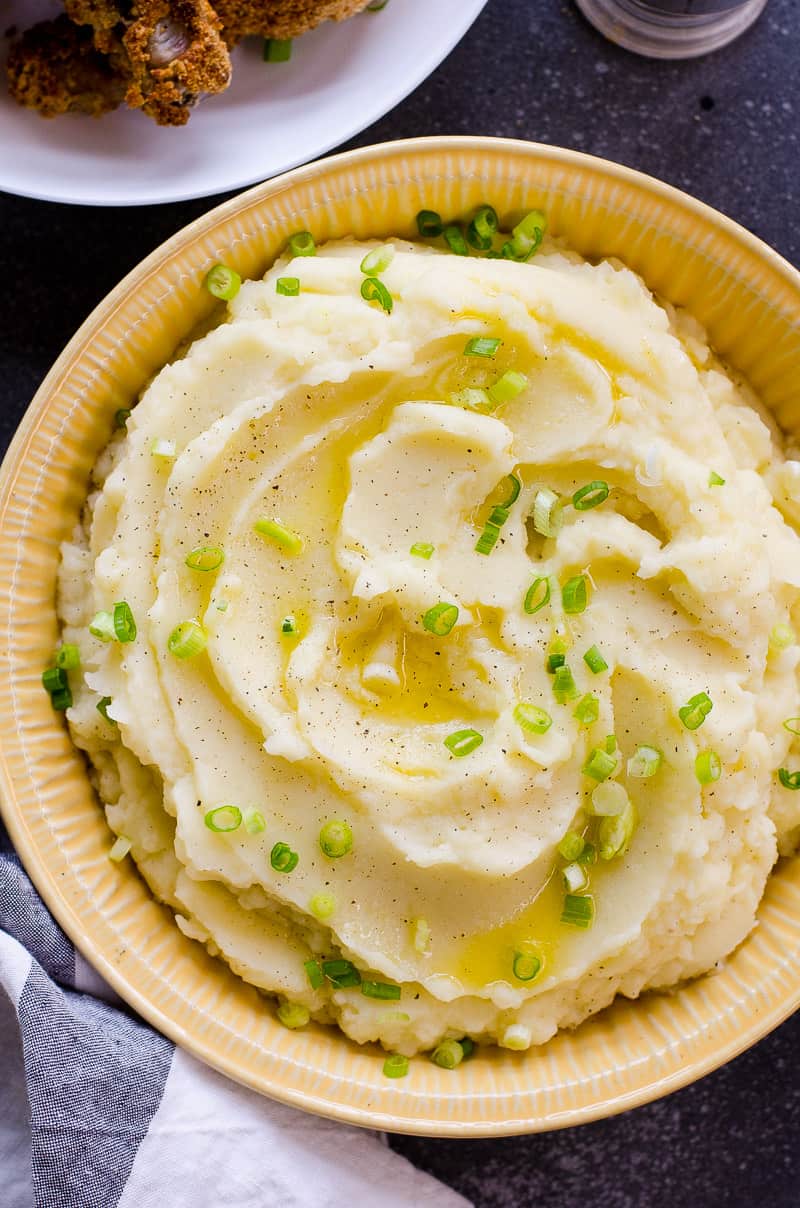 Healthy Mashed Potatoes
How to make homemade Healthy Mashed Potatoes that are creamy, fluffy, and flavorful – but with only a fraction of the fat and calories! With just 4 ingredients (plus salt and pepper), these potatoes are decadent and easy to make.
Instructions
In a large pot, add potatoes, 1/4 tsp salt and enough cold water to cover.

Cover with lid and bring to a boil. Reduce heat to low and cook for 20-25 minutes or until potatoes are tender.

In a small saucepan, bring milk to a boil. Don't walk away and watch milk not to burn.

Drain potatoes very well by holding onto the lid and leaving a small opening or in a colander.

Add butter, half the hot milk, remaining 1/2 tsp salt, garlic powder and pepper. Mash until smooth adding remaining hot milk half way through mashing.

Serve immediately.
Notes
Store: Refrigerate leftovers in an airtight container for up to 3 days.
Freeze: Unlike potato cubes, mashed potatoes freeze well because they are mashed with dairy. Freeze in portions with future use in mind in an airtight container container for up to 3 months. Thaw on a counter for 4-5 hours or in the fridge overnight. Warm up on the stove on low with a splash of milk.
Make Ahead: Refrigerate peeled and cubed potatoes in a bowl with cold water for up to 2 days. Cook as per recipe.
Nutrition
Serving:
0.5
cup
|
Calories:
274
kcal
|
Carbohydrates:
42
g
|
Protein:
6
g
|
Fat:
9
g
|
Saturated Fat:
6
g
|
Cholesterol:
25
mg
|
Sodium:
393
mg
|
Fiber:
5
g
|
Sugar:
4
g