Fluffy Almond Flour Pancakes are made with 6 simple ingredients and ready in 15 minutes. You will love this gluten free, low carb almond flour pancake recipe!
We enjoy almond flour recipes for their taste and wholesomeness, and sure you will too!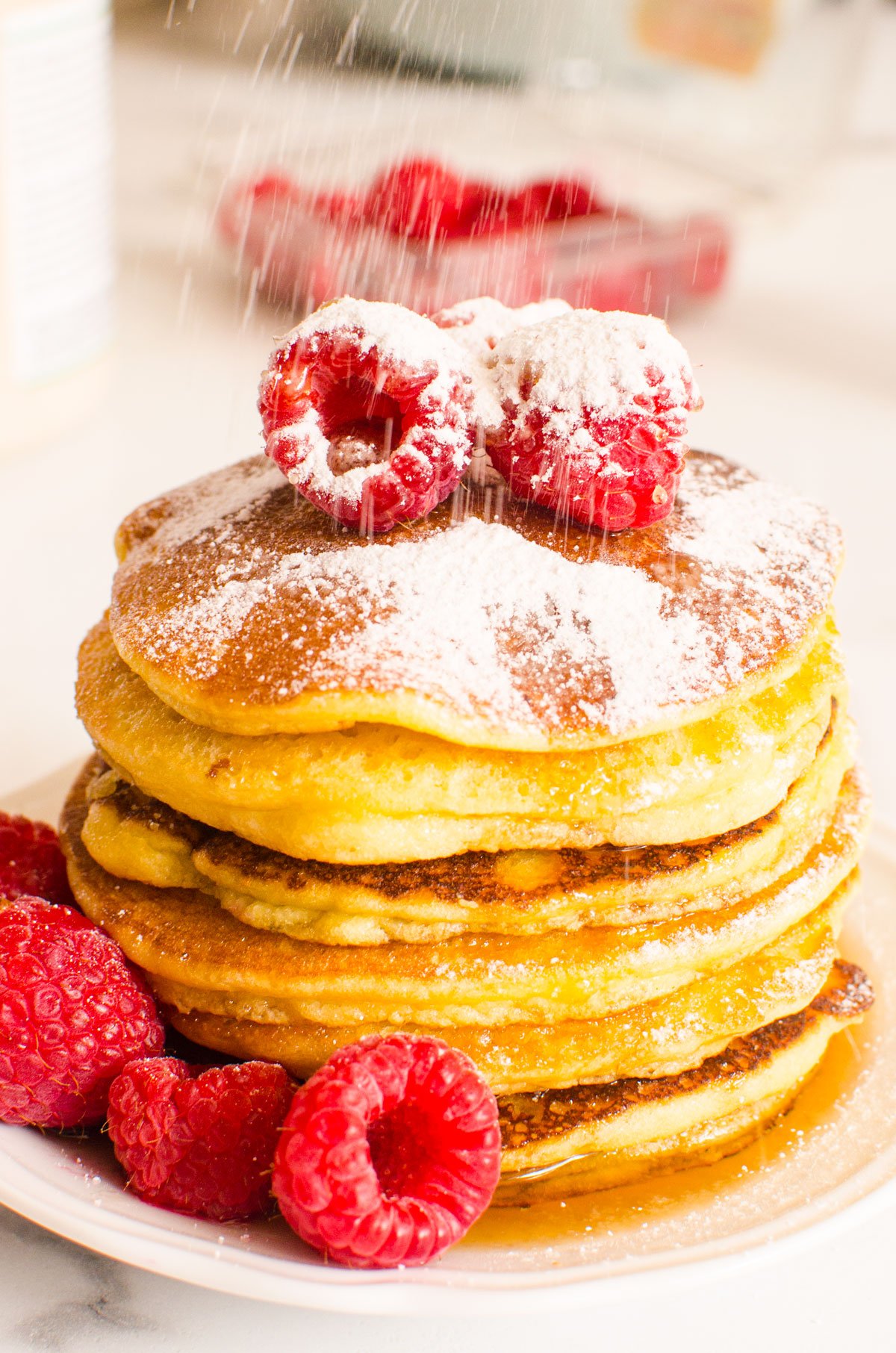 Along with my popular almond flour banana muffins and almond flour banana bread, these low-carb almond flour pancakes are one of our favorite healthy breakfast recipes!
This almond flour pancake recipe requires just 6 simple ingredients, is naturally sweetened, and has a wonderfully fluffy, delicate texture. Your whole family will enjoy!
Why You Will Love This Recipe
Ingredients You Will Need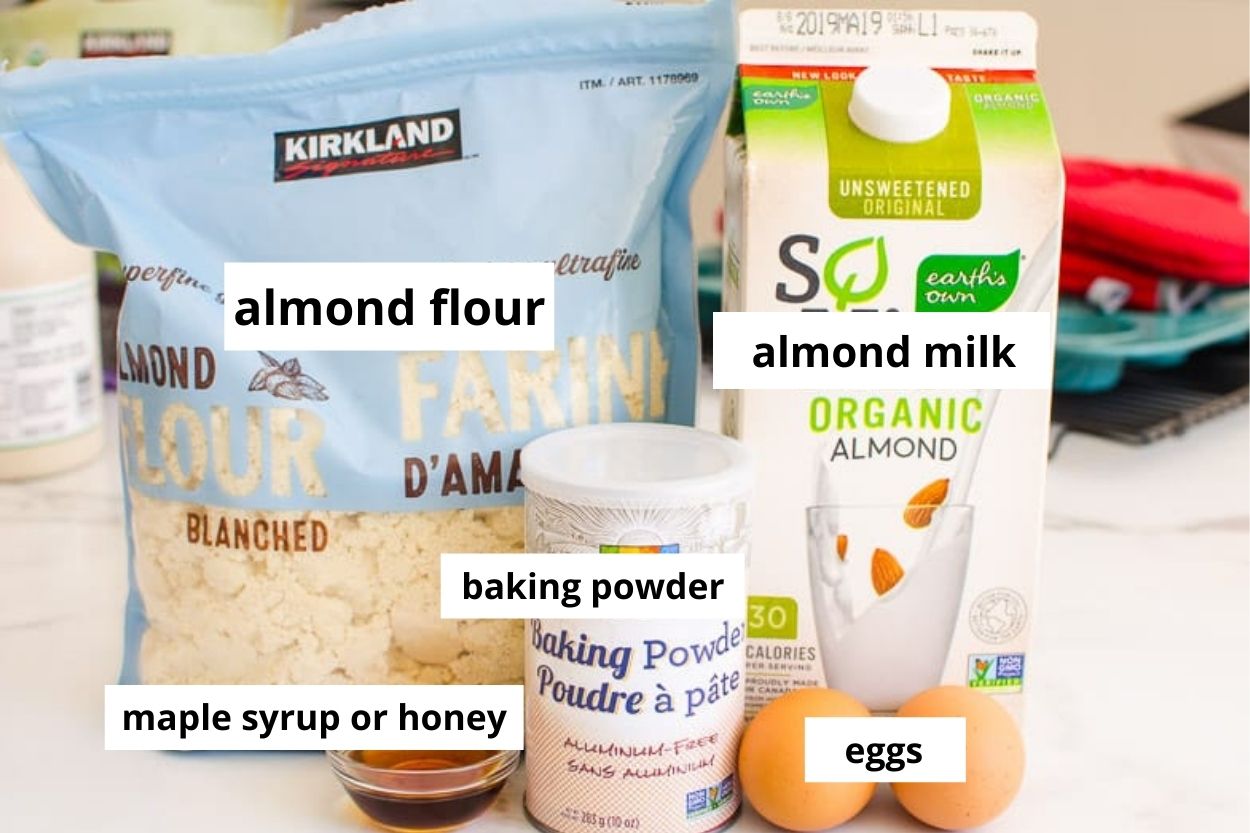 These easy almond flour pancakes require just a handful of ingredients, most of which are pantry staples.
How to Make Pancakes with Almond Flour
Here is a quick overview how to make pancakes with almond flour in 3 simple steps. There is no need to mix wet ingredients and dry ingredients separately!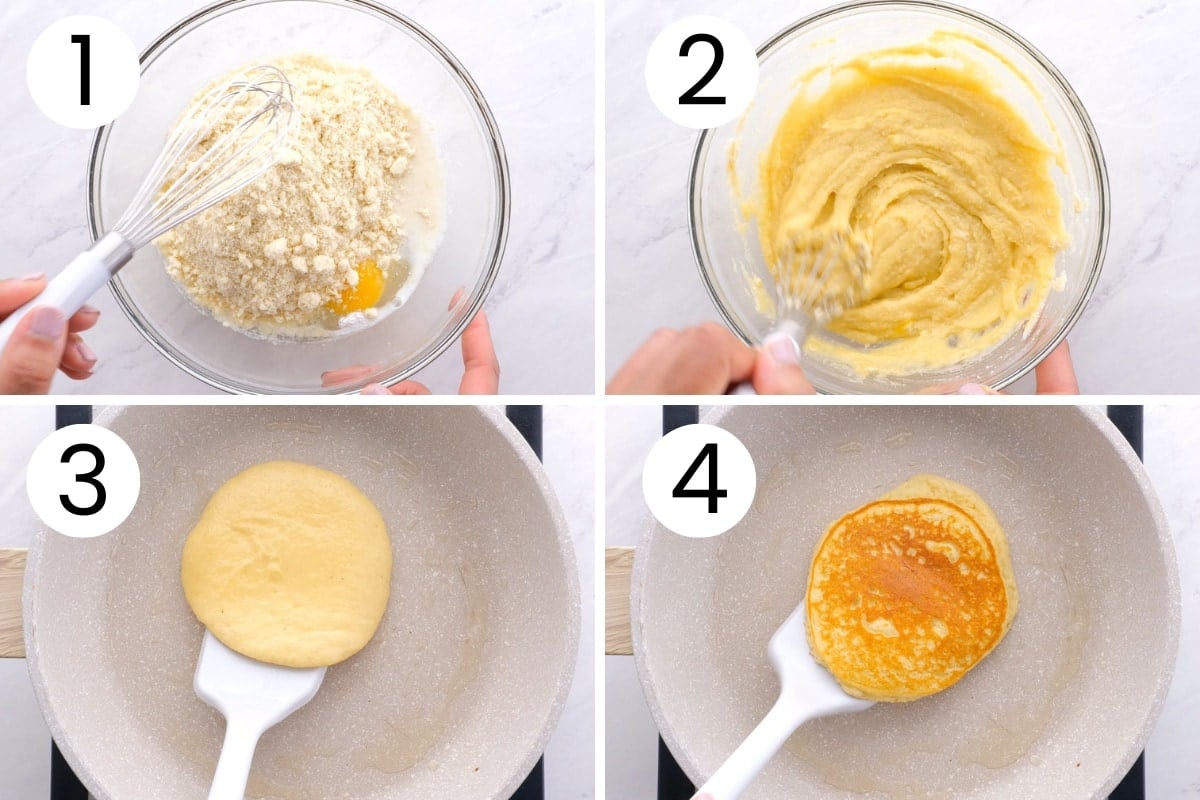 Mix the batter: In a medium bowl, combine the eggs, oil, milk, sweetener, baking powder, and almond flour. Whisk well until the batter is smooth.
The batter should be slightly thinner than regular pancake batter. If it isn't, add a little more milk or water.
Cook the pancakes: First, preheat large nonstick skillet or griddle over low heat with a bit of oil. Pour 1/4 cup of the batter at a time into the skillet, and cook for a few minutes, or until the underneath is a golden brown and bubbles are just beginning to form on top.
Then flip the pancakes and cook for a further 1-2 minutes. Repeat this step with the remaining batter, reducing the heat if needed.
Tips for Best Results
Variations
As with most pancakes, there are several possible add-ins you can experiment with. However, don't add too much, or it will be hard to flip the pancakes.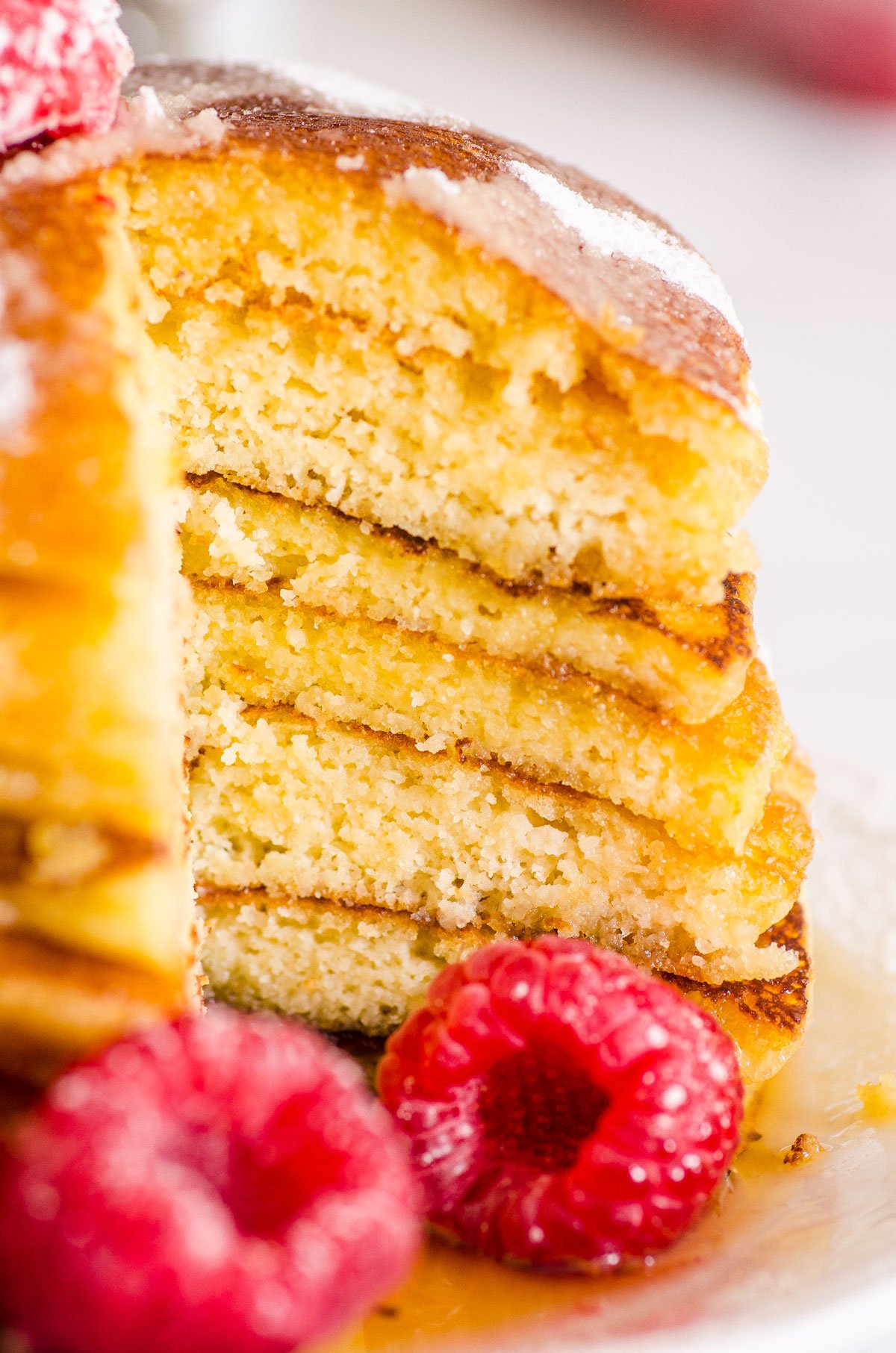 How to Serve Almond Flour Pancakes
These are the world's fluffiest best almond flour pancakes as they are! However, there are several ways that you can enjoy them. Some of my favorite options include:
How to Store, Freeze and Reheat
Make ahead: You can prepare the almond flour pancake batter the night before, leaving out the baking powder until right before cooking the pancakes. Allow batter to come to room temperature for 20 minutes before cooking.
Store: Once leftover pancakes have cooled down, transfer them to an airtight container and store in the fridge for up to 3 days.
Freeze: Transfer cooled pancakes to an airtight container. I recommend to line with parchment paper between them or first flash-freeze on a baking sheet in a single layer, then stack to avoid sticking.
Freeze in the freezer for up to 3 months. To thaw, you can leave them on the counter or reheat from frozen in the toaster for easy weekday breakfasts.
Reheat: Reheat almond flour pancakes either on the stovetop, in the microwave, or in a toaster oven. You could also keep the pancakes warm in the oven at 200 F until serving or reheat a large batch in the oven at 350 F until warm, around 10 minutes.
FAQs
Why are my almond flour pancakes falling apart?
The only time I've had this issue is when I've tried to make these pancakes without eggs. As almond flour contains no gluten, we need the eggs to bind the batter.

Also be careful when flipping them. You want to make sure pancakes are golden brown on the bottom, and then flip quickly with good spatula.

Can I substitute regular flour for almond flour?
No. All-purpose flour will not work in this recipe.
Can I make these keto pancakes with almond flour?
Yes. Just use a keto sweetener like erythritol instead of maple syrup. If you use a dry sugar, then add an extra 2 tablespoons of milk or water.
Can I make almond flour pancakes without eggs?
No. I haven't yet had any luck trying this almond flour pancake recipe with an egg alternative. I have previously tried with flax egg, but the pancakes end up crumbly. If you end up trying any alternatives and they work out, let me know in the comments.
Can I use almond meal?
Technically yes but I prefer not to. Almond meal pancakes won't be as smooth or melt in your mouth. Instead, they're denser and more cake-like, so I usually avoid it. Their color will also be different, as the meal contains almond skins. They also don't hold their shape as well.
More Pancake and Waffle Recipes to Try
Almond Flour Pancakes
Fluffy Almond Flour Pancakes are made with 6 simple ingredients and ready in 15 minutes. You will love this gluten free, low carb almond flour pancake recipe!
Instructions
In a medium bowl, add eggs, oil, milk, maple syrup, baking powder and almond flour. Whisk well until batter is smooth consistency.

Preheat ceramic non-stick skillet on low heat and swirl oil to coat. Add 1/4 cup of batter and cook for a few minutes or until you peak under and see nice brown colour.

Flip pancakes before they are dry on top and bubbles appear. Cook for another 1-2 minutes. Proceed with remaining batter and reduce heat as skillet gets hotter.

Serve with maple syrup, plain yogurt and berries.
Notes
Store: Refrigerate covered or in a container for up to 3 days.
Freeze: Freeze cooled down pancakes in an airtight container for up to 3 months. To thaw, pop frozen in the toaster and voila. Or thaw on a counter for a few hours.
Dry sweetener: You can use dry sweetener of choice and add extra 2 tbsp of milk or water.
Omit sweetener: You can skip sweetener all together but add extra 2 tbsp of milk or water.
Don't use this batter for waffles: Instead, I have a particular almond flour waffle recipe.
Avoid flax eggs: They won't bind the almond flour pancake batter as well as eggs, so the pancakes turn out very crumbly.
Use room temperature eggs: If you're using coconut oil or melted butter in the pancake batter.
Nutrition
Serving:
1
pancake
|
Calories:
126
kcal
|
Carbohydrates:
6
g
|
Protein:
4
g
|
Fat:
10
g
|
Saturated Fat:
1
g
|
Cholesterol:
37
mg
|
Sodium:
70
mg
|
Fiber:
1
g
|
Sugar:
3
g