Crustless Broccoli Quiche is lightened up and healthy version of traditional quiche without the pie crust fuss and extra calories. It tastes amazing freshly baked or cold, for breakfast, snack or even dinner.
Our family absolutely loves crustless quiches like spinach quiche, zucchini quiche and crustless zucchini pie!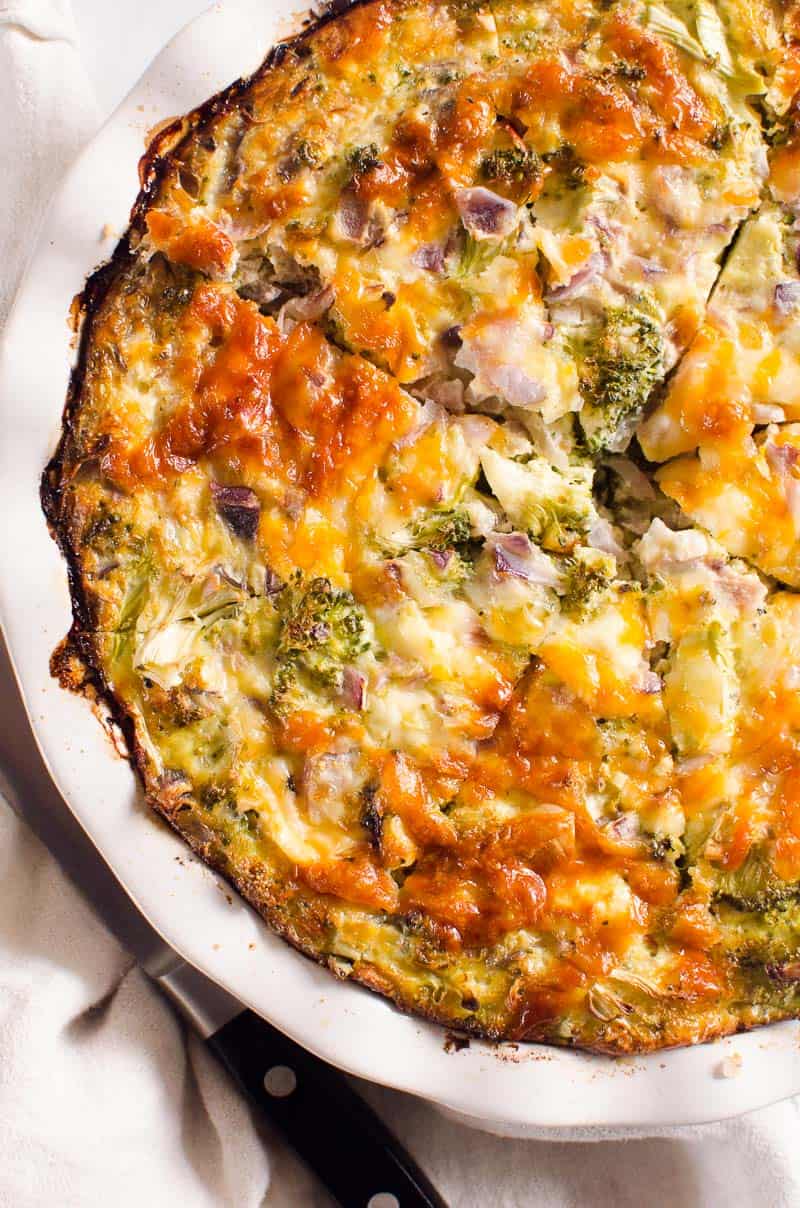 This week I made crustless broccoli quiche and it disappeared during breakfast and snack time. It is fiber and protein loaded, is so easy to make and a sure way to get more veggies into your kids.
Broccoli quiche packs insane 4 cups of broccoli. Just like spaghetti squash quiche, it's a great way to hide veggies from kids.
Red onion and garlic add flavor without sauteing and disappear in a fluffy egg mixture. Salty feta cheese melts inside and a few handfuls of cheddar add that irresistible golden crust on top. So good!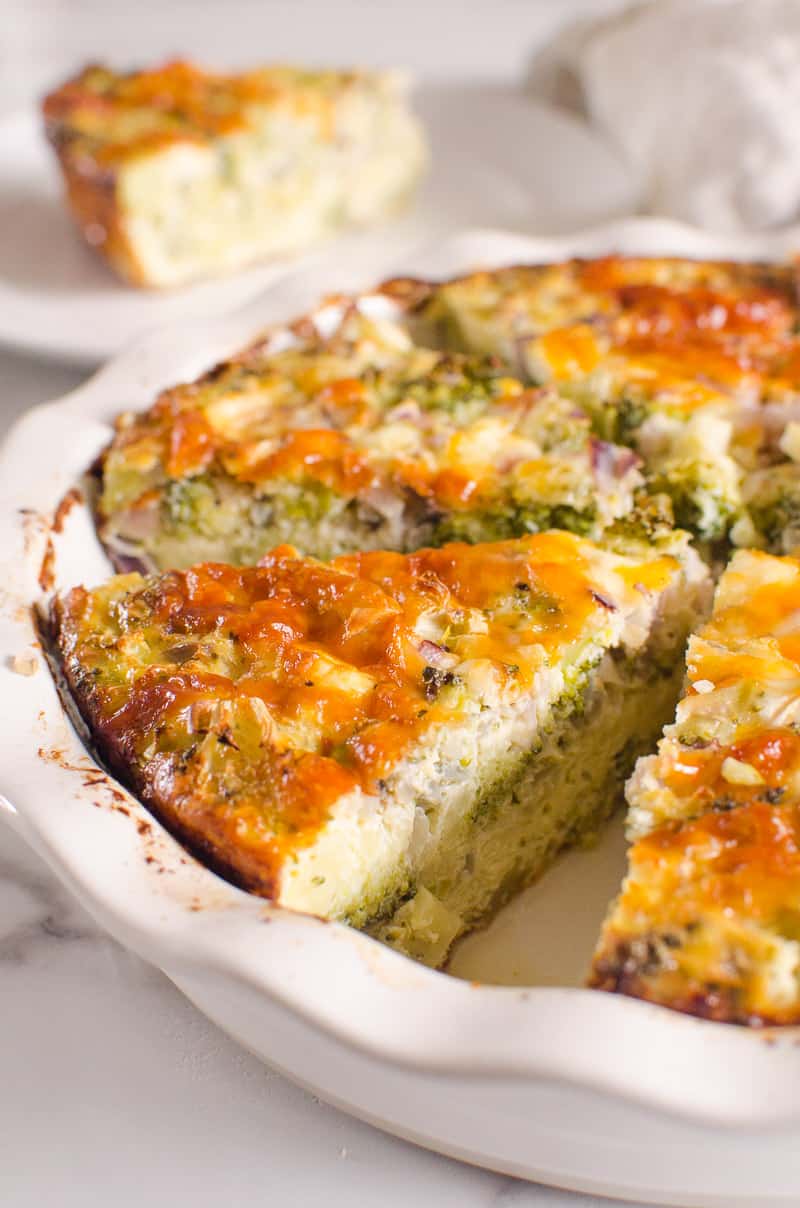 Ingredients for Broccoli Quiche
Eggs: 7 large or I used 9 medium eggs. You can also use egg whites with replacement ratio of 1 large egg = 3 tbsp egg whites.
Broccoli: 1 lb or 4 cups of fresh or frozen broccoli works. If using frozen veggie, run it in a colander under hot water and drain well. I finely chop even the stalk, especially if it's organic, and use in dishes like healthy broccoli salad or healthy beef and broccoli.
Milk: Quiche without milk is not a quiche but rather a frittata. Creamier milk, more flavor dense is the quiche. You can use non-dairy milk – just be ready for more thin flavor.
Cheese: Feta cheese inside because it's the bomb with greens and garlic. And a sprinkle of cheddar on top adds nice golden crust, but is OK to skip or sub with any other hard melting cheese.
Onion and garlic: Red onion is perfect for quiche because it adds mild flavor without sauteing. Regular yellow onion needs sauteing and you can do that – throw garlic in there too.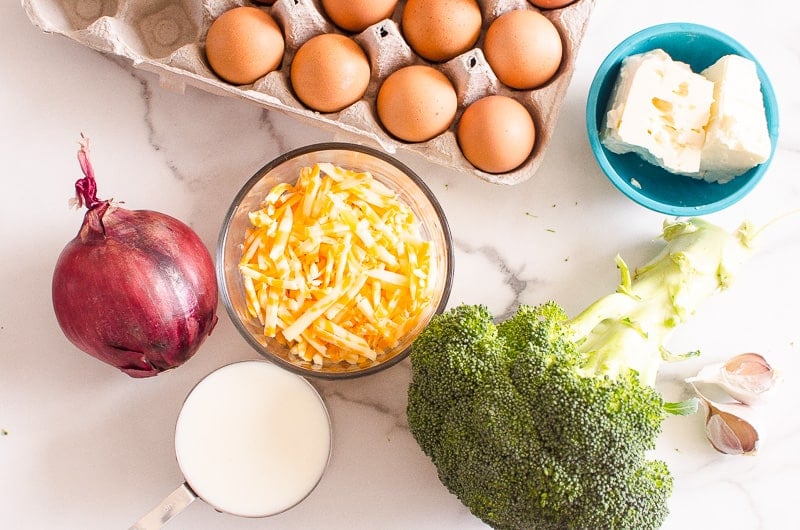 How to Make Crustless Broccoli Quiche
Prep veggies and cheese: I like to chop all veggies before I do anything else. And I start preheating oven at same time. Chop broccoli into bite size pieces as well as stalks (lots of nutrients there) – everything will get cooked and soft. Crumble and grate cheeses now too.
Whisk egg mixture: No need to whisk eggs first. Whisk eggs, milk, salt, pepper and red pepper flakes together.
Add veggies and cheese: Then combine chopped broccoli, onion, garlic with liquid egg mixture and crumbled feta. Once in a pie dish, level with spatula and then sprinkle with cheddar cheese.
Bake until golden in preheated 375 degrees F oven for about 50 minutes. Shake the pie plate and if middle is not jiggly, quiche is ready and set. Cool for 10 minutes and slice. Yum!
What to Serve with Broccoli Quiche?
Crustless quiche is high in protein, fiber and healthy fats. So it's a low carb meal on its own. Below are a few great pairings if you need more: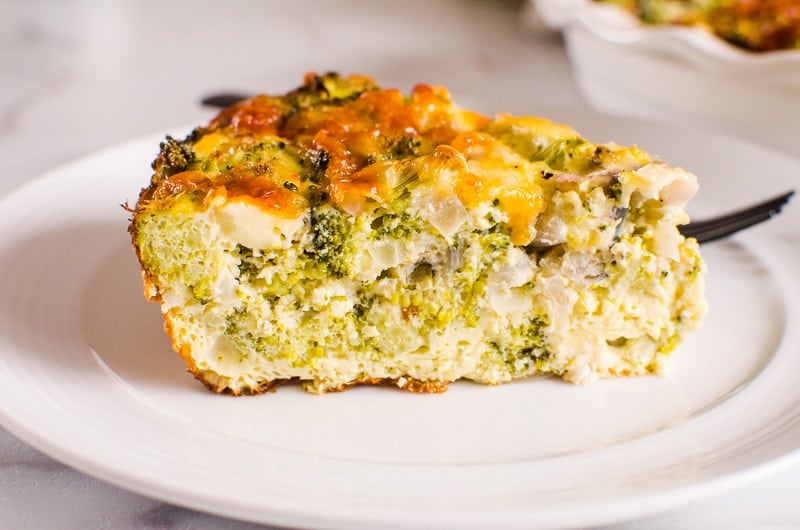 How to Store, Freeze and Reheat Quiche
Serve quiche warm or cold. Are you like me and one of those people that thinks quiche tastes even better cold? I recommend to slice it into 8 slices after baking, cover and refrigerate in same baking dish up to 5 days. Makes it such an easy grab and go meal.
Make ahead by assembling quiche completely and refrigerate until ready to bake. Since there is no raw meat involved, quiche can wait for you for up to 2 days. Speaking of make ahead Easter, Mother's Day or Holidays dish. Don't forget to warm up dish on a counter for about 30 minutes before baking, otherwise it might crack.
Freeze quiche in airtight container for up to 3 months. I absolutely love these reusable 1 gallon silicone bags. Thaw on a counter during the day or overnight – again no meat to spoil. Unless it is hot summer day, shorten time to a few hours or do so in the fridge.
Reheat quiche in a microwave or in the oven at 375 degrees F which would take about 15-20 minutes.
Enjoy!
More Favorite Broccoli Recipes
More Favorite Egg Recipes
You may also love this collection of healthy egg recipes!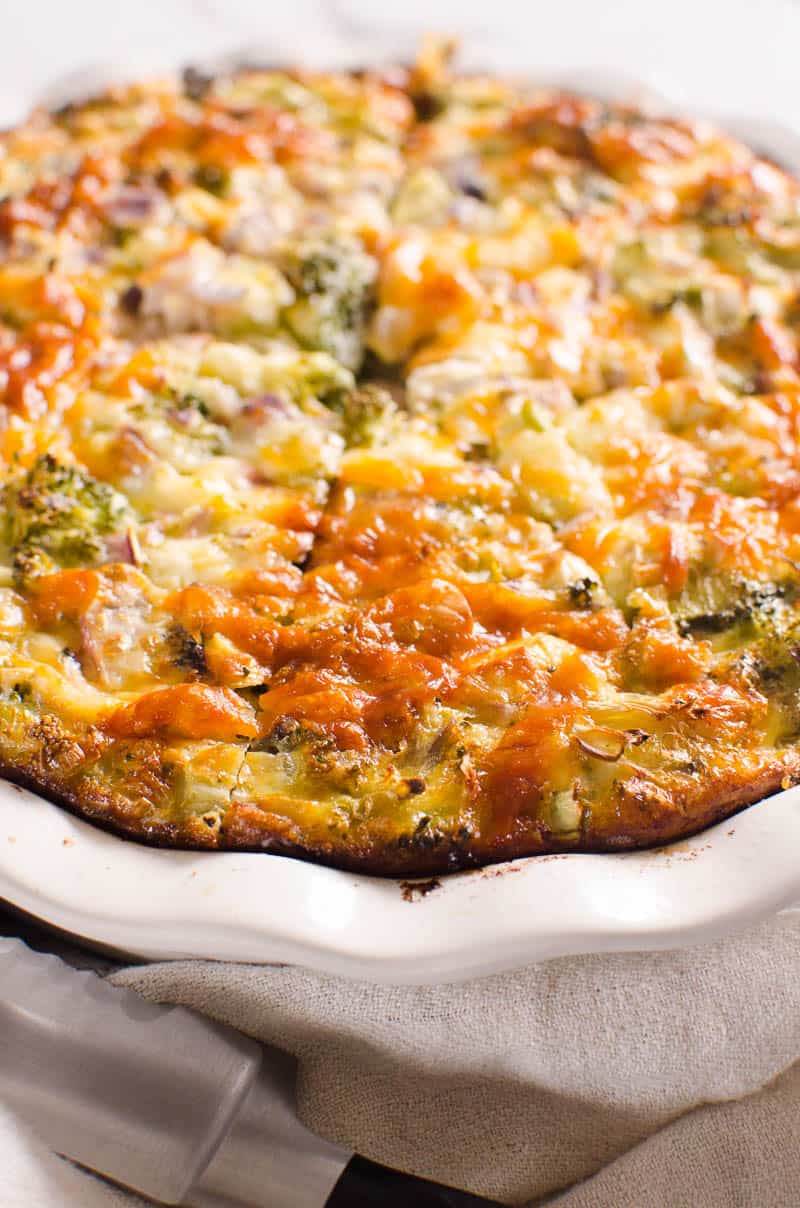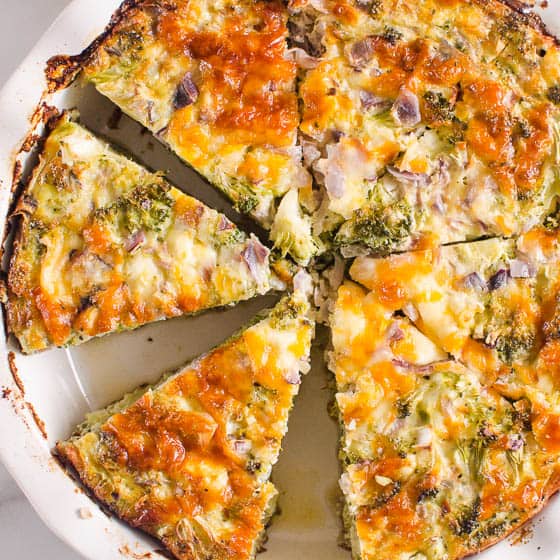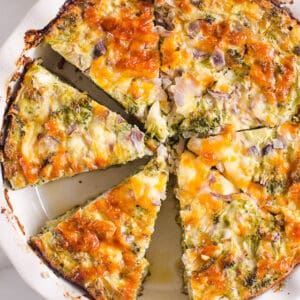 Crustless Broccoli Quiche
Crustless Broccoli Quiche is a lightened up and healthy version of traditional quiche without the pie crust fuss and extra calories. It tastes amazing freshly baked or cold, for breakfast, snack or even dinner.
Instructions
Preheat oven to 375 degrees F and spray 9″ pie baking dish with cooking spray.

In a large bowl, add eggs, milk, salt, pepper, red pepper flakes and whisk well.

Add broccoli, red onion, garlic, feta cheese and stir well with spatula.

Transfer mixture to previously prepared baking dish, level with spatula and sprinkle with cheddar cheese.

Bake for 50 minutes or until the middle isn't jiggly anymore.

Remove from the oven and let quiche cool for 10 minutes.

Then slice into 8 slices and enjoy warm or cold! This makes it great food for

meal prep

, picnic food or make ahead recipe.
Notes
Store:

Refrigerate leftovers in airtight container for up to 5 days. Reheat (if you have to because it taste absolutely amazing cold) in a microwave. Or in the oven at 375 degrees F for 15-20 minutes.

Freeze: For up to 3 months.
If using frozen broccoli, place it in a colander, run hot water over it and drain well.
If you would like to use all or some egg whites, 1 large egg = 3 tbsp egg whites.
In place of feta feel free to use more cottage cheese, ricotta or goat cheese.
Crumbled cooked bacon would be amazing addition too.
Nutrition
Serving:
1
slice
|
Calories:
175
kcal
|
Carbohydrates:
8
g
|
Protein:
12
g
|
Fat:
11
g
|
Saturated Fat:
6
g
|
Cholesterol:
169
mg
|
Sodium:
402
mg
|
Fiber:
2
g
|
Sugar:
4
g