I try to make every other dinner a meat free one, for my family's health and the sake of our planet. Majority of people struggle with meat free dinners because many were raised in households like mine where "a meal without meat is not a meal". I think what we need is a bit of free spirit, imagination and math skills. Yes, simple math to replace animal protein with plant-based complex carbs and healthy fats in order to keep our bellies full. I think another trick is to add multiple layers of flavours. And the last trick (I promise, last one) is to incorporate familiar ingredients or mimic everyone's favourite dishes.
Now, please join me on a walk-through of iFOODreal's 10 most popular meat-free dinners. Whether you are having vegetarian friends for dinner, your child suddenly feels sorry for animals or you decided it was time to take charge of your health, we've got you covered.
Sonya says: "I made this for dinner and it was so delicious! I am rather new to eating artichoke hearts and it's still hit and miss for me when I put it in a dish..this was a total hit 🙂 My husband and teenage son were also extremely happy with this meal and huge bonus…there is leftovers so I get a night off this week..lol Thank you for such a wonderful recipe!"
This pasta dish is one of the most popular recipes on iFOODreal. You can use any pasta you wish.
Got a pound or two of sweet potatoes? Throw in some avocado, beans, corn and cheese, and you got yourself healthy and delicious 30 minute vegetarian dinner. Friends who work out will appreciate.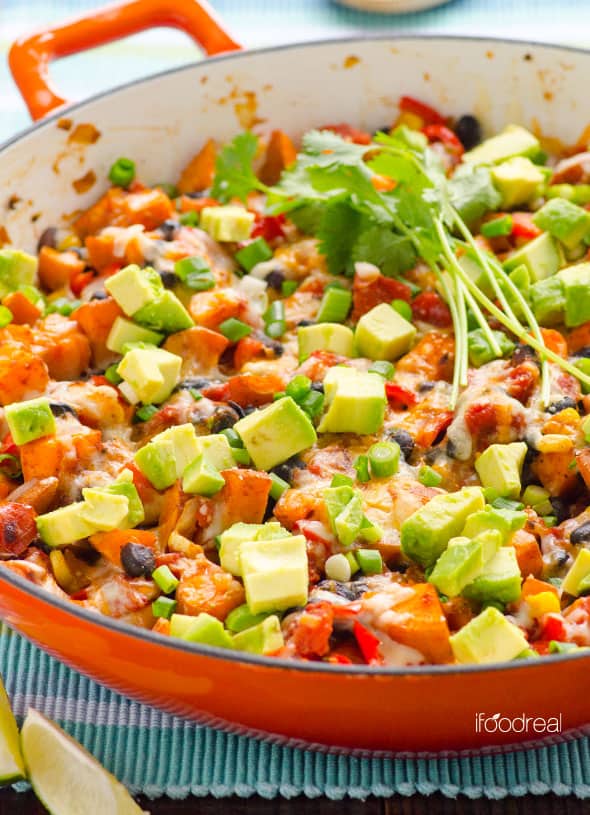 It's never too late to jump onto a spaghetti squash bandwagon. I would recommend this recipe for those who love cheese and anything Mexican. It's definitely a lighter dinner full of Tex Mex flavours.
This meatless dinner is from Thug Kitchen's second cookbook and is originally vegan. Whether you use cheese or nutritional yeast, that can of beer is a must. And finishing it even around lunch time is totally fine too. Even kids will love this one pot chili mac!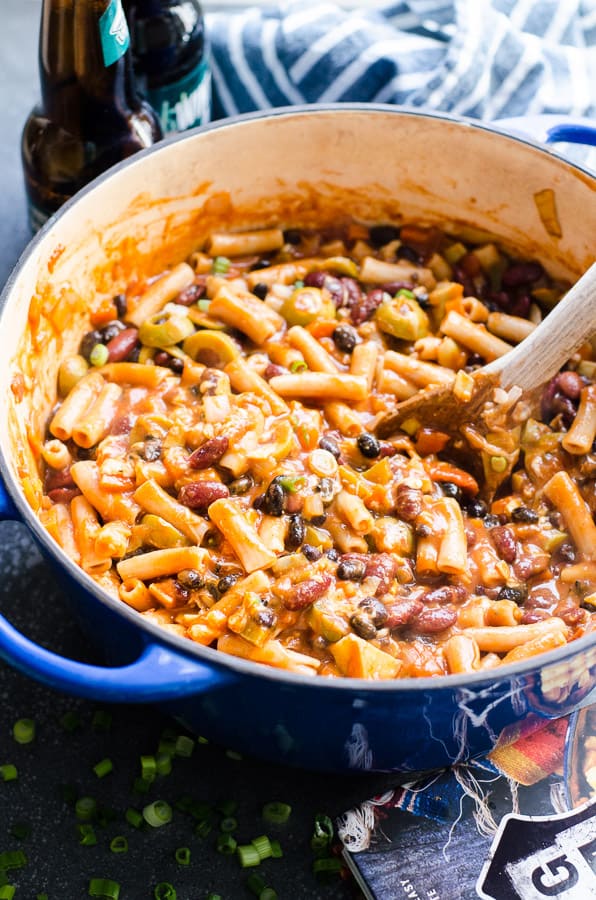 Nicoletta says: "This is by far our family's favorite lentil recipe – mostly because our kids, 10 and 6, can't get enough of it!!! A dab of yoghurt and a sprinkle of fresh coriander has them asking for seconds or even thirds!!! I add a dash of habanero sauce to mine but I like food a little spicy. This is a MUST ADD to your recipe roledex! Thank you!!!"
Sara says: "I found this recipe this morning while browsing freezer-friendly casseroles, since I've just moved and need to both stock up my freezer and stick to uncomplicated/fast recipes that won't be too much hassle. You just convinced a whole bunch of Austrians (and they can be hard to convince) that Tex-Mex can be healthy AND tasty. Seriously, congrats 😉 – A grateful Spaniard in Austria"
 Peanut rice with red cabbage, cauliflower, tofu and peanut butter sauce with ginger, garlic and mango.
Deb says: "Another delicious, nutritious and easy meal. You know how to get flavor! I have to admit to running out of garlic (What??? Who does that??? Ugh) and used roasted garlic powder. Not the same, but still very very good. My family loves veggies and this is a keeper. Oh, and the butter was delicious!!!"
This recipe is weirdly perfect for winter because I regularly spot a bag of organic zucchini from Mexico at Costco. It's not a real one pot (you cook rice separately) but everything gets mixed in there. An easy way to give your body a break from meat!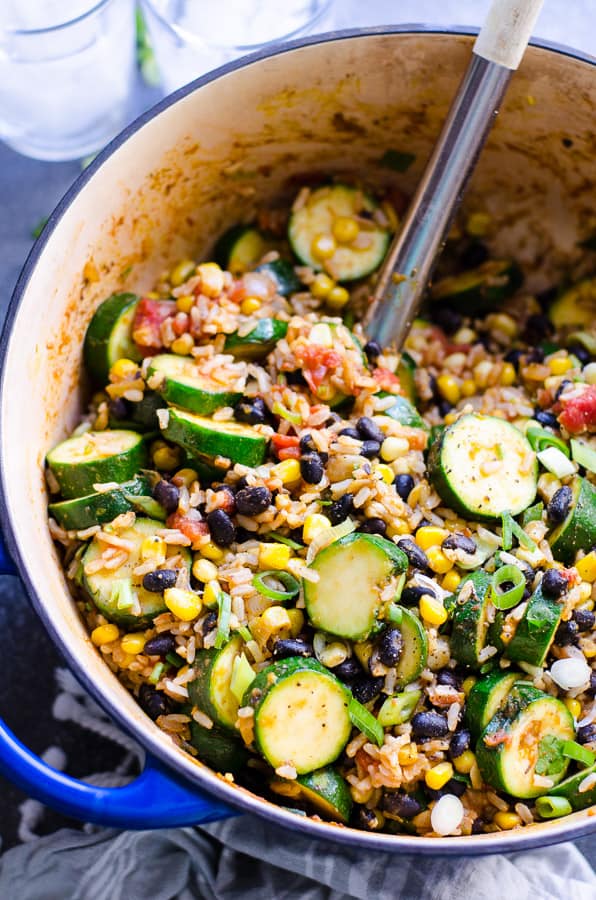 Amanda says: "This was so good for meatless Monday! I followed the recipe and had to have seconds. The portobello and walnuts were great flavors together, and not to mention it is a good way to add in some greens. I think zucchini or carrots would be good additions too if you have them on hand. My one and a half year old ate his full serving as well. Yum!"