Baked Zucchini Fritters are made with 5 simple ingredients, with a crispy outside and tender middle. They are perfect for summer zucchini surplus and can be served as an appetizer, side dish, or snack!
We also love these tuna zucchini cakes and Mediterranean zucchini boats!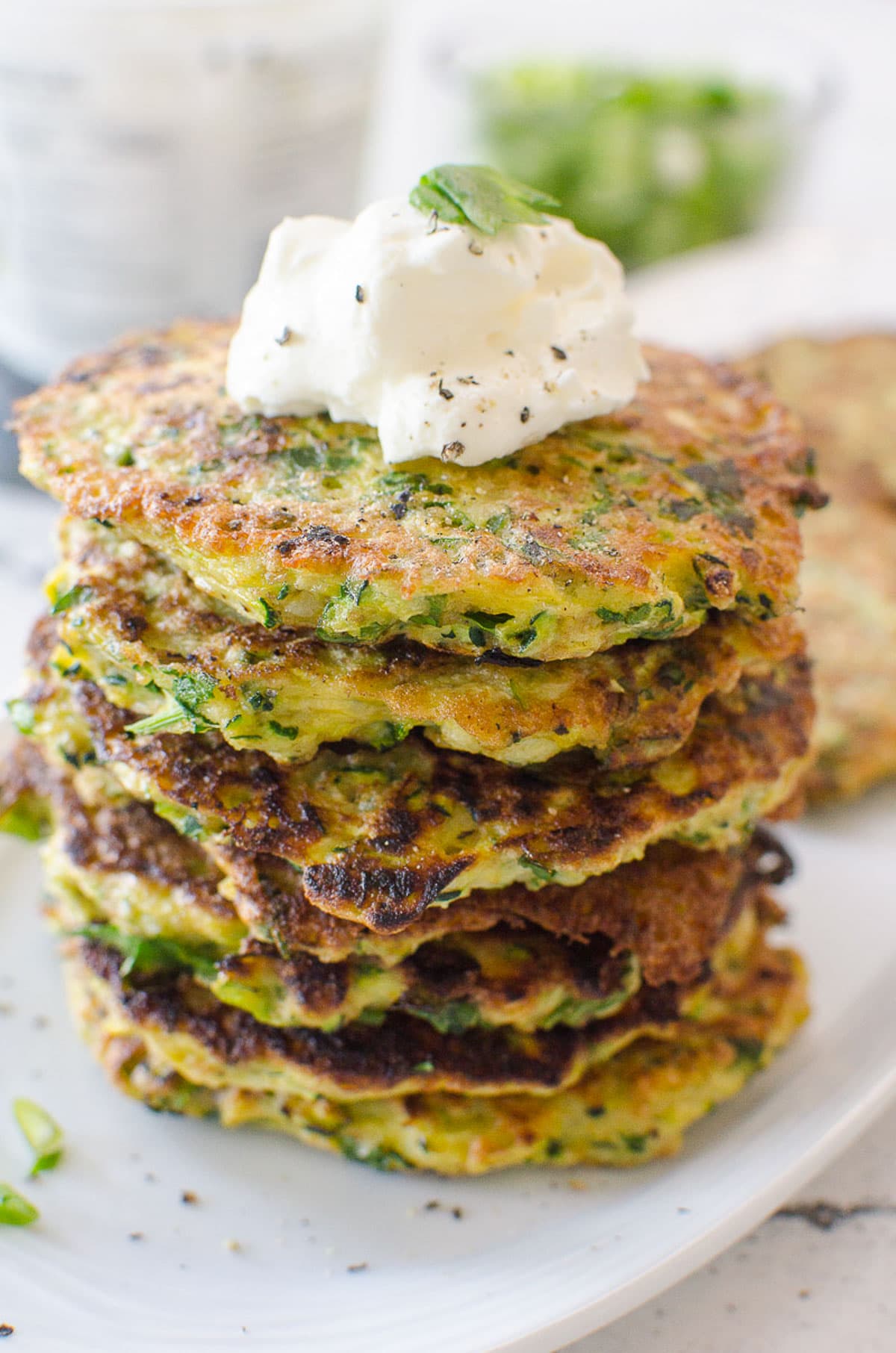 When it comes to zucchini, I'll admit I'm usually hiding it to add a ton of moisture to dishes like these turkey meatballs, black bean burgers, and even lemon zucchini bread.
However, for these baked zucchini fritters, we're squeezing out all the excess liquid from the zucchini to make it ready to bake it into wonderfully crispy zucchini fritters. You can also pan fry them as well.
This healthy zucchini fritters recipe is a bit of "a blast from the past." As a kid, I ate a lot of vegetable-based fritters to stretch seasonal produce to the max. We always had cold leftovers in the fridge and I recommend you double or even triple the recipe because they are a sure crowd-pleaser!
Ingredients for Baked Zucchini Fritters
To make baked zucchini fritters, you need just 5 simple ingredients plus salt and pepper.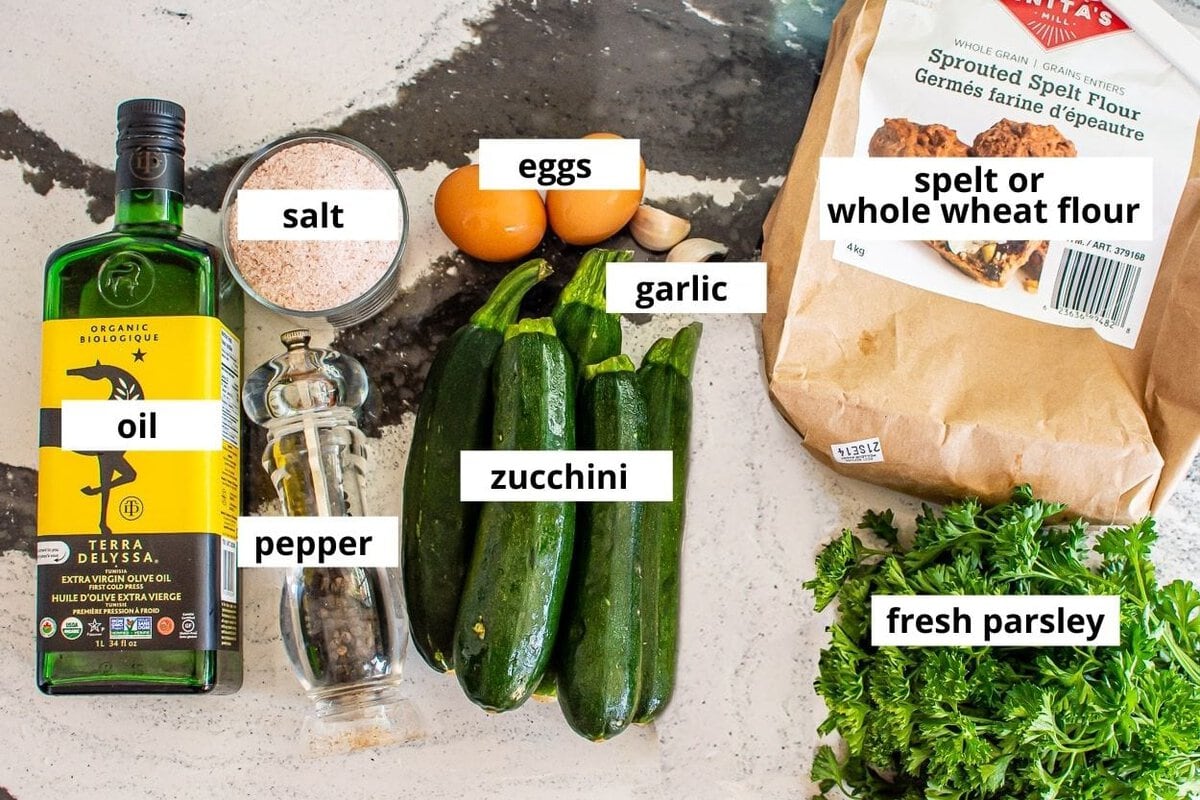 Zucchini: I used 5 smaller zucchinis. They are the most flavorful zucchini but medium or large garden zucchini will work too. Feel free to use yellow summer squash.
Flour: You can use the flour of your choice, which helps to bind the zucchini fritters. I used whole wheat flour. Gluten-free options like rice flour and chickpea flour should also work. However, if you're using almond flour, I recommend 1 cup of flour and 3 large eggs.
Egg: Two large eggs are needed as a binder.
Garlic: Will add so much extra flavor. Adjust the amount to personal preference.
Fresh herbs: You can use fresh dill, parsley, or green onion.
Salt and pepper
How to Make Baked Zucchini Fritters
Here is a quick overview how to bake zucchini fritters. You can find full recipe card below.
Salt the zucchini: First, add the shredded zucchini to a large bowl, mix with 1 teaspoon of salt, and allow to sit for 10 minutes to extract any excess liquid.
Prepare the batter: Meanwhile, in a large bowl, combine the eggs, garlic, flour, herbs, salt and pepper.
Squeeze the zucchini: Using your hands or a cheesecloth, squeeze all the liquid from zucchini as much as possible, then transfer to the bowl with batter and mix.
Bake zucchini fritters: Use an ice-cream scoop to portion the zucchini patties and press lightly to flatten on a baking sheet. Bake for 12-15 minutes per side or until crispy.
Tips for Best Results
For more crispy baked zucchini fritters: Substitute 1-2 tablespoons of flour for cornstarch instead. This helps to yield crispier results.
Preparing the zucchini: There's no need to peel or de-seed the zucchini. Just shred, salt, squeeze, and mix into the batter!
To shred the zucchini: You can shred zucchini using the medium holes of a box grater or save time shred zucchini in your food processor with a grater disk.
Squeeze zucchini well: The better you squeeze zucchini, the crispier fritters will be. If you use your hands, you'll have to do this in batches a handful at a time. If you use a cheesecloth or nut milk bag, you can squeeze it all at once.
Chill the batter if pan frying: If you plan on pan frying the zucchini fritters, chill the batter in the fridge for at least 30 minutes. It can help yield very crispy zucchini fritters because of how the cold batter reacts to the hot oil.
For slightly crispier results when baking: Broil zucchini fritters at the end of the baking process.
Thinner fritters: You can press the fritter mixture down more for thinner, crispier fritters. Just make sure now not to press too much otherwise they may fall apart.
Variations
Scallions: These baked zucchini fritters are similar to Korean scallion pancakes with zucchini. So feel free to increase the amount of green onions and serve with some kind of Asian dipping sauce like peanut sauce.
Other vegetables: Add up to 1/2 cup of corn, diced bell peppers, shredded carrots or cabbage.
Grains: You can beef up the fritters with the addition of leftover cooked grains like brown rice and quinoa.
Dried herbs and spices: If you don't have any fresh herbs, feel free to skip and fritters will still turn out delicious. You can also ramp up the flavors with extra spices like onion powder, smoked paprika and red pepper flakes.
Cheese: Crumbled feta cheese, ricotta cheese, parmesan cheese, or cheddar cheese are all optional add-ins. I recommend about 1/2 cup but feel free to adjust the amount to personal preference.
What to Serve with Baked Zucchini Fritters?
Once your zucchini fritters are baked, you can serve them warm or cold. In Ukraine, they are traditionally served for dinner or breakfast instead of potato pancakes, with sour cream or Greek yogurt. Sometimes, I like to stir in a bit of horseradish with yogurt.
Here are a few other ways you can enjoy them:
How to Store
Store: Store any leftover zucchini fritters for in an airtight container lined with double-folded paper towel for 3-4 days in the fridge.
Freeze: Allow the zucchini patties to cool entirely before placing them in a single layer on a baking pan. Freeze until solid then transfer the zucchini fritters to a freezer-safe bag or container and store for up to 3 months. Let fritters thaw on the counter for a few hours or in the fridge overnight.
Reheat: You can reheat baked zucchini fritters in the microwave, oven, or skillet with a drop of oil until warmed through.
More FAQs
Are zucchini fritters healthy?
At just 58 calories per fritter, these baked zucchini fritters can be a very healthy appetizer, side dish, or snack since they're packed with zucchini. The fritters will be slightly healthier too when baked rather than fried.
Why do my baked zucchini fritters fall apart?
If you don't extract enough liquid from the zucchini, your zucchini fritters may fall apart. Also if your patties get stuck to the baking pan, this can also lead to them falling apart. So ensure you use parchment paper.
Can I pan fry them?
Yes. Preheat a large non-stick pan over medium heat with some oil. Then using a large ice cream scoop portion the batter into the pan and press down lightly to flatten. Fry for 3-4 minutes per side or until golden brown, flip and cook until fritters are golden on the other side as well.
Can I make zucchini fritters ahead of time?
Yes. You can prepare shredded zucchini and batter separately for up to 2-3 days in advance and store them covered in the refrigerator. Combine and proceed with the recipe when ready. You can also assemble uncooked patties, then freeze and store in the freezer for up to 3 months. Then bake from raw adding a few minutes to the recipe.
More Zucchini Recipes to Try
Or feel free to browse my list of 45 healthy zucchini recipes!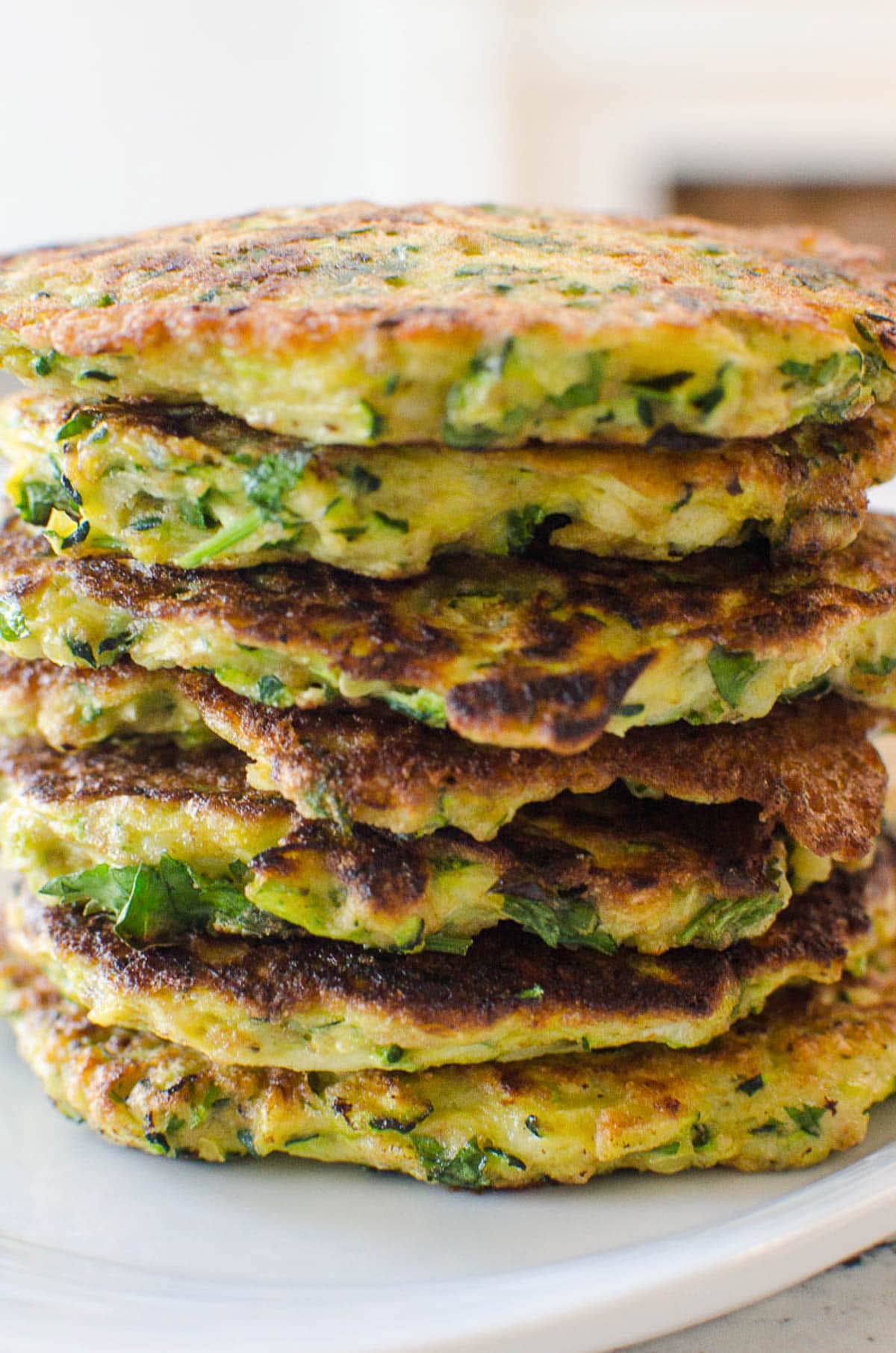 Baked Zucchini Fritters
These Zucchini Fritters can be baked or pan-fried to perfection, with a crispy outside, tender middle, and only 5 simple ingredients!
Ingredients
3

medium

zucchini (2 lbs)

shredded (6 cups)

2

small

garlic cloves

grated

2

large

eggs

1/2

cup

any flour

I used whole wheat (see notes for almond flour)

1/2

cup

dill, parsley or green onion

finely chopped

1 3/4

tsp

salt

divided

Ground black pepper

to taste

Greek yogurt or sour cream

for topping

4

tsp

oil

for frying
Instructions
In a large bowl, add shredded zucchini mixed with 1 tsp of salt and let sit for 10 minutes.

In another large bowl, whisk eggs, garlic, flour, herbs, 3/4 tsp salt and pepper.

Using your hands, squeeze liquid from zucchini in batches as much as you can and add to the bowl with batter. Stir well to combine.

Bake: Preheat oven to 400 degrees F, line 2 large baking sheets with parchment paper and spray with cooking spray. Fill large ice cream scoop with batter, place on prepared baking sheet and flatten with the back of the scoop. You can also use big spoon or a small ladle. Repeat with remaining batter.

Bake for 12 – 15 minutes, flip and bake for another 12 – 15 minutes. Remove from the oven.

Fry: Preheat large ceramic non-stick skillet on medium heat and swirl 2 tsp oil. Using trigger ice cream scoop, place zucchini mixture on a skillet and flatten with the back of a scoop. Can use large spoon as well.

Fry for 3-4 minutes or until golden brown, flip and fry for another 3-4 minutes. Repeat with remaining mixture.

Serve fritters hot or cold topped with Greek yogurt or sour cream.
Notes
Store: Refrigerate in an airtight container lined with double folded paper towel for up to 3 – 4 days.
Freeze: For up to 3 months. Then thaw on a counter for 3 hours or in the fridge overnight.
Double the recipe if serving more than 3 people and/or would like to have some leftovers. I usually do that since these are very popular.
If using almond flour: Use 1 cup almond flour and 3 eggs.
Nutrition
Serving:
1
fritter
|
Calories:
58
kcal
|
Carbohydrates:
6
g
|
Protein:
2
g
|
Fat:
3
g
|
Saturated Fat:
1
g
|
Cholesterol:
36
mg
|
Sodium:
279
mg
|
Fiber:
1
g
|
Sugar:
1
g