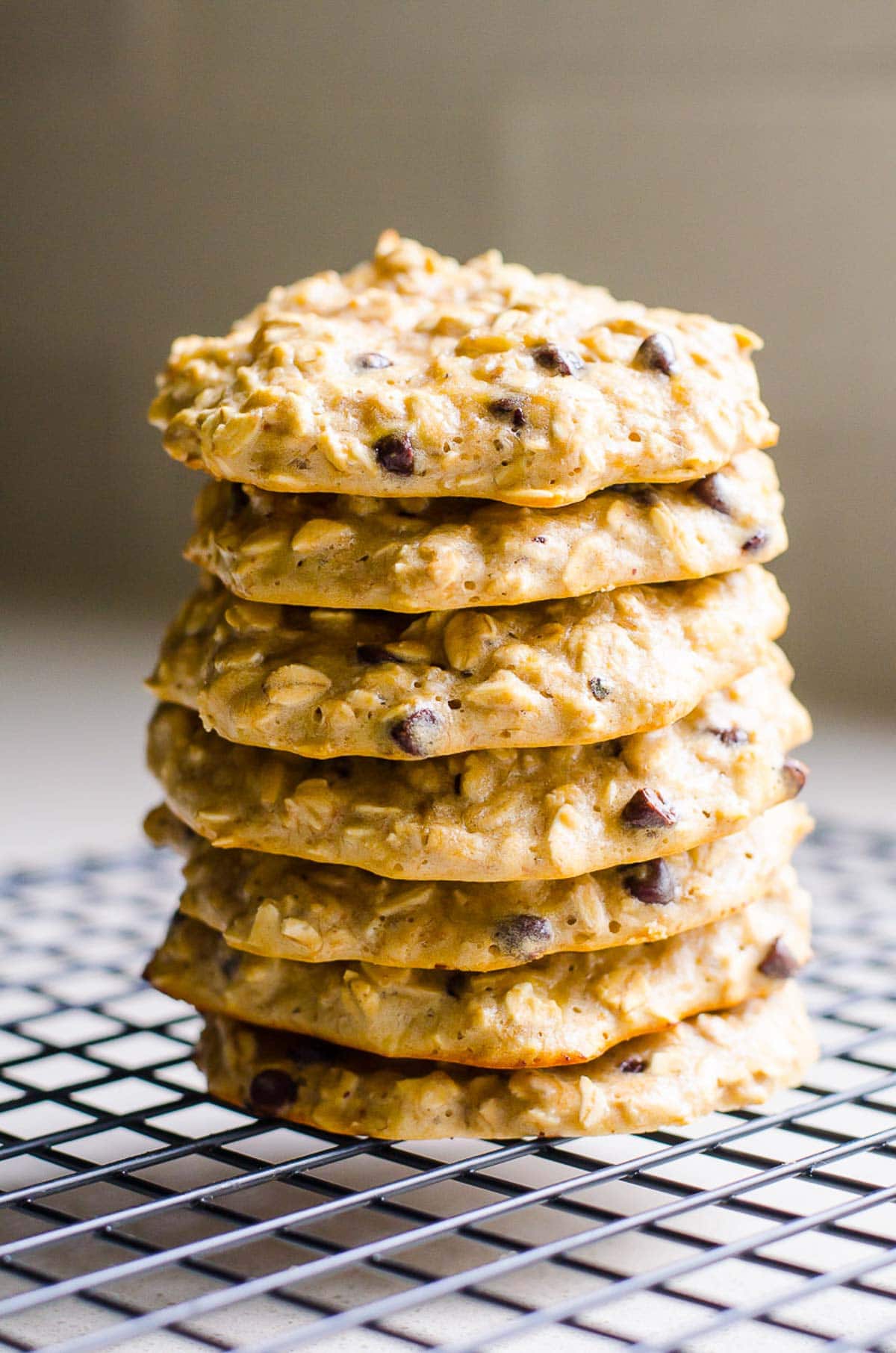 [convertkit form=977197]
I created this easy protein cookies recipe back in 2012. They are high in protein, contain no flour and make great before or after workout cookies aka snack. And a great late night couch snack without the guilt.
If you ended up on this recipe in the evening looking for a healthy treat, know you probably have all ingredients on hand to make the best protein cookies in the world! I promise store bought protein bars don't come even close. Especially in nutrition.
How Do Protein Cookies Taste?
A million dollar question.
Cookies are sugar free and naturally sweetened with banana
Pleasant soft texture.
Not crunchy outside like traditional cookie because no butter baked with sugar. But…
Even kids love these homemade protein cookies.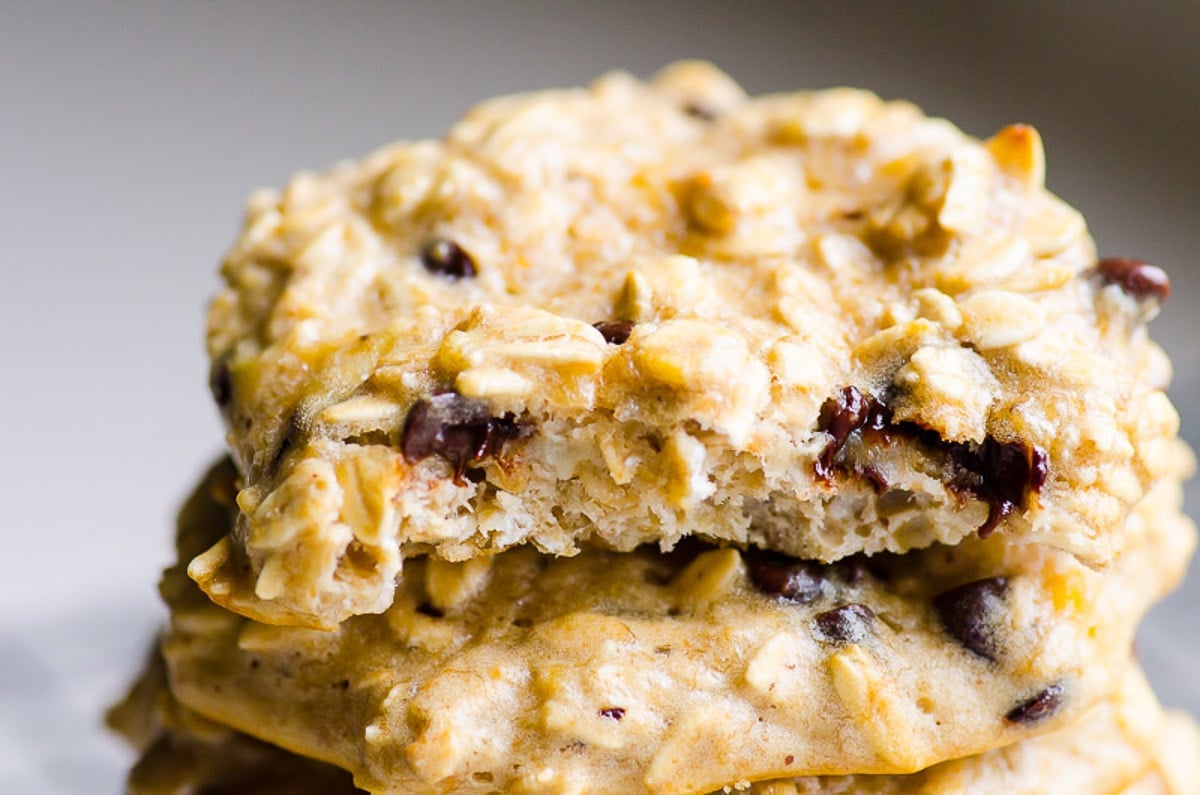 What Are Protein Cookies Ingredients?
Bananas
Peanut Butter
Oats
Protein Powder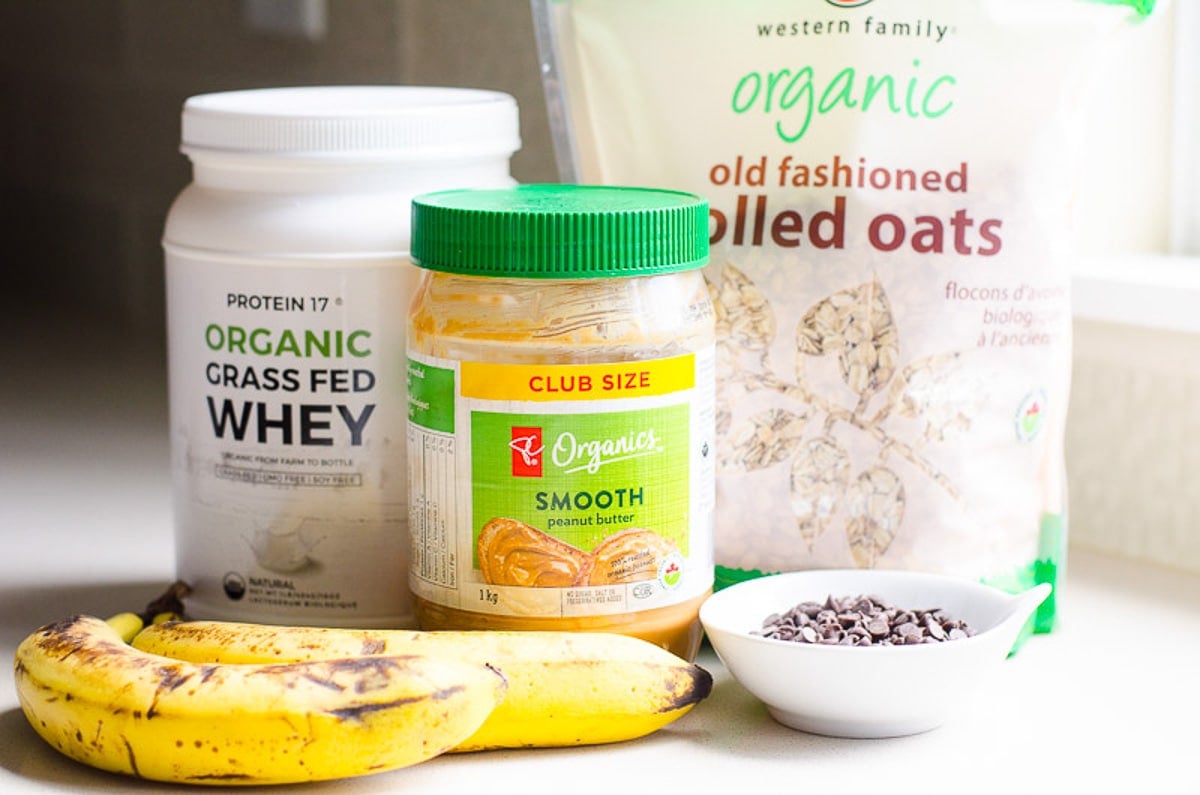 How Many Grams of Protein Is in a Cookie?
Recipe makes 12 small cookies or 12 large cookies. Each cookie contains 6 grams of protein. As well as 11 grams of carbs and 4 grams of sugar. Compared to a regular cookie, these are high protein and low sugar cookies. Just think about it!
How to Make Protein Cookies
1. Mash Bananas
What type of bananas are the best?
Riper the bananas, the sweeter protein cookies.
Ripe bananas – yellow.
Very ripe bananas – yellow with brown spots.
Going bad bananas – brown.
Can I use previously frozen bananas?
Yes. Every time I see banana gone bad, I stick it in the freezer. It gets even more ugly and brown in there. Thaw it and use.
2. Add Wet and Dry Ingredients
Add whey protein powder, oats and peanut butter.
What whey protein powder to use?
Quality Wise
I recommend whey with minimum ingredients, at least grass-fed, preferably organic.
Flavor Wise
Unflavored
Vanilla
Cookie dough
Peanut butter
Chocolate
In reality, any whey protein powder will work. End taste will vary slightly depending on protein's ingredients. I used unflavored whey.
Can I use plant based protein powder?
No. Whey protein powder is made from cow's milk and almost melts with other ingredients. It makes protein powder cookie dough runny. Plant-based protein powder is made from peas, brown rice and other plants that absorb liquids like crazy. Please do not substitute as cookies will not work.
What oatmeal is the best?
You can use quick oats, rolled oats, old fashioned rolled oats. Please do not use steel cut oats.
What peanut butter to use?
I always buy organic unsalted peanut butter. It is cheap. No hydrogenated oils. Unfortunately peanuts are heavily sprayed with pesticides. You can use any for this time but please buy good for you peanut butter next time. I recommend organic or at least natural peanut butter without additives. Ingredients should be peanuts and maximum a bit of salt.
3. Make Protein Powder Cookie Dough
Stir well with a fork to combine.
Dough consistency should be runny.
Riper the bananas, more liquidy the batter.
Add chocolate chips and give a few more stirs.
4. Bake Cookies
Spoon mixture onto prepared baking sheet.
Cookies don't spread, so shape them now.
Bake for 12 minutes if you have 12 small cookies.
Bake for 14 minutes if you got 10 large cookies.
5. Enjoy
Cool on a cooling rack for 5 minutes.
Enjoy your cookies guilt-free!
Can I Freeze Protein Cookies?
Absolutely. If I have going bad bananas I use them all. I make these cookies or healthy banana muffins or healthy banana bread. Nothing goes to waste in this house.
Freeze cookies for up to 3 months in an airtight container.
More Protein Cookie Recipes
Protein Cookies
Craving cookies? This tasty protein cookies recipe is so easy, you can make it right now. Hurry up!
Print
Save
Rate
Ingredients
2

medium ripe bananas

2

scoops

60g unflavoured whey protein powder*

1

cup

rolled quick or old fashioned oats

2

tbsp

peanut butter

unsalted

2

tbsp

chocolate chips

mini

Cooking spray

I use Misto
Instructions
Preheat oven to 350 degrees F. Line large baking sheet with unbleached parchment paper or silicone baking mat, and spray with cooking spray.

In a medium bowl, mash bananas with a fork. Add whey protein powder, oats and peanut butter; stir well to combine (batter's consistency will be runny). Add chocolate chips and give a few more stirs.

Spoon mixture onto prepared baking sheet (cookies don't spread, so shape them now) and bake for 12-14 minutes (depending on size). Cool on a cooling rack for 5 minutes.
Store: Refrigerate in an airtight container for up to 1 week.
Freeze: For up to 1 month. The best way to defrost protein cookies is in a microwave. That way the moisture and softness is restored.
Nutrition
Serving:
1
cookie
|
Calories:
92
kcal
|
Carbohydrates:
11
g
|
Protein:
6
g
|
Fat:
3
g
|
Saturated Fat:
1
g
|
Cholesterol:
8
mg
|
Sodium:
23
mg
|
Potassium:
143
mg
|
Fiber:
1
g
|
Sugar:
4
g
|
Vitamin A:
26
IU
|
Vitamin C:
2
mg
|
Calcium:
30
mg
|
Iron:
1
mg
Join today and start saving your favorite recipes
Recipes and images are a copyright of ifoodreal.com. It is against the law to republish recipes anywhere including social media, print and all world wide web. Nutritional info is provided for informational purposes only and to the best knowledge.