Last month I went on a vacation to all inclusive resort in Mexico for a week. I worked out every day, ate healthy, soaked up lots of sun and came home skinny and happy. Not only didn't I gain any weight, I also got a flatter stomach. How? By eating healthy foods and treats in moderation, by working out on a regular basis.
I just want to share with you what worked for me and show what you can eat on a vacation without coming home and bringing extra pounds with you. It's totally possible and not so hard to do!
As a rule of thumb, I stuck to protein with veggies and complex carbs with an occasional treat like a glass or two of wine at night and some foods. For dinner I tried to eat protein with veggies, no carbs. I also had 1 cheat day and drank lots of water.
When it comes to alcohol, you are better of drinking clear liquor or a bit of wine. No sugary margaritas. Each drink is around 500 calories. I also do not add sugar to coffee. Enjoy the read and cheers!
Airplane
Snack before boarding – Subway whole wheat muffin with egg whites and veggies + my water.
Snack mix I didn't eat and do not recommend.
Instead I was snacking on raw and unsalted cashews I brought with me and coffee with skim milk.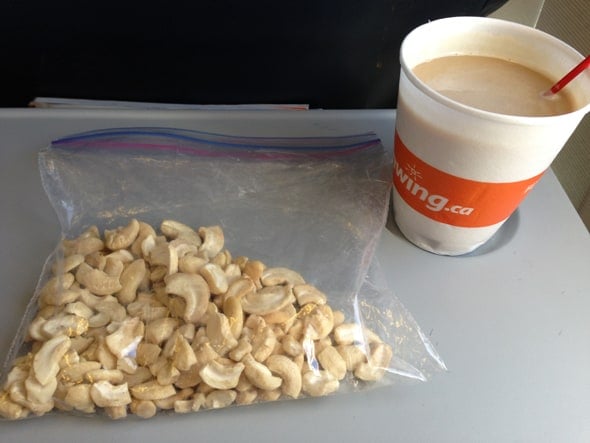 Lunch – rice with chicken teriyaki. I left most of the sauce on a side. Also water, wine and some sweet bread I didn't eat.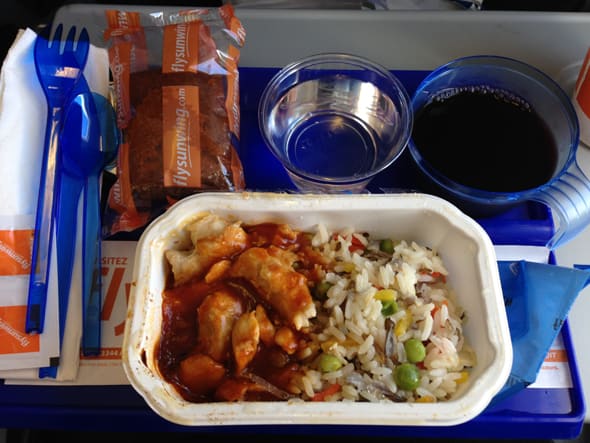 Breakfast
Some days I would have a banana first thing in the morning before a run on the beach.
My usual favourite breakfast.
Health juice from "dietary zone" – spinach with cactus.
My favourite meal of the trip – cottage cheese, sour cream and papaya. To die for!
Morning coffee was a must!
Veggies, scrambled eggs, rye bread, light cheese, chicken, health juice, coffee, water and fruit.
Love bread with cheese.
Omelette, smoked salmon, rye bread, tomato, health juice and coffee.
Poached eggs, rye bread, veggies, cottage cheese with papaya and coffee.
Lunch
Steak, steamed broccoli, pico de gallo, taco.
Fish, squid, beans and fruit for dessert.
Steak, enchilada, guacamole, pico de gallo, rye bread.
Veggies with meat and fruit for dessert.
Guacamole, salad, zucchini, beans, eggs, baby potato.
Some traditional Mexican soup.
Rice, salad, pico de gallo, steamed cauliflower, refried beans (?).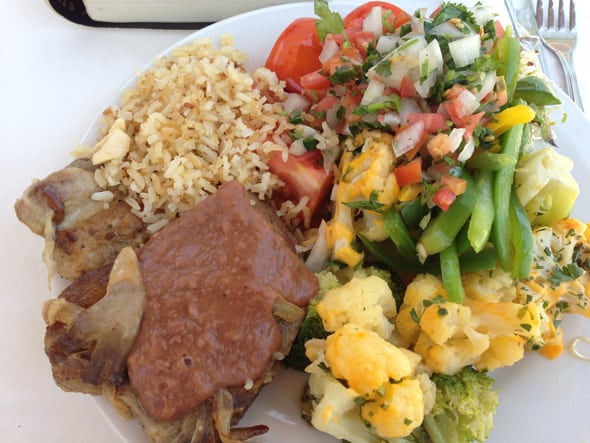 Veggies, meat.
Guacamole, enchilada, veggies, beans.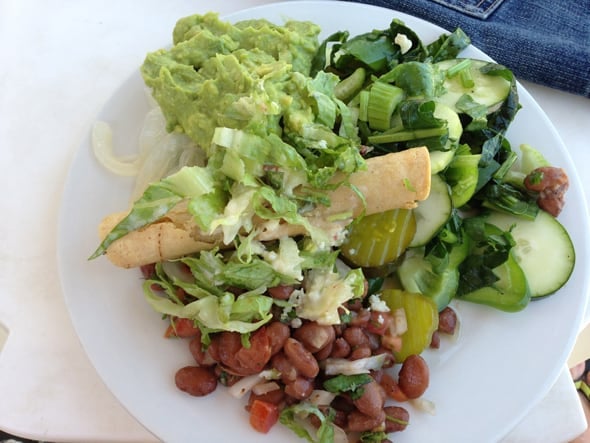 Dinner
Salad, grilled meat.
Chicken, veggies, taco.
Tacos…maybe?!
Salad.
Salad.
Rice, grilled salmon, salad and steamed peas.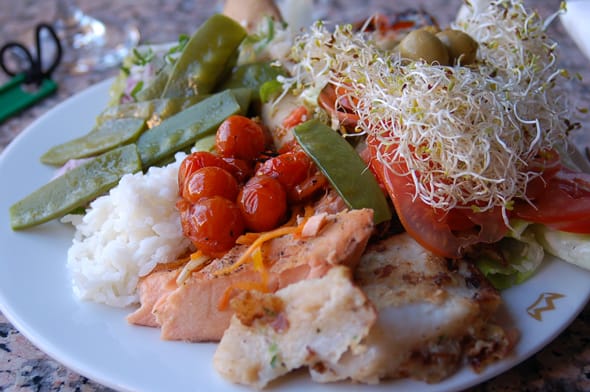 Prawns, prosciutto, cheese, dark chocolate – appies.
Drinks
Carried cold water everywhere I went.
Every night I would have a camomille tea before going to bed.
Tea selection.
Coffee machine – I would always get Americano and then add skim milk.
Skinny iced coffee was my treat on some afternoons.
Liquor dispenser in my room which I haven't used.
Bar fridge stocked full of water which I loved! No interest in beer or pop.
Skinny margarita – ice, tequila, triple sec, lime juice and club soda. Ask your server.
Chilled white wine on a hot day – priceless.
Club soda, water and red wine.
Chilled white wine with watermelon.
Cheat Day
Some of my meals I had on a cheat day.
Eat This
The name 'Dieatary zone" was funny. I guess in a grand scheme of things most foods in the "Dietary zone" were healthy.
Health juice and other smoothies, cottage cheese, light yoghurt (no idea on ingredients), butter (?) and jams (?).
Deli turkey meat, fresh mozzarella with tomatoes, tuna salad and deli chicken meat.
The variety of eggs for breakfast was great!
Scrambled eggs plain/with salsa/bacon (?).
Fried eggs.
Poached and boiled eggs.
Guacamole, pico de gallo, lettuce, hot chili peppers and something else.
On their own some authentic Mexican ingredients were not that bad. Like the ground beef below.
The appies for dinner: shrimp, devilled eggs, smoked salmon, prosciutto.
A little bit of prosciutto with wine…mmm.
Cheese. Some cheeses were quite fresh and light.
More cheese paired well with red wine.
Mussels and shrimp.
Boiled baby blue crabs.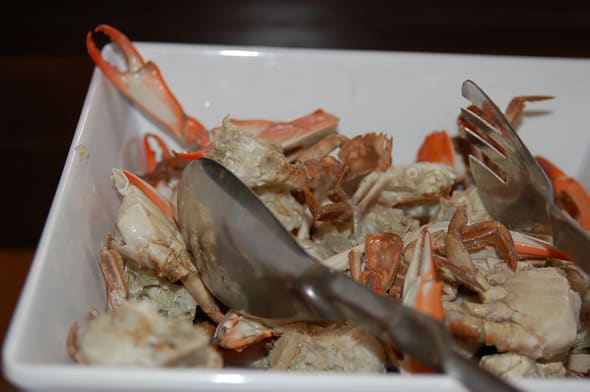 Real crab meat salad.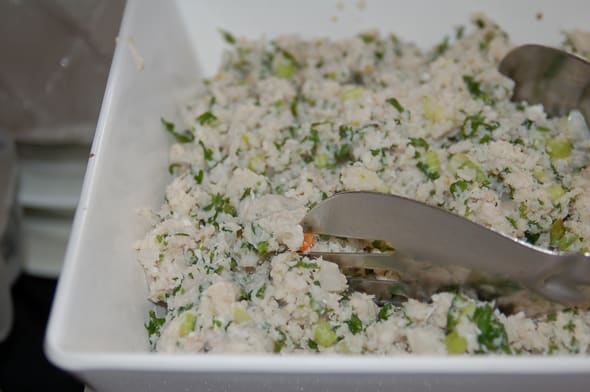 Salad bar was my favourite part of the restaurant!
Chicken and rice ( white but better than fries).
Chicken skewers closeup.
That was the healthiest bread I found at the restaurant. So I stuck to it as my choice for carbs.
Grilled shrimp dish.
Grilled beans, tomatoes and cactus. Not the eggplant or mozzarella sticks.
Fruit for dessert most nights.
I finally found some dark chocolate.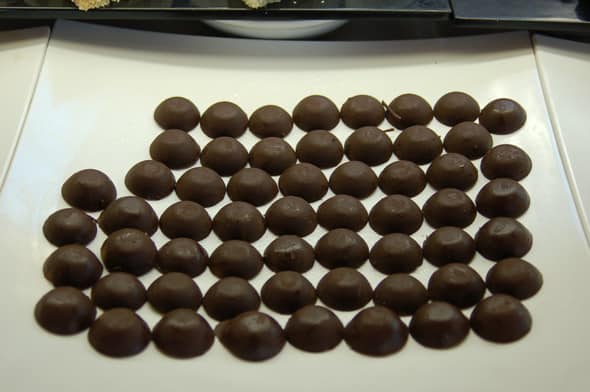 Don't Eat This
Processed cold cuts…really processed.
Fried white corn tortilla chips.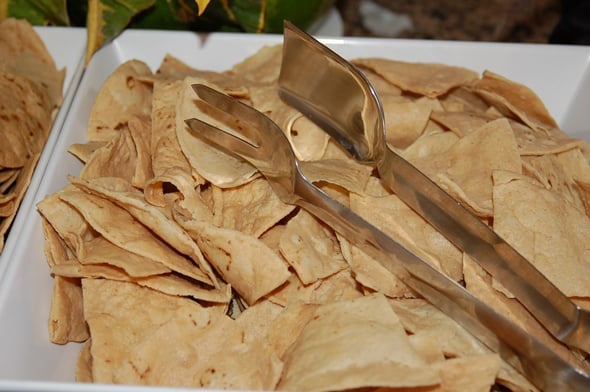 Deep fried quesadillas with an extreme amount of cheese.
Deep fried tortillas with some healthier topping.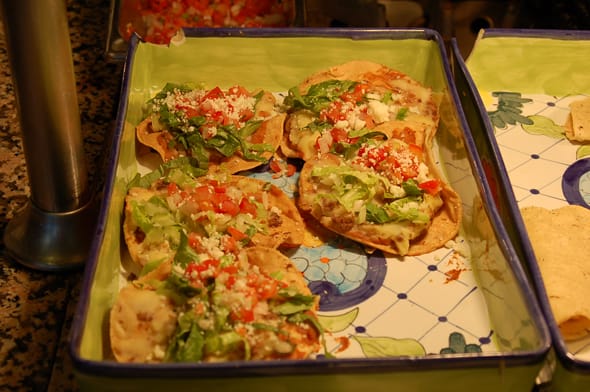 White corn something.
Might look like a delicacy but in reality it's an imitation black caviar.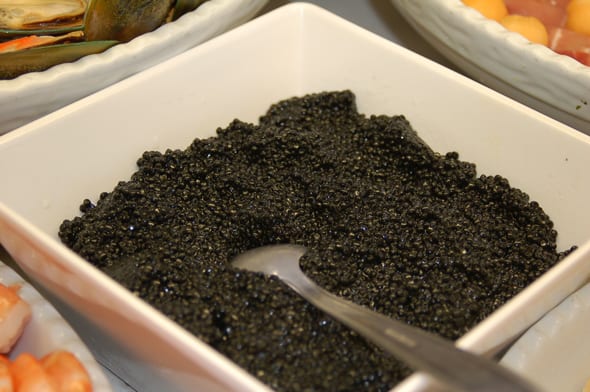 Mayo and various processed dressings. The only healthy thing here is yellow mustard.
Creamy pasta salads.
White bread.
Sushi – white rice with mayo and imitation crab meat.
Fries, chicken fingers, gravy, deep fried chicken.
A bunch of junk food.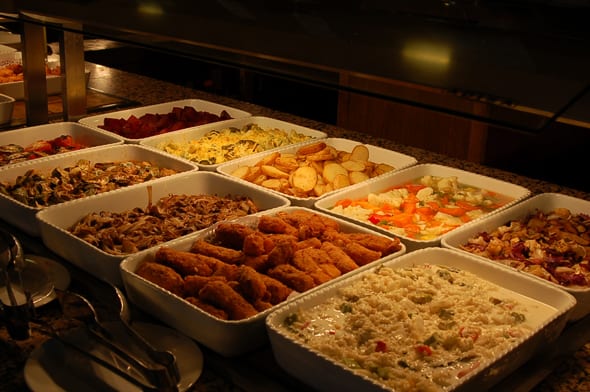 White pasta = simple carbs = sugar.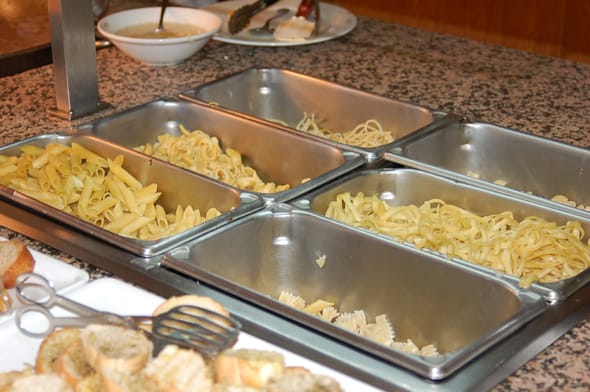 Chocolate chip pancakes, crepes, white flour pancakes.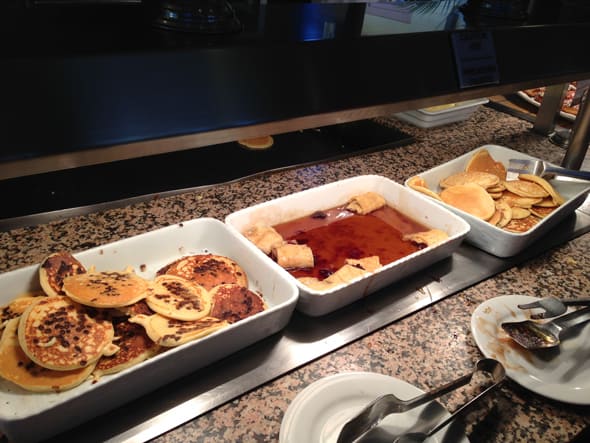 French toast, waffles, deep fried something with sugar.
Deep fried goodies.
Pizza.
White pasta drenching in heavy sauces.
Ice cream.
Some ice cream toppings might be healthy on their own.
Doughnuts.
Whipped cream.
Chocolate who knows made of what.