If you have never been to Tofino, you should go!It is located on the west side of Vancouver Island, British Columbia. A surfing capital of Canada, a cold one though.:) Tofino is a small town, known for the Long Beach, surfing, fishing and whale watching. Very different!
The only way to get there is by ferry from Vancouver.
And then a 3 hour windy road and a gorgeous drive. Total = 7 hours. Not close, so go for at least 3-4 days.
If it's your first time here, me and Alex got a little trailer and decided to explore the gorgeous West Coast. One of the 1st big trips was Deception Pass, quite a few in between (don't wanna bore you, you are here for the recipes, right?!), and now Tofino.
We stayed at a gorgeous RV & cabin resort, Crystal Cove, with immaculate grounds.
Gorgeous views.
And the coolest playground in the world. Trust me on this one, I've seen many.:)
This was our beach. Quite warm when the sun was out.
But when it's not, it's cold and foggy. Like fall jacket cold. In August.
It's an open ocean, and even with +30 inland in Nanaimo and Vancouver, it was +16 in Tofino. Pack your warm clothes and kids' rubber boots.
What did we do? If you have or ever had little kids, you guessed it right – it was a pure craziness at times!
Backwards whale riding…
Jamming the drums…
Some tongue competition…
And of course silly brotherly games…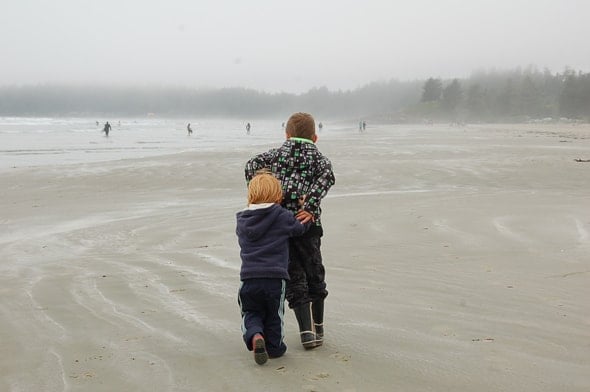 It warms my heart to see the boys this way, as this is something I never got to experience.
The craziest thing I did was whale watching/petting (video).
3 Gray Whales were so close, we could easily reach down and pet them. Unbelievable! Highly recommended although my mom said I was insane. I know, mom, I know, but I couldn't resist.
The Long Beach was awesome!
Full of logs and wood…
to build the fort yet once again.
And many cool shells…
Like garage sale cool choice.
Shells…
and "tools"…
We spent a fair share amount of time wit ha tree stump.
And we danced…
And we and we cried…
and we laughed…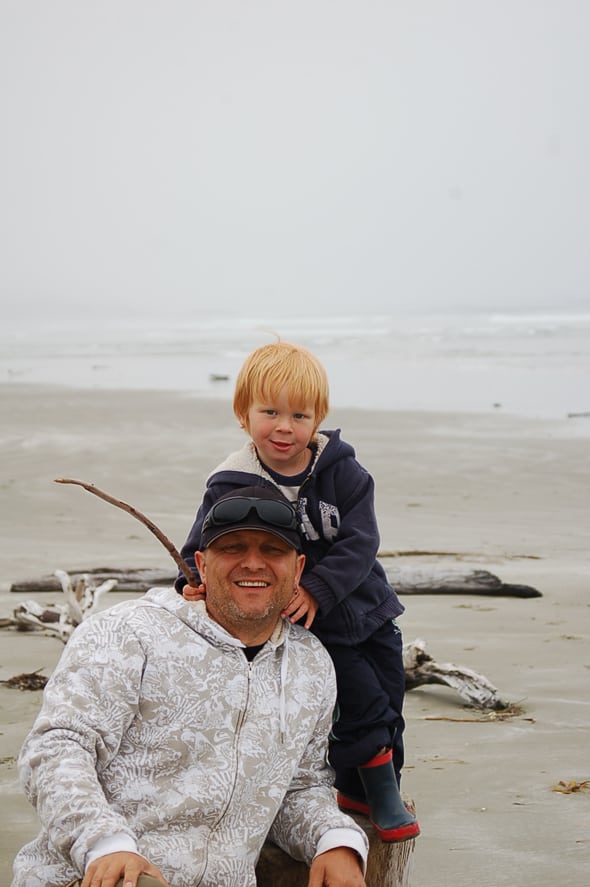 and we laughed and had a really really really good time!
Ah, just love Macklemore.
Beach sunsets…
Beach campfires…
A luxurious hike in rainforest…
Have you ever done any of the above? If not, you gotta go to Tofino! Or to the beach 5 mins away from your house, the one you always mean to go to and never do. Why? Cause life is too short! Enjoy it before you know it's over.
Ah, this boy. It was his birthday, and he got a jacket, and of course he wanted a picture of the back of the jacket. Cause that's so cool when you are 7! Do you wanna be 7 again? I do!
And this boy…
Has his own best tasting method consuming S'mores. He will not share with anyone but you can learn. Just do the same.
Pull.
Look.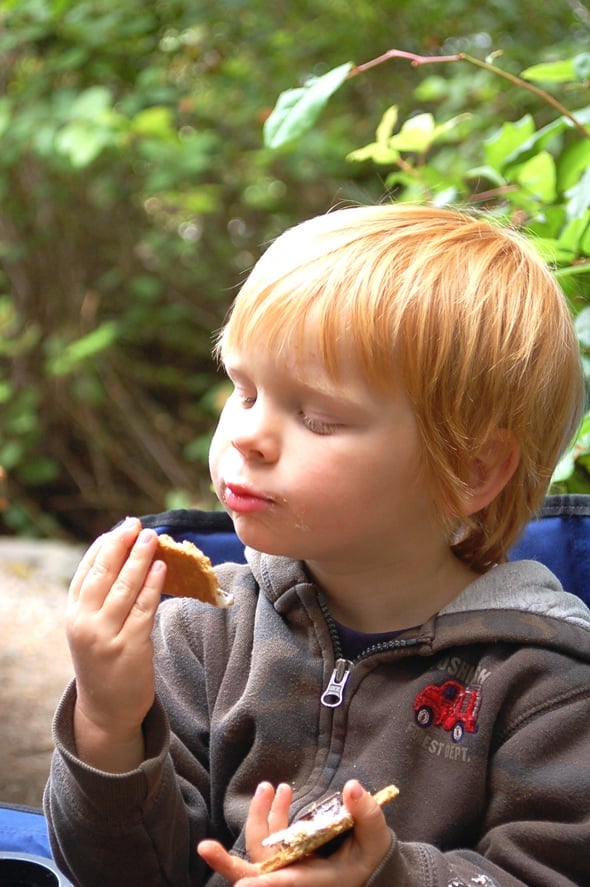 Lick (2 fingers only!).
Give an evil eye to a.n.y.o.n.e who is a threat to your S'more!