This Chickpea Tuna Salad Recipe is loaded with hearty chickpeas and tender tuna mixed in a creamy dressing. A nourishing lunch you can whip up in 15 minutes!
If you are looking for other quick and protein-rich salads, try this Mexican tuna salad or this tuna egg salad.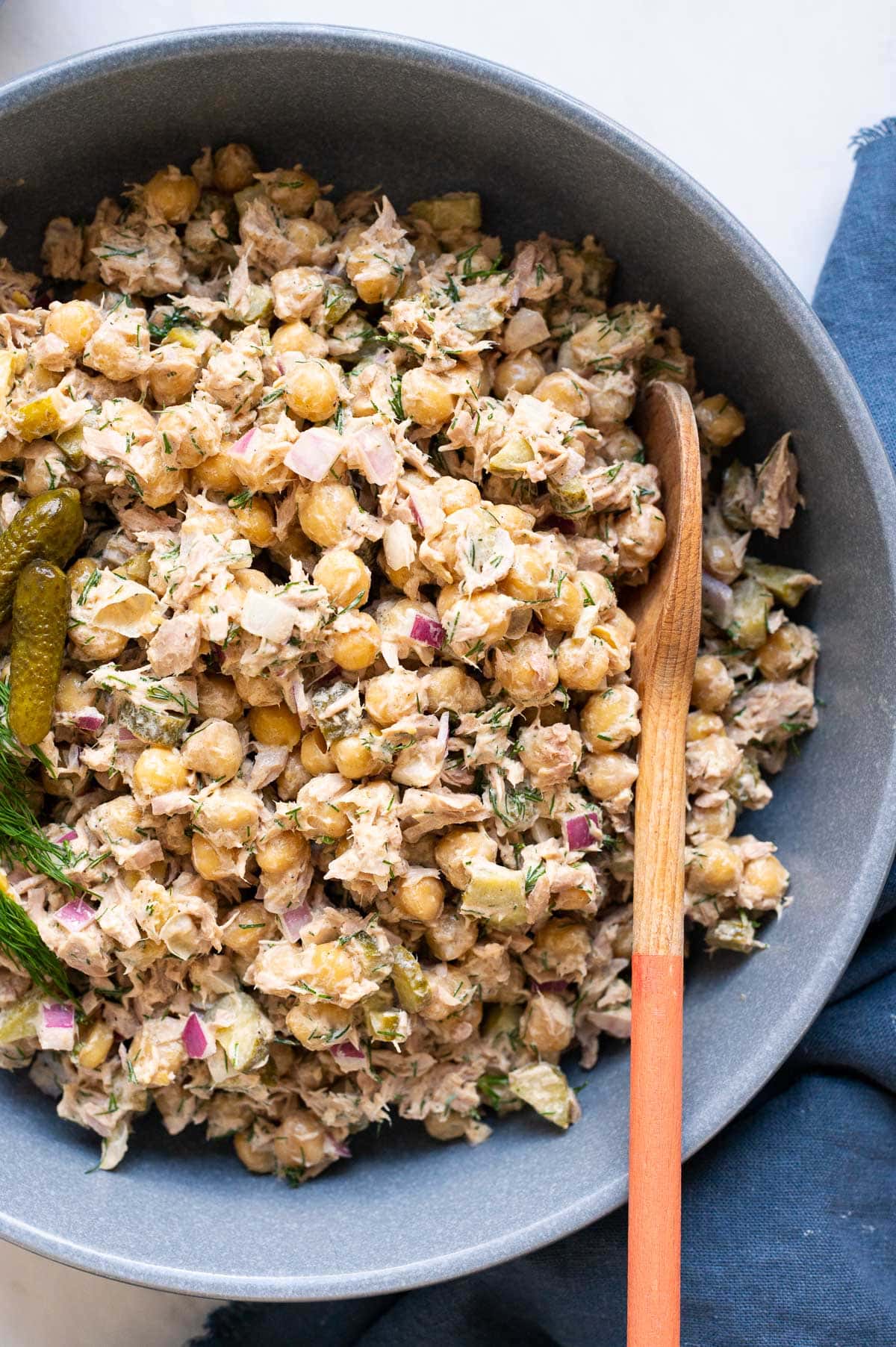 This chickpea tuna salad has become one of my favorite salads, along with this healthy tuna salad recipe. Both keep well for days and make for a healthy lunch in a pinch.
Tuna and chickpeas are the perfect combination for a hearty, affordable, and filling lunch as they are both rich in protein. Perfect on its own or a bed of lettuce, or spread the tuna chickpea salad between two slices of your favorite bread for a satisfying sandwich.
We also love this healthy tuna pasta salad when it comes to tuna salad recipes.
Ingredients and Notes
This chickpea tuna salad recipe requires a small number of ingredients, mostly pantry and fridge staples.
Chickpeas: Low-sodium canned chickpeas, drained and rinsed. The alternative is to prepare them yourself in one of two ways. Here is an easy tutorial on how to cook dried chickpeas in Instant Pot. Note: chickpeas are also known as garbanzo beans.
Canned tuna: I prefer to use chunky light tuna packed in water due to its affordability and lower mercury levels. You can, however, use any tuna you have on hand. In this Mexican tuna salad, I explain the different kinds of tuna available.
Dill pickles: Any kind of pickles will work in this chickpea salad with tuna, except the sweet pickles. If you can't find pickles, gherkins will work as a substitute.
Red onion: Red onions add a nice crunch and color to this hearty salad. But if you've run out, don't stress. Substitute green onions or even shallots if that's all you have.
Dill: Fresh dill takes the flavor of this salad to the next level. Don't compromise by using dried dill. If you don't have any dill in the fridge, use fresh parsley.
Homemade dressing: To make this dressing you'll need mayonnaise, olive oil, Dijon mustard, red wine vinegar, and salt and pepper. I like to add a touch of hot sauce but you can omit it if you aren't up for the spice.
How to Make Chickpea Tuna Salad
Here are the 4 quick and easy steps to make this chickpea tuna salad in just about 15 minutes.
Prepare the dressing: Place all the dressing ingredients in a small bowl and whisk well so it's nice and creamy.
Combine the salad ingredients: In a large serving bowl add chickpeas, tuna, pickles, and dill. If you are not using low-sodium chickpeas hold off on the salt until you taste the salad.
Add the dressing: Pour the dressing over the ingredients in the bowl.
Stir well: Using a large metal spoon, mix the salad ingredients with the dressing.
Tips for the Best Results
Here are my top tips for the best chickpea salad with tuna in the world!
Let the salad chill: I suggest you place the salad in the fridge for 30 minutes or so to allow the flavors to mingle before serving. I also prefer to eat this chickpea tuna salad cold, not at room temperature.
Season at the end and after chilling: Once the flavors have had time to develop, taste test to see if it needs more salt, pepper, or hot sauce.
Cut the recipe in half: This salad is good for meal prep and makes about eight servings. If you are feeding a small crowd, consider preparing half of the recipe.
Rehydrate the salad: The chickpeas may soak up the dressing after sitting for a while. Add more olive oil to rehydrate it instead of adding more mayo. Or squeeze some fresh lemon juice over the salad. These are healthier options.
Add more crunch: If you want more crunch in your tuna chickpea salad add diced red bell peppers or celery. Not only will you get some crunch but you'll also be adding more nutrients like fiber and Vitamin C. Feel free to mash the chickpeas slightly with a potato masher for a softer texture. This may be a good option for toddlers.
Serving Chickpea Salad with Tuna
Chickpea tuna salad is one of my favorite salads. I add it to my weekly meal prep list for easy lunches all week long. It stays crunchy and tasty for days and travels well which is ideal for lunch eaten away from home.
You can eat this salad on its own in a bowl, on a bed of greens, on top of crackers, stuffed into a pita, or make a sandwich with your favorite bread. Any way you eat it I'm sure you'll agree it tastes great.
Fancy things up and serve in a hollowed-out bell pepper or tomato. You'll get an A+ for presentation.
Or feel free to sprinkle some feta cheese on top if you're a cheese lover.
How to Store and Make Ahead
Store: Any leftovers can be kept in an airtight container in the fridge for 3-4 days.
Freeze: This chickpea tuna salad will freeze well for up to 3 months in an airtight container. Thaw the salad overnight in the fridge. Fluff with a fork before serving.
FAQs
What is the best canned tuna to use for salad?
The best canned tuna is the one you already have in your pantry. Though I do prefer to choose low-mercury light tuna packed in water. Albacore tuna also works but it contains higher levels of mercury.
What can I use instead of mayo?
If you don't have any mayonnaise in the fridge you can use yogurt or sour cream.
How can I make vegan "tuna" salad?
If you want to turn this chickpea tuna salad into a vegan tuna salad, omit the tuna. Make sure to use a vegan mayonnaise for the dressing.
Can I freeze this chickpea salad with tuna?
You most likely can freeze the salad but I don't suggest you do. It tastes way better fresh and you can make half the amount so you don't have too many leftovers.
More Chickpea Recipes to Try
More Tuna Recipes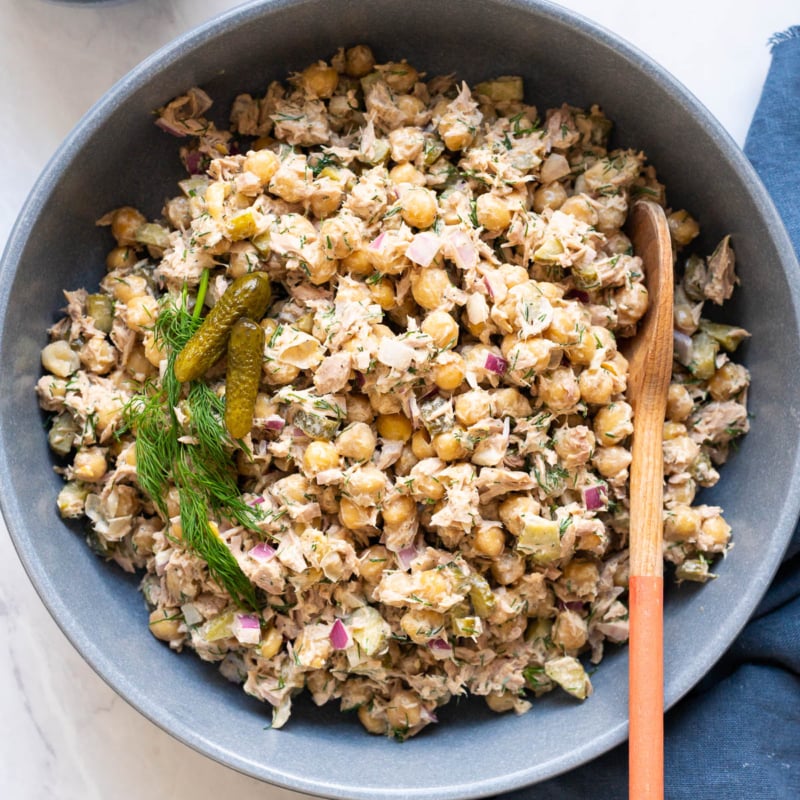 Chickpea Tuna Salad Recipe
This Chickpea Tuna Salad Recipe is loaded with hearty chickpeas and tender tuna mixed in a creamy dressing. A nourishing lunch in 15 minutes!
Ingredients
For Salad:
2

14 ounces cans

low sodium chickpeas

rinsed and drained

2

6 ounces cans

tuna

drained and flaked

1/2

cup

pickles

finely chopped

1/4

cup

red onion

finely chopped

1/3

cup

fresh dill

finely chopped
Instructions
In a small bowl, add mayonnaise, olive oil, Dijon mustard, red wine vinegar, salt, pepper and hot sauce. Whisk the dressing and set aside.

In a large bowl, add chickpeas, tuna, pickles, red onion and dill.

Pour salad dressing on top and stir gently with a spoon to combine.

Let salad chill in the fridge for about an hour before serving. Serve cold.
Notes
Store: Refrigerate tightly covered for up to 3 days. You can always rehydrate the salad with some olive oil.
Freeze: I think you can freeze leftovers since there are no veggies in the salad but I haven't tried. Freeze in an airtight container for up to 3 months and thaw in the fridge overnight.
Nutrition
Serving:
1
cup
|
Calories:
206
kcal
|
Carbohydrates:
19
g
|
Protein:
6
g
|
Fat:
12
g
|
Saturated Fat:
2
g
|
Trans Fat:
0.01
g
|
Cholesterol:
3
mg
|
Sodium:
336
mg
|
Fiber:
6
g
|
Sugar:
0.4
g