Tuna Egg Salad is made with hard boiled eggs, flaky tuna, crunchy dill pickles, crisp red onions and celery in a light, and tangy creamy dressing. Perfect for high protein, low carb healthy salads and wraps!
For more fast and filling meal ideas try healthy chicken salad, healthy egg salad (or any healthy egg recipes), and healthy tuna salad. These are especially welcome during the summer months when I don't feel like turning on the oven!
The combination of egg and tuna is how I like to pack even more protein into one incredible salad and sandwich filling. This healthy salad recipe comes together in minutes and has the perfect creamy tangy dressing that is light, fresh, and super flavorful!
It lasts days in the fridge so this healthy tuna salad with egg is great for making ahead and meal prepping for breakfast, as part of healthy lunch ideas, dinner, or the snacks in between. That is if you don't keep dipping back into the fridge to take a spoonful and finish it all!
Why Tuna Egg Salad Recipe is Healthy?
Omega 3 fatty acids: Found in both tuna and eggs, these are needed to maintain a healthy immune system, good cholesterol levels and to promote brain health.
Vitamins and minerals: You'll find so many in here including riboflavin, Vitamin D, potassium, magnesium, folate, and more.
Protein: Also found in the tuna and eggs but also the Greek yogurt found in the dressing!
Probiotics: Greek yogurt and pickle juice (especially when you ferment your own!) provide us with probiotics that help with gut flora. 
Light on the mayo: This tuna egg salad recipe is creamy without being too heavy on the mayo. We only use 2 Tbsp! 
Low carb:  A great choice for anyone on the hunt for an easy low carb yet filling and satisfying meal idea.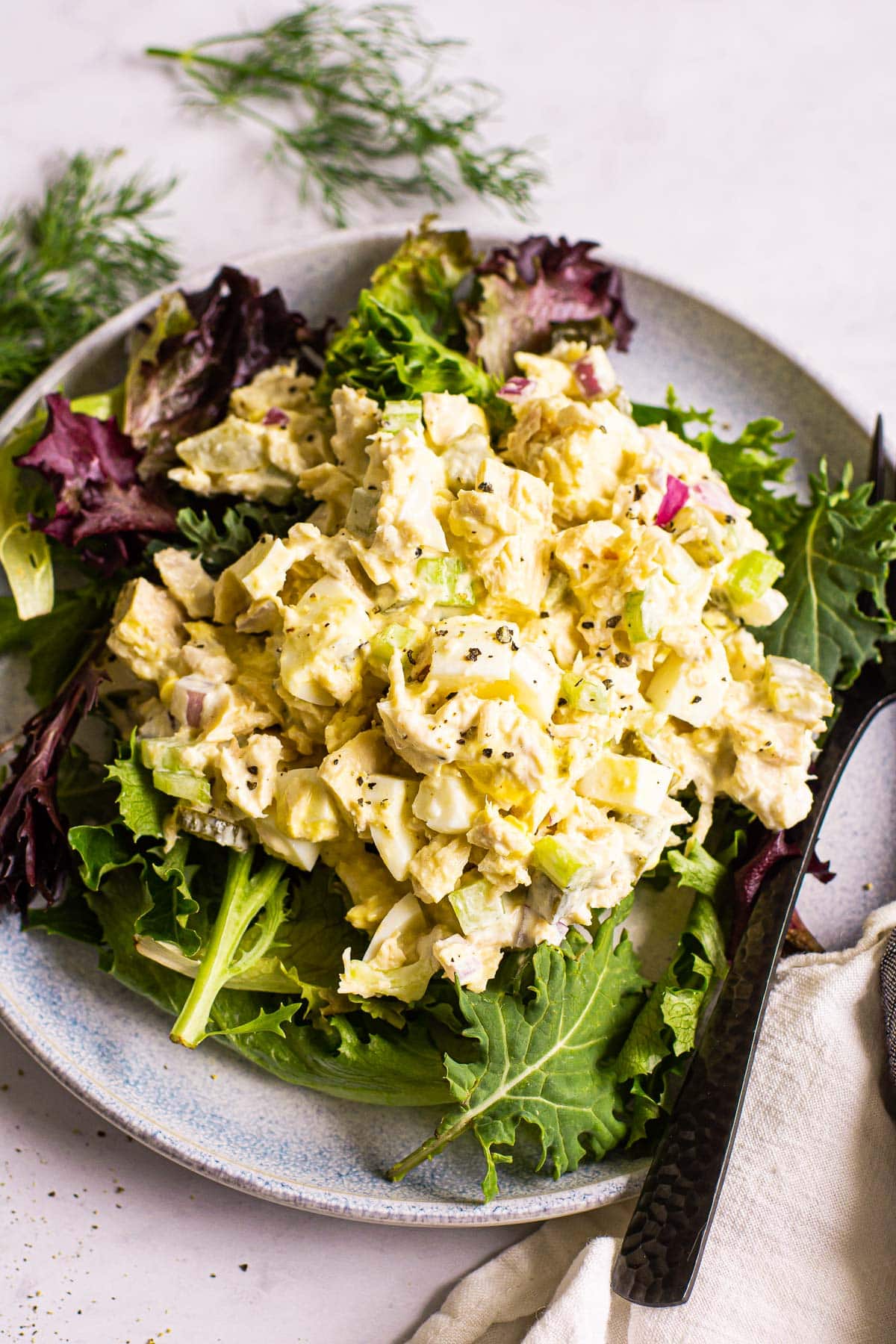 Ingredients for Tuna Egg Salad
Tuna: I like to make a lot at once, so for this recipe, I use 3 cans of tuna, packed in water.
Eggs: Hard boil at least 3 eggs. I always aim for more than I use just in case, leftovers can be transformed into healthy deviled eggs!
Dressing: Dill pickles, celery, red onion, lemon juice, plain Greek yogurt with at least 2% M.F, and mayo. For an added nutritional bonus, use mayo with avocado oil.
Seasoning: Garlic powder, salt, and black pepper.
Boiling the perfect egg: Add eggs to a pot and cover with water. Bring to a boil over medium-high heat. Once boiling, remove from the heat, cover with a lid and let it stand for 12 minutes. Drain the water and wait until it cools to the touch to handle. Voila! You can also use my Instant Pot hard boiled eggs or air fryer hard boiled eggs methods.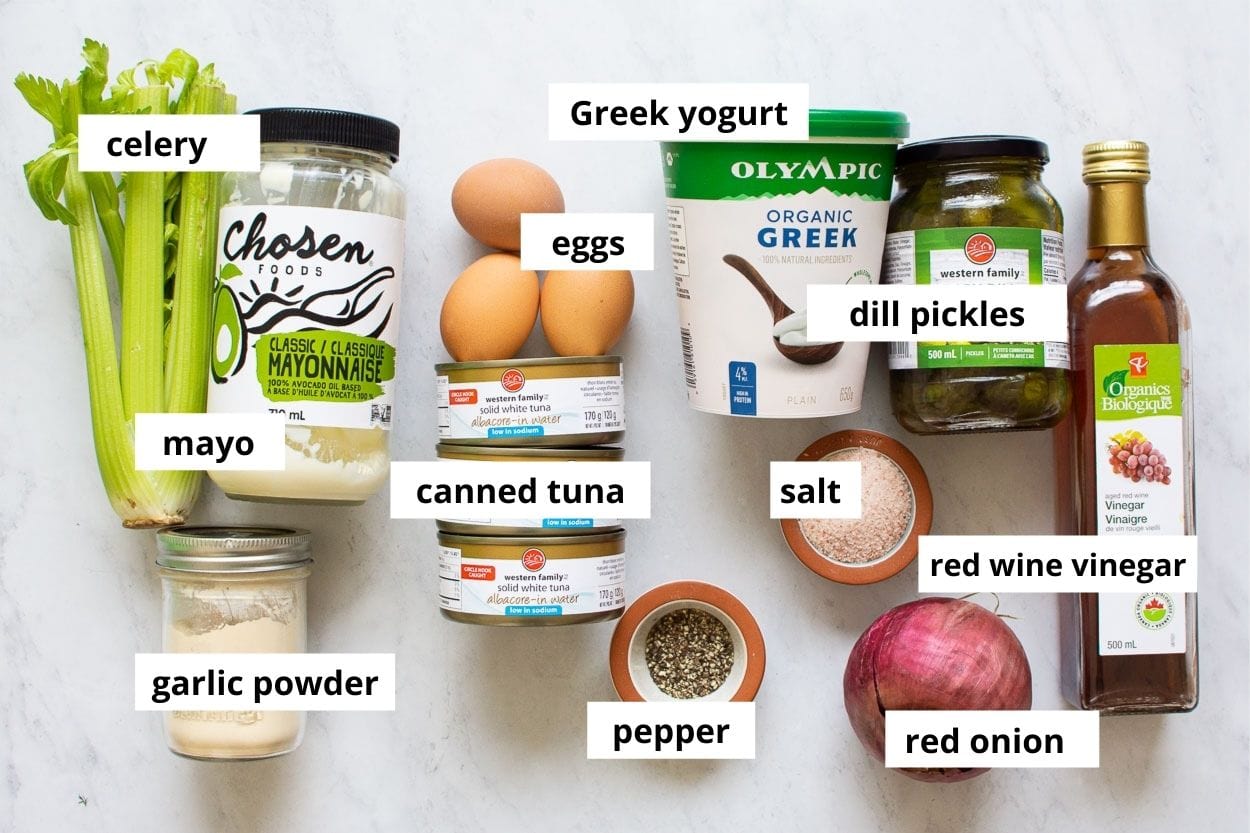 How to Peel Eggs for Tuna with Egg Salad?
Once the eggs are cool enough to touch, gently tap them to crack the shell.
Either peel the eggshell away from the egg whites with your hands or use a silver spoon. Flip the spoon over so the back of the spoon meets the inside of the eggshell. Carefully run the spoon along the inside of the shell loosening it from the firm egg white.
It should peel away in big chunks, then chop the egg into smaller pieces, the same way you would a classic egg salad.
Did you know? The older the eggs, the easier they are to peel. So if you're having some difficulty, don't worry about it. It probably means either your eggs are fresh which is fine because they're doing to be chopped up anyway!
How to Make Tuna Salad with Eggs
Drain the tuna cans: Using a can opener, open the lid almost all of the way. Instead of bringing the lid up and open, use it to press down onto the tuna. Flip over the can and allow the juices to drain out completely.
Combine tuna and eggs: In a large bowl, add the drained tuna and use a fork to separate into smaller flakes. Add chopped boiled eggs, pickles, celery, red onion, lemon juice, garlic, mayonnaise, and seasonings, and give it a good stir with a fork.
Refrigerate: This type of creamy salad is best served cold, so refrigerate it at least 30 minutes before serving.
Favorite serving ideas: Enjoy on top of leafy greens as a salad or in a sandwich!
What Kind of Tuna for Tuna Egg Salad?
Canned tuna is a convenient and budget-friendly alternative to preparing a tuna steak and we all usually have a can or two in our pantry. They are not created equal, so here are some things to keep in mind when picking up your next few cans:
Albacore white tuna is lighter and less flavorful than light tuna, however, people tend to prefer its texture. Light tuna, which you've probably noticed is darker and pinker, delivers more flavor. Both are fine and serve a purpose (kind of like chicken white or dark meat). 
Look for sustainable, ethical fishing practices (pole caught), and BPA-free cans.
Overexposure to Bisphenol A (BPA) is said to have detrimental effects on the body and the brain. 
Overall, tuna has great nutritional value and despite the mercury levels we need to keep in mind, enjoying tuna once or twice a week can be a great way to add extra protein into our diet.
Tuna Fish Salad Recipe with Egg Variations
More dill: If you like the flavor of dill, swap the lemon juice for a little of the pickle juice instead.
Acidic ingredient: Red wine vinegar is also a great alternative to the lemon juice.
Pickles: Use pickle relish in place of the chopped pickles.
Mustard: For some extra zest, add in some pungent Dijon mustard, which always pairs well with eggs!
Onion: I use red onions for tuna egg salad because they're sweeter and less pungent but you can use white onion or green onions if you prefer.
Heat: A drizzle of sriracha would bring in some nice heat.
Spices: Paprika is always nice with eggs, but smoked paprika with eggs is even nicer!
Bacon: Speaking of smoky flavor, some chopped bacon could be a great addition.
Avocado: Pairs so well with avocado egg salad and would add another creamy layer of deliciousness here, too!
Switch it up! You've tried my healthy tuna melt recipe, so let's put some cheese on this one and make the best tuna egg melt for a change!
Tips for Best Results
Double, triple, or half this recipe. Easily! Then again, leftovers keep well, so I don't think you can ever make too much 🙂
Best served cold, so make sure to chill the tuna and egg salad before you take a bite.
If your eggs are fresh add a bit of vinegar to the boiling water. Might help with peeling (no guarantees!). 
Have fun with your egg slicer if you have one. Much easier than chopping!
FAQs
Do I have to use egg in this salad?

Not at all! I think you should give it a try at least once. It is just that good! Otherwise, by all means, use the recipe without the egg as a delicious tuna salad. Sometimes I'll use avocado instead of egg, and make an equally delicious and healthy avocado egg salad.
Can I make this tuna and egg salad without mayo?

Absolutely. Use just the Greek yogurt and you'll still have a creamy salad dressing.
Can I use sweet pickles instead of dill?

This is a personal taste. Some people much prefer the taste of tangy dill and others prefer the sweet pickle flavor. There's no hard and fast rule, just use the one you enjoy more.
Is tuna and egg salad similar to salade Niçoise?

Not exactly. Salade Nicoise contains tuna (or anchovies) and hard-boiled eggs, which are just two of many other ingredients, including olives, green beans, and potatoes dressed in a vinaigrette. While it does contain egg and tuna, and perhaps some similar seasoning, that's where it ends.

In an egg salad with tuna, the two proteins come together to create one entity. They are the salad, not just a part of it!
What to Serve with Tuna and Egg Salad?
Wraps: Turn it into a wrap, using either a romaine lettuce leaf or collard greens for an alternative to the usual chicken lettuce wrap or a tortilla shell for a tortilla wrap.
Summer 'grilled salad': You could also balance the cold salad with grilled romaine lettuce for something a little different.
Avocado toast variation: Have your morning eggs a little differently. Slather some sliced or mashed avocado on a slice of toasted quinoa bread, add some sliced tomatoes, and top that with some tuna egg salad for healthy breakfast ideas or lunch. Wash it down with lemon water recipe or healthy iced tea!
Crackers: Enjoy a bowl of it on its own and scoop it up with some crackers!
How Long Can Tuna Fish Salad Recipe with Egg Sit Out?
This salad can't sit out for very long, not just because of the eggs and tuna, but also because of the dairy in the dressing. Once you're done serving it, it's best to place it in the fridge until you need it again.
How to Store Leftovers?
To store: Keep this jazzed-up healthy tuna fish salad recipe with egg covered in an airtight container in the fridge for up to 5 days. Make ahead and portion it out for a week's worth of lunches!
Do not freeze: Freezing eggs and mayo is not as great an idea as you might hope. The texture changes after it's frozen which is no longer appealing!
More Healthy Lunch Ideas to Try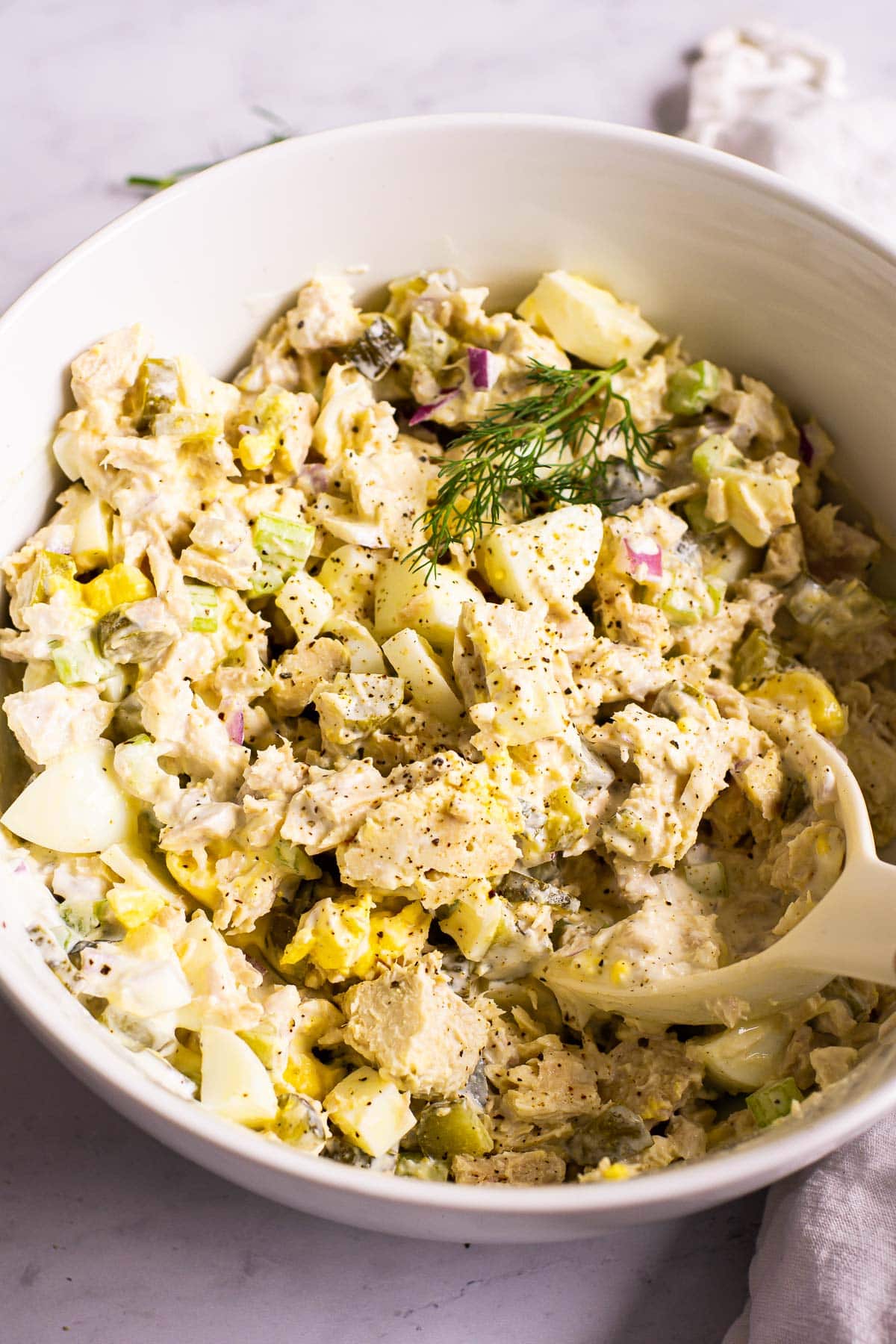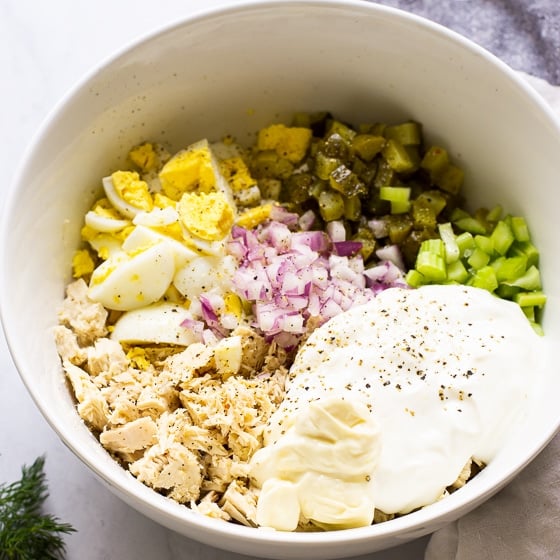 Tuna Egg Salad
Tuna Egg Salad is made with hard boiled eggs, flaky tuna, crunchy dill pickles, crisp red onions and celery in a light, and tangy creamy dressing. Perfect for high protein, low carb healthy salads and wraps!
Ingredients
3

x 6 oz cans tuna

packed in water

3

eggs

hard boiled, peeled and chopped

2

small dill pickles

diced

1

large celery rib

diced

1/4

cup

red onion

minced

1

tbsp

lemon juice or red wine vinegar

2

tsp

garlic powder

optional

1/4

tsp

salt

more to taste

Ground black pepper

to taste

1/2

cup

plain

Greek yogurt, 2%+ fat

2

tbsp

mayo

I use avocado oil mayo
Instructions
Drain cans with tuna well. I usually press hard onto the lid while draining the can completely. Transfer to a large bowl and separate into flakes with a fork.

Add chopped and peeled hard boiled eggs, pickles, celery, red onion, lemon juice, garlic powder (if using), salt, pepper, yogurt and mayo. Stir well with a fork and refrigerate.

Serve cold in a sandwich or over salad greens.
Make Ahead: Tuna egg salad tastes best cold. For best results, refrigerate 30 minutes before eating.
Store: Refrigerate tightly covered for up to 5 days. Do not freeze.
Notes
What canned tuna to buy? I buy canned light tuna packed in water. Albacore tuna has less "fishy" taste and white "meaty" texture or yellowfin/skipjack/light tuna is tan to pink in colour and has more strong fish taste.
Hard boiled eggs: I use Instant Pot hard boiled eggs recipe.
If your eggs are fresh add a bit of vinegar to the boiling water. Might help with peeling (no guarantees!). 
Pickles: Sweet pickles or pickle relish could be used instead of dill pickles.
No mayo? No problem! Just use Greek yogurt.
See recipe post for more tips and FAQs.
Nutrition
Serving:
0.25
cup
|
Calories:
75
kcal
|
Carbohydrates:
2
g
|
Protein:
11
g
|
Fat:
3
g
|
Saturated Fat:
1
g
|
Trans Fat:
1
g
|
Cholesterol:
20
mg
|
Sodium:
323
mg
|
Fiber:
1
g
|
Sugar:
1
g