Creamy Avocado Tuna Salad with no mayo! This healthy 15 minute salad is great for a quick lunch.
Looking for more tuna salads? Try this Mexican tuna salad and chickpea tuna salad.
A delicious spin on a classic comfort food, avocado tuna salad is made with tender tuna, creamy avocados, crisp vegetables, and a zest of lime and cilantro.
If you love tuna salad and you love avocado salad, you will be obsessed with this light and refreshing tuna avocado salad! The avocado replaces mayo making it one of my newest no-dairy healthy salads.
Just FYI, I wanted to keep avocado in chunks rather than mash it to replace mayo like in avocado egg salad. I like this texture for sandwiches and wraps.
Ingredients for Avocado Tuna Salad
This avocado tuna salad recipe comes together with a handful of fresh ingredients.
Canned tuna: Any type of tuna will work, use your favorite variety packed in oil or water.
Diced avocado: Perfect swap for mayonnaise that adds flavor and creamy texture.
Cucumber: Adds crunch. Do not remove seeds.
Red onion: Minced raw onion adds a nice bite.
Fresh cilantro: The lemon peppery taste pairs well with avocado.
Healthy salad dressing: The combination of olive oil, lime juice, salt and black pepper is light and flavorful. Fresh lime juice is best!
What Kind of Tuna is Best for Avocado Tuna Salad?
To make tuna avocado salad, you can use any canned tuna you have on hand. I prefer a chunky light tuna packed in water for this salad because it's more affordable and has lower mercury levels.
White albacore tuna has a firm texture, less "fishy" taste, with higher mercury levels. Where light tuna is a mix of tuna species, yellow to pink in color, and softer with more flavor.
Tuna packed in water has less added flavor and is cheaper. If it's packed in oil it has a bit of flavor and higher in price.
How to Pick the Best Avocados?
Here are 3 tips I stick to every time when selecting avocados. You'll want to use ones that are perfectly ripe to make this avocado tuna salad recipe. Avocados should be dark green and a bit soft to touch.
Gently squeeze: The riper is the avocado, the softer it will feel. They should give a little when you gently squeeze them, be sure to stay away from ones that are rock hard or gives way too easily.
Check the stem: Look under the little stem "nub" to check the ripeness of the fruit. The avocado is unripe if it's hard to pull off, and overripe if it's browning under the stem. If it comes off easily and is green beneath, your avocado is ripe!
The color: Fresh avocados that are almost ripe can vary in color, and there are different varieties of avocado. Overall, an avocado is ripe when the outside is dark and has a few specks of green. An underripe avocado will be very green, and overripe avocados are completely dark with wrinkles.
How to Make Avocado Tuna Salad
This avocado tuna salad recipe is easy to make with one bowl and 15 minutes! Here is a quick photo overview, a full recipe card is located below.
Flake tuna: Add drained tuna to a large mixing bowl and flake with a fork.
Combine all ingredients: Add avocado, red onion, and cilantro with the tuna. Then add olive oil, lime juice, salt and pepper.
Stir: Gently stir salad to combine, be careful not to mash avocado. Adjust any seasonings to taste.
Serve: Avocado tuna salad is best served cold. Add it to your favorite bread, pita, or wrap and enjoy!
Tips for Best Results
Here are my top tips for making the perfect avocado tuna salad.
Drain tuna well: Less liquid in tuna salad with avocado is always better. Drain tuna in a colander and then give a squeeze with your hands.
Use proper avocados: Make sure it's not too soft and not too hard, the salad will not be creamy if the avocado has not ripened.
Chop everything small: A popular tip for most salad recipes. It allows the flavors to mix together evenly so you can enjoy all flavors and textures in every bite.
Mash avocado: If your prefer a smoother tuna avocado salad, mash the avocado together with some lime juice, salt and pepper first, then stir in the remaining ingredients.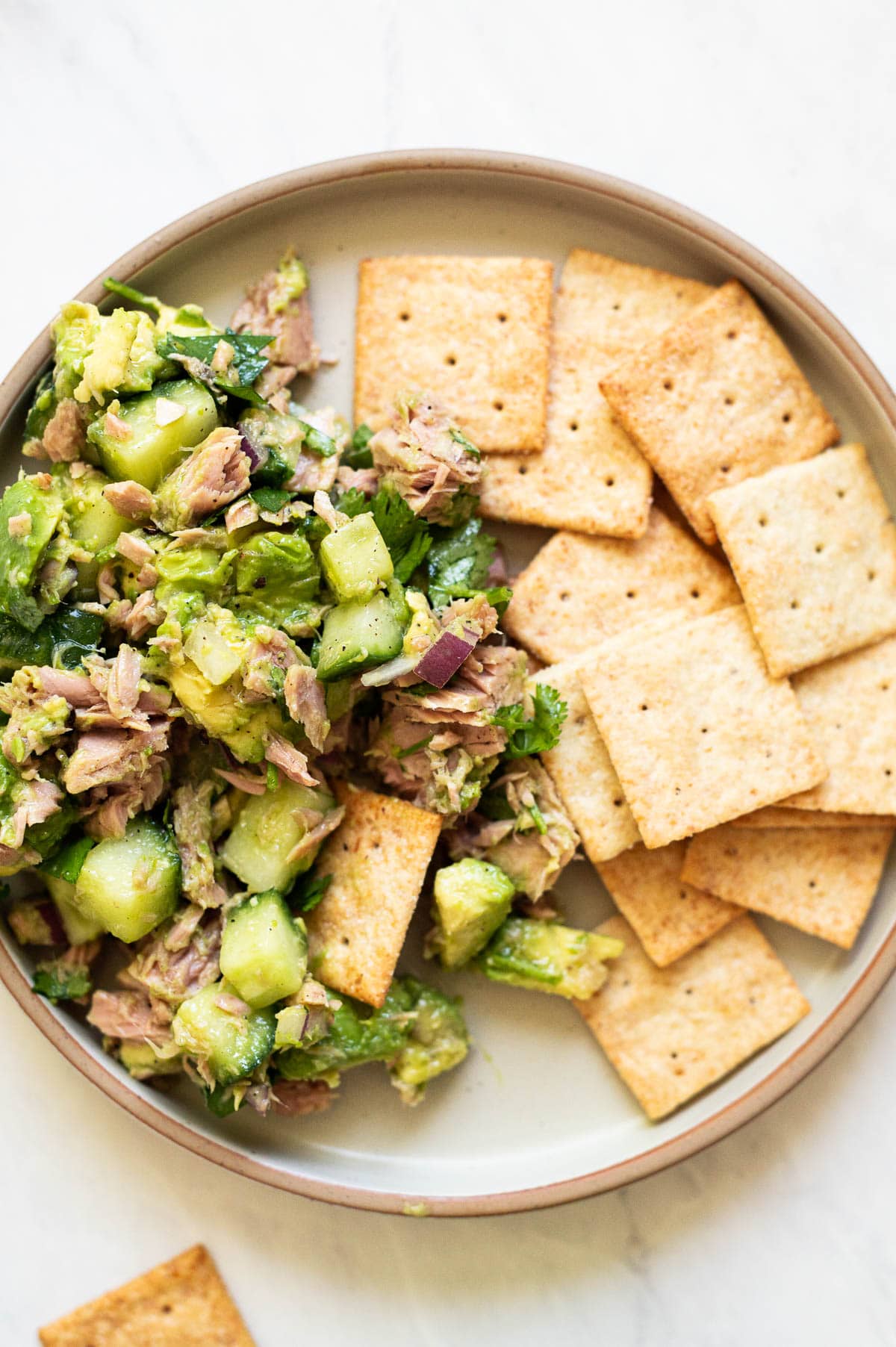 Variations
Make tuna salad with avocado your own by adding more veggies, protein, and texture.
Jalapenos: For a spicy kick. Seed them for less spice or leave some seeds in. Seeds are what makes jalapenos spicy.
Tomatoes: For added sweetness. Smaller ones such as cherry tomatoes or grape tomatoes sliced in half are best for salads.
Eggs: Diced hard boiled eggs will add more creaminess and make this salad even healthier!
Bacon: Chopped crispy bacon adds crunch and a salty bite.
Seasonings: Try Italian seasoning or paprika. Fresh parsley or dill adds brightness and flavor. If you don't have lime juice, lemon juice works great too. You can even add a tangy taste with Dijon mustard.
Add crunch: I love the crunchy texture of celery and finely chopped dill pickles.
Add cheese: Shredded sharp cheddar cheese or crumbled feta cheese will add a rich flavor.
What to Serve with Tuna Avocado Salad?
I love avocado tuna salad as a fast and easy dinner, or meal prep for healthy lunches. It's also a bright addition to picnics and BBQs!
Serve as a dip or spread with tortilla chips, crackers or saltines.
Make classic tuna salad sandwiches with it! Use your favorite bread, wrap, or pita, I love almond flour bread. Add a simple side dish like chips or salad for a complete meal.
Keep it low carb and serve on its own, with a side of veggies, or added to a lettuce wrap. Use any lettuce like romaine lettuce, iceberg lettuce, or butter lettuce.
Make tuna pasta salad and mix it in with some cooked pasta.
How Long Does It Last?
Store: Avocado tuna salad keeps well in an airtight container and refrigerated for up to 2 days.
Freeze: I never have leftovers to freeze, it is that delicious! You could try to freeze it in an airtight container for up to 3 months and place in the fridge overnight to thaw.
FAQs
What are the benefits of eating tuna and avocado?
Tuna is a great source of protein, iron, potassium, and Omega 3 fats. Avocados also contain healthy fats, fiber, and packed with vitamins and minerals. Together they make a filling, nutritious dish.
Will tuna salad with avocado turn brown?
Avocado tuna salad will turn a tiny bit brown on day 2, otherwise it keeps well. You can slow down browning by adding diced avocado, oil, and lime juice last just before serving. You can also add more lime juice.
Can I make it ahead of time?
Yes. You can dice and toss the avocado in the citrus juice up to 4 hours before adding the remaining ingredients and serving.

If you would like to prep tuna avocado salad the day before, chop the cucumber and red onion and refrigerate in an airtight container or medium bowl covered with plastic wrap. When it's time to serve, dice avocado and assemble in the less than 15 minutes.

Can you swap canned tuna for another canned fish?
Yes, canned salmon or sardines are other great options to make this avocado tuna salad.
More Tuna Recipes
More Salad Recipes to Try
Avocado Tuna Salad
Creamy Avocado Tuna Salad with no mayo! This healthy 15 minute salad is great for a quick lunch and doesn't turn brown for days!
Instructions
In a large bowl, add tuna and flake it with a fork.

Then add avocado, cucumber, red onion, cilantro, olive oil, lime juice, salt and pepper.

Stir gently to combine and adjust any seasonings to taste.

Serve cold right away.
Notes
Store: Refrigerate in an airtight container for up to 2 days. Salad does turn a tiny bit brown on day 2, otherwise it keeps well.
Freeze: I think you can freeze this salad in an airtight container for up to 3 months. Thaw in the fridge overnight.
Nutrition
Calories:
249
kcal
|
Carbohydrates:
9
g
|
Protein:
16
g
|
Fat:
17
g
|
Saturated Fat:
3
g
|
Cholesterol:
17
mg
|
Sodium:
326
mg
|
Fiber:
5
g
|
Sugar:
2
g