Salmon is delicious, versatile, and widely available. We cook wild salmon on a regular basis and I have compiled 15 Easy and Healthy Salmon Recipes you can prepare for dinner in 30 minutes or less.
15 healthy salmon recipes to choose from to solve "What's for dinner?"!
I recommend spending a little bit more on wild salmon vs. farmed. It is more nutritious, contains less unhealthy saturated fat, and is sustainable. To save about $10/lb on wild salmon, I buy fresh (more likely previously frozen) whole wild salmon and fillet it myself within 10 minutes.
Enjoy and be healthy!
How to Buy Best Salmon
Most of us probably aren't marine biologists nor are many of us part of the seafood industry. We need to rely on the information that is put out there in order to make the best decisions for ourselves and our families. Buying the best salmon is a decision that you shouldn't take lightly. It also doesn't need to be so confusing!
Things to consider:
Choose wild Alaskan salmon: If possible, choose wild Alaskan salmon. Alaska has banned salmon farms, so right away you know Alaskan is wild-caught. Look for any pacific wild-caught salmon and you are on the right path.
Avoid Atlantic: You may notice that farmed Atlantic salmon is widely available at the store. Wild Atlantic salmon is now considered an endangered fish, so catching it is no longer allowed. Which means it is now a farmed fish.
Don't buy organic salmon: Crazy, right?! But you can't guarantee organic wild salmon, so an organic label means it's from a fish farm.
Choose fattier salmon: Like a king salmon. It contains a higher level of omega 3s which as we know are great for brain health.
Opt for darker red/orange colour: It means it carries more antioxidants which help fight cancer, inflammation, and other health-related issues.
Salmon has so many health benefits and is rich in many ways. We still need to be mindful that even wild salmon can contain a lot of environmental bi-product. Just like with tuna and high mercury content concerns. You may want to consider limiting your fish consumption to just once or twice a week. The good news is, you don't need to eat it every day to reap the benefits!
There is no perfect choice for anyone. This is meant to be a helpful guide so if farmed fish is what you have, then it is not the end of the world. The recipes that follow will still result in a healthy and delicious meal!
Tips for Cooking Salmon
There are many ways to cook a salmon, whether it's pan-fried, baked, or grilled. I am providing recipes that cover the spectrum, and below are some things to think about before you begin.
Small filet: Smaller cuts are great for quick weeknight meals.
Whole filet: Whole salmon filets make for a lovely presentation when serving a crowd.
Dry the salmon: Pat dry your fillets before you begin.
Bring to room temperature: Take fish out of the fridge to allow it to come to room temperature before cooking. You do not want to place cold fish onto a hot surface.
Remove bones: Make sure to remove the bones. Some of them may be tiny, so you'll need something like pliers to get them out. Or ask at the fish counter.
The skin on or off: It is your preference. If you don't plan on searing it to extra crispy deliciousness, you might want to remove it.
Cook in batches if necessary: Depending on your method of cooking, avoid overcrowding. This is especially important if you are aiming for a seared crusty exterior.
Hot surface: Have your cooking surface get really hot before adding placing fish down on a pan, a grill, or in the oven.
Be prepared: Make sure to have the right tools available. You want a spatula large and strong enough to get under the entire filet. For searing, or cooking from stovetop to oven you want a cast iron pan.
Patience: Once your salmon has started to cook, avoid playing with it. Pack the patience and allow it to cook first before trying to flip it.
Health Benefits of (Wild) Salmon
Rich in long-chain Omega-3 fatty acids that can reduce inflammation, lower blood pressure and decrease risk factors for disease.
High in vitamin Bs that help turn the food you eat into energy, repair DNA and reduce the risk of heart disease
A source of protein.
Rich in potassium that helps to control blood pressure.
Loaded with selenium that is good for your bones' health.
Contains antioxidants.
Now that we know how good salmon is for you, let's get cooking!
Grilled Salmon Recipes
Cedar Plank Salmon comes out juicy, with caramelized Thai sweet chili sauce on top and incredible woodsy flavors. It is easy to make as no marinating is required and salmon doesn't fall apart. This grilled salmon will blow everyone's mind!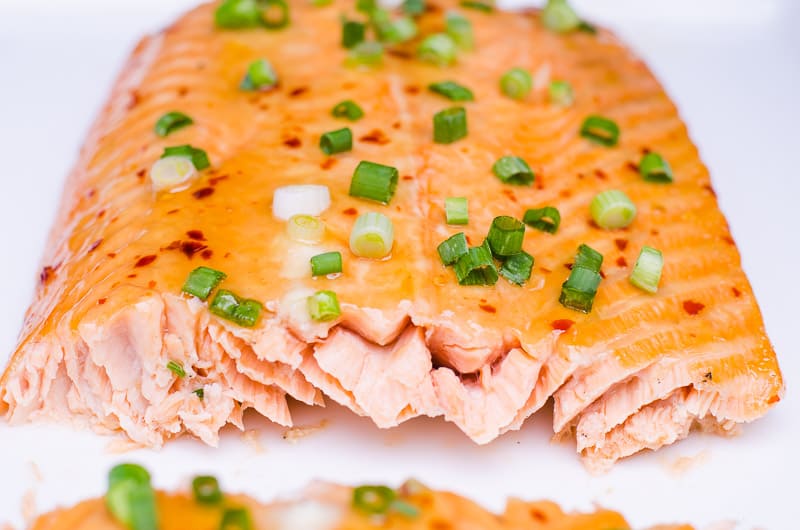 This Grilled Salmon is juicy, flaky and flavorful. Simple seasonings and no marinating make this salmon recipe quick and easy restaurant quality meal at home.

Baked Salmon Recipes
Thai Broiled Salmon with easy homemade sweet chili sauce cooked until caramelized on top and juicy inside. The best salmon recipe ever!
Baked Salmon in Foil with 10 minute prep comes out juicy and flaky with finger licking garlic butter and fresh herb seasoning. It is the most impressive baked salmon recipe I ever made!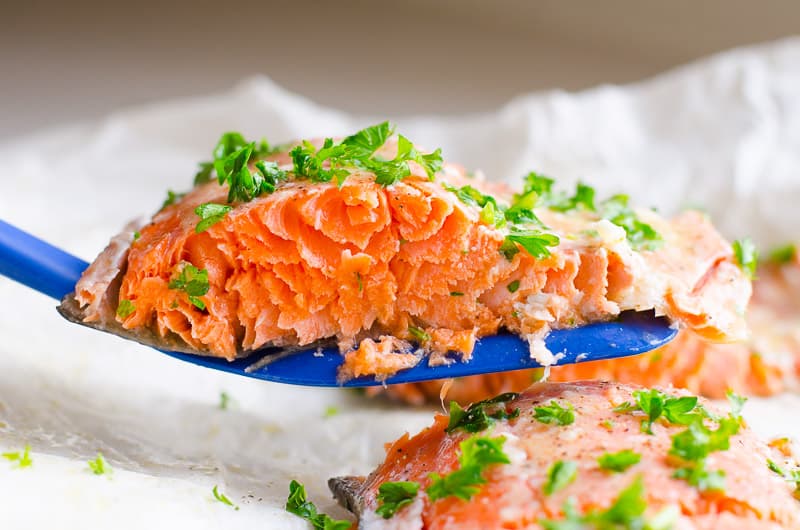 This Teriyaki Salmon is made with healthy homemade teriyaki sauce and doesn't require long marinating. Easy salmon recipe that can be pan fried or baked, is super flavorful and ready in 30 minutes.
Peanut Butter Salmon recipe glazed with peanut butter and miso paste, then oven baked until caramelized and juicy.
This one pan salmon and veggies makes one healthy, easy and tasty dinner. Salmon, butternut squash and brussels sprouts are coated in super easy homemade honey garlic sauce and baked together on a sheet pan for 30 minutes.
Lime Ginger Salmon recipe marinated in honey, lime juice and ginger, and then quickly broiled to perfection.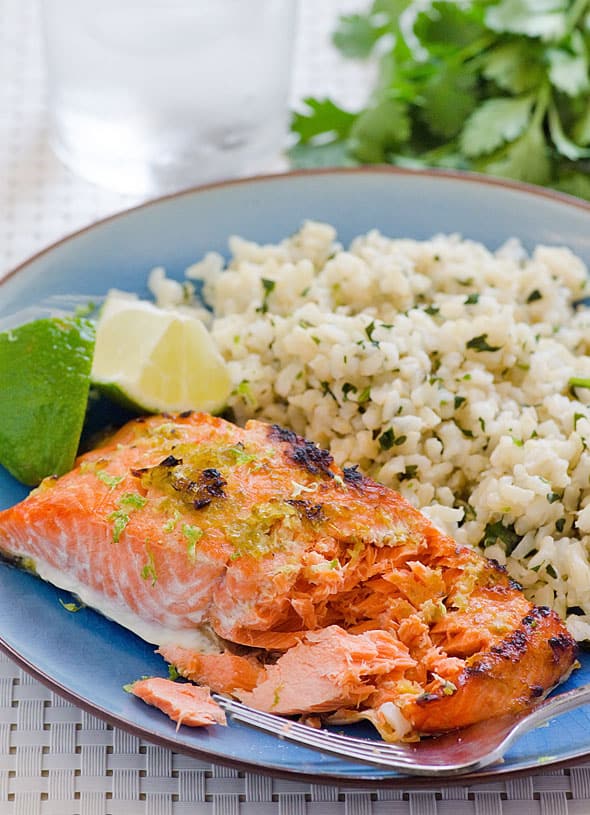 Skillet Salmon Recipes
Honey Garlic Salmon is the best stove top salmon recipe for busy weeknights. Juicy salmon, crispy skin and caramelized sweet and sticky sauce make this 30 minute dinner crazy good!
This 20 minute Salmon Stir Fry is a healthy, low carb dinner made with chunks of juicy salmon, crisp green beans, and earthy mushrooms coated in flavours such as lemon, garlic, ginger, and soy sauce!
Juicy Salmon Burgers with simple ingredients and pan fried until golden. Serve on a bun, with mango slaw or freeze for later. Your kids will lick the plates!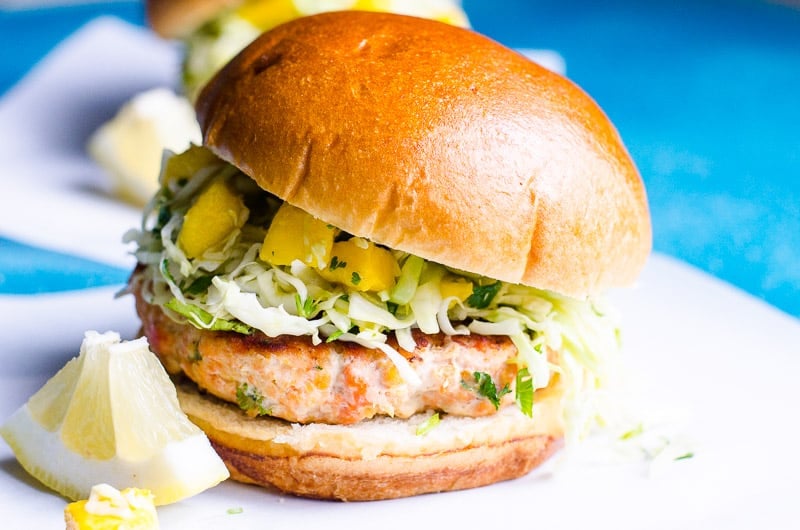 Canned Salmon Cakes recipe has a short list of ingredients like affordable canned salmon, oatmeal instead of flour and cooked sweet potatoes. Healthy, delicious salmon patties without breadcrumbs.
Salmon Salad Recipes
Simple and healthy Smoked Salmon Salad that comes together in 5 minutes without cooking.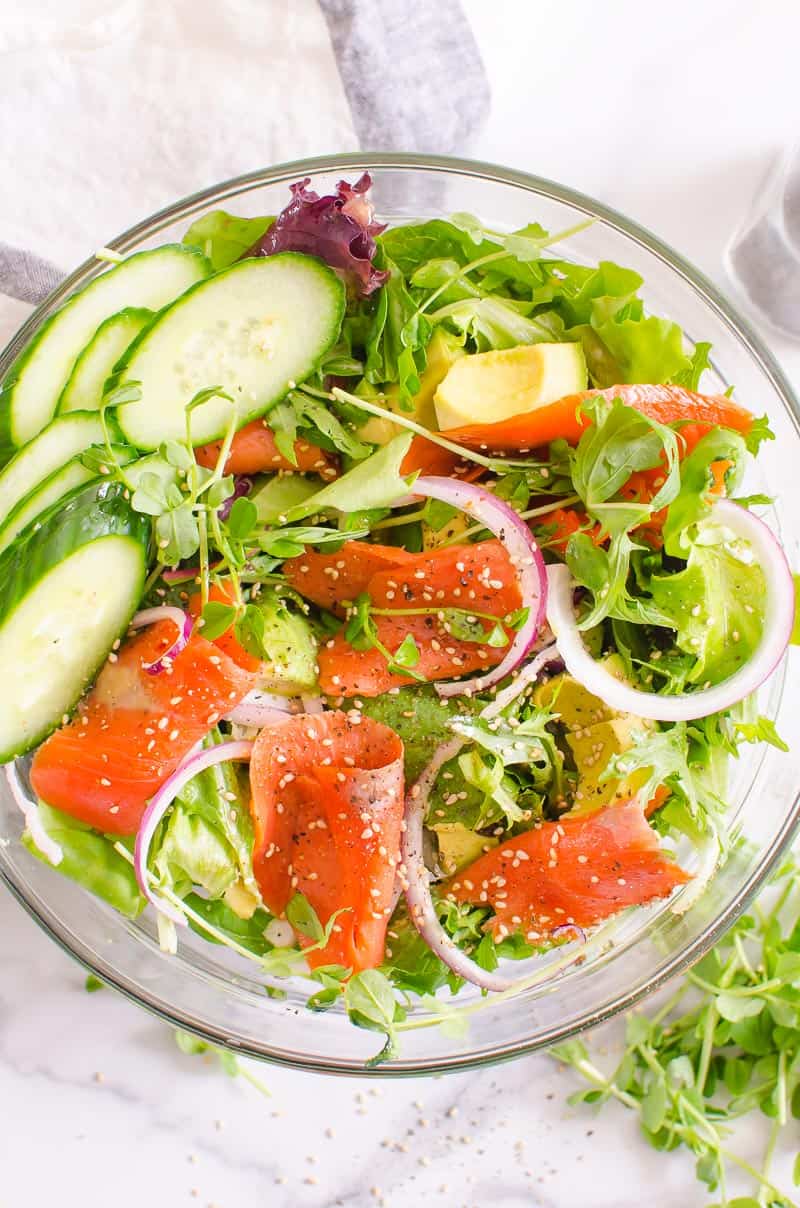 Hungry and lazy? Make my Healthy Canned Salmon Salad crunchy bell peppers, creamy avocado, and tangy capers. It's my go-to when I'm tired.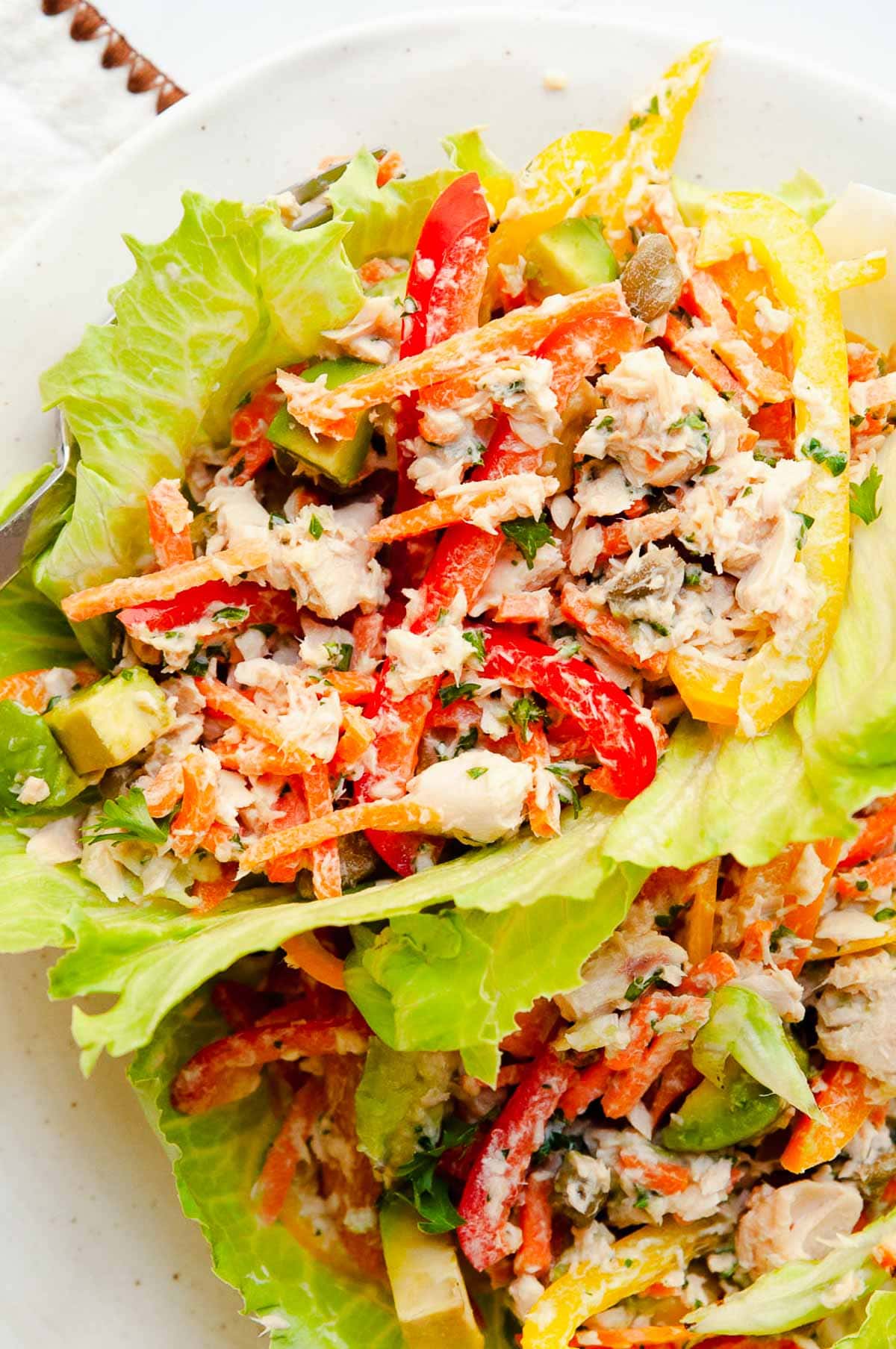 Salmon Soup Recipes
Cilantro Salmon Tomato Soup is a quick affordable seafood soup made with fresh or canned tomatoes, any type of fish or salmon, optional potatoes, a bunch of fresh cilantro and a few limes.
More Healthy Recipes to Try
Healthy Baked Salmon Recipe
The only Healthy Baked Salmon Recipe you will ever need. Salmon baked in foil, then served with moderate amount of garlic butter and fresh herbs. Flaky, juicy, easy and so delicious!
Print
Rate
Ingredients
1 1/2

lbs

wild salmon fillet

with or without skin

1

tbsp

extra virgin olive oil

1/2

tsp

salt
Ground black pepper

to taste

2

tbsp

salted butter

1

large crushed garlic clove

1

tbsp

lemon juice

2

tbsp

minced fresh parsley or dill
Instructions
Preheat oven to 375 degrees F. Tear 2 pieces of foil and 1 piece of unbleached parchment paper longer than the width of a large baking sheet. Line the baking sheet with foil horizontally overlapping each other and place parchment vertically on top.

Place salmon fillet onto parchment paper, distribute olive oil on top evenly and sprinkle with salt and pepper.

Fold parchment paper over the salmon. Then fold the sides of the foil covering the salmon completely and sealing the packet closed (very important!). Bake for 20 minutes.

Closer to the end of baking time, melt butter and mix with garlic and lemon juice. Brush over cooked salmon (open that packet carefully - it's hot), sprinkle with parsley or dill, cut into 5 pieces and serve.
Store: In the refrigerator for up to 3 days.
Make Ahead: Follow Steps 1 & 2, refrigerate and bake within 48 hours.
Notes
Salmon skin on or off? Even if you're not a fan of salmon skin, I highly recommend to buy a salmon fillet with skin on. It prevents fish from drying out while cooking. You can always remove skin easily after cooking.
Can I skip parchment paper? Sure. Spray foil with cooking spray, wrap salmon fillet tightly in foil and keep same cooking time.
If you have large fillet or farmed salmon: Even if it is wild salmon fillet but large or extra thick farmed salmon piece, you probably will have to add 5-10 minutes to the cook time. I had thin 1.5 lbs sockeye salmon.
Wear oven mitts when opening foil: Tin foil gets very hot, so wear oven mitts when removing baking tray from the oven and touching the foil.
My salmon looks too pink: Some wild salmon varieties like coho has very deep pink color. It might appear uncooked but best way is to check with thermometer. As long as it is not translucent pink and flakes easily with a fork.
Variations
Baked salmon in pesto: Once salmon is ready, open the foil and brush 1/4 cup store-bought or homemade pesto on top. Or just bake with it. I am a fan of pesto on salmon after.
Baked salmon in foil with lemon and rosemary: Cut lemon in half, slice one half into thin slices and juice the other half. Spread lemon slices inside the foil, lay seasoned fillet as per recipe on top, drizzle with lemon juice, add minced garlic and add 3-4 rosemary sprigs on top. I find lemon slices placed directly on top of fish make it taste bitter.
White wine and cheese: Place seasoned salmon on foil, fold up sides, pour 1/4 cup white wine at the bottom, sprinkle some grated garlic and 1 cup your favorite melting cheese on top. Smoked gouda would go so well!
Last Tip: I am personally not a fan of sad looking baked fresh herbs like dill and parsley. I think they yield so much more flavor sprinkled after. But you can bake salmon in foil with them if it's your jam.
Nutrition
Serving:
1
slice
|
Calories:
260
kcal
|
Carbohydrates:
1
g
|
Protein:
27
g
|
Fat:
16
g
|
Saturated Fat:
5
g
|
Cholesterol:
87
mg
|
Sodium:
333
mg
|
Potassium:
676
mg
|
Fiber:
1
g
|
Sugar:
1
g
|
Vitamin A:
329
IU
|
Vitamin C:
3
mg
|
Calcium:
19
mg
|
Iron:
1
mg
Join today and start saving your favorite recipes
Recipes and images are a copyright of ifoodreal.com. It is against the law to republish recipes anywhere including social media, print and all world wide web. Nutritional info is provided for informational purposes only and to the best knowledge.